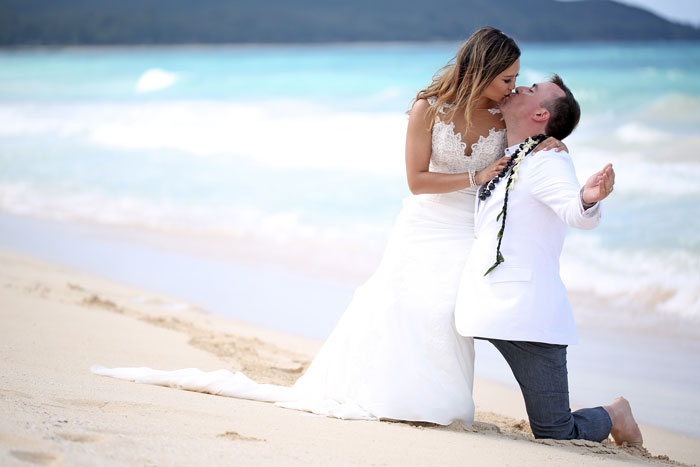 (Updated 03-2020)
"They made our elopement so stress-free, and everything went as smoothly as planned. My husband and I planned to elope to Hawaii with our two kids and were very pleased with Weddings of Hawaii." -Charisse M.
Elope in Hawaii with the one you love!
Want to Elope in Hawaii? - Why Hawaii Is Perfect for an Elopement
At Weddings of Hawaii, we have become experts on elopements and have helped countless couples plan their Hawaiian dream wedding. Elopements are a great way to have an affordable destination wedding in a beautiful atmosphere.
Why Elope?
Eloping is perfect for the spontaneous couple, but it's also great for those who like to plan ahead. As opposed to a traditional wedding, an elopement is a beautiful way to keep your ceremony intimate and focused on what is most important for you and your partner.
Additionally, elopements avoid the excessive stress that planning a traditional wedding can have. Destination wedding companies understand how to help take away that stress, making your elopement as stress-free as possible.
Finally, an elopement is usually much more affordable than a wedding at home. We wrote an article on how much a Hawaiian wedding costs, and many of our guests are surprised they can have a wedding and honeymoon for much cheaper than a traditional wedding.
Wedding of Hawaii has been helping couples plan their dream wedding on the beautiful beaches of Hawaii since 1978, and our wedding coordinators are always available to answer any questions you may have.
But Why Hawaii?