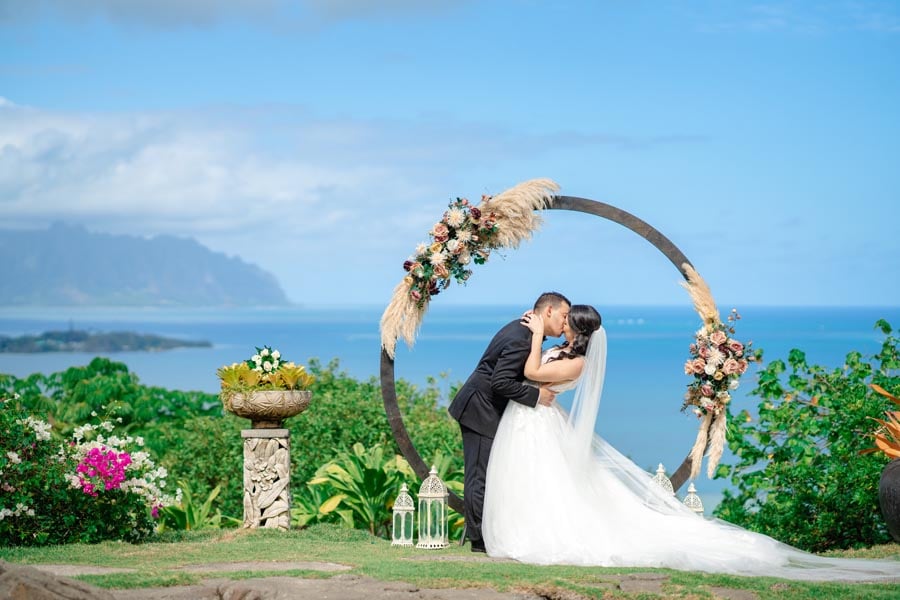 What does it cost to get married in Hawaii?
We get asked this question a lot, and it's tough to answer because it all depends on you! The good news? It's cheaper than most traditional weddings by far.
Before writing this article, we did our research and came across an article by The Knot. While The Knot is a good website (we check it out ourselves), its cost breakdown is misleading.
The image below gives you a basic idea of what it'd cost to fly to Hawaii, stay six nights at a hotel in Waikiki, and get married with Weddings of Hawaii.
*Fights and hotel are NOT included in our packages. Hawaii wedding costs are examples based on our packages and research. (Prices are as of January 2023 packages and are subject to change.)
The chart above is only an estimate, but we found that most of our couples spend between $5000-$8000 on their Hawaii wedding, flight, and hotel.
Our average Hawaii destination wedding couple spends around $2500 (Our wedding packages range from $295 to $8,825. Prices vary as there are many possible customizations.)
Flight to Hawaii per person from the US mainland: $300-$800 (estimate and not included in packages)
7 nights hotel in Waikiki: $1800-5000 (estimate and not included in packages)
We find that most couples can have a destination Hawaii wedding for around $6000, which includes the wedding, flight, and hotel, an enormous savings over the cost of a traditional wedding, which is currently over $30,000.
NOTE: Hawaii wedding packages do not include flight and hotel, and Hawaii does not have all-inclusive resorts. Once you visit Hawaii, it's easy to see why you wouldn't want to spend all your time and eat all your meals at the same place. Hawaii has much more to offer than just your resort. Also, outer island weddings, such as a Maui wedding, are more expensive. Compare our packages for details.
Is the Knot's Cost Estimate Accurate?
Before you look at these numbers, please know their estimates look astronomically high to us. This is not to say they're wrong, but these estimates must only consider traditional weddings with high guest counts, and we know extravagant weddings can easily surpass this estimate.
In comparison, most of our weddings are beach, park, or private venues with guest counts from 0-50. Very different.
You can see on our wedding packages page that we have seven packages running from $395 to $8,825, with our most popular package at $2,995 (we'll look more at that later).
Let's take a look at their cost estimates and then compare them to ours. As a spoiler, we estimate most of our couples spend between $4,500 and $8,000 on their wedding package, flight, and hotel. We'll have our breakdown below.