One thing we've learned over the years is that every couple we meet is unique in one way or another. It's one reason we love chatting with couples during a
phone consultation
early on in their planning. Not only can we answer a lot of your questions, but we can also get to know what's important to you and what kind of ceremony you're looking for.
We have couples who book over a year in advance, and we have plenty of couples who decide on a last-minute elopement or vow renewal. Planning is obviously different for everyone, but we always like to provide you with a guide and as much information as possible, so we've put together a list to help you plan your destination wedding to Hawaii.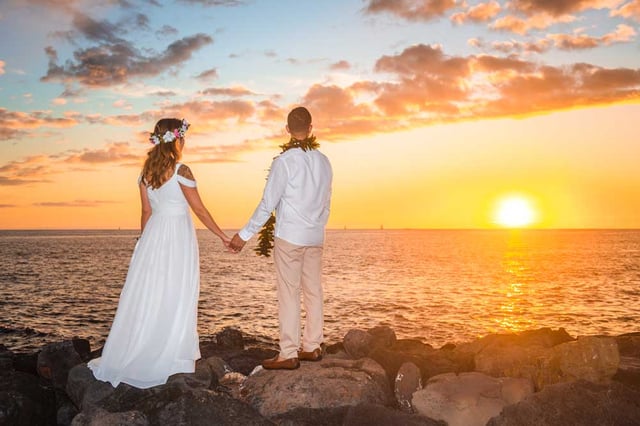 A Hawaii sunset wedding at Magic Island.
Hawaii Destination Wedding Checklist
1. Schedule a Phone Consultation
A casual phone conversation at the start of your planning is so beneficial. In addition to wedding information, we often end up providing tips about Hawaii too, and we can provide you with answers to questions you haven't even thought of yet. We find this takes the stress off you down the road, and it jumpstarts your planning.
While we do have many couples who make a reservation without even sending us an email, and we also have an FAQ page with answers, we know for many couples it's nice to speak a wedding coordinator. We hope you know we're always here to help!
2. Choose Your Wedding Package and Location
We try to put as much information as possible on our website to help you choose which package and location is right for you, and these are also topics we're happy to chat with you about. Whether you're having a Hawaii beach wedding, a private venue, or just looking for a place to start, we're here for you!
3. Make a Reservation to Secure Your Ceremony Date
Submitting a reservation secures your ceremony. Once submitted, a wedding coordinator will review your reservation, and we'll send you an email to confirm everything is set. Next, we'll schedule your ceremony team and obtain the permits. If you're making a reservation more than a couple months in advance, we can usually schedule your ceremony easily. However, if you're making a last-minute, weekend, or holiday reservation, it's a good idea to contact us to make sure your date is available.
4. Apply for Your Hawaii Marriage License - After Your Reservation
We'll send you a link to apply online for your Hawaii marriage license. Hawaii is a great state to marry in as the process is straightforward and simple. After applying online, you'll both need to show up in person to pick up your license once you arrive in Hawaii. The process usually takes about 15 minutes.
How to get your Hawaii marriage license.
5. Book Your Travel - Around Three Months in Advance
We have a blog post on how to book your travel to Hawaii, and we're also happy to give you some recommendations and tips. We recommend booking your flight and hotel around three months in advance, give or take.
6. Finish Your Information Sheet - At Least One Month in Advance
After making your reservation, you'll receive an information sheet with options for your ceremony day, such as choosing flowers or adding the digital image photo package. We need this to plan your day exactly how you'd like.
7. Pay for Your Ceremony - 30 Days Before Your Ceremony Date
Payment for your ceremony is due 30 days before the big day. After making your reservation, we'll email you an invoice for the package you booked. After you submit your information sheet, we'll update your invoice if needed. You can make payments anytime, in any amount, up until 30 days before your ceremony date at which time full payment is due.
8. Plan Your Post-Ceremony Dinner
Whether it's just the two of you or you have a full guest list, we can help you plan your post-ceremony celebrations. We have contacts with several restaurants and can make reservations and decorate for your special evening.
9. Decide What You'll Wear
Browsing through our photo galleries is a great way to get some ideas for what you'd like to wear for your ceremony. While pretty much anything goes, we do have some tips.
10. Relax and Enjoy Your Hawaii Wedding
As our motto goes, "No stress...just get dressed, and we'll do the rest." Once we know your package, location, and selections, we'll have everything in place for your dream Hawaii wedding or vow renewal. You can focus on enjoying your time in Hawaii knowing we'll take care of making your day perfect!