A Small Hawaii Wedding - Easy and Affordable
Since 1978, Weddings of Hawaii has been planning small beach weddings and elopements here in beautiful Hawaii.
With most traditional weddings having a guest list of 150-200, many consider anything less than 100 people to be a small wedding. However, when you compare a traditional wedding to a Hawaii destination wedding, "big" and "small" take on different meanings.
Many are surprised to discover we think of a "big" wedding as 50 or more. For us, a "small" wedding is usually 20 or less. We know a 20-person wedding sounds super small, but sometimes less is more!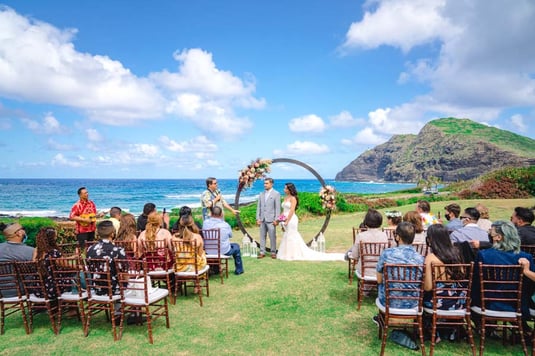 We do a lot of elopements, and our average guest count is around 15.
Why Hawaii for a Small Wedding?
When you compare Hawaii versus other popular destination wedding locations, such as Florida, all it takes is a quick look at the photos to understand that Hawaii is in a whole other class. Its natural beauty is like no other place in the world.
Beach weddings are popular. Although some of the best places in Hawaii to get married can accommodate larger groups, sometimes a tiny Waikiki Beach wedding suits certain couples better. Just remember it's hard to make the ceremony feel intimate when the group is too large.
For your loved ones, your wedding is a great reason to come to Hawaii, yet distant relatives and casual acquaintances won't expect an invitation like they would with a traditional wedding.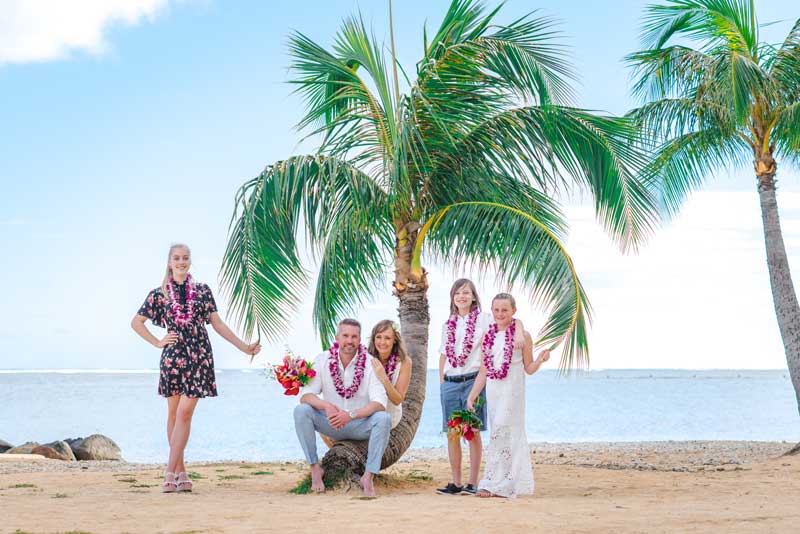 Sometimes all you need is your family!
Imagine how incredible and stress-free it'd be to have an affordable destination wedding on one of the most beautiful beaches in the world. What could be better?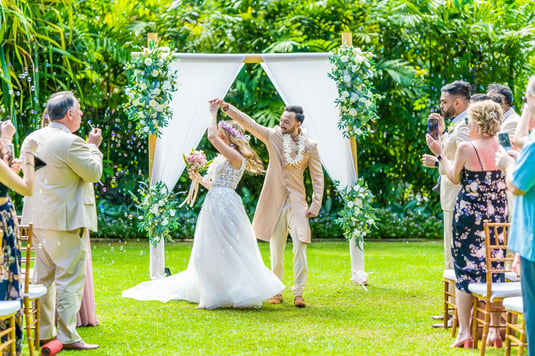 Smaller wedding groups are easier in so many ways, even in color coordinating. :)
Couples who choose to elope in Hawaii also benefit from the small wedding advantages. Sometimes not having guests present on the wedding day allows the couple to make sure it's exactly what the two of them want.
We've had the honor of witnessing how relaxed and special those elopement ceremonies can be, and many of the advantages are the same.
And if you'd like all the benefits of a small wedding and still want to include those back home, you can always live stream your wedding ceremony.
How Much Does a Small Hawaii Wedding Cost?
So many of our couples contact us because a destination wedding is stress-free, affordable, and because Hawaii is one of the most beautiful destinations in the world.
You may be surprised to learn the cost for a Hawaii destination wedding is cheaper than you think! We estimate around $4,500-$7,000 for your wedding package, flight, and hotel, but of course how much you spend is up to you.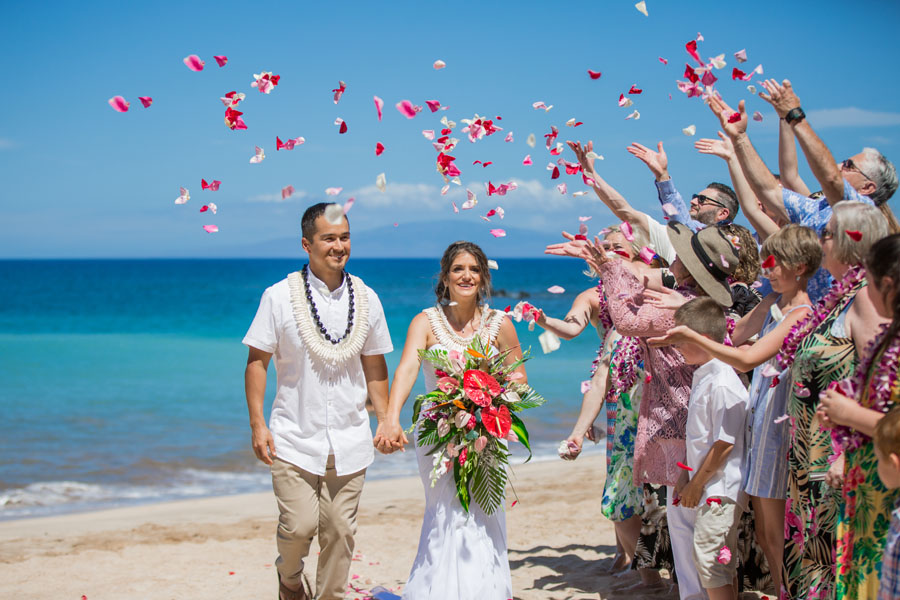 You can pay a venue fee, or you can pay for a beach permit and save a ton!
All of our Hawaii wedding packages are designed with small weddings in mind, so you'll have no problem planning!
Reception cost is something else to consider. Many places in Hawaii do not offer ceremony and reception packages as there are such a wide range of details that can affect cost. A Hawaii wedding reception for our couples is usually a dinner or luau to celebrate! (This is a huge way to save on cost when you have a smaller group.)
How Do You Plan a Small Wedding in Hawaii?
We think Hawaiian weddings are the perfect balance of unique and traditional, casual yet beautiful, exotic but not unfamiliar. If you think so too, we'd be happy to help you with the details of wedding planning.
Our goal is to make this as fun and easy as possible, so here's where to start when planning a Hawaii destination wedding:
Decide on your location and package
Submit your reservation
Plan and customize
Enjoy your wedding!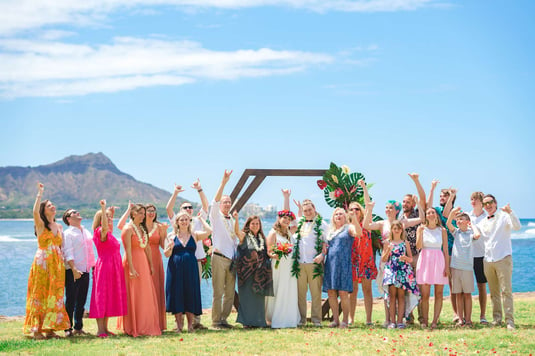 A good-sized Hawaii wedding in our opinion.
A quick note regarding the Hawaii marriage license and the legal process: Hawaii is one of the easiest places in the world to get married!
The previous link has the full details for your review, but here's the quick version:
Apply online for the license by filling out an application and paying the $65 fee.
Come to Hawaii and pick up the license. (Both of you need to be together with photo ID's.)
Bring the license you picked up to the wedding and give it to the officiant.
Go home and keep an eye on the mail (the state will send the official certificate to you).
Super easy, right!?
Conclusion
We understand that a small Hawaii wedding is not always the right fit for all couples. The energy and fanfare of a big wedding is undeniably fun and exciting. However, if a small Hawaii wedding may be more your speed, please call or email us.
We would love to help you with the big day!