Waialae Beach is a short distance from Waikiki and offers the option of either a ceremony on grass or in the sand, making it one of our popular Oahu wedding locations.
Details:
Location: South shore, 10 minutes from Waikiki.
Available: 7 days a week, 8:00am-6:00pm.
Recommended for up to 30 guests.
Decor: No Arches and Chairs. Runways are available 7 days a week.
Recommendation: Lighting is great throughout the day.
Ceremony Considerations at Waialae Beach
The ceremony is held either on a grassy area or the sandy beach with the ocean as the backdrop. If you have larger guest counts, we may need to do the ceremony in the sand as the grassy areas are not very big.
(If you're interested in having your ceremony on a lawn right next to the ocean, especially with larger groups, check out Magic Island.)
Following the ceremony, we take the couple along the beach for a variety of photos.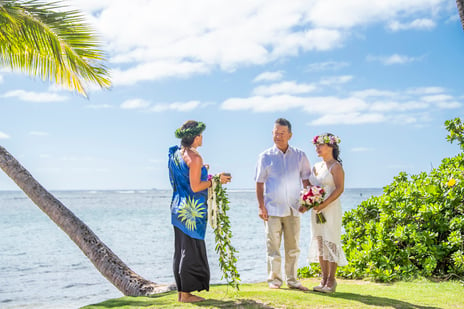 The grassy area is perfect as long as your guest count isn't too big.
Waialae Beach is relatively small compared to some of our other beach ceremony locations, like Sandy Beach. It's located right next to the Waialae Country Club and Kahala Resort. There are far fewer people here than at most beaches in the Waikiki area, making Waialae Beach one of our more popular choices for convenience, beauty, and seclusion.
They escaped winter in Europe for a perfect Hawaii beach wedding!
The palm trees and beach make for the perfect tropical backdrop for your ceremony. If you'd like a bit more decor, the Runway Setups are available at this location seven days a week, as long as it's not a holiday.
Note: As with all of our locations, we need to obtain a beach permit which makes us legally liable. Due to these regulations, we cannot work with outside vendors.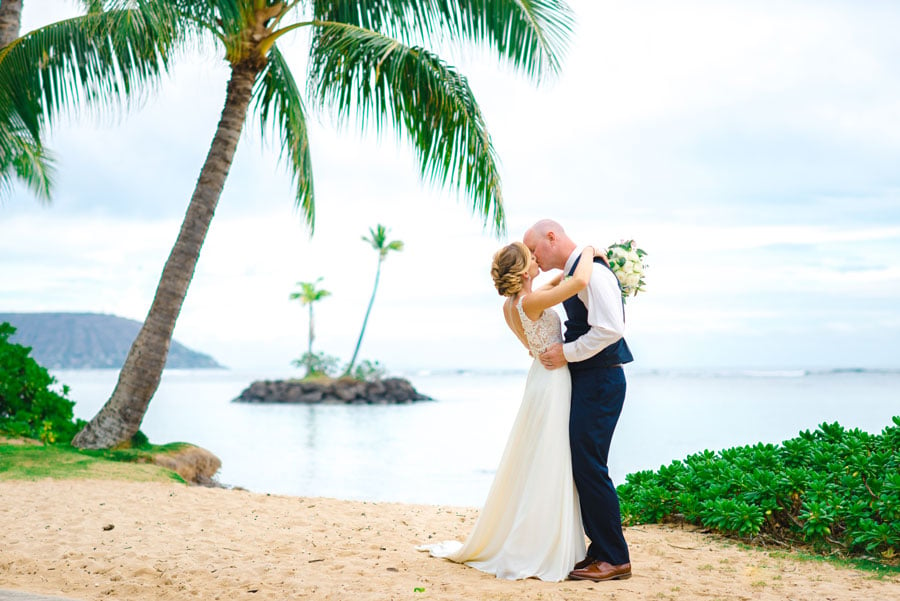 Waialae Beach is perfect for couples wanting the iconic palm tree photos.
Photo Considerations for Waialae Beach
Waialae Beach is on Oahu's South Shore and is great pretty much anytime! Morning through the afternoon, there's plenty of light for vibrant colors. Late afternoon is a great time for softer lighting. Although you cannot see the sunset from this location, if you're lucky, you may get sunset colors in the sky during that time of day.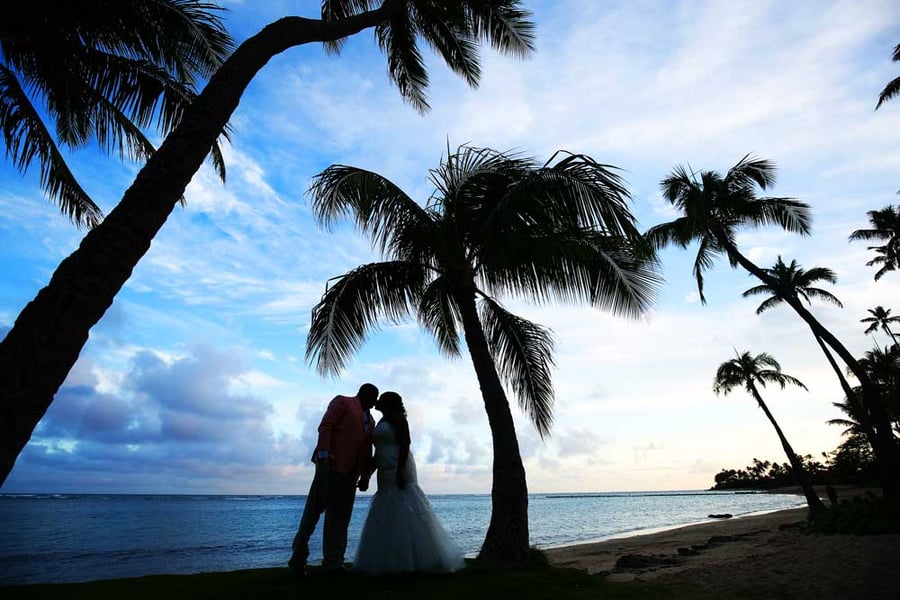 Even though there is no sunset at Waialae Beach, it's still beautiful in the evening.
The iconic palm trees, grassy areas, bridge, and sandy beach offer a variety of different photo opportunities. Many of our couples like how "Hawaii" the photos look at this location, and we have to agree!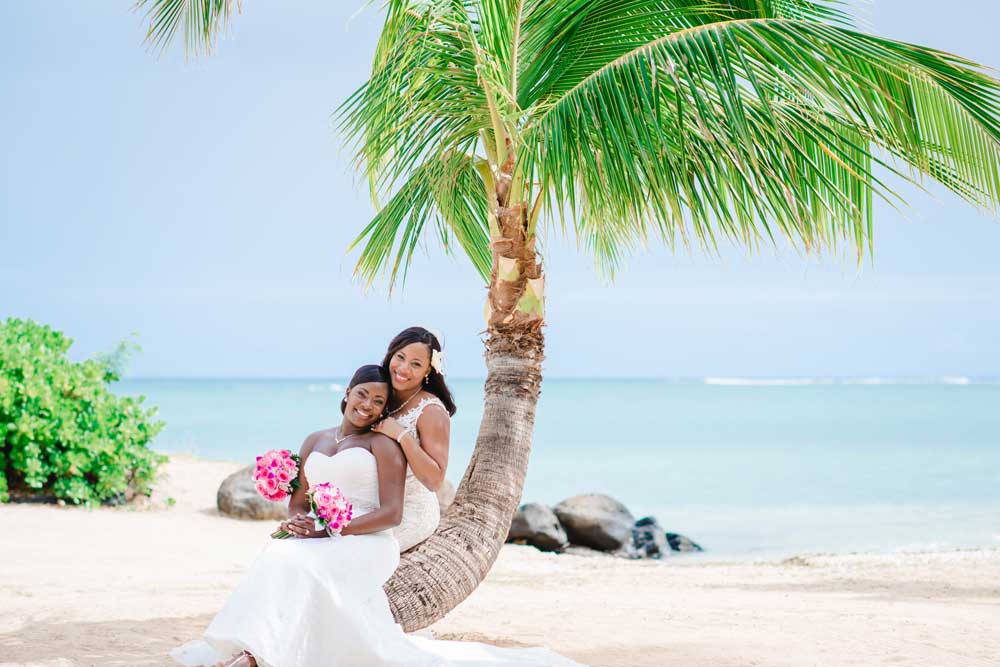 The small palm trees are perfect for beautiful photos!
Logistical Considerations at Waialae Beach
Waialae Beach is very close to Waikiki, about 15-20 minutes from almost any hotel in the area. The majority of our couples stay in Waikiki, so this is a convenient option. For any of our couples staying at the Kahala Resort, you're practically at the ceremony location!
If being as close as possible to your Waikiki hotel is important, a Waikiki Beach wedding may be an option to explore.
As we mentioned, it isn't a very large beach, so Waialae is best suited for couples expecting 30 or fewer guests.
There is a small free parking lot, but you'd need to look for nearby street parking if the lot is full. If you're booking a package with a limo, you're all set. For couples without a limo or rental car, you may want to consider a taxi/Uber as a convenient way to get there. For your guests, you may want to provide transportation for them, recommend a taxi/Uber, or encourage carpooling.
Our team will greet you at the end of the parking lot, closest to the beach. From there, they'll walk you out to the ceremony location. There are some areas of paved sidewalk that run along the country club and resort, parallel to the ocean, but a stretch of the walk is in the sand. The walk can be difficult for those who have trouble walking, have a walker, cane, etc.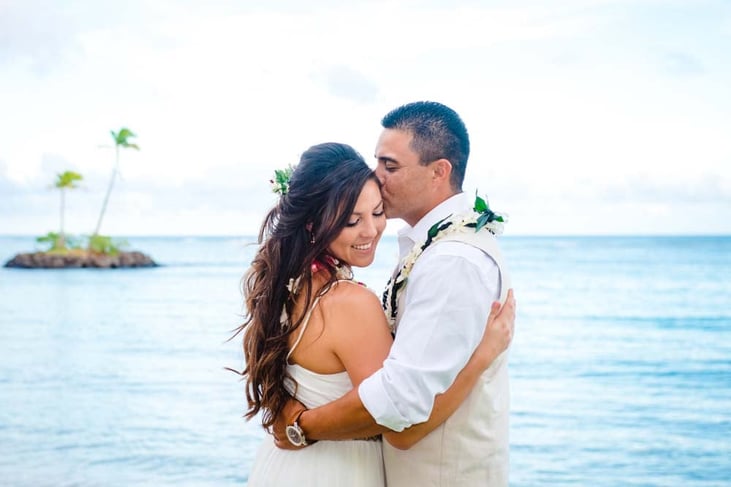 A happy couple with the small island in the background.
We recommend flat footwear at this location. Heels can be dangerous in the sand, and the last thing we want our couples to worry about is walking safely during their wedding. Wedges could work on the grassy areas but plan to remove them once you're on the sand.
Will you say "I do" at Waialae Beach?
Waialae is a great location and has been one of our best Hawaii wedding locations. We believe you can't go wrong with any of our locations, so it just depends on what you're looking for.
If you aren't sure if Waialae Beach is right for you or if you're interested in another Hawaii beach wedding location, give us a call or schedule a time for us to call you. We are happy to help you sort out your options to make sure your big day is exactly what you imagined!