SANDY BEACH Weddings - EVERYTHING YOU NEED TO KNOW
Sandy Beach is located on the southeast coast of Oahu and is a well-loved beach by locals and visitors alike.
As with all our Hawaii beach wedding locations, we have photos and videos in our Sandy Beach gallery, but we like sharing all the details about each location to help you decide if this is the best location for your beach wedding!
Note: Sandy Beach is best for weekday ceremonies or early mornings on the weekends. Weekends get very crowded with the local population.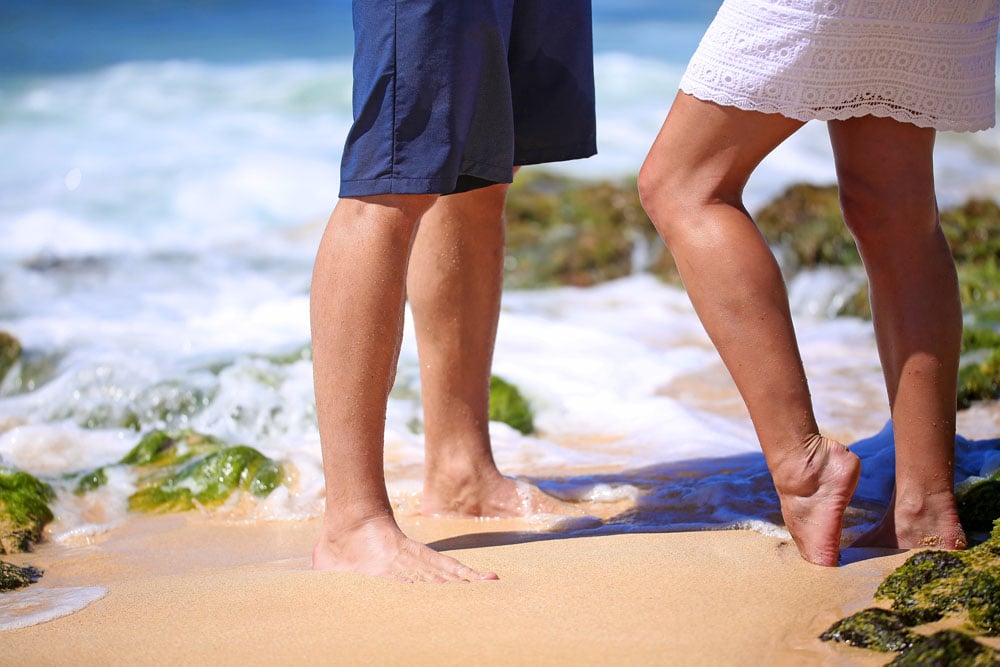 While we wouldn't normally hold the ceremony this close to the waves, your photographer will likely encourage you to get your feet wet for some shots ;)
We truly believe there aren't "pros" or "cons" to any location as it all depends on what you are looking for. What some couples think is a huge selling point may not be what others are looking for. With that in mind, here are all the ins and outs of Sandy Beach.
Details:
Location: South East shore, 30 minutes from Waikiki.
Available: 7 days a week, sunrise to 5:00pm.
Recommended for up to 30 guests.
Decor: No Arches and Chairs. Runways 7 days a week.
Limousine: Requires one additional hour ($110).
Recommendation: Lighting is great throughout the day. Earlier is better for more seclusion.
Ceremony Considerations
The ceremony itself is held on the beach, in the sand. We then take the couple around the beach and to the lava rocks for photos afterward.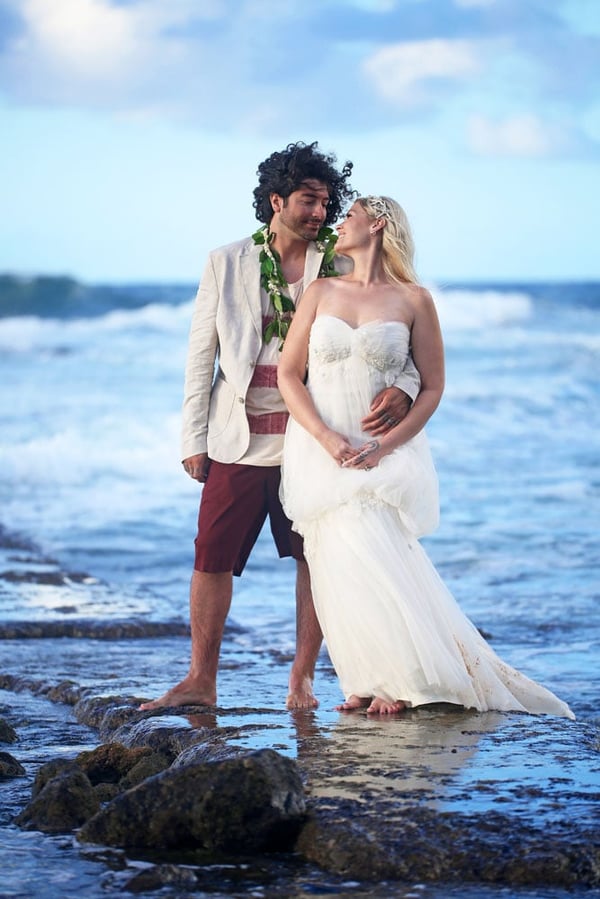 The lava rocks make for some great photo opportunities.
Many couples opt for just the beach as their backdrop of the wedding, but if you were looking for a bit more, any of the wedding runway setups are beautiful additions to frame the ceremony!
If you are considering an arch or chairs, unfortunately, that isn't available at Sandy Beach due to state permitting restrictions. You may want to consider Magic Island if an arch and chairs are an important addition to both of you.
Note: As with all of our locations, we need to obtain specific permits for structural setups that make us legally liable, so you are unable to contract another vendor or bring your own setup.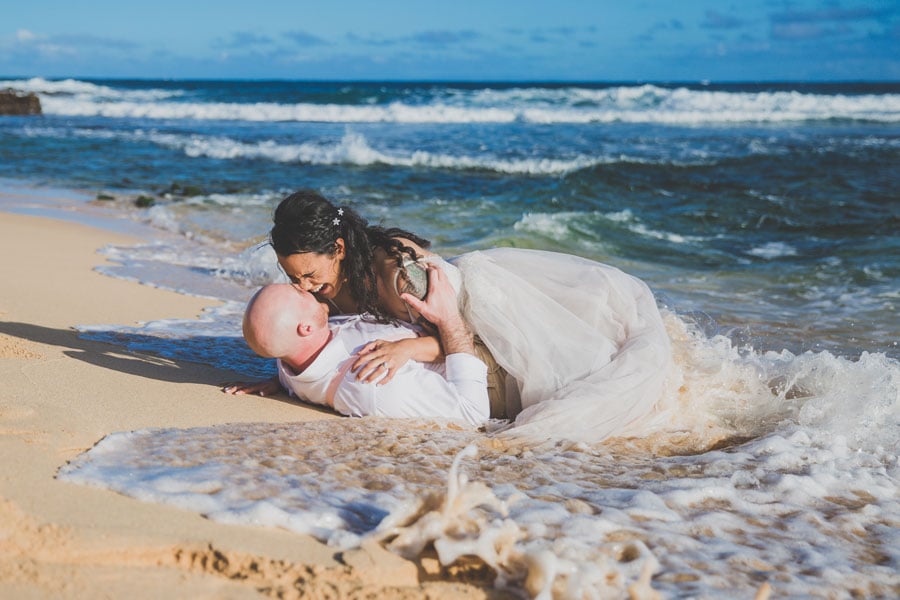 We hope they brought towels :)
Photo & video Considerations
Although Sandy Beach has plenty of light from 8am-5pm year-round, we recommend ceremonies at this location from sunrise until about 1:00 pm, as the beach becomes more populated in the afternoons due to the shorebreak surf. The photos you see in the gallery are from this time of day.
Sandy Beach is a nice location for a Hawaii sunrise wedding.
We hold the ceremony close to the lava rocks, as that is the main reason many of our couples choose this location! This is ideal, as the bodysurfers are on the opposite side of the beach, trying to avoid the rocks.
The Sandy Beach location is one of the larger beaches, featuring a beautiful stretch of golden sand, royal blue ocean, accented by the iconic dark lava rock. Koko Crater (known for its "Stairmaster hike," which you can read about on our Things to Do on Oahu blog) can be seen to the right of Sandy Beach. In combination, Sandy Beach offers breathtaking views of the sea, land, and (crater) mountains.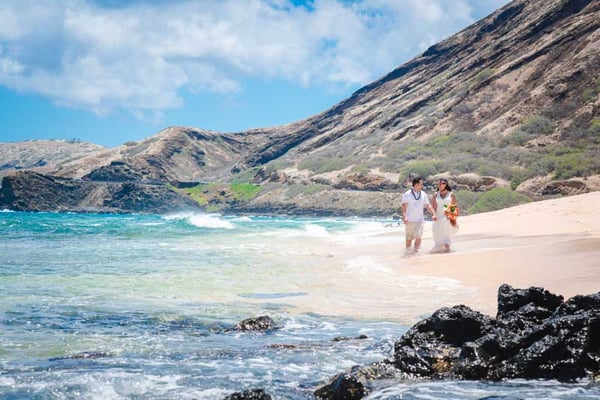 A glimpse of Koko Head in the background.
What we love about Sandy Beach is the waves create whitewash to contrast against the deep blue ocean. And of course, the lava rocks! Not only do they make for striking photos, but they are also deeply rooted in Hawaiian culture.
Some of our couples are looking for different iconic "Hawaii" elements, like Diamond Head or palm trees. However, you won't find them at Sandy Beach. Take a look at Magic Island and Waialae Beach to see if those locations offer more of the look you want.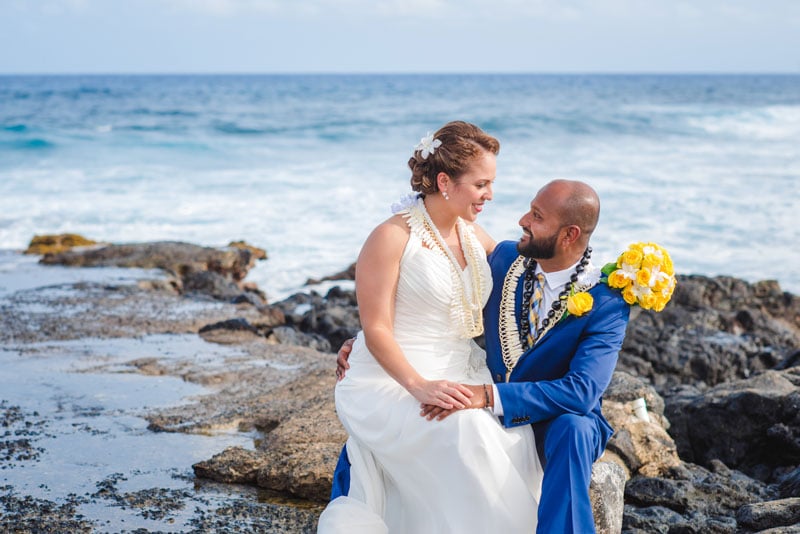 Although the lava rocks are flat and safe, it's best to be careful and wear appropriate shoes if needed.
LOGISTIC CONSIDERATIONS
Given that most of our couples stay in the Waikiki area, logistics is something to consider. It's about 30 minutes by car from Waikiki to Sandy Beach. If you're considering a package with a limo, you'll need to add an hour of limo time ($110).
If you're driving yourselves, it's a very easy and scenic route from Waikiki. You get on the freeway (which is the first 5-10 minutes of your drive), follow the road, and make a right into Sandy Beach.
This location is best suited for small group up to around 25. While getting everyone out there may require some carpool planning, this is a unique location. There's a large, free parking lot that generally has ample parking on the weekdays, which is always something to consider when in Hawaii. ;)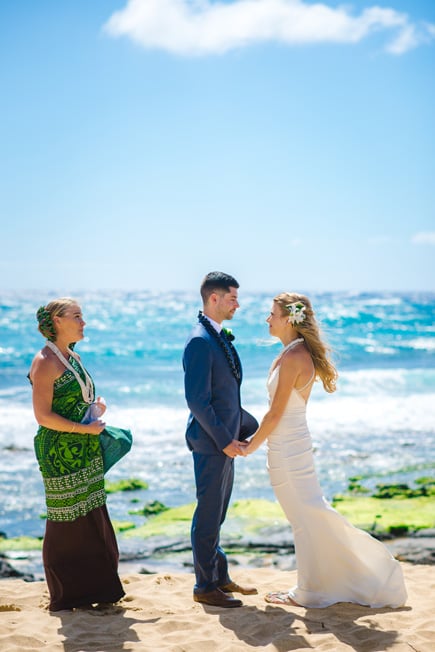 The beach changes with the tides. Here we were lucky to get so close to the lava rocks.
Again, we strongly recommend weekdays only unless you do an early morning ceremony. The beach is very popular on the weekends with the local crowds.
It's about a one-minute walk to get from the parking lot to the ceremony site on the beach. If you have any guests that have trouble navigating uneven terrain, this may not be ideal for them.
We highly recommend flat footwear. If you want a barefoot beach ceremony, it's a comfortable option once you get to the soft sand, but make sure you have suitable footwear to navigate the path out to the beach.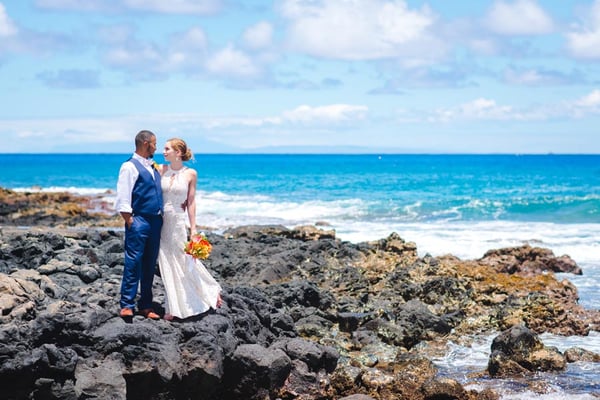 Beach, mountains, and lava rocks at Sandy's.
SO, IS SANDY BEACH THE RIGHT WEDDING LOCATION FOR YOU?
We think it's a great wedding spot, highlighting many of Hawaii's finest natural elements. Even if you choose another location for your wedding day, Sandy Beach is a great place to check out :)
Now that you have all the insider info, hopefully, it's a little easier to decide if it's the right beach for your small Hawaii wedding.
If you're still not sure, give us a call! We'd be happy to chat with you about more details, go over questions you may have, or help you compare the locations.