As your trusted Hawaii wedding planners, we do our best to make sure your day goes as smoothly and perfectly as possible, but there are a few things that are up to you. These are the tips and reminders we're always trying to communicate to our couples.
We speak from experience here, so please trust us that these are some of the best tips you should consider for your special day.
Here Are Our Top 10 Tips for Your Hawaii Wedding Day:
1. Bring Your Marriage License and Wedding Rings
Don't forget your marriage license and wedding rings! Your officiant needs your license, and your rings are part of the ceremony. You will need to pick up your marriage license from the Hawaii Department of Health or a license agent before your ceremony to be legally married. Here are more details on the marriage license process.
(Note: a marriage license is not required for vow renewals.)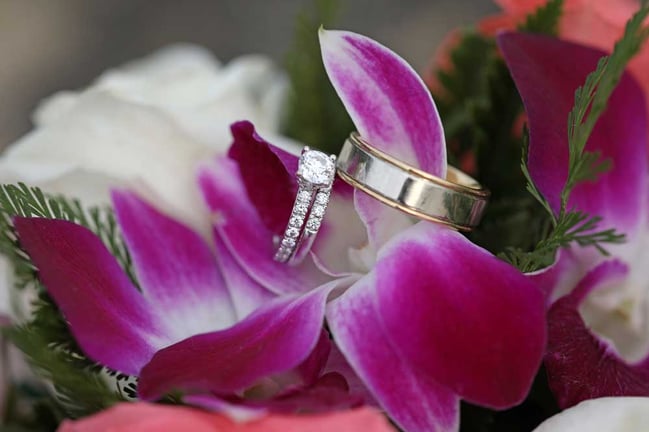 Don't forget the rings!
2. Don't Be Late
We do not want you to feel rushed, so it's much better to be early and have a relaxing ceremony than be late and have your time cut short. Whether you're driving yourself or taking a limo, you do not want to be tardy. It will cut into your ceremony time, photo time, and if you are more than 15 minutes late, it will result in additional fees for your vendors to stay overtime.
3. Choose a Hairstyle for the Breeze
If you're having a Hawaii beach wedding, you should factor in the breeze when deciding on a hairstyle. Hawaii is blessed with near year-round trade winds. These help keep the island cool, but may not work with every hair style. Just something to keep in mind.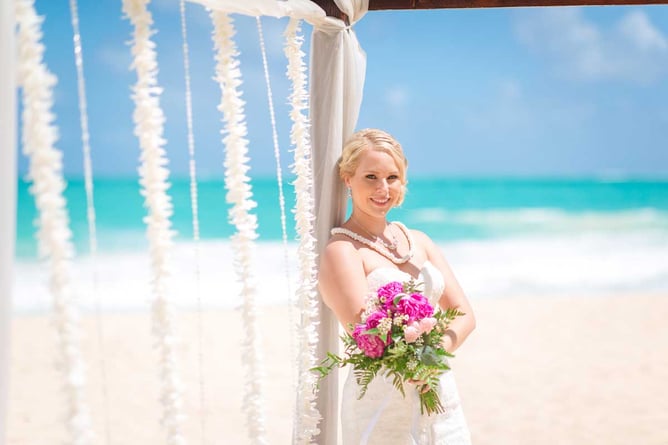 She looks amazing, and her hairstyle is perfect for the beach.
4. Eat Before Your Ceremony
We joke about this tip, but it happens a lot. With all the excitement and preparing for the big day, our bride and grooms sometimes forget to eat. Then they get to the ceremony and run out of steam. Don't be "hangry" on your ceremony day! Make sure you have a meal beforehand that'll keep you full.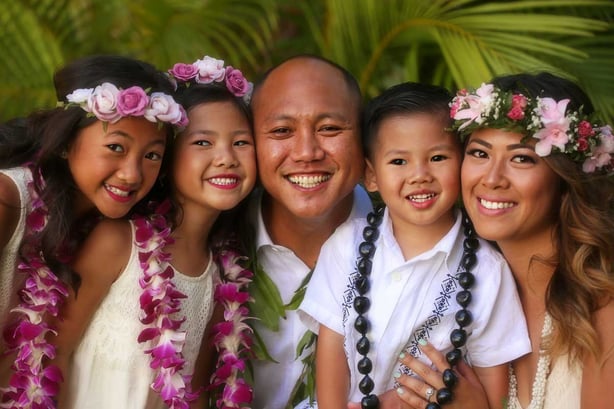 They definitely don't look "hangry."
5. Carefully Consider Your Footwear
This tip is for both the bride and groom. If you're wearing new footwear, make sure you break them in first, and not just the night before. We see a lot of blisters. For the bride, flat footwear is what we recommend at most of our locations. High heels may look great, but they're not safe for walking in the sand or on lava rocks. And yes, you could kick them off, but the sand can be hot at times. If you're set on having heels for your photos, at least bring a comfortable pair of shoes along as well.
Check out our other tips on: what to wear to your beach wedding, groom attire ideas for beach weddings, and beach wedding dresses.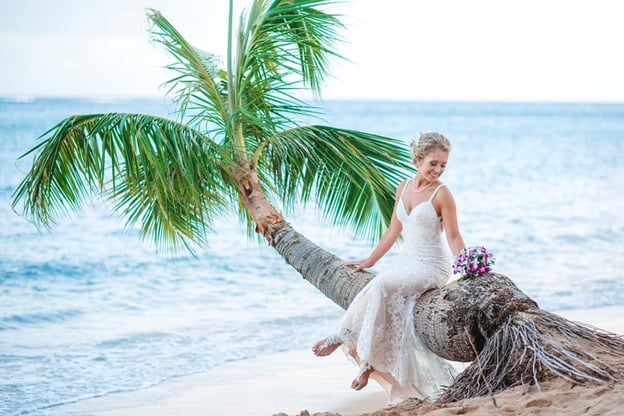 Barefoot sandals are a good option for sand, but bring a pair of comfortable shoes or sandals too.
6. Come Fully Dressed
Once you arrive at your wedding venue, you'll want to be ready to start your ceremony. There isn't always a convenient or clean place to change clothing. Plus, changing takes at least 10 minutes, which cuts into your ceremony and photo time. It's best to get ready before you leave. That way, you won't lose any time.
7. Add the Digital Image Photo Package
Purchasing your digital images is an option most of our couples choose. Adding them to your package before your wedding allows you to get them at the pre-sale rate! For various reasons, many couples wait to purchase the digital image package after their ceremony, at the higher rate. We encourage you to make this decision before your ceremony day as we don't want you to waste that money!
8. Gratuity for Your Wedding Team?
While by no means a requirement, gratuity is greatly appreciated. If you'd like to show your appreciation through a monetary "thank you," the vendors to consider are your officiant, hair and makeup artist, limousine driver, photographer, and videographer (depending on your package).
9. Add Photo Time for Large Groups
Yes, it costs extra, but one hour of photography isn't enough to capture all your guests and still get the important couple's shots as well. If you have a large group, our photographer will need to spend time trying to get your guests arranged for photos. With only one hour of photography time, it will feel rushed. Our photographers don't like this because they can't do the quality work they'd like to do, and we don't want our couples to regret not getting good photos of all their guests. If you have a large group, please consider adding photography time to your package.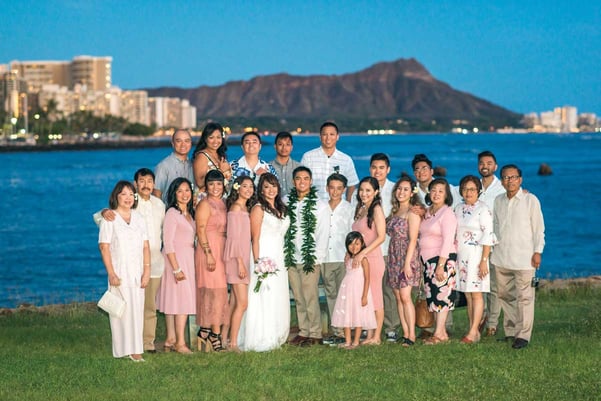 It's no problem to get one group shot, but it's tough to get individual shots with the couple.
10. Contact Us When You Need Help
We don't want you to be wondering about things we can easily give you information on! We know it can be scary to plan such an important day from across the ocean. We're always happy to discuss any questions or concerns you have, so please never hesitate to reach out. You're always welcome to give us a call, send us a message, or schedule a time below for us to give you a call.