Imagine a local Hawaiian musician singing and strumming the ukulele as you walk down the aisle at your beach wedding. We only use trusted, talented musicians who are experienced in singing at Hawaii beach weddings.
Why Have a Live Musician for Your Wedding?
While not necessary to have a wonderful wedding, a live musician can add an element that a recording can't match. Live music helps set the tone and creates the ambiance for the event.
Kanikapila (a Hawaiian jam session) is commonplace at local parties and gatherings as music is an integral part of a celebration. It only makes sense to have live music at a beach wedding too.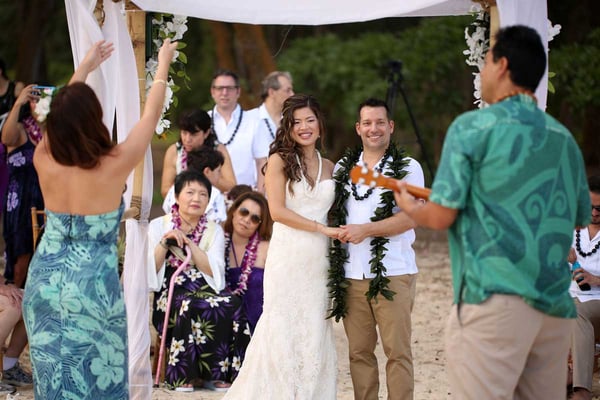 How It Works
The live musician performs a song during the processional, another for the recessional, and soft instrumental during the ceremony. During the ceremony, the musician does a serenade for the couple.
To add some additional Hawaiian wedding traditions into your ceremony, adding a hula dancer to perform is a unique, memorable experience.
Do you have any special song requests? Let our wedding coordinators know and they can discuss music options with you to make sure you have the music you want on your day!