Getting married in Hawaii is easier, more affordable, and less stressful than many couples think. We know planning from a distance can seem tough, but with over 40 years of experience performing weddings, we know how to make your dream destination wedding absolutely amazing! As we like to say, "No stress...just get dressed, and we'll do the rest."
Getting Married in Hawaii Basics
1. Research the Hawaiian Islands
Oahu is the most popular island, followed in order by Maui, Kauai, and the Big Island. All islands offer the quintessential Hawaiian elements, yet they're all unique in their own ways.
Oahu is known as "the gathering place." It's home to Waikiki, Honolulu, Pearl Harbor, Diamond Head, and some of the state's most beautiful beaches. Oahu also has many restaurants, cafes, bars, shopping centers, movie theaters, and other activities.
We are based on Oahu, and our Oahu wedding packages are the most popular choice for most couples.
We also offer Maui, Kauai, and the Big Island wedding packages. These "outer islands" are quieter and more relaxed. While there's plenty to do as far as going to the beaches, hiking, shopping, and eating out, these islands have a more rural feel and are perfect for those looking to get away from it all.
Read more about things to do on Oahu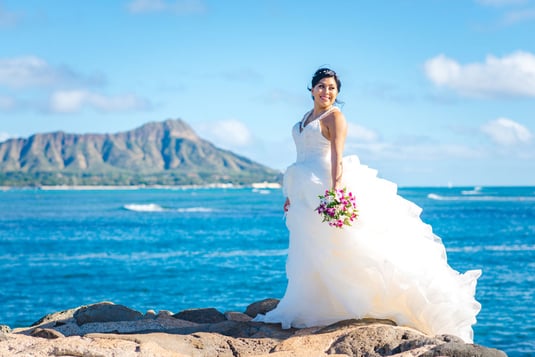 A bride posing with Diamond Head in the background at Magic Island, Oahu.
2. Decide What Kind of Wedding You'd Like to Have
Many couples are surprised by how easy it is to have an affordable destination wedding, and our goal is to make planning a wedding from a distance easy and stress-free as well.
You can have a simple Hawaii beach wedding for a few hundred dollars or splurge on a large hotel wedding for tens of thousands of dollars.
While most of our couples are here for natural beauty and are surprised by how affordable a wedding can be, some couples want to pull out all the stops and have a large wedding with a huge guest list. No matter where you fall in this range, we can help with your big day.
Even if we don't provide what you're looking for, we're happy to refer you to trusted wedding planners who better fit your needs. With over 40 years of experience, we usually know how to help you find the best options!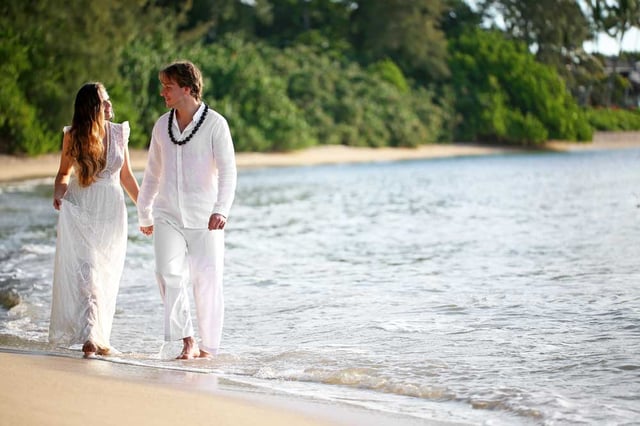 A couple after their wedding ceremony at Kawela Bay, Hawaii.
3. Choose a Wedding Package and Location
Once you know which island and what type of ceremony you'd like, it's time to narrow down a wedding package or elopement package and pick your location. (While our wedding packages and elopement packages are the same, some inclusions may appeal differently to you depending on whether you're having guests or not. We're happy to help if you have any questions.)
At the core of most wedding packages are your two essentials: an officiant and a wedding photographer (only our Kamaiana package does not offer a photographer). Other packages include popular items, such as Limo service, videography, in-room hair and makeup, and wedding setups, and many couples want to add Hawaiian wedding elements, such as local flowers and leis, a live Hawaiian musician, and a hula dancer.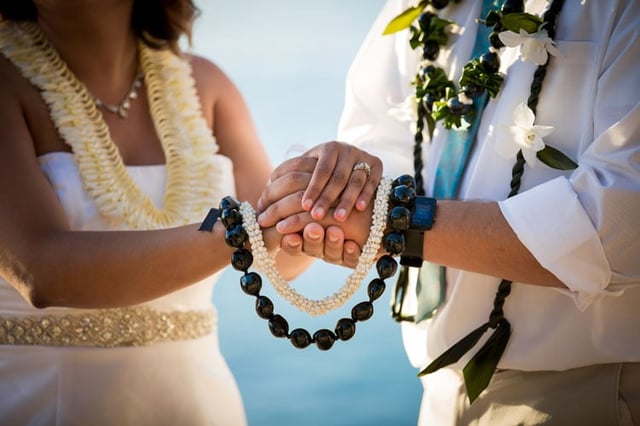 Hawaiian elements are part of the wedding ceremony.
All of our wedding packages are customizable. We know it's important for you to choose exactly what's right for you, so we try to make the process as straightforward as possible.
With so many beautiful wedding locations in Hawaii, choosing can be tough.
If you find yourself unsure, we'd like to encourage you to reach out to us. We're happy to chat about our locations and any questions you have.
4. Book Your Travel
We recommend booking travel around three months in advance, give or take. Booking more than six months in advance or too close to your travel dates generally sees higher prices. Travel sites like Expedia.com are great sources to begin your planning. Once you narrow down a hotel, you can start to monitor prices and hopefully find a deal you're happy with.
Need help choosing a hotel? We're happy to give you some suggestions. We offer our couples a promotion code for special rates at the Hyatt Centric Hotel, Outrigger Waikiki Beach Resort, and Outrigger Reef Resort, and we have other favorites if those aren't your style of hotel.
If planning travel is stressful for you, please chat with us about it. We'll help you every step of the way!
Read more about booking your travel to Hawaii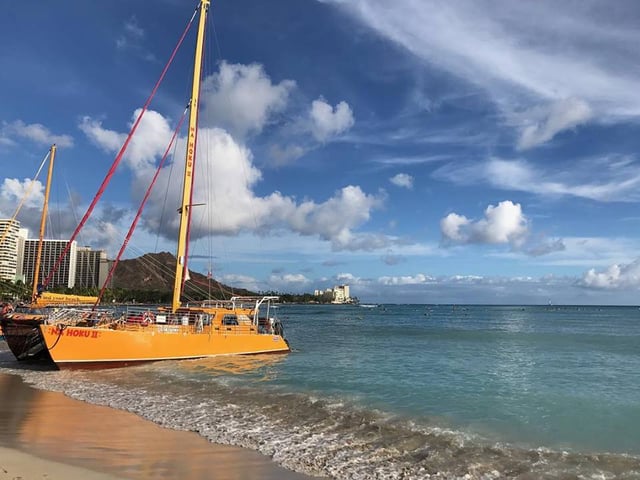 If you're staying on Oahu, we recommend a sunset catamaran cruise.
What You Need to Get Married in Hawaii
Marriage License - Hawaii makes obtaining a marriage license incredibly easy. You can apply online from home. Once you arrive in Hawaii, you'll both need to pick up your license at the Department of Health or with a licensing agent. The in-person process takes about 15 minutes. You'll both need to show a driver's license or passport.
Permit - The State of Hawaii requires permits for ceremonies in public areas. We meet the requirements and have the necessary liability insurance to obtain the permits on your behalf. Permit fees are $50 per location as of the time of writing (May 2022).
How Much Does It Cost to Get Married in Hawaii?
Affordable Hawaii weddings are easy to plan. While some estimates online quote over $20,000, we find that number misleading. We recently wrote an article on how much a wedding in Hawaii costs, and we estimate that couples coming from mainland America can fly to Hawaii, stay seven nights at a mid-range hotel, and choose one of our wedding packages for around $5000.
Of course, prices can vary depending on what you choose. While many couples do spend more than that, a Hawaii destination wedding is easily more affordable than a traditional wedding.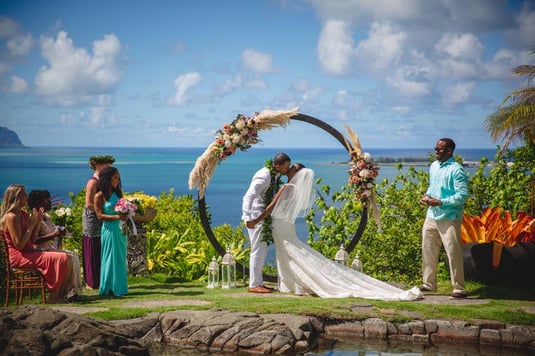 Newlyweds after their wedding at Noelani Gardens, Oahu.
Where Are the Best Places to Get Married in Hawaii?
While there's no end to beautiful Hawaii wedding locations, we do have our favorites.
What's most important is finding a Hawaii ceremony location that has everything you're looking for in a wedding venue. Do you want a beach wedding? A private garden ceremony with a waterfall? A chapel? Do you want a large area for many guests, or are you looking for an intimate ceremony with just the two of you? Whatever you're looking for, we can help!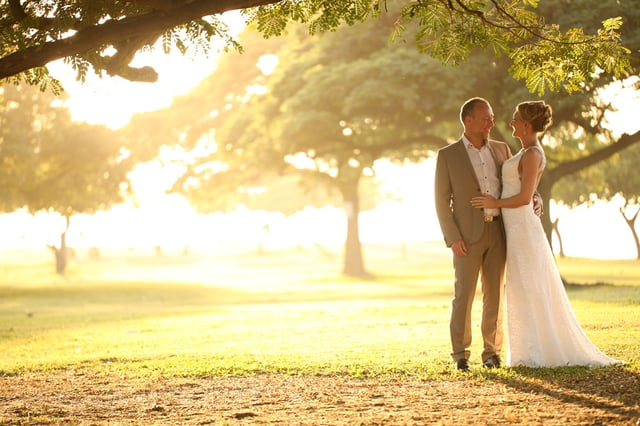 A sunset wedding at Magic Island, Hawaii.
Beach weddings are popular. Not only are they much more affordable than a hotel and private venue ceremonies, but they also provide you with amazing natural beauty. Our most popular beach wedding location is Sandy Beach on the island of Oahu. The turquoise waters and lava rocks provide exactly what most couples think of when dreaming of a Hawaii beach wedding.
We have so many beautiful locations, each offering something unique for you.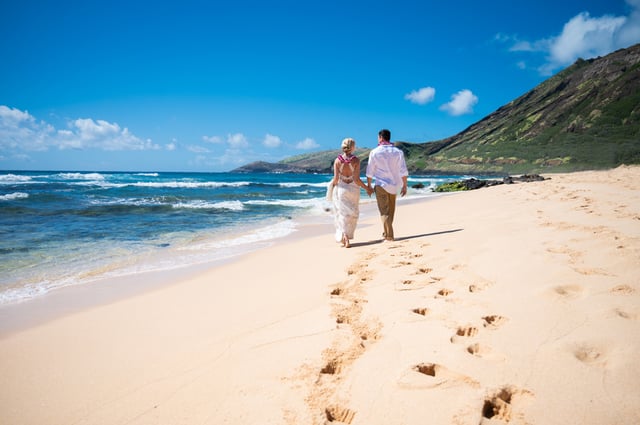 Happy newlyweds on Sandy Beach, Oahu.
When's the Best Time to Get Married in Hawaii?
The day of the week is more important than the month of the year when deciding when to get married in Hawaii. Non-holiday weekdays are the best choice. The beaches and parks are popular with locals on the weekends, so the weekdays offer more seclusion and privacy.
Hawaii is beautiful year-round, so whenever is convenient for you is the best time to come. Temperatures tend to stay between 70-80 degrees, and while the winter months (November-February) see slightly more rain, most beach wedding locations look the same whether your ceremony is in July or December.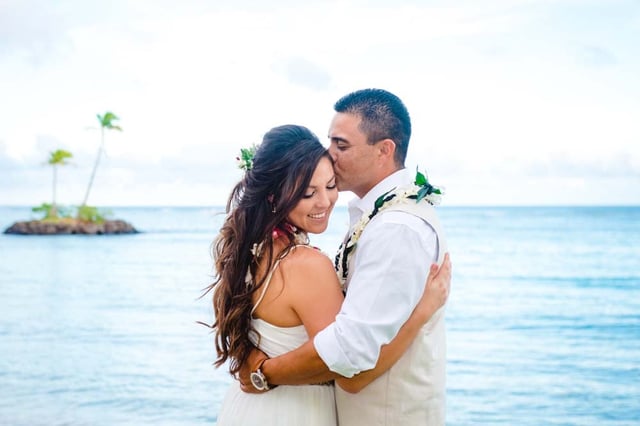 A happy wedding couple at Waialae Beach.
Rain rarely affects one of our ceremonies, and while it happens occasionally, we can go months without having to make changes because of the weather.
While Hawaii is well prepared for tourism and hotel rooms are plentiful, there are a few peak times you might want to plan around.
Winter Holidays (Mid-December to mid-January)
Spring Break (early March)
Japanese Golden Week (late April to early May)
Read more about what kind of weather you should expect on your wedding day.
What to Wear to Your Hawaii Wedding
Weddings in Hawaii tend to be more casual than in other parts of the world. It's your special day, so we recommend you wear whatever you want. We've seen everything from a bikini to a full gown and tuxedo.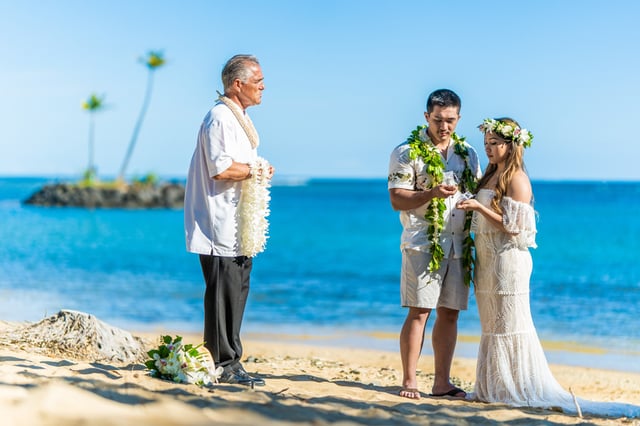 Shorts are perfectly acceptable Hawaii wedding attire.
Our biggest tip is for the ladies to wear flats. Heels are dangerous in the sand and at locations with lava rocks. Even if you plan on kicking off your heels and going barefoot, having a pair of flats is a good idea.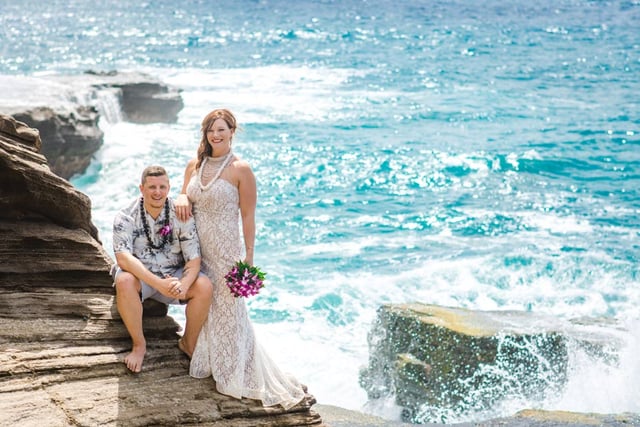 Heels are not safe for some locations. Flats are safer and more comfortable for you!
Read more about what to wear on your Hawaii wedding day.
Final Thoughts on Getting Married in Hawaii
There is no better way to get started in planning your destination wedding in Hawaii than to get in touch. We're happy to chat and answer all your questions. It's a special day, and we know how important it is.
Call, email, or schedule a phone appointment below. Our team will be with you every step of the way!