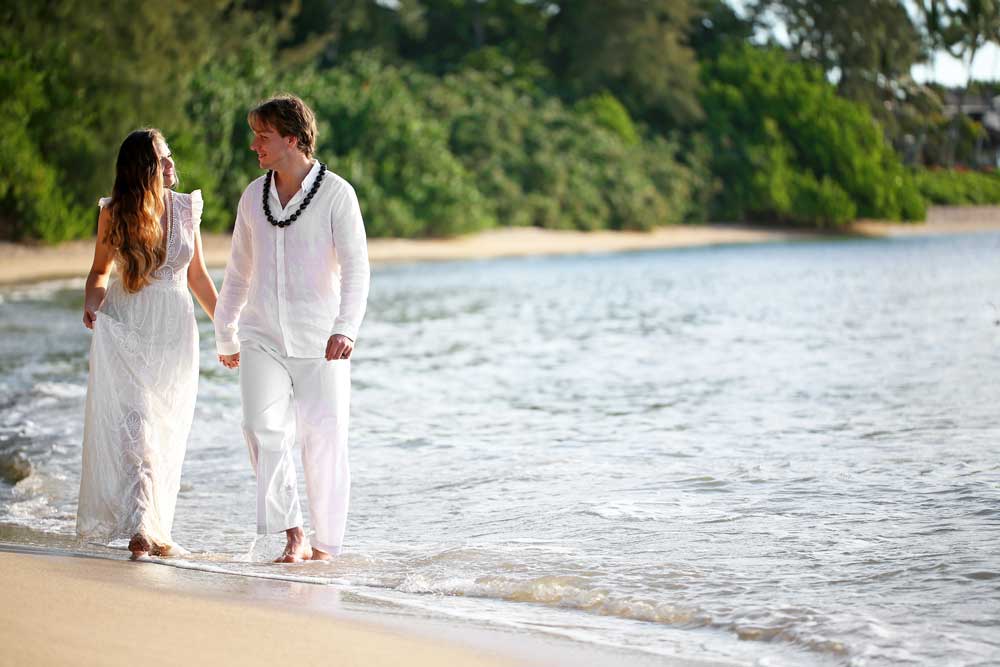 Getting married in Hawaii is easier, more affordable, and less stressful than many couples think. We know planning from a distance can seem tough, but with over 40 years of experience performing weddings, we know how to make your dream destination wedding absolutely amazing! As we like to say, "No stress...just get dressed, and we'll do the rest."
Getting Married in Hawaii Basics
1. Research the Hawaiian Islands
Oahu is the most popular island to visit, followed in order by Maui, Kauai, and the Big Island. All islands offer the quintessential Hawaiian elements, yet they're all unique in their own ways.
Oahu is known as "the gathering place." It's home to Waikiki, Honolulu, Pearl Harbor, Diamond Head, and some of the state's most beautiful beaches. Oahu also has an abundance of restaurants, cafes, bars, shopping centers, movie theaters, and other activities.
We are based on Oahu, and our Oahu wedding packages are the most popular choice for most couples.
We also offer Maui, Kauai, and the Big Island wedding packages. Thes "outer islands" are quieter and more relaxed. While there's plenty to do as far as going to the beaches, hiking, shopping, and eating out, these islands have a more rural feel and are perfect for those looking for a chance to get away from it all.
Read more about things to do on Oahu
A bride posing with Diamond Head in the background at Magic Island, Oahu.
2. Decide What Kind of Wedding You'd Like to Have
Many couples are surprised by how easy it is to have an affordable destination wedding, and our goal is to make planning a wedding from a distance easy and stress-free as well.
You can have a simple Hawaii beach wedding for a few hundred dollars, or you can splurge on a large hotel wedding for tens of thousands of dollars.