Now more than ever, elopement packages are an excellent option for couples looking for a stress-free way to plan their wedding, and with some of the most stunning beaches in the world, eloping in Hawaii is a no-brainer!
Did you know that elopements and destination weddings can be much more affordable than traditional weddings? Many couples can fly to Hawaii, stay seven nights, have their wedding, and still spend less than they would for a wedding at home.
Our elopement packages below are for the island of Oahu. More details can be found by clicking the "Oahu Wedding Packages" from the menu above. For Maui, Kauai, and the Big Island elopement and wedding packages, please follow the link from the menu above.
You might also like our Tips for Eloping blog post for the "do's and don'ts of eloping in Hawaii.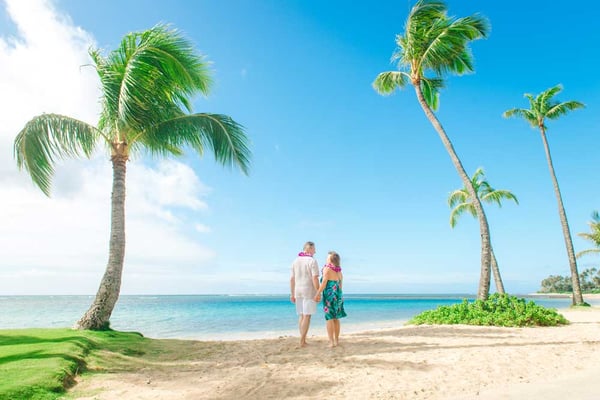 Can you picture yourself eloping in one of the most beautiful places in the world?
We already mentioned that Hawaii has very affordable destination wedding options, but what's "affordable," you ask? Our Hawaii wedding packages range from $295 to $8,825, with most couples spending a small fraction of the cost of a traditional wedding (2022 prices).
If this sounds like it could be a good fit for you, check out more of our elopement package details below.
*With any of these packages, you choose which stunning Hawaii wedding location will be the place you tie the knot. Public locations require a $50 permit we obtain for you from the State of Hawaii, and we do offer private venus for additional fees. Keep in mind that all of our packages can be customized. 😁*
Oahu Kama'aina Elopement Package - $295
Our Kama'aina elopement package includes an officiant for an intimate ceremony in paradise. It's our version of a courthouse wedding, just on a gorgeous beach.
The officiant will meet you at the beach location. It's far more beautiful than a state building, but keeping things as low-key as a ceremony can be.
See all Kama'aina Package details.
Quick Summary:
Oahu Gardenia Elopement Package - $749
The Gardenia elopement package also includes a professional wedding photographer in addition to the officiant to perform your wedding ceremony.
Perfect for couples already planning to get a rental car, you meet the officiant and photographer at your beach location. The ceremony takes place first, then your photoshoot to follow. Even on a small budget, you can have a romantic ceremony with a lovely set of photos to document your special day.
See all Gardenia Package details.
Quick Summary: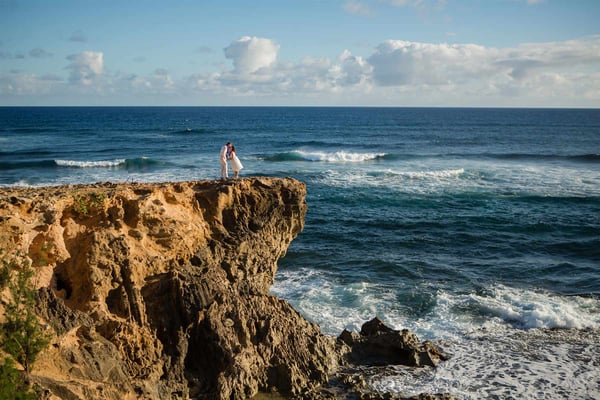 Your elopement package doesn't need to be complex in order to be amazing!
Oahu Maile Elopement Package - $995
The addition of the limousine in the Maile elopement package adds to the basics of officiant and photographer included in the previous packages. The limousine will pick you up from your hotel, take you to your ceremony location, where the officiant and photographer meet you, then bring you back once your photoshoot is done. Eliminating any stress from driving and navigation on your wedding day is a nice luxury.
See all Maile Package details.
Quick Summary:
Officiant

Photographer

Limousine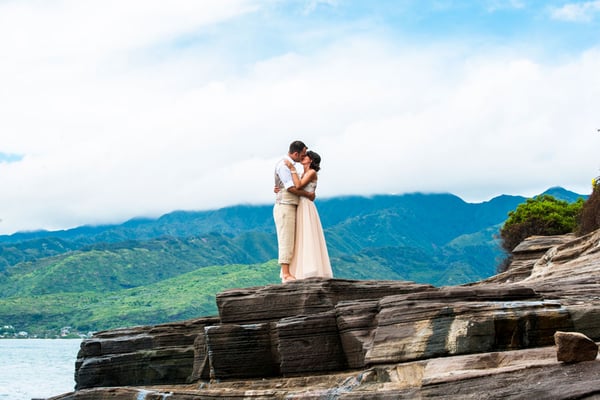 You'll remember your Hawaii elopement forever. Make it the best you can!
Oahu Lehua Elopement Package - $1,749
The Lehua elopement package is the most popular and includes everything from the previous package plus a bouquet and a professional wedding videographer.
Videography is the number one thing couples regret not having at their wedding, so this package will have you covered!
See all Lehua Package details.
Quick Summary:
Officiant

Photographer

Limousine

Videographer
Bouquet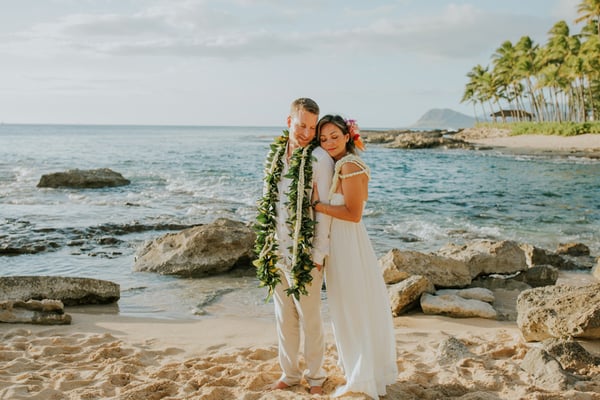 An elopement at Secret Beach, Hawaii.
Oahu Royal Ilima Elopement Package - $2,995
The Royal Ilima elopement package includes a two-location photoshoot and the option for in-room hair and makeup or a live musician. For an elopement wedding, this package has many popular services that are often added to the smaller packages.
See all Royal Ilima Package details.
Quick Summary:
Officiant

Photographer - Two location shoot

Limousine

Videographer

Bouquet

Choose between Hair and Makeup or Live Musician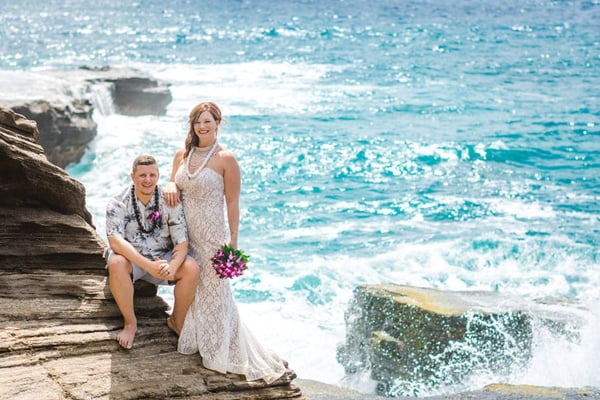 Oahu Monarch Elite Elopement Package - $5,549
Our Monarch Elite elopement package goes beyond the essentials and offers luxury services to enhance the big day. For example, the hotel consult makes getting your marriage license fast and convenient. The extras in this package create an extra special wedding experience.
See all Monarch Elite Package details.
Quick Summary:
Officiant

Photographer - Two location shoot

Limousine

Videographer - Two location shoot
Bouquet and Boutonniere
Hair and Makeup
Live Musician
Hula Dancer
Cake Cutting
Hotel Consult
Couples massage
Can you spot all the extras included in this Kalani Ilima elopement package?
Oahu Kalani Ilima Elopement Package - $8,825
The Kalani Ilima is the most inclusive elopement package and includes all the bells and whistles we could think of. The limo service for your arrival and departure certainly makes you feel special from beginning to end! Getting amazing drone footage elevates your wedding video while the live stream allows family and friends around the world to feel like they're in Hawaii too!
See all Kalani Ilima Package details.
Quick Summary:
Officiant

Photographer - Three location shoot (pre-bridal, ceremony location, and second-location photoshoot)
Limousine - Airport pick up, airport drop off, and ceremony day
Videographer - Three location shoot (pre-bridal, ceremony location, and second-location photoshoot)

Bouquet and Boutonniere

Hair and Makeup

Live Musician

Hula Dancer

Cake Cutting

Drone - Two location shoot

Hotel Consult

Couples massage

Live Stream
Choice of any arch, arbor, or runway wedding setup with up to 30 chairs for ceremony location (restrictions apply)
These elopement packages are fully customizable to ensure you get everything you want for your dream beach wedding. Many of the same services for a traditional wedding are still included, so you aren't missing anything, except maybe a few headaches. 😉
For your wedding dinner, we have lots of reception recommendations to make sure you have a delicious meal to celebrate your special wedding day!
Small Hawaii weddings are unique and meaningful. Plan your ceremony for what's perfect for you, and you're sure to have one of the most memorable days of your life!
More articles to help you plan:
Or you could just call or email us. We've been planning weddings since 1978, and we'd love to plan yours!