Everything You Need to Know About Kawela Bay
Kawela Bay is our top North Shore ceremony location. For couples staying on the North Shore, the drive to many of our other Hawaii wedding locations is a bit far, and considering the proximity to Turtle Bay and other North Shore accommodations, Kawela Bay proves to be a great choice. Although we have descriptions and photos of all our wedding locations, we wanted to share more details that may help you in choosing the perfect beach for the big day!
As you probably have seen in the pictures, this location features soft sand, calm blue water, and one of the most amazing Banyan tress in Hawaii.
The combination of the beach and forest gives couples a "two-in-one-location" photo opportunity.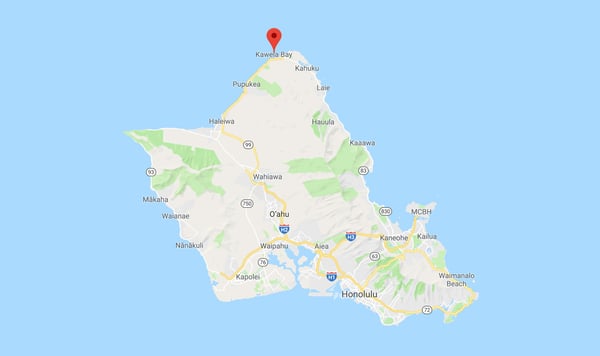 Kawela Bay is located almost as north as you can go on Oahu :)
We like to say there aren't "pros" or "cons" to any location as it's all up to you to decide what you like, but for couples wanting a beach wedding on Oahu's North Shore, Kawela Bay is worth considering.
Ceremony Considerations
The ceremony itself is held in the sand unless requested otherwise. The Hawaiian wedding ceremony is followed by a photo/video on both the beach and forest.
Unfortunately, arch or chair setups are not doable at North Shore locations.
Note: As with all of our locations, we need to obtain specific permits for structural setups that make us legally liable, so you are unable to contract another vendor or bring your own setup. If a setup is important to you, we recommend Magic Island. Although it's a long drive, it's perfect for larger groups.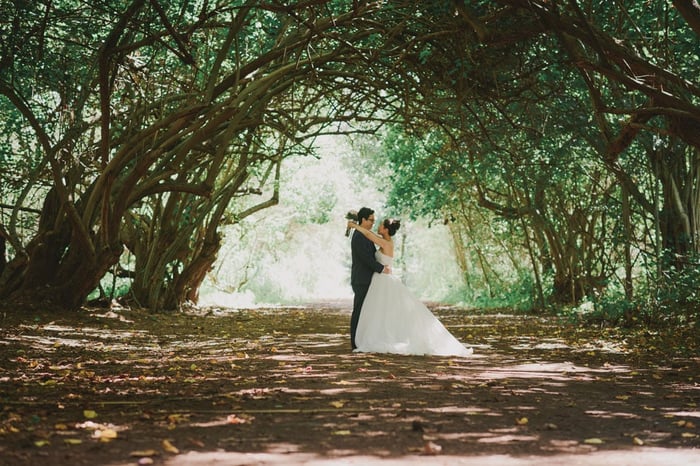 The forest to the beach offers some amazing photo opportunities.
Photo Considerations
Kawela Bay offers both beach and forest photo opportunities. With one of the most amazing Banyan trees on the island, the forest is a highlight for many couples, along with the magical tunnel as seen in the photo above.
While most couples choose a ceremony later in the day to take advantage of the soft light, ceremonies can be help any time of day. One note to be aware of is that scheduling too late in the day will decrease the amount of light in the forest, so we always try to make sure you don't start the ceremony too late. Ceremonies in the early morning, on the other hand, may cause a strong backlight due to the trees blocking out the sun.
Kawela Bay does have its share of iconic features. Along with the amazing forest, this is a common area to see beautiful sea turtles, which we must always enjoy from a distance for their protection.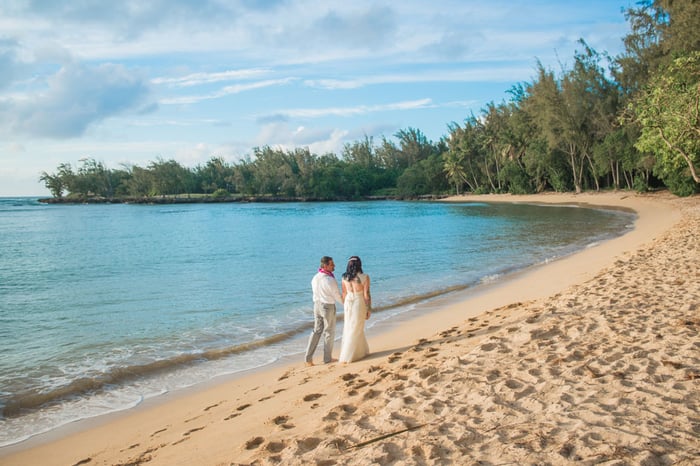 The calm waters and soft sand are perfect for your beach wedding ceremony.
Logistic Considerations
Given that most of our couples stay in the Waikiki area, logistics is something to consider. If you are staying on the North Shore, it's a great location, but if you're traveling up from the Honolulu area, it's a considerable distance and does require an additional travel fee per vendor of $100 and additional limo fees if applicable (2019 prices).
This location can technically accommodate up to 30 based on the state's beach permit, but it is a relatively small beach, so we'd recommend it for groups of 15. Please remember we do not offer chairs or arches on the North Shore.
While getting everyone out there may require some planning, the path is flat and the beach is only about five minutes from the parking.
For parking, there is street parking on both sides of the road. Please do not leave valuables in your car!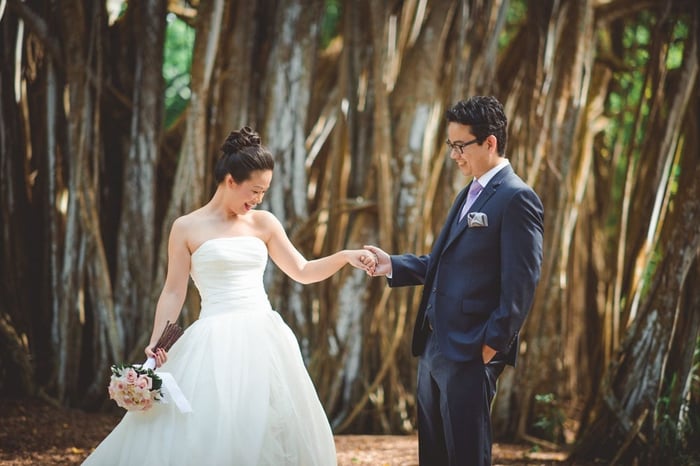 The tress are unique and magical, perfect for photo memories.
We highly recommend flat footwear. If you want a barefoot beach ceremony, it's a comfortable option once you get to the soft sand, but make sure you have suitable footwear to navigate the walk through the forest.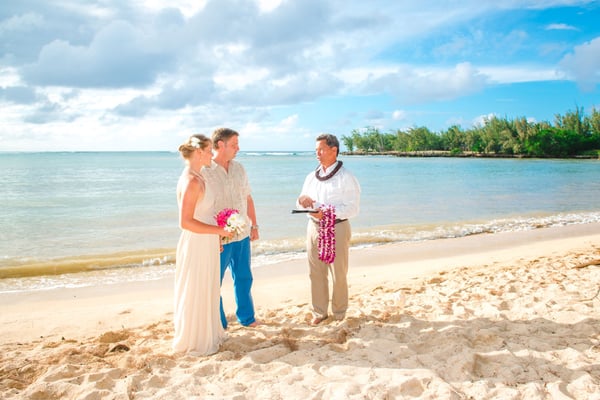 What more do you need? :)
So, is Kawela Bay the right wedding location for you?
We love it! We think it's a great wedding spot for our couples on the North Shore. And if you don't decide to have your ceremony here, it's worth it to stop by and see the tress and look for turtles ;)
Now that you have the insider scoop, hopefully you can decide a little easier if it's the right beach for you.
If you're still not sure, give us a call! We'd be happy to chat with you about more details, go over questions you may have, or help you compare the locations.