When it comes to destination weddings, there are a lot of places you could go. We're a little biased, but there aren't a lot of people who'd argue against a Hawaii destination wedding or vow renewal. It has everything you could want: natural beauty, friendly people, tons to do, and world-class cuisine, and we know the best places to get married in Hawaii. Hawaii truly is paradise.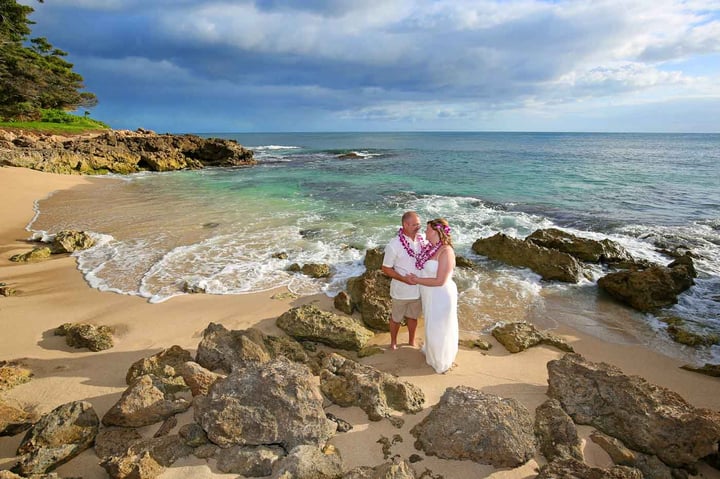 Your wedding photos will be amazing!
Why Have a Destination Wedding in Hawaii?
There are several reasons we believe Hawaii is the best spot for a destination wedding. Here are the top reasons we hear from our couples:
1. Amazing Hawaii Wedding Photos!
Picture yourself in wedding attire on one of the world's best beaches. Your cameraman is shooting away, and your videographer has the tape rolling. It's a postcard moment, and you look amazing. Everything from the comforting breeze to your fresh Hawaiian bouquet is perfect.
Maybe you're eloping in Hawaii, and it's just the two of you. Maybe you've brought a large wedding party. Either way, you're in one of the most beautiful spots on earth, and you're going to have the photos to remember it for the rest of your life.

It's no wonder our Facebook and Instagram pages are so popular. Not only do photos provide inspiration, but they can also show you how easy it is to make a Hawaiian beach wedding possible.
Weddings of Hawaii has been helping coordinate some of the most unique island weddings since 1978. We take pride in the unique atmosphere and the unforgettable memories we help couples create.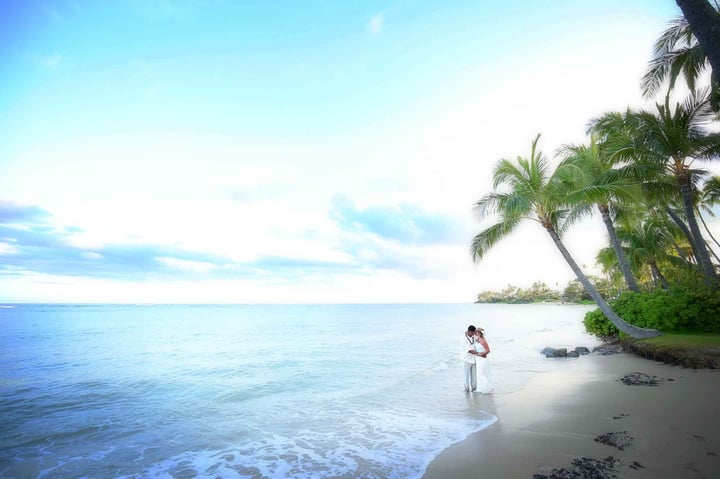 For most couples, photos at the beach are a must. (Waialae Beach, Oahu)
2. A Hawaiian Destination Wedding is More Affordable Than You Think
Costs vary depending on what type of wedding you're looking for. The large hotel weddings are quite expensive, yet Hawaiian wedding packages can be done for a couple of hundred dollars. And of course, there's everything in between.
Here at Weddings of Hawaii, we work with many budget-conscious couples often looking to plan an affordable destination wedding. Fortunately, a Hawaiian beach wedding is often more affordable than a traditional wedding, even after factoring in travel costs.
We have an article about how much a Hawaii wedding cost to help you plan. Would you believe a flight for two, hotel, and a wedding ceremony can cost around $5,000, give or take? Some couples do it for less, and many do it for more, but a Hawaii destination wedding is usually much cheaper than many people expect.
We try to provide something for every budget level, and our coordinators are always happy to answer any questions.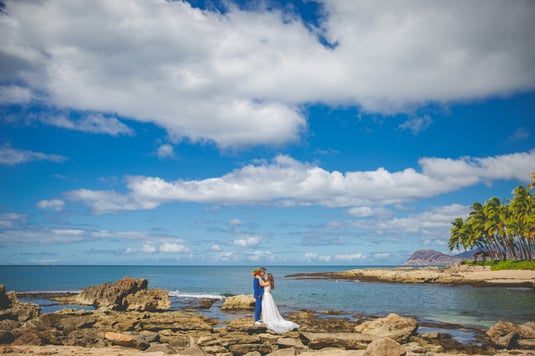 Secret Beach, Oahu.
3. With a Hawaii Wedding, You're Instantly on Your Honeymoon
Why not combine a dream wedding with a dream vacation?
Getting married in Hawaii means you can start the day by the pool or with a stroll on the beach. You can catch some morning waves in Waikiki. You can stroll through the shops at Ala Moana Shopping Center, the largest open-air shopping mall in the world. You could even get ambitious and hike to the top of Diamond Head, but we'd recommend saving that for another day ;)
We have a lot of recommendations for things to do on Oahu, and we love giving tips for whatever it is you're looking for.
Many people count their wedding day as one of the greatest days of their lives. But for couples who marry in Hawaii, their wedding is often one of the greatest weeks of their lives.
With so much to do on the islands, it's no surprise so many couples choose Hawaii.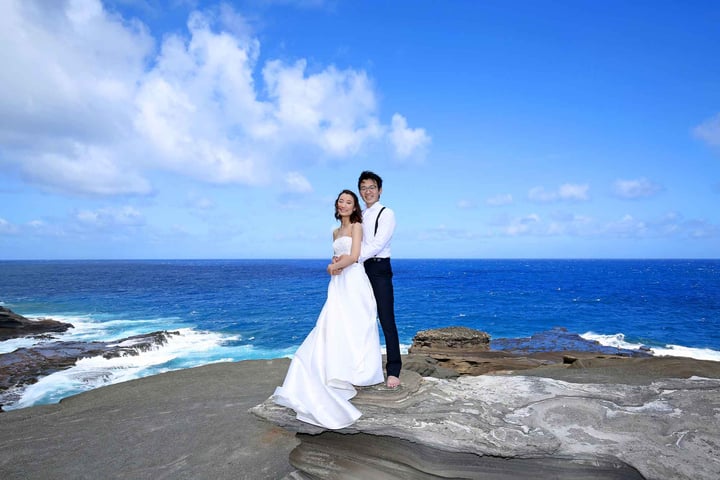 Hawaii has more to offer couples than just beaches. (Heaven's Point, Oahu.)
4. Hawaii Destination Wedding Packages
Because it's such a popular place for a destination wedding, Hawaii wedding packages are designed for couples planning from a distance, and we make sure your package includes everything you need for an amazing ceremony. We also provide renewal and elopement packages too. You can easily customize any of our packages to make sure you're getting exactly what you want, and if you need help deciding, we're always here to help!
5. Greatly Reduced Stress Levels
Although it may seem daunting to plan a wedding from far away, one call to our wedding coordinators will put you at ease. Destination wedding companies understand the concerns of their couples, and at Weddings of Hawaii, we always do our best to provide a stress-free wedding day.
There's a reason our motto is "Don't stress. Just get dressed...and we'll do the rest." And we even have tips on the getting dressed part!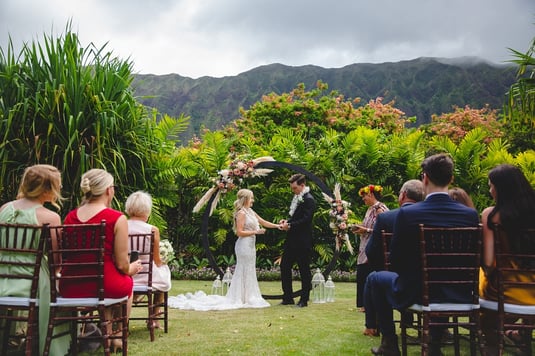 Nalo Gardens, Oahu.
We know how important your wedding day is, and we're going to help you every step of the way. Any question you have, we're here to help. :-)