Planning a wedding means making a million decisions. Next to choosing your spouse, picking the place where you'll say "I do" is the biggest decision you have to make when planning your nuptials.
What's So Great About Destination Weddings?
Destination weddings in Hawaii offer a number of advantages over traditional weddings. Whether you're getting married for the first time, planning a commitment ceremony, or renewing your vows, a destination ceremony has many perks.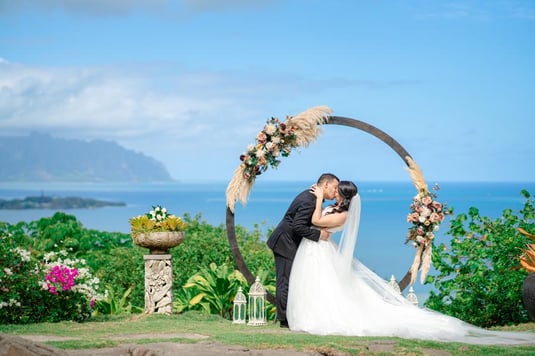 You, the one you love, and a beach in Hawaii ... Could it be any better?
While each couple has their own unique reasons for choosing to travel to Hawaii to get married, here's some of the biggest differences between traditional vs. destination weddings:
Destination Weddings Can Actually Cost Less Than Traditional Weddings
While you might expect that getting married in Hawaii might be something that only the rich and famous can afford to do, the reality is that a destination wedding in Hawaii can be quite affordable.
A few reasons destination weddings cost less:
Venues can be quite affordable (beach weddings only require a permit)
Destination weddings usually involve about one-third the number of guests (and less guests means lower costs for everything from meals to floral arrangements and event space rental)
You can simplify or eliminate some of the costly expenses, like extravagant gowns, large bridal parties, and that DJ who'd play YMCA even though you asked him not to four times.
They could turn into elopements! An elopement eliminates all stress, and costs, related to guests. (If that might be a route you want to go, check out our elopement packages and tips for eloping.)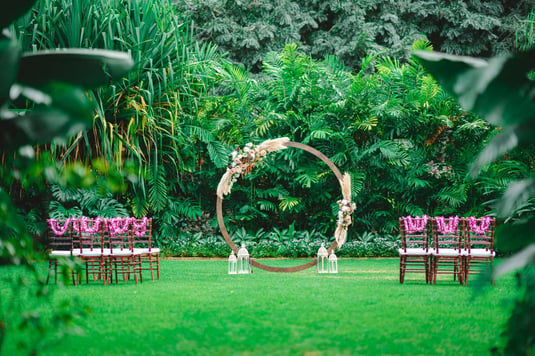 You can add a wedding setup for a fraction of the cost of traditional wedding venues.
And if Hawaii is your destination, it's a U.S. state, you won't lose money on foreign exchange rates, worry about language barriers, or have to pull out your passport to enjoy your dream wedding.
For more info on the cost of a destination wedding vs. traditional wedding costs, take a look at our blog post that breaks down the cost of a Hawaii wedding. We also have a post sharing more details about having a small Hawaii wedding.
You Can Combine Your Wedding and Honeymoon Into One Vacation
According to Forbes, the average newlyweds spend $4,466 on their honeymoon. Holding your wedding in a romantic place means you don't have to rush off after the ceremony - you can spend your honeymoon exploring the place where you said your vows, creating a lifetime of memories rather than stressing about catching a flight after your big day.
After all, why would you want to spend more money traveling to paradise when you're already here? Instead of spending $30,000 on a traditional wedding, you could spend seven nights in paradise, have a beautiful dream ceremony with amazing photos and videos, and only spend a fraction of the cost of a traditional wedding.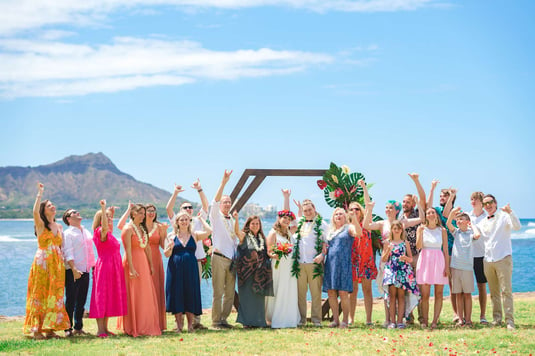 Elope together or bring your closest friends and family. Either way, you'll have memories of a lifetime!
Destination Weddings vs. Traditional Weddings = No-Stress vs. Lots of Stress!
We stand by our motto: "No stress ... just get dressed, and we'll do the rest."
Getting married in Hawaii means you get to leave all the details to the experts and truly enjoy your big day. We can put all the details into place, leaving you to relax, spend time with your guests, and feel like the honeymooners that you are.
And with a destination wedding vs. a traditional wedding, you won't have to deal with all the family drama that comes with choosing where you'll get married, especially if you and your spouse-to-be hail from different parts of the world.
Heading out of state for your wedding ceremony also pretty much guarantees you'll only see the people you want to on your wedding day, and isn't that what a wedding is supposed to be like? If you do have friends and family attending, read our post on tips for guests coming to your destination wedding.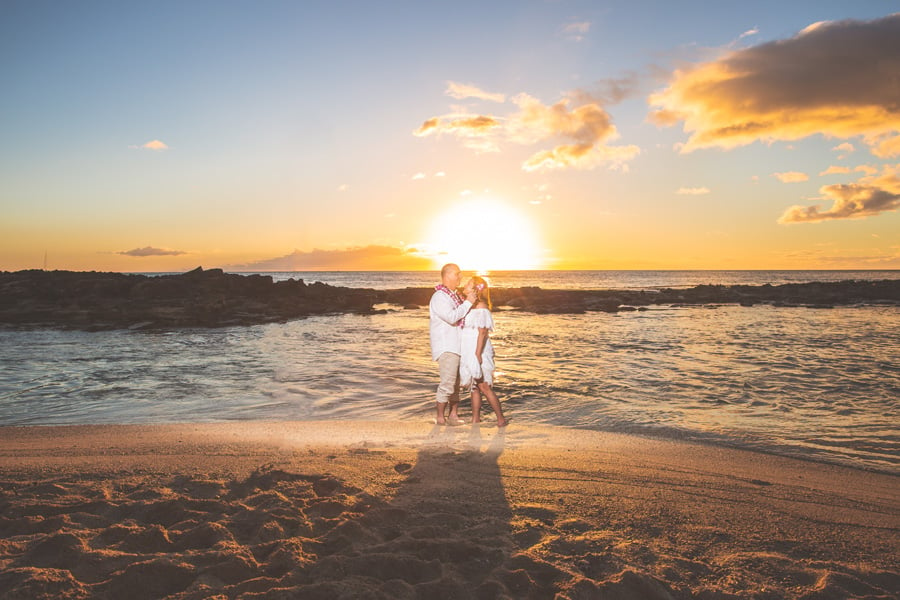 Simple and beautiful!
Want a Winter Wedding? Head To Hawaii
The traditional wedding season is short, especially if you live in areas where the weather means getting married anytime between November and May isn't an option. On the other hand, Hawaii weather is amazing year round!
Winters in Hawaii are beautiful and warmer than almost anywhere else. With average daytime temperatures around 78 degrees and evening temps rarely falling below the mid-60's, you really can have the winter wedding of your dreams without struggling with freezing temperatures, treacherous travel conditions, or layers of clothes!
Just try to avoid those sunburnt shoulders before your special day. ;)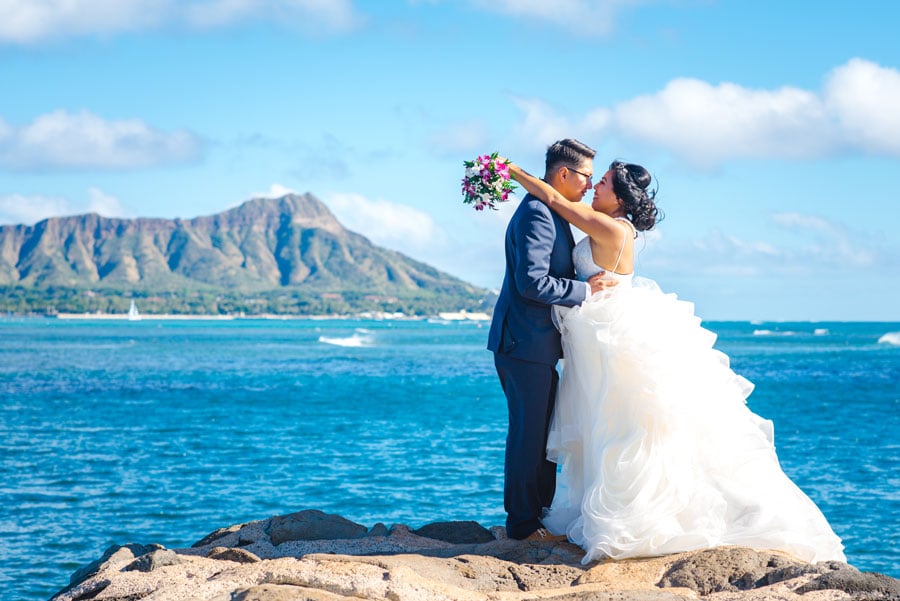 Hawaii's beautiful 12 months a year!
Conclusion
We hear all the time from our couples how having a destination wedding was the best decision they could've made. You can save money, have less stress, and spend your special day in one of the most amazing places on the planet.
If you'd like to know more about how easy it is, please check out some of our other posts or contact us. We'd love to help you plan your destination wedding in paradise :)