Want to Elope in Hawaii? - Why Hawaii Is Perfect for an Elopement
"They made our elopement so stress-free, and everything went as smoothly as planned. My husband and I planned to elope to Hawaii with our two kids and were very pleased with Weddings of Hawaii." -Charisse M.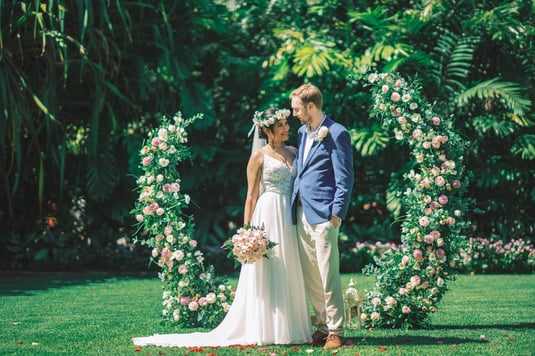 Elope in Hawaii with the one you love!
At Weddings of Hawaii, we have become elopement experts and have helped countless couples plan their dream Hawaii beach wedding. Elopements are a great way to have an affordable destination wedding in a beautiful atmosphere, and Hawaii makes it incredibly easy to do.
Here's what you need to elope in Hawaii:
A marriage license - You apply online and pick up your license together (bring a government-issued ID).

No witnesses are required.

No blood tests are required.

A registered marriage performer (officiant, pastor, celebrant, etc.) to perform your ceremony and file the license.
Why Elope?
Eloping is perfect for the spontaneous couple but also great for those who like to plan ahead. Unlike a traditional wedding, an elopement is a beautiful way to keep your ceremony intimate and focused on what is most important for you and your partner.
Elopements, small Hawaii weddings, and even Hawaii commitment ceremonies offer a stress-free experience that a traditional wedding can't. Destination wedding companies understand how to help remove that stress, making your elopement as stress-free as possible.
Finally, an elopement is usually much more affordable than a wedding at home. We wrote an article on how much a Hawaiian wedding costs, and many of our couples are surprised they can have a wedding and honeymoon for much cheaper than a traditional wedding.
Wedding of Hawaii has been helping couples plan their dream wedding on Hawaii's beautiful white sand beaches since 1978, and our wedding coordinators are always available to answer any questions you may have.
But Why Elope in Hawaii?
Hawaii is one of the best locations for a quick getaway wedding. The atmosphere on the islands is laid back, and the weather is some of the best in the world. It rarely rains on the beaches; when it does, it's usually a quick passing shower.
Hawaii weather is some of the most consistent in the world and will add a sense of calm to your big day that you cannot find anywhere else.
Did we mention the world-renowned beach locations are some best places to get married in Hawaii? Or if a small Waikiki beach wedding is more your speed, that's an option too!
Aside from its natural beauty, Hawaii is rich in its unique culture. There are countless things to do and see: snorkeling, lei making, luaus, surfing, lava rocks, etc. And you can also experience the blend of cultures that make Hawaii so diverse. Hawaii is very much American, yet the food, lifestyle, and way of life are quintessentially Hawaiian.
Hawaii is like no other place on Earth, making it a great wedding destination and an amazing place to visit.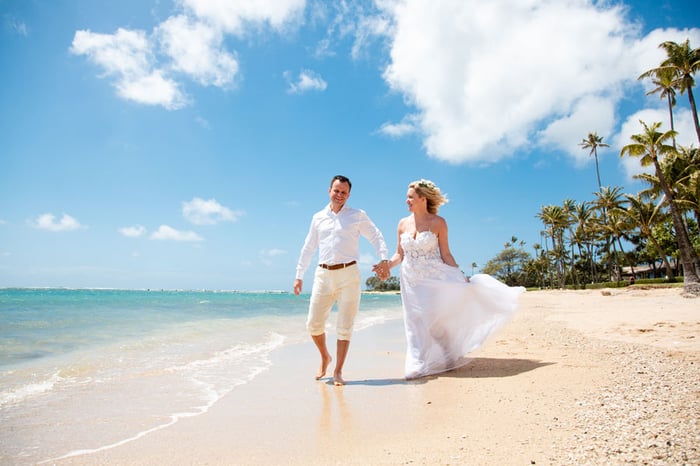 Elopements provide a beautiful memory to last a lifetime!
HAWAII ELOPEMENT PACKAGES and Costs
We offer several elopement packages perfect for the two of you. Our most popular is the Lehua Package, which includes everything you need for a perfect ceremony and some extras, such as a limousine, wedding videography, flower options, and more. Our Lehua package is $1,749.
We offer other packages ranging from $395 to $8,825. And since all our packages are customizable, you'll surely find something perfect just for you two!
Here's a simplified guide to help you choose the perfect package for your special day in paradise!
(Clicking the links jumps you to the package description on our Hawaii Wedding Packages page. Prices are as of February 2023 and are subject to change.)
Kamaaina Package $395 - Officiant.
Gardenia Package $749 - Officiant, photographer, and leis.
Maile Package $995 - Officiant, photographer, leis, and limousine.
Lehua Package $1,749 - Officiant, photographer, leis or bouquet, limousine, and videographer.
Royal Illima Package $2,995 - Officiant, photographer, leis and bouquet, limousine, videographer, second-location photo shoot, and the option of in-room hair & makeup or live musician.
Monarch Elite Package $5,549 - Officiant, photographer, leis and bouquet, limousine, videographer, second-location photoshoot, in-room hair & makeup, live musician, hula dancer, hotel consult, custom photo album, Hawaiian wedding rings, second-location videography, and drone video at your ceremony location.
Kalani Illima Package $8,825 - Officiant, photographer, leis and bouquet, limousine, videographer, second-location photoshoot, in-room hair & makeup, live musician, hula dancer, hotel consult, custom photo album, Hawaiian wedding rings, second-location videography, drone at both locations, pre-bridal photography & videography, live stream of ceremony, any arch, arbor, or runway setup with up to 30 chairs, and airport limousine for your arrival and departure.
Our packages are customizable and have many inclusions, so please read carefully!
Please refer to our Oahu packages page or Outer Island packages page for current package prices and details.
Easy Hawaii Elopement Tips
Here are some tips for eloping to ensure everything is as easy as saying "I do."
Hawaii Travel Planning
Your wedding coordinator will make sure everything is set for your ceremony, but you'll need to book your flights and hotels. We have a post called "How to Book Your Travel to Hawaii." That's a great place to start!
Last-minute travel is usually easy to do for Hawaii. The state has tons of hotels and regular flights from most large airports. However, planning ahead might save you some money and guarantee you can book your preferred itinerary.
Consider Your Elopement Wedding-Day Options
Even though your coordinator is going to put all the parts in place for your big day, you'll have to decide on a few details for your wedding.
1. The first step is choosing your wedding package and your wedding location. Those two are musts, and they're usually the options our couples enjoy researching the most.
2. Next, you'll need to think about photography and videography. For many of our couples, the photos are extremely important. We agree. Why get married in paradise and not have gorgeous photos and videos to remember it?
3. You'll also need to think about transportation. Do you need a limo? Will you drive yourself? How about taking an Uber or a taxi? Limos are great, but driving or taking a taxi is often an option if you're looking to save a little money.
4. How about hair and make-up? Will you do it yourself, or would you like a professional stylist to come to your hotel room to ensure you look flawless for the big day?
5. And then there are the wedding flowers and leis. You'll need to consider what's included in your package and whether you want to upgrade or add any.
So, what you need to decide on for your Hawaii elopement is the package, location, photos, transportation, hair and makeup, and flowers. Those are the basics, and your wedding coordinator is happy to talk with you about your options.
We've had couples walk in off the street and plan everything in one meeting. And we've had others plan more than a year out. It all depends on you.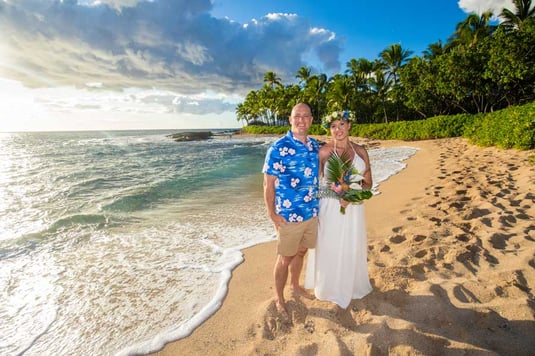 A happy couple after their Hawaii elopement.
What You Need to Elope: A Hawaii Marriage License
One thing couples must do is get a marriage license. Fortunately, Hawaii makes the process very easy.
All that's needed is a quick trip to the Hawaii State Department of Health. Start by filling out the application online, and then head together to their office with a form of ID. It's quick and easy.
For full details, visit our Hawaii marriage license page.
Who to Tell You're Eloping in Hawaii
Sometimes the point of an elopement is running away and spontaneously getting married. Other times it's a well-planned event. Either way, there are also people in your life who care about you and would love to be a part of your special day.
Even though you're eloping, you can include family and friends in your ceremony. It's not uncommon for couples to have a few guests, and you can also live stream your Hawaii wedding to share your moment with loved ones anywhere in the world.
Elopement at Magic Island, Oahu, Hawaii.
Summary
As we've been wedding planning on the Hawaiian Islands since 1978, we know a thing or two about eloping in Hawaii :)
If you have questions or want more help with planning, give us a call. We're here to help.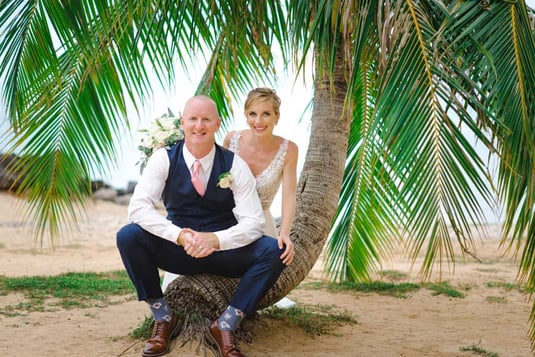 Newlyweds at Waialae Beach, Oahu.
Need help? You're always welcome to contact us. :)