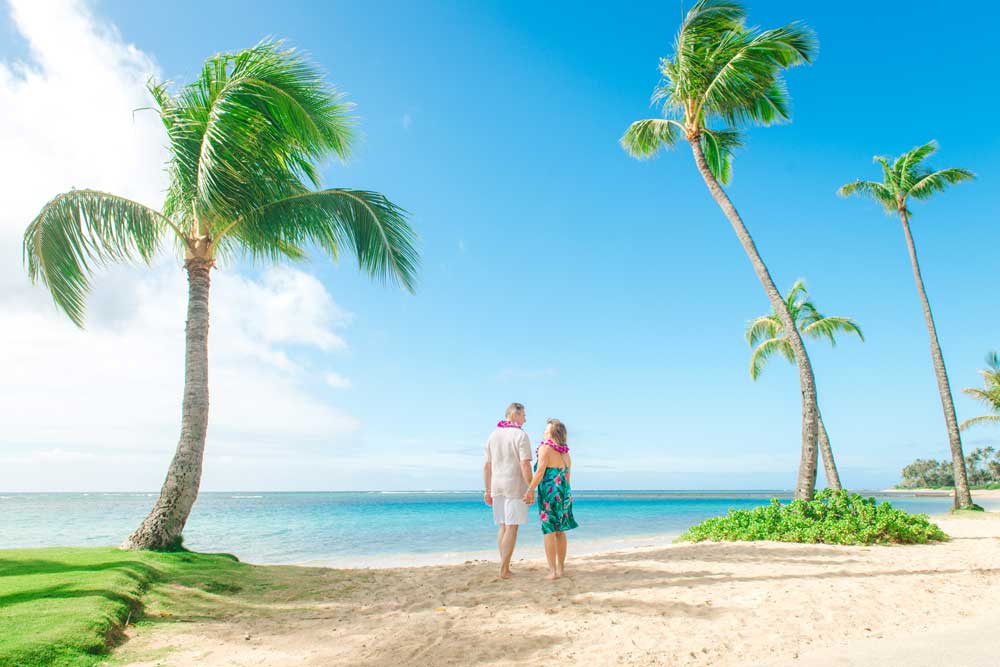 Now more than ever, elopement packages are an excellent option for couples looking for a stress-free way to plan their wedding, and with some of the most stunning beaches in the world, eloping in Hawaii is a no-brainer!
Did you know that elopements and destination weddings can be much more affordable than traditional weddings? Many couples can fly to Hawaii, stay seven nights, have their wedding, and still spend less than they would for a wedding at home.
Our elopement packages below are for the island of Oahu. More details can be found by clicking the "Oahu Wedding Packages" from the menu above. For Maui, Kauai, and the Big Island elopement and wedding packages, please follow the link from the menu above.
You might also like our Tips for Eloping blog post for the "do's and don'ts of eloping in Hawaii.
Can you picture yourself eloping in one of the most beautiful places in the world?
We already mentioned that Hawaii has very affordable destination wedding options, but what's "affordable," you ask? Our Hawaii wedding packages range from $295 to $8,825, with most couples spending a small fraction of the cost of a traditional wedding (2022 prices).
If this sounds like it could be a good fit for you, check out more of our elopement package details below.
*With any of these packages, you choose which stunning Hawaii wedding location will be the place you tie the knot. Public locations require a $50 permit we obtain for you from the State of Hawaii, and we do offer private venus for additional fees. Keep in mind that all of our packages can be customized. 😁*