What does it cost to get married in Hawaii?
We get asked this question a lot, and it's tough to answer because it all depends on you! The good news? It's cheaper than most traditional weddings by far.
Before writing this article, we did our research and came across an article by The Knot. While The Knot is a good website (we check it out ourselves), its cost breakdown is misleading.
The image below gives you a basic idea of what it'd cost to fly to Hawaii, stay six nights at a hotel in Waikiki, and get married with Weddings of Hawaii.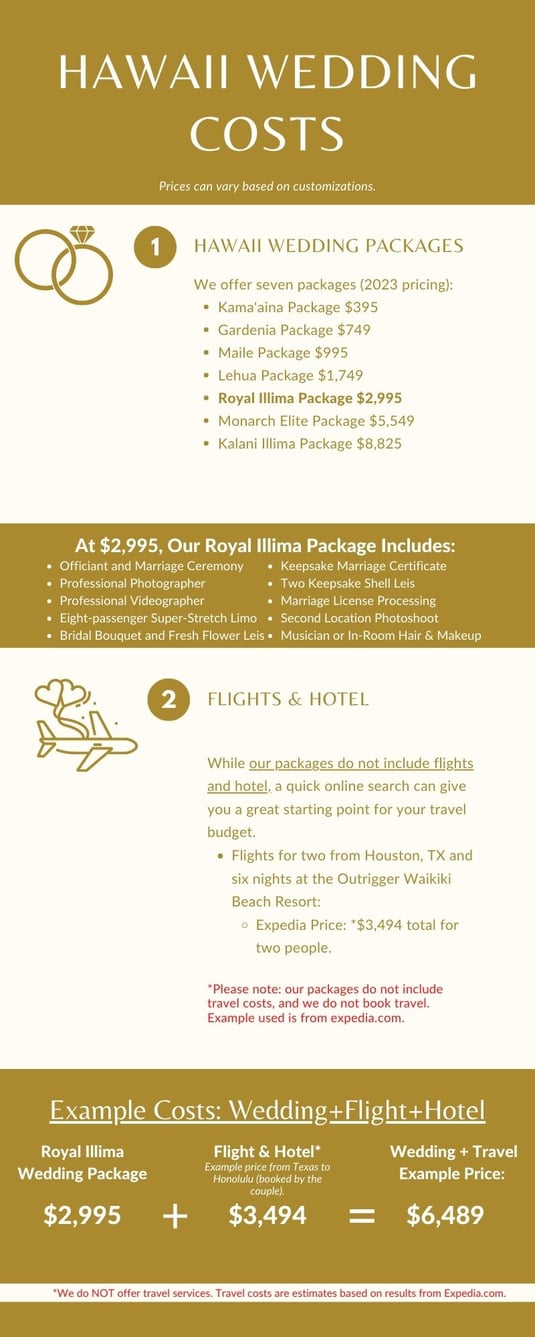 *Fights and hotel are NOT included in our packages. Hawaii wedding costs are examples based on our packages and research. (Prices are as of January 2023 packages and are subject to change.)
The chart above is only an estimate, but we found that most of our couples spend between $5000-$8000 on their Hawaii wedding, flight, and hotel.
Our average Hawaii destination wedding couple spends around $2500 (Our wedding packages range from $295 to $8,825. Prices vary as there are many possible customizations.)
Flight to Hawaii per person from the US mainland: $300-$800 (estimate and not included in packages)
7 nights hotel in Waikiki: $1800-5000 (estimate and not included in packages)
We find that most couples can have a destination Hawaii wedding for around $6000, which includes the wedding, flight, and hotel, an enormous savings over the cost of a traditional wedding, which is currently over $30,000.
NOTE: Hawaii wedding packages do not include flight and hotel, and Hawaii does not have all-inclusive resorts. Once you visit Hawaii, it's easy to see why you wouldn't want to spend all your time and eat all your meals at the same place. Hawaii has much more to offer than just your resort. Also, outer island weddings, such as a Maui wedding, are more expensive. Compare our packages for details.
Is the Knot's Cost Estimate Accurate?
Before you look at these numbers, please know their estimates look astronomically high to us. This is not to say they're wrong, but these estimates must only consider traditional weddings with high guest counts, and we know extravagant weddings can easily surpass this estimate.
In comparison, most of our weddings are beach, park, or private venues with guest counts from 0-50. Very different.
You can see on our wedding packages page that we have seven packages running from $395 to $8,825, with our most popular package at $2,995 (we'll look more at that later).
Let's take a look at their cost estimates and then compare them to ours. As a spoiler, we estimate most of our couples spend between $4,500 and $8,000 on their wedding package, flight, and hotel. We'll have our breakdown below.
The Knot's Estimated Costs for a Hawaii Destination Wedding:
Venue: $12,346
Event Planner: $2,785
Photographer: $2,604
Flowers & Decor: $2191
Wedding Cake: $452
Wedding Gown: $1,101
Music: $1,101
Average Cost Per Guest: $85
Yikes! That's a total of $22,580 without guests-- and they're not even factoring in travel costs. That's nowhere close to what our couples spend.
$12,346 for the venue?
Well, yes, if you're looking for a hotel wedding or large wedding venue, I guess that makes sense.
For a beach wedding, on the other hand, there's a permit fee of $50. Yes, just $50! We do also offer affordable private wedding venues.
If you want to add a wedding setup, those start at an additional $495; our most expensive option is only $1,750.
Even for our couples with large groups, wedding setups are usually under $1000, and that's on the high end. The vast majority of our couples spend $50 for a beach wedding permit, and some choose to add a wedding setup.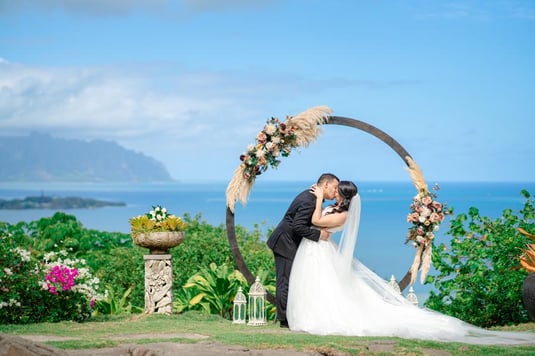 Our Circle Arbor setup at Noelani Gardens, Oahu.
$2,785 for an event planner?
Nope. That seems high to us, but then again, a destination wedding is different than a traditional wedding. At Weddings of Hawaii, our team can manage groups of up to 40 without an additional charge. For larger groups, we charge $395 per hour for an on-site wedding coordinator.
In fact, all but three of our wedding packages are cheaper than that. Our Royal Ilima package is $2,995, which includes:
Marriage ceremony
Professional photographer
150 high-resolution digital images with print release
Professional ceremony and highlight video
Three hours of limo service
Two custom leis
Choice of in-room hair and makeup or live Hawaiian musician
Choice of classic bridal bouquet, Hawaiian bridal haku lei, or floral hair clip
Our popular Royal Illima package includes all of this for a little more than their estimate for an event planner.
Note: Some couples do need extensive help from a wedding coordinator. Most of our couples and our guest sizes are under 40 people, and we work best with these sizes and smaller. For couples requiring extensive planning or large groups, we'd suggest finding a dedicated wedding coordinator to help you plan, which could add a lot to the cost of your wedding.
$2,604 for a photographer?
Hawaii wedding photography can be expensive, and it's also very important, so that price does make sense for an all-day wedding.
Most of our weddings are one or two hours, and all except our most basic wedding package already includes a certified professional photographer. Our photographers have been with Weddings of Hawaii for years, so if you like the images you see on our website and Instagram page, you'll love yours as well.
We want to be as transparent as possible, so we should point out that one expense couples often forget about is purchasing your digital images ($295). While the photographer is included for the ceremony in most packages, digital images are only included in the Royal Ilima package and up.
$2191 for flowers and decor?
Yes, you could spend that with us on wedding flowers, and it'd probably be one of the most beautiful weddings we've done! Flowers are not cheap, but this is Hawaii, and what's a Hawaiian wedding without some amazing leis, colorful bouquets, and maybe even a bridal haku?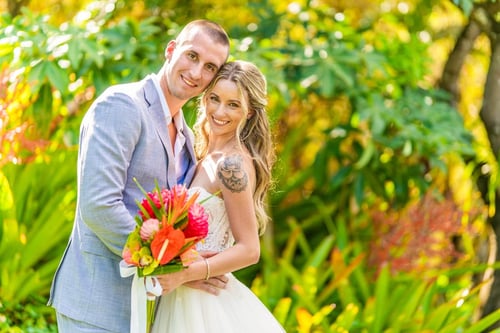 A bridal bouquet.
That said, most of our couples do spend a little extra on flowers. We make that easy by including flower options in most of our packages, but many couples like to add more. After all, flowers are part of the wedding attire, and they sure help the pictures look even more amazing.
$452 for a wedding cake?
This is another expense that depends on what type of wedding you have. With many of our couples choosing a beach wedding, wedding cakes aren't a priority. That money would be better spent on extra photo time, flowers, video, or anything to add to your Hawaii wedding experience.
Since Hawaii elopements are popular, not all our couples have guests. We include a personal Hawaiian wedding cake for our couples to enjoy with the Royal Ilima package and up, and we often run promos that include the wedding cake in smaller packages too!
$1,101 for a wedding gown?
Yes, that's possible. If you've seen our photos, you know there are no rules regarding what to wear for your Hawaii wedding. It's entirely up to you; in Hawaii, anything goes. It's your day, and as our motto goes, "No stress...just get dressed, and we'll do the rest."
$1,101 for music?
A live Hawaiian musician is one of the special touches we think adds so much to the day. For $285, you can have one of our local musicians strumming away at his ukulele as you enjoy your beach ceremony. While definitely not necessary, it's a nice addition.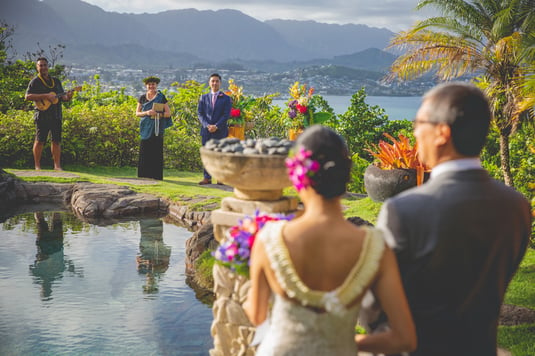 A live Hawaiian musician is a great add-on for your wedding.
$85 per guest?
This one is tough to calculate. There are three expenses for guests that often come up: guest leis, wedding setups, and transportation. At $22 each, guest leis are a nice gesture. As mentioned earlier, wedding setups are not required but are nice if you have more than a few guests. And finally, if you'd like to have your group travel to the ceremony together, you could add a party bus. All these are optional, of course.
What Expenses Are We Leaving Out?
Wedding reception - Many elopements and small weddings decide on a nice lunch, dinner, or luau to celebrate, saving huge costs over having a large reception.
Travel expenses - we can help our couples plan their travel. We have a partnership with the Outrigger Waikiki Beach and Outrigger Reef hotels and send our couples a promo code for a discount rate. We can also recommend hotels to help meet your tastes and budget. For flights, it's easy to get an idea of costs from travel sites, such as expedia.com. West Coast flights are usually from $400-$600, and flights from the East Coast usually run around $1000, give or take.
How much will you spend while you're in Hawaii? That's up to you, of course, but one nice thing to remember is that the beaches are free :) So is the Arizona Memorial at Pearl Harbor and many other activities. Shopping and eating out can add up, but there are plenty of affordable options. Rental cars are also an expense to consider. There are other little costs, but knowing how much the ceremony and travel costs are is the big expense.
So, what's the answer? How much does it really cost for a dream wedding in Hawaii?
The good news? Destination weddings are nowhere near traditional wedding costs, and getting married through Weddings of Hawaii is incredibly affordable.
Estimated prices:
Wedding Package: $395 - $8,825 (2022 prices)
Beach Permit: $50
Round-trip flight for two from the US mainland: $1500 (estimated average)
One week for two at the Outrigger Waikiki Beach with our promo code: $3000 (estimated average)
(Note: We do not bundle wedding packages with flight and hotel costs. This is just an estimated cost breakdown to help you budget.)
Our wedding package prices are based on our 2022 rates, and travel expenses can vary, but I think this is a fair estimate.
Add some flowers and an ocean-view room, and you could be looking at closer to $5,000-$8000.
Take out the video and limousine, and you could save money with our Gardenia at $749. Throw the limo back in and our Maile package at $995 is a bargain. You could also go all out and try either our Monarch Elite ($5,549) or Kalani Ilima ($8,825) package and have everything you could possibly imagine.
Some couples spend less, and many couples spend more, but as you can see, you have options.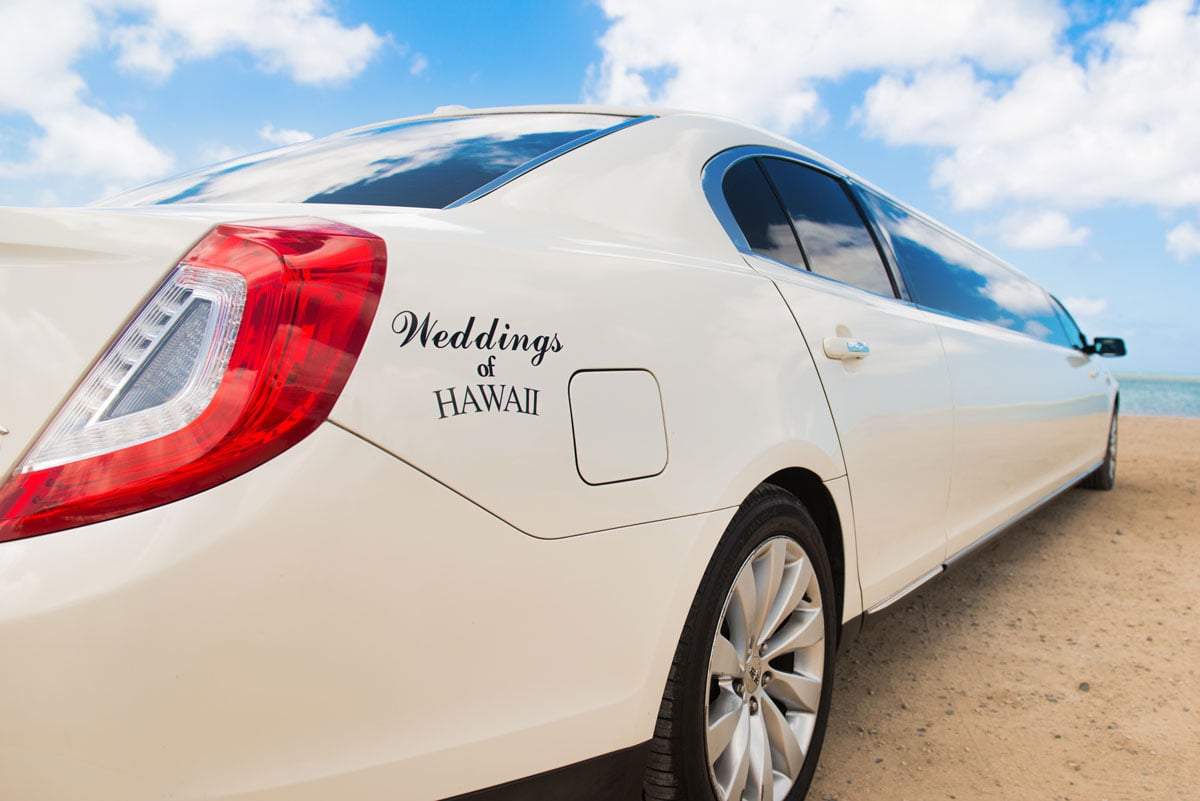 Door-to-door and ride in style...limousine service is nice to have.
We do our best to provide you with an unforgettable experience, regardless of which package you choose. Just being in Hawaii with the one you love in a place of such natural beauty is the important part. Let us know what you want for your day, and we'll work with you to make it happen.
Have questions or want to know more? We're always happy to help!