7 Tips to Plan an Affordable Destination Wedding
Most couples don't think of Hawaii when planning a cheap and affordable destination wedding, but when we researched How Much a Hawaii Destination Wedding Costs, we were surprised at how affordable it could be compared to a traditional wedding.
Is a destination wedding really cheaper than a traditional wedding? Yes, in most cases, it's cheaper.
Surprisingly, a traditional wedding averages over $25,000, yet many of our couples spend much less to fly to Hawaii, spend seven nights in a hotel, and have a beautiful Hawaiian wedding ceremony.
Every couple is different, and many options exist when planning a destination or a traditional wedding.
On average, a destination wedding is cheaper, and we thought of some ideas to help you plan the most affordable dream wedding possible.
1. Combine Your Destination Wedding with Your Honeymoon
Why not combine both your special day with your romantic honeymoon week? While it's obvious that it'll save money, many couples don't realize how much they can save.
Our Hawaii wedding packages range from $395 to $8,825. If you view our packages, you'll see how much is included for such amazing prices. Some couples spend more. Some spend less. But it's surprising to many how affordable it really is.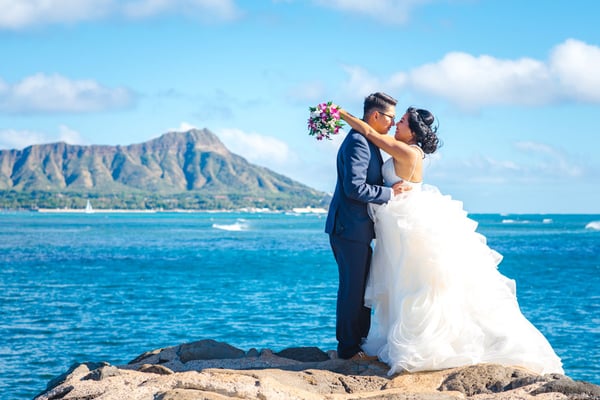 You can have an affordable destination wedding with a limo, photo, and video for less than you think.
2. Plan as an Elopement and Consider Guests Later
How much do you "have" to spend on guests when planning your destination wedding? Answer: $0. How much will you spend? That's up to you, but by thinking in terms of an elopement, you'll send the message to family and friends that you want to keep it simple, intimate, and about each other.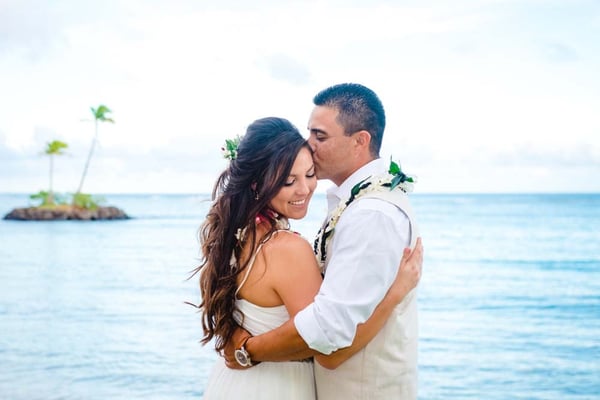 Elopements are meant to be stress-free and intimate, allowing you to stay within a budget.
When planning, think first about what you and your partner want. Here are some considerations:
Do you want to have a large wedding at home with family, friends, acquaintances, and a large budget, or would you prefer to get married in one of the most beautiful places in the world with those closest to you (or by yourselves) and likely spend much less money?
If you worry about who can't attend, you can always live stream your ceremony to let those who can't attend be part of your special day.
Even if you have guests attending your destination wedding, consider using the word "elopement" when inviting them. This gives the impression of sneaking away to have a private, intimate ceremony. It implies a small guest count, and if you'd like to have an intimate dinner for two, none of your guests will be the least bit surprised.
We know firsthand that eloping in Hawaii is easy (and doesn't even require a witness), and we're sure many other destination wedding locations can be equally as stress-free and wonderful.
3. Book Your Reception at a Restaurant as Opposed to a Reception Hall
The "cost per guest" was difficult to estimate when researching destination vs. traditional weddings, but one thing is for sure: the reception can add a lot to the overall cost.
Although many of our couples will pay for an after-ceremony celebration meal, most keep it to a nice lunch or dinner. It's a hard cost to estimate because there are many options.
Some couples go for an all-out celebration with DJ, open bar, and buffet, but for the most part, "simple" is the day's theme.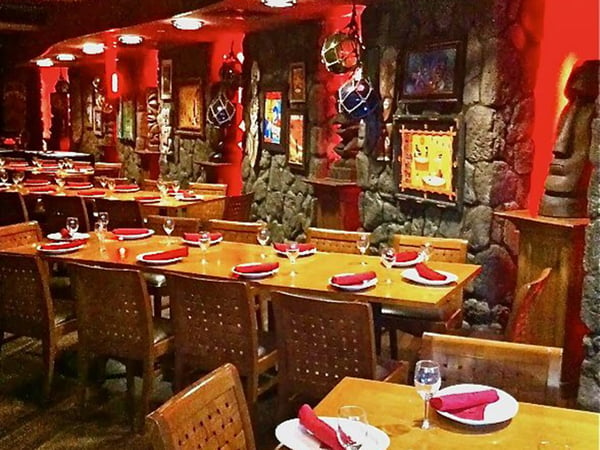 Instead of a large, expensive reception, find a local restaurant with charm for your celebration.
Tiki's Grill is a popular, affordable reception venue for many of our couples. Its Polynesian-Hawaiian theme, well-priced menu, fun atmosphere, private rooms, and great location in Waikiki make it a fun choice for couples looking to stay within a budget and return to enjoying vacation.
Some couples choose a Hawaiian luau, a special experience on an unforgettable day.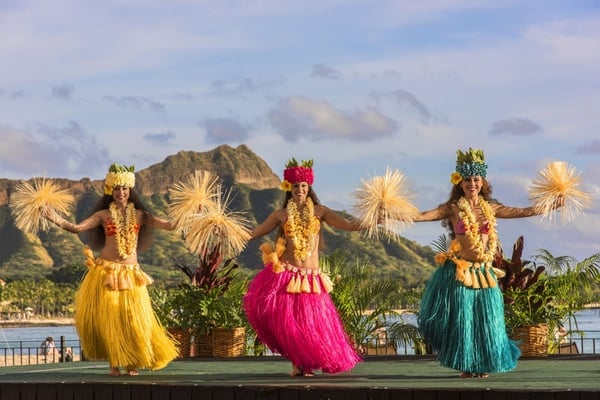 In Hawaii, it's not uncommon for newlyweds to celebrate their wedding day by attending a luau.
Regardless of where you have your destination wedding, there are likely many restaurants that fit the mood of the location.
4. Consider All Your Ceremony Options
Even with a large guest count, you don't have to have an elaborate wedding setup.
Destination beach weddings are popular throughout the world. For many couples, standing with their toes in the sand next to the one they love is enough, and that's true for guests as well. They won't mind standing on an amazing beach enjoying the ceremony.
If you choose a setup like one of our wedding setups, which I'm sure are similar in most tropical destination wedding locations, the costs can be very reasonable compared to renting out a huge space for a traditional wedding.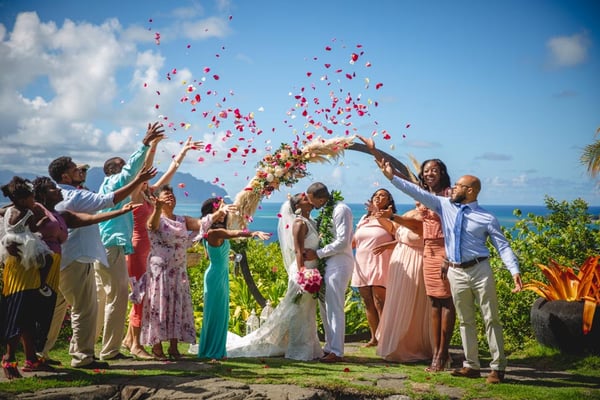 Wedding setups are a nice touch but unnecessary if you're trying to stay on budget.
Yes, an arch and runway are beautiful and bring a traditional feel, and chairs can be nice for your guests, but if you're budgeting, your money might be better off elsewhere.
5. A Bridal Party Isn't a "Must"
It's nice to have but unnecessary for a destination wedding, and they will add costs. You can still have those closest to you play a big part in your experience, but most of our couples skip the bridal party or choose to keep it small.
For most, destination weddings are about getting married in a fairytale-like location, keeping it stress-free, and creating a beautiful memory with the one they love.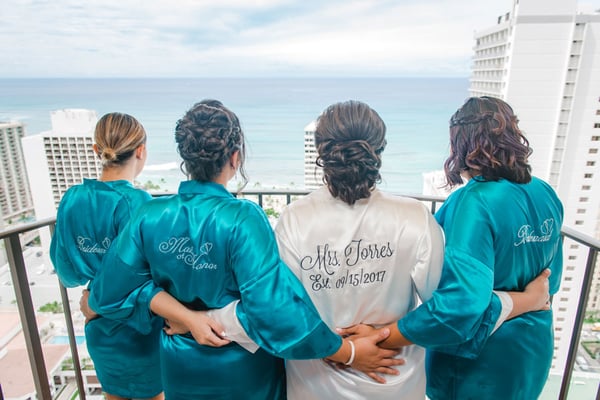 Celebrate with those closest to you, yet you can still keep it simple and affordable.
Considering all the costs and planning involved in a bridal party, many couples decide to keep it simple and just let the moment happen with everyone present.
6. Avoid Peak Season
Many locations around the world have peak seasons, the time when rates can double or triple. In Hawaii, we're fortunate. With an abundance of hotel options and beautiful weather year-round, there really isn't a bad time to visit.
It's busier around Christmas and New Year's, and the summer has more families, but it's hard to notice a difference.
Other destination wedding locations likely see the same surge in visitors. It's wise to check whether or not their prices increase during the time of year you're considering.
For more information, check out our post How to Book Your Travel to Hawaii. It might be helpful.
7. Remember that Destination Weddings Are Non-Traditional by Nature - You Make the Rules
You don't need anything except the one you love, an officiant, and a marriage license (which is super easy to get in Hawaii). You don't "have" to have anything else.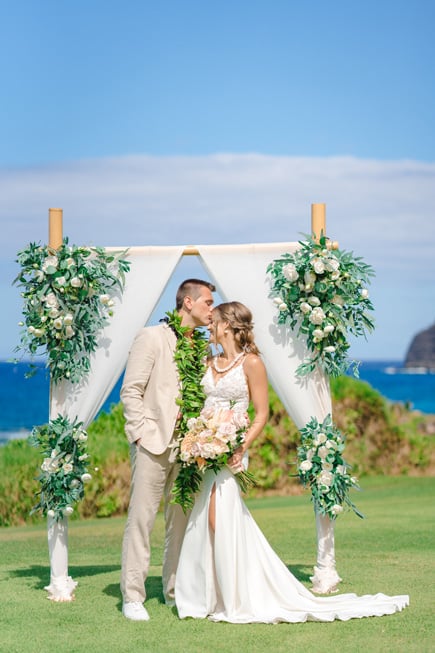 The only thing that truly matters is celebrating your love for each other.
You can include who you want. Make it just the two of you or invite everyone and live stream it for those who couldn't make it.
It's your big day. The choices are yours.
What you wear for your Hawaii beach wedding can also help you save! Gentlemen, you can get married in an aloha shirt and shorts. Ladies, you can find a lace sundress that makes you feel just as good as an expensive gown. Check out more Groom Attire Ideas and Beach Wedding Dresses for more ideas!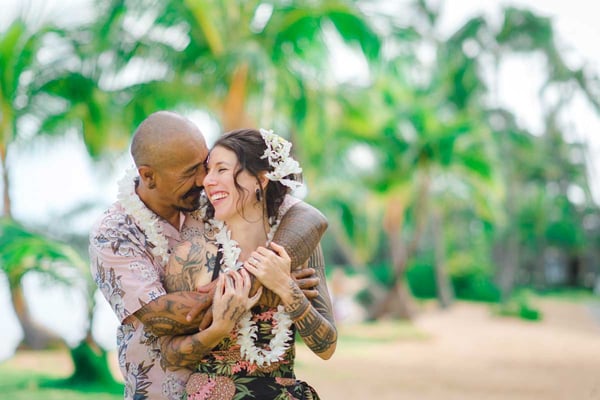 The day is yours. You make the rules :)
Have flowers or don't. Arrive in a limousine, rental car, or even an Uber.
What's most important is sharing the day with the one you love.
Questions on Having a Destination Wedding?
We're here to help. We've heard, "I can't believe how affordable this all is" so many times over the years. We'd be happy to discuss how you can make your dream wedding to Hawaii come true.