Introduction to Micro Weddings
Micro weddings are rising in popularity, and now more than ever is a great time to consider if it may be right for you. Here at Weddings of Hawaii, we've been specializing in destination weddings of all sizes for over 40 years.
Thousands of couples have benefitted from the happy-medium of a micro wedding, and we'd love to help you determine if you could be one of them!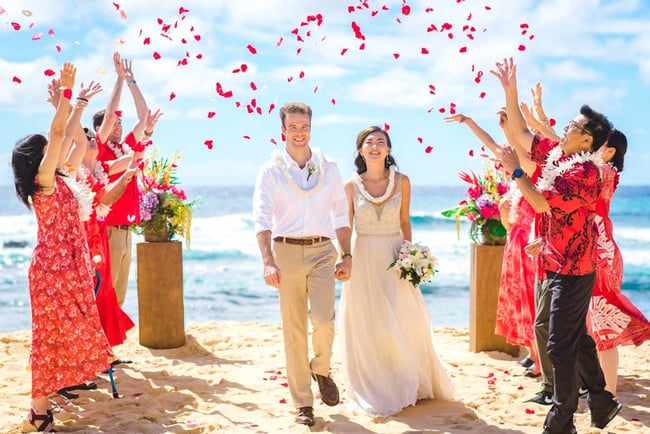 Small, intimate beach weddings are the perfect kind of micro wedding.
What Is a Micro Wedding?
A micro wedding for many places in the world is a small wedding, usually with around 20 and no more than 50 guests, but a Hawaii micro wedding is usually smaller, often with the couple and a few guests.
Generally, it is more streamlined but similar to a traditional wedding, with everything on a smaller scale.
Aside from the guest count, the biggest difference is that the reception is more casual and less structured than a traditional wedding reception.
Micro weddings are different from a traditional elopement as elopements are just the bride and groom, no guests. Elopements are often kept secret or only shared in advance with a select few.
Micro weddings are essentially like small weddings with a lower guest count. With traditional weddings at 150-250 guests, small weddings are often considered 75-125. Micro weddings just downsize it even further, but not quite to an elopement.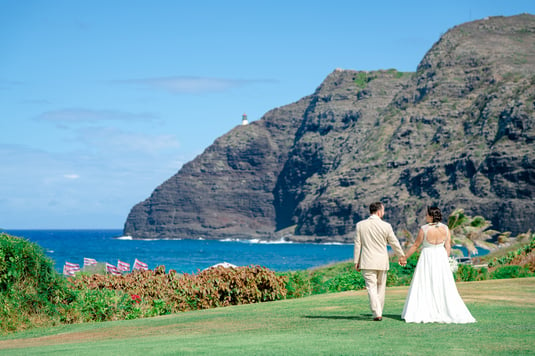 The most important part of the day is sharing it with the person you love.
Why Have a Micro Wedding?
When it comes to micro weddings, less truly is more!
More Cost Savings
A big motivating factor for these tiny weddings is cost-savings. According to The Knot, the average cost of a US wedding in 2019 was $33,900. (We can help you plan an affordable wedding in Hawaii for a fraction of that cost! Check out our blog post on how much a Hawaii wedding costs to learn more.) The biggest way a micro wedding helps save on cost is with the reception.
In trimming the guest list, the plans for the reception change. Eliminating the need for a DJ, emcee, band, dance floor, and a giant wedding cake already reduces thousands of dollars in cost. The actual space needed is much smaller, and often can just be a dinner reservation, costing no more than the food itself!
Keep in mind, expenses for the wedding itself are often similar (officiant, photographer, flowers, etc.), but the reception is often the bulk of larger wedding costs. Hopefully, it was already factored into your budget, but we do recommend investing in quality wedding vendors (photographer, videographer, officiant, etc.) as they are some of the most important people to have at your wedding.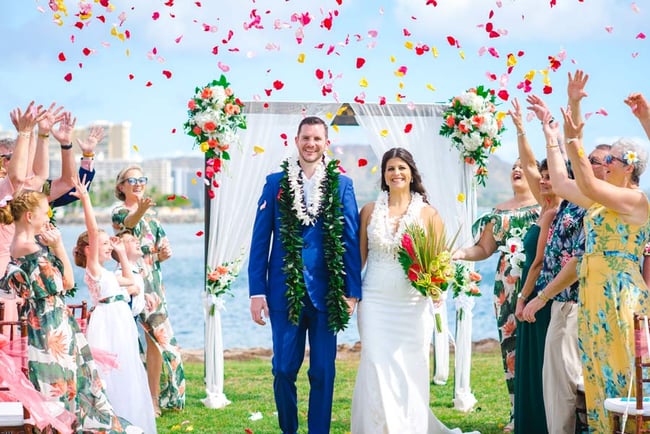 A beautiful micro wedding at Magic Island, Oahu.
This also frees up funds so you can invest in the things that mean the most to you. Rather than dinner for your 10 coworkers and their plus-ones, you can get extras that truly make a difference, like drone video coverage or even live streaming your ceremony to friends and family around the world. And since you don't need 25 centerpieces and 200 favors, you can treat your moms and sisters to hair and makeup!
Everyone's priorities are different, but not having part of the budget tied up for the "must-haves" of a traditional wedding can be liberating.
More Freedom to Do What You Want
Without the constraints of a traditional wedding, you two have the freedom to make your wedding plans based on what you want. I had a friend who had a beautiful garden wedding overlooking the bay. The reception was in a rustic rec room, beautifully decorated with lots of lights, material draping on the walls, signs, photos, and they served pizza! I thought it was the best thing ever! When you're planning for your closest family members and friends, certain things (like having a "traditional" wedding meal) just don't matter as much.
More Intimate and Possibly More Meaningful
With the smaller guest count of a micro wedding, the only guests will be the "essential" people in your lives. Having an intimate wedding with a select few of your absolute closest friends and family will mean you have more time to spend with them!
At a traditional wedding, diving up your time with hundreds of guests means quick hugs and congratulations but minimal time to talk and have meaningful moments on your wedding day. Instead of bouncing table to table to have the same 3-minute conversation with 23 tables ("Congratulations, we're so happy for the both of you!" ... "Thank you all for being here, it means so much to us." ), you could be enjoying all 23 people at the reception in the same conversation, laughing over stories from your childhood.
Your wedding will be a huge milestone in your life, and it's wise to set yourself up to ensure you can create treasured memories. A micro wedding will still go by in the blink of an eye, but it'll give you more time to soak in the moment with your closest loved ones.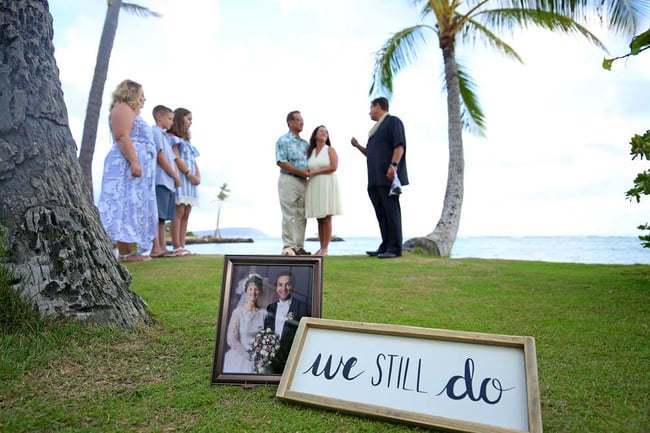 Micro vow renewals are also a wonderful idea, especially on a beach in Hawaii. :)
Why Have a Destination Micro Wedding?
Although planning a micro wedding locally has its benefits, it can be easier (and possibly cheaper) to plan a destination micro wedding.
Helps You Avoid Hurt Feelings
The number one concern of most couples is that people will be hurt that they weren't invited. This is when a destination micro wedding can make your life so much easier because it naturally trims the guest list! When your wedding is a 40-minute drive away versus a plane ride, it changes the way friends, family, and coworkers will view not getting an invite.
With technology, you also have other options to include everyone! We offer a live stream service so you can invite everyone to virtually "be there" at the wedding. This has been a great way to strike the balance for many couples to include everyone but also to have the wedding experience they want without having to factor in space for hundreds.
We are firm believers in "those who mind don't matter, and those who matter don't mind." Just remember, the people in your lives who truly love you just want you to be happy. It's not about them, it's about you two, your wedding, your love.
Endless Options
Unless your dream is to have a large wedding in a massive venue, chances are you can still have your dream wedding. You can still plan for the beautiful church with the stained glass, but you'll only have guests in the first few rows rather than filling up the entire church.
Micro weddings also allow you more options, especially when it comes to wedding venues. For example, beach weddings aren't a good option for 100+ people, but are perfect for an intimate ceremony of 30 or less!
You're Already On Your Honeymoon
With all the benefits of a destination wedding, a big one is that you're already on your honeymoon! This often goes overlooked, but your wedding is a big event. With all the planning and emotions for this momentous occasion, there's a good chance you two will be tired! Imagine waking up the day after your wedding and instead of heading to the airport and getting on a plane, you just wake up on Day 1 of your honeymoon.
Conclusion
An extravagant traditional wedding will always have its appeal and might be the only desirable option for some couples. But we sense a shift in the wedding industry. More and more, couples are seeing the benefits of downsizing in favor of quality over quantity.
A micro wedding doesn't mean sacrificing your wedding vision, it enhances it. They can be lavish, casual, at home, or in an exotic place - but the bottom line is it's all up to you.
If you may be interested in a destination micro wedding, we would love to help you explore your options in Hawaii!
Other Related Topics:
Check out our Instagram and Facebook to see some of our real weddings.