Hawaii offers more natural beauty than almost anywhere else in the world, and a beach wedding in Hawaii gives you the option for a stress-free ceremony in paradise, all for a more affordable price than a traditional wedding at home.
Whether it's a wedding or vow renewal, we offer everything you need to celebrate your love with an unforgettable Hawaii destination wedding.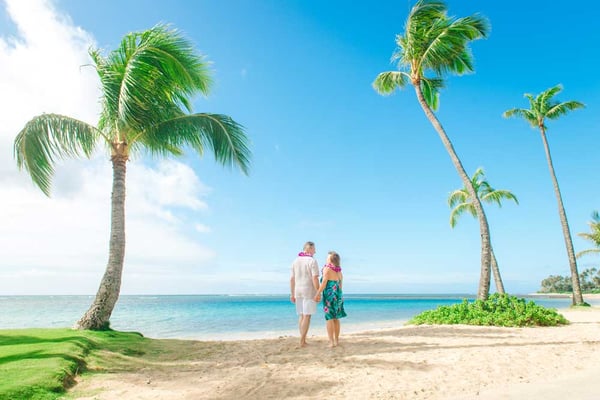 Hawaii beach wedding at Waialae Beach.
Hawaii Beach Wedding Packages
Our Oahu beach wedding packages and vow renewal packages start at just $395 (January 2023 pricing), making Hawaii surprisingly affordable! When considering the costs of a Hawaii destination wedding, many couples can't believe how much cheaper it is to fly to Hawaii, stay seven nights in a hotel, and have a ceremony in paradise, all for cheaper than a traditional wedding back home. Much, much cheaper!
Although we have simple beach wedding packages for only a few hundred dollars, we also have packages for every desire. Whether you're eloping in Hawaii or having a small Hawaii wedding, we can provide you with a stress-free experience.
Here are some of the elements you may want to consider when choosing your package:
Our wedding and vow renewal packages are customizable to include everything you want for your Hawaiian wedding. Your wedding coordinators are always a phone call or email away to help you sort through all the details!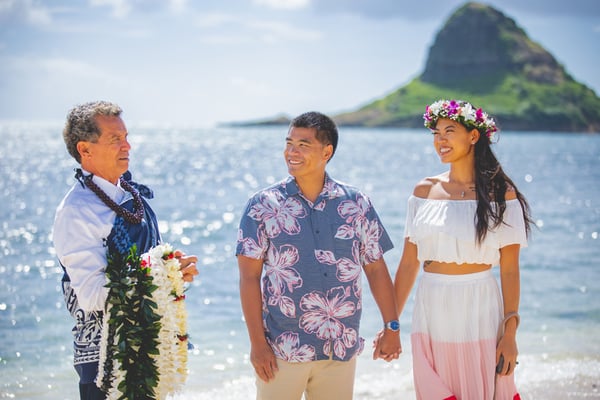 Kualoa Beach wedding ceremony.
Hawaii Beach Wedding Locations
It can be tough when trying to decide on the perfect spot for your ceremony. There's no shortage of natural beauty, and it's easy to see how every location has something special to offer.
We try to provide a general overview of all our Hawaii wedding locations, yet sometimes the best way to decide is to chat with your wedding coordinators. We're all here to help you.
Choosing the right location and package can be difficult for some couples. After that, there are only minor details, like deciding what to wear and applying for your marriage license. We'll make sure everything else is in place.
That said, here are our most popular Hawaii beach wedding locations:
Waialae Beach - Oahu
Waialae Beach is near Waikiki, yet it's much more secluded. Although all beaches in Hawaii are public, Waialae doesn't have as many beachgoers due to its shallow waters, allowing you to have photos without people in the background. The palm trees and small island in the background make for an excellent photoshoot.
Waialae Beach Photo and Video Gallery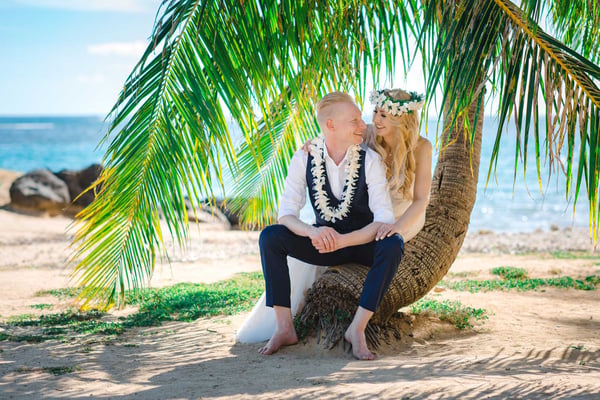 A Waialae Beach wedding couple.
Sandy Beach - Oahu
Sandy Beach is known for its sandy shore break and beautiful lava rocks. Although it's a favorite spot for locals and tourists alike, earlier in the day is not too busy, and we know a few lovely beach ceremony spots! It's also a great sunrise ceremony location.
Sandy Beach Photo and Video Gallery
Sandy Beach - A Hawaii Beach Wedding Location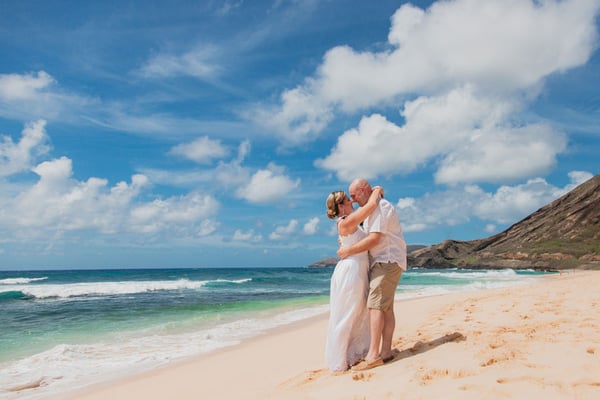 A Sandy Beach, Oahu beach vow renewal.
Kawela Bay - Oahu
If you're staying in Waikiki, the previous choices are recommended, but if you're staying on Oahu's North Shore, Kawela Bay is a hidden gem with a beautiful beach and forest, perfect for a sunset ceremony.
Kawela Bay Photo and Video Gallery
Our North Shore Hawaii Wedding Location: Kawela Bay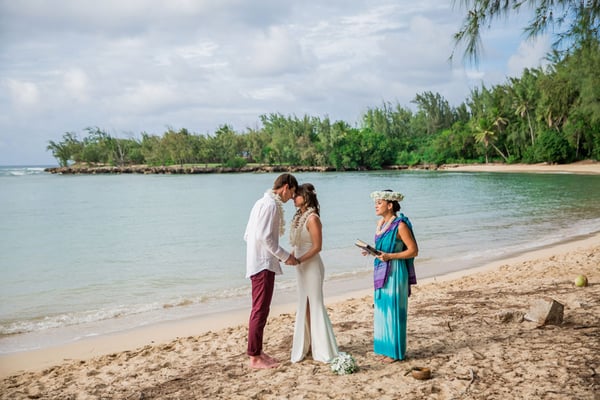 A North Shore Hawaii beach wedding at Kawela Bay.
Maui, Kauai, and the Big Island of Hawaii
For outer island beach weddings, locations can vary depending on which part of the island you're staying on. After Oahu, Maui weddings and elopements are the most popular, but there are more restrictions than on Oahu. Please contact us for suggestions and details.
Maui, Kauai, and the Big Island Photo and Video Gallery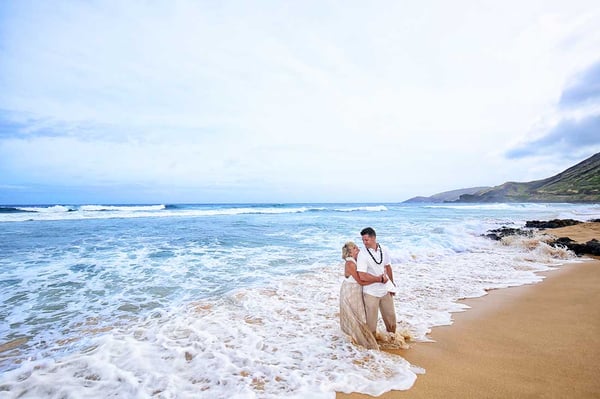 Steps away from our Sandy Beach ceremony location.
What to Wear to Your Hawaii Beach Wedding
Anything goes for your Hawaii beach ceremony! We've seen everything from a bikini (really) to full traditional gowns for the brides. For the groom, shorts are fine in Hawaii, and many grooms opt for linen pants and shirts to keep cool. For a more traditional look, suits look sharp but remember that they can be warm.
Whatever you decide, remember that there are no rules. It's all up to you!
One big tip for the ladies: think carefully about your shoes! High heels look great, but they do not work well in sand and on rocks. Flats are a much better and safer option, especially if your location has lava rocks.
Read more about: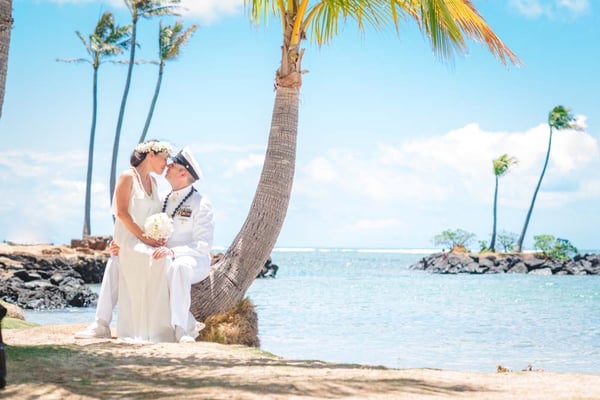 Waialae Beach is known for its palm trees, sandy beach, and small island!
HAWAII BEACH WEDDING AND RECEPTION PACKAGES
Packages for both the wedding and reception are popular requests. These are very rare in Hawaii unless you are booking a hotel venue for 100+ guests. Most of our couples have 30 or fewer guests, so they usually are trying to plan for a nice meal or a luau! To provide the most flexibility, we have ceremony packages and can help you explore options for a Hawaii wedding reception to follow.
Tips to Have a Perfect Beach Wedding
We are blessed with comfortable trade winds that keep Hawaii cool. Remember to consider the wind when deciding on your hair and makeup!
Be on time for a relaxed ceremony! If your wedding package includes a photographer and videographer, being late will cut into your time. If you have guests coming, express the importance of them being on time. Arrive early for a more stress-free experience!
Relax! We do everything possible to make your experience as stress-free as possible. As long as you're on time, you can relax and let our team lead you through everything.
Eat before your ceremony! Many couples get caught up with getting ready and forget to eat. Make sure you don't leave for your ceremony with an empty stomach. You don't want to be "hangry" on your special day!
Don't forget the rings and marriage license (a marriage license is not required if you're already legally married).
For more, check out our 10 Tips for Your Hawaii Wedding Day!
Need Help? You can contact us, call, or schedule a time for us to call you with the calendar below. Your Hawaii dream wedding is easier than you might think, and we're here to help you every step of the way!