Everything You Need to Know About Magic Island
Magic Island is one of our favorite wedding locations! It's our top pick for a sunset ceremony, but it's beautiful during the day too. It's an iconic location with lots of variety, making for a beautiful photo gallery.
Plus, who doesn't want to say they got married at "Magic" Island, right? :)
Here we have all of the insider info on this location to help you decide if this is the best choice for your special day!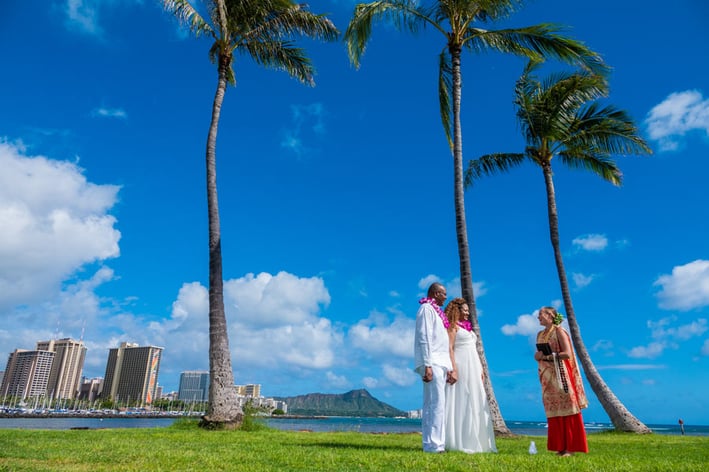 Isn't Diamond Head an amazing backdrop for a ceremony!?
Details:
Location: South shore, 10 minutes from Waikiki.
Available: 7 days a week, 8:00am to sunset.
Recommended for up to 50 guests.
Decor: Arches, Chairs, and Runways 7 days a week.
Recommendation: Lighting is great at any time of day. Best for sunset from Mon-Thurs.
Ceremony Considerations
The ceremony is held on the lawn right next to the ocean, usually close to a palm tree, with majestic Diamond Head as the backdrop. Following the ceremony, we take you to the end of Magic Island for beach photos.
Having the ceremony on the lawn, compared to a beach wedding, can be a more comfortable foundation for the processional and your guests. Walking in sand can be a bit tricky, so some couples prefer being right next to the ocean but on solid ground.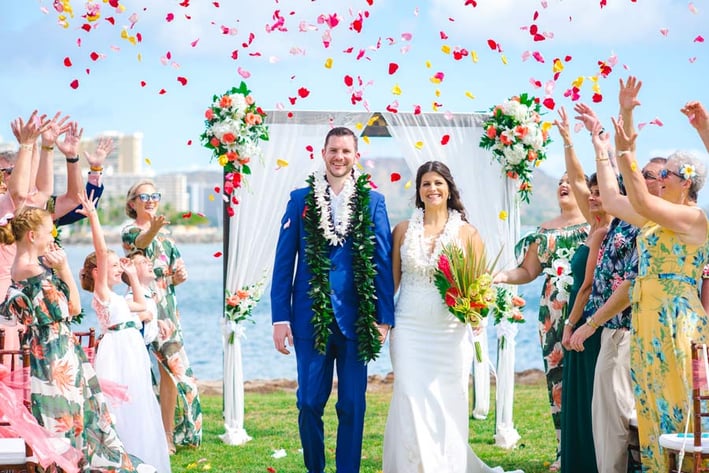 Magic Island is one of the few public wedding venues close to Waikiki that allows large groups and has an amazing backdrop.
Another perk is that the State of Hawaii allows for an arch or chair setup any day of the week!
Note: As with all of our locations, we need to obtain specific permits for structural setups that make us legally liable. Due to these regulations, we cannot work with outside vendors.
Tip: Although setups are allowed seven days a week, Magic Island is a popular location for locals on Friday afternoons/evenings and the weekends, so we highly recommend avoiding these days if seclusion is important to you.
Photo Considerations
Magic Island is on the south shore of Oahu and has great lighting from morning through sunset. Late afternoon and golden hour are beautiful at this location as the lighting gets softer.
Although we've had many gorgeous sunsets here, keep in mind sunset depends heavily on the weather. In some ways, daytime lighting is a safer bet for photos, but if you're set on a sunset wedding, Magic Island is a great choice!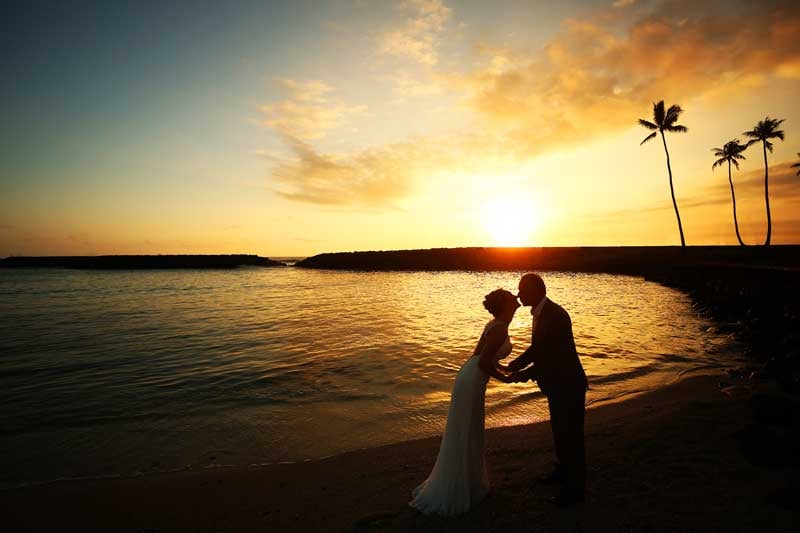 Here's how most days end at Magic Island!
The tropical palm trees, postcard views of Diamond Head, large grassy lawn, and sandy beach all make for a great mix of photo opportunities.
Another ideal feature of Magic Island is that it's easier to avoid strangers in the background of your ceremony photos.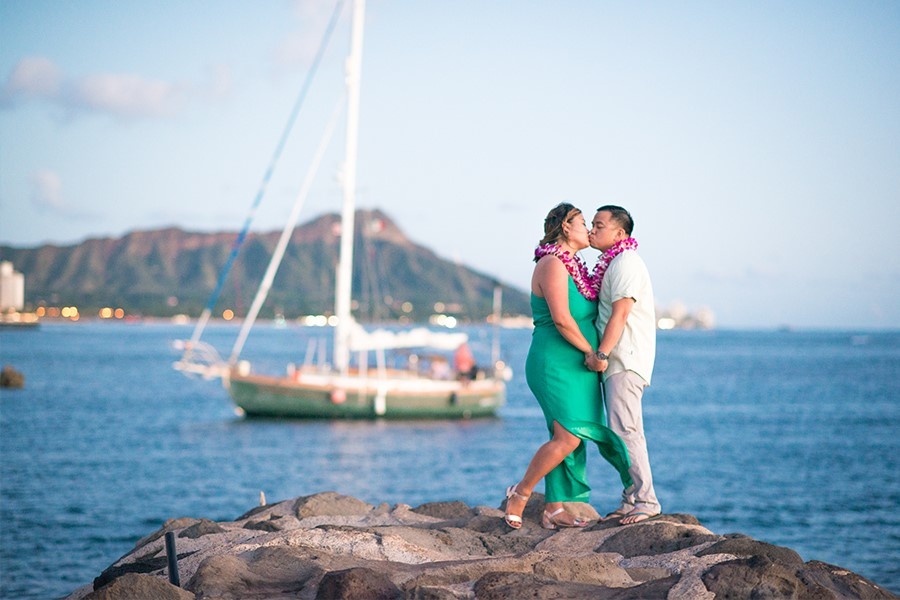 A ceremony on the beach could have people taking a stroll along the shoreline, but with the ceremony on the lawn at Magic Island, it's just the ocean.
However, if you do decide on a beach wedding, please know our team makes every effort to make it look like you're the only ones there. They know the angles, the secrets, and the best spots for the great photos you see in our galleries.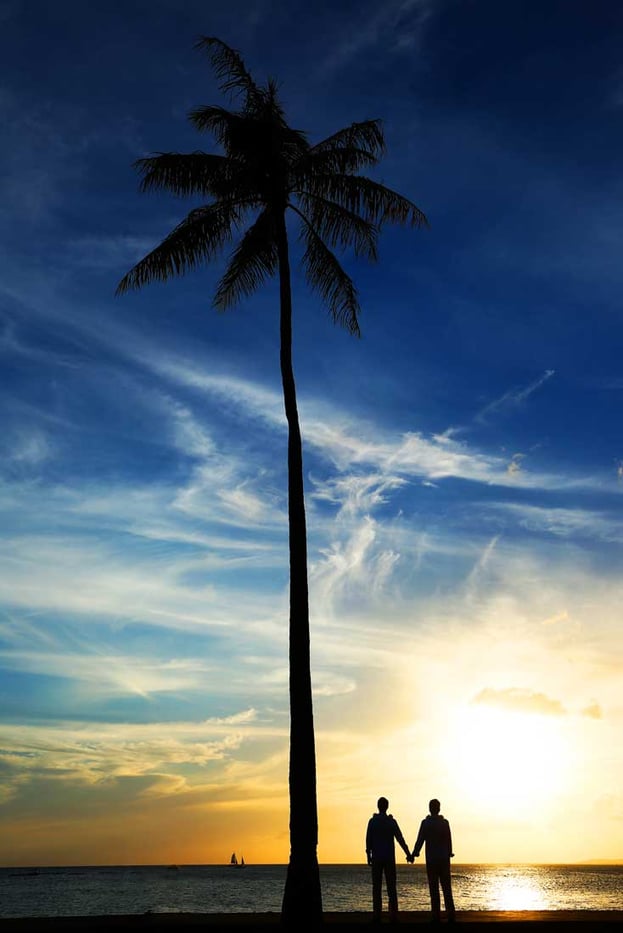 Logistic Considerations
Magic Island is very close to Waikiki (map). It's only 5-15 minutes from almost any hotel in the area. We recommend the Waikiki area for lodging for our couples and their guests, so this location is exceptionally convenient. Although we can have a Waikiki Beach Wedding, Magic Island offers similar but better views!
It's also perfect for couples expecting 30 or more guests. The lawn area is spacious, and there is a large, free parking lot a short walk from the ceremony location. Except for Fridays, weekends, and holidays, there is ample parking if you or your guests decide to drive to the ceremony.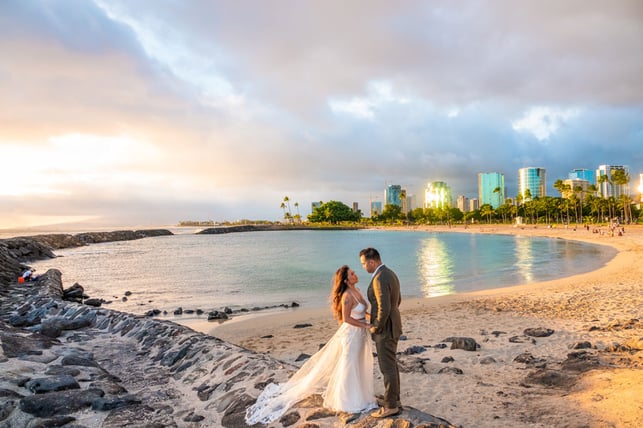 After the ceremony, there are lots of scenic areas for photos. This is the other side of Magic Island, across from the ceremony area.
We arrange to have our team meet you at the end of the parking lot. From there, they'll take you out to the ceremony location.
Magic Island has a very flat landscape and paved sidewalks along almost the entire area. The terrain makes it a good fit for those that need a wheelchair, walker, crutches, or a cane to get around. The ceremony location is a three-minute walk from the parking lot, so just plan walking time accordingly.
We recommend flat footwear at this location. Heels can be tricky in the lawn or sand areas, and we advise safety over anything else. Wedges could work on the lawn but plan to remove them for the beach and rock photos.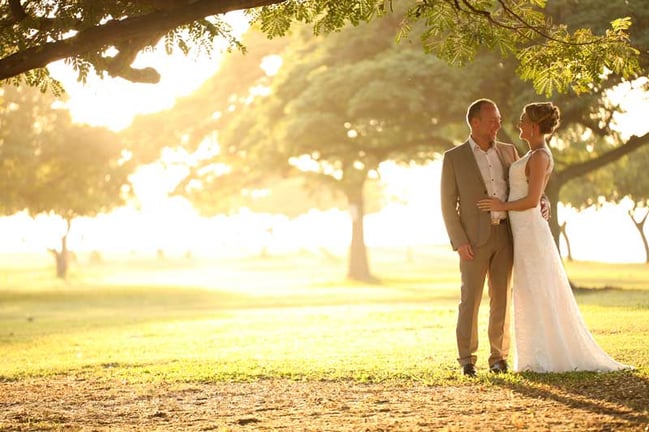 Magic Island offers such a variety of photo opportunities!
Is Magic Island where you'll be exchanging vows?
Magic Island holds many wonderful memories for the Weddings of Hawaii team.
Living in Hawaii, all of us have been here for one reason or another. A birthday party, family gathering, church event, BBQ with friends, a stroll at sunset... it has been the venue. You can't go wrong with any of our locations, so it just depends on what you're looking for, but we love it!
If you are still uncertain about which location is right for you, let us know. We are happy to chat with you so don't be shy!