Beach weddings are in a class of their own when it comes to outdoor weddings. Gardens and wineries are beautiful, but there is something genuinely magical about an oceanfront ceremony. (Full disclosure, we have been doing Hawaii beach weddings since 1978, so we're probably a little biased.)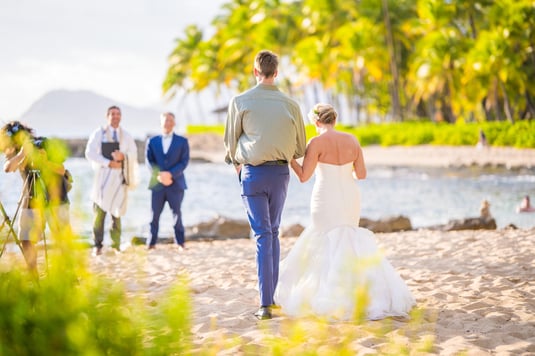 Can you see your toes in the sand with the ocean as the majestic backdrop for your special day?
A romantic seaside dream for many, but with so many venue options, it can be hard to decide if it's right for both of you. Here's everything we could think of to help couples determine whether a beach wedding is a good fit for them.
Choosing the Right Beach for Your Wedding
For most couples, a beach wedding means a destination wedding, but for the lucky few who live near a beach, you'll have a slightly different approach as you may have a larger guest count. You may need first to decide if you'll be planning a destination wedding vs. a traditional wedding.
Typically, couples planning a beach wedding tend to have a destination wedding that is much smaller than a traditional wedding, and these days, elopements and micro weddings are on the rise, especially with the option to live stream your wedding to family and friends around the world.
Beach Characteristics
Not all beaches are created equal. What color is the sand? And is it coarse or fine? What color is the water? How vast is the stretch of beach? What will you see when you're standing there with the one you love?
When comparing different beach venues, you'll start noticing those differences. Some ocean-lovers are happy with any coastline or perhaps the one closest to home. Others are searching for the one that takes their breath away.
For most couples, however, the beauty of the beach is what's most important, which is one reason Hawaii is such a great place to get married.
Beach Accessibility and Logistic Considerations
Unless you are having the ceremony on a lawn that overlooks the ocean, you and your guests will be navigating through the sand, possibly some rocks, gravel, and uneven terrain. Beaches around the world have different types of landscapes. Some sand is so flat and firmly packed, you barely notice it's sand, while at others, it can be softer and uneven. If you or your guests have mobility issues, you'll want to consider accessibility.
A big deal for some and irrelevant to others, beach locations are open spaces. Unlike a chapel, there isn't always a way for the bride to have a traditional grand entrance. Guests will usually be able to see the bride prior to the walk down the aisle. The groom, however, can be turned around at the ceremony area if you're planning a first look!
How Many Guests for a Beach Wedding
The logistics of a beach wedding typically make them smaller than regular weddings.
We usually have a lot of eloping couples or small guest counts, with around 40 being on the larger size for most of our Hawaii beach weddings, and that's what we'd recommend. For many couples, that's a much smaller guest count than they'd have to consider for a traditional wedding.
Keep in mind each beach can have a limit of how many people can be in attendance, so definitely check on that before you start sending invitations.
Beach Wedding Permits
As previously mentioned, beaches may have restrictions and regulations on the number of guests, amount of time, wedding setups, specific areas of the beach, etc.
Some beach locations do not require anything to have a wedding there. Other beaches require a permit requested and approved in advance.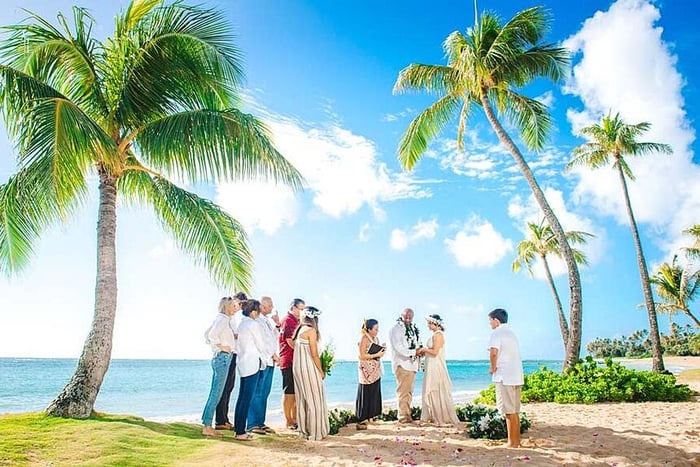 A $50 beach permit is needed for a ceremony in Hawaii, but we obtain that on behalf of our couples.
Whether it's a local or destination wedding, a wedding planner can likely assist with this. Just make sure you know what is needed for your beach wedding and work with reputable vendors who can help do your wedding the right way.
Beach Wedding Decor
There are so many options when it comes to dressing up your beach wedding. A perk of beach weddings is they can be as casual or elaborate as you want!
If you need a permit, make sure any decor is in regulation. It's extremely important to book a reputable setup company as you don't want to be in any violation of the local laws.
For full setup options, including arches and arbors, we recommend private wedding venues.
Weather Considerations for Beach Weddings
You can have every detail perfectly mapped out, but mother nature could have other plans.
Time of Year Affects Weather for Beach Weddings
Many beach wedding locations, being tropical, experience warm weather throughout the year. For some, however, certain times of the year bring extreme heat and either a rainy season or hurricane season.
We're blessed here in Hawaii to have consistently pleasant weather all year long.
Other popular locations, like Florida, the Caribbean, or Mexico, have high temperatures for many months of the year, so choosing a winter month would provide you with a more comfortable ceremony.
For example, February and March is the best time for a Caribbean wedding. March-May and November-December are best for Florida to avoid thunderstorms and hurricane season.
Hawaii wedding-day weather is almost always the same. We're lucky as it's 70's-80's year-round, so we can regularly have beach weddings year-round too!
Wind and Noise
Seaside locations can bring seaside breeze. As long as it's something you're prepared for, it usually doesn't disrupt the ceremony.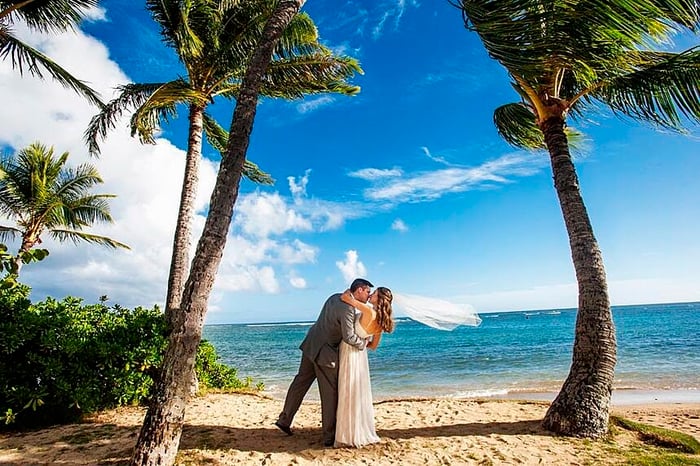 Tradewinds are perfect for swaying palm trees in your wedding photos.
The winds can carry sound, so if your wedding is near a resort, sound can carry. Many beaches are public, so families and groups may be enjoying a picnic, strolling the shoreline, or going for a swim. Planning to have a mic and speaker for your ceremony ensures your guests can hear what's going on.
Rain
No one wants to think about this (especially us), but to be honest, it could happen.
In Hawaii, rain is usually near the mountains with 5-minute passing showers (or drizzles) over the beaches with no impact on our weddings. We estimate heavy rain only affects less than 1% of our ceremonies. We have our own plans if it rains on your Hawaii wedding day, but each beach and vendors can vary with what options are available.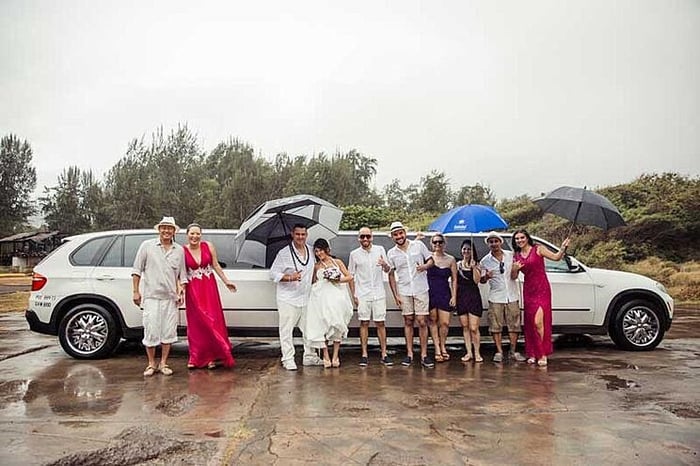 Arriving to rain, but...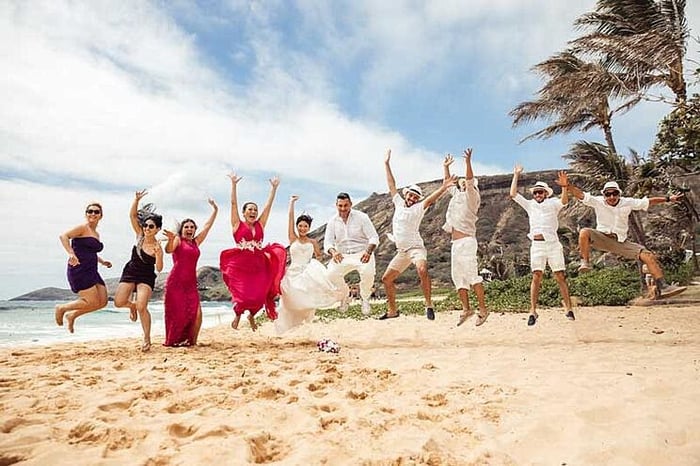 Blue skies only a short time later!
Talk to your planner about Plan B. For most tropical locations, showers pass very quickly, so it's often a matter of finding cover and waiting a few minutes.
That's just a quick summary of the weather at a few popular beach wedding locations, but do your research to decide which location and time of year will be best for your beach wedding.
What to Wear for a Beach Wedding
Anything you want! Elegant and formal or fun and casual, you should wear whatever makes you feel good. Plan for lightweight materials as beach weddings are usually in warm weather. Here are some general tips on what to wear for a beach wedding. Be sure to check out our notes on footwear!
Bride's Attire for Beach Weddings
Ladies, you have probably been brainstorming ideas your whole life. Due to the elements, you may want to avoid long trains and veils. Consider the outdoor weather factors and choose a dress that suits you best.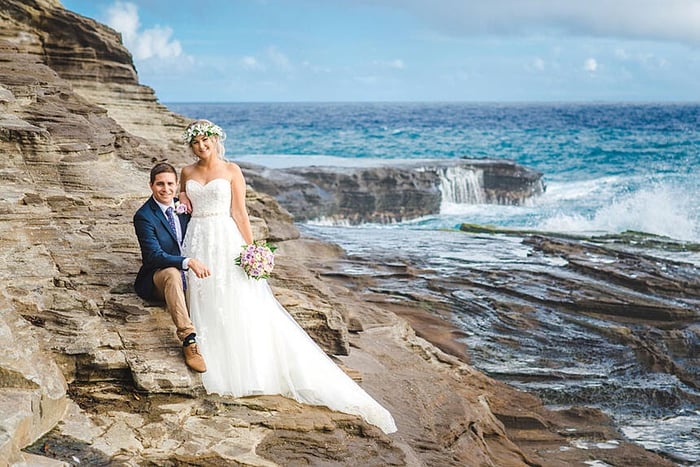 Trains longer than this get really tricky to navigate in.
We have seen thousands of amazing beach wedding dresses! Check out our posts for more details and tips.
Groom's Attire for Beach Weddings
Gentlemen, beach weddings may be a bit warm for a three-piece suit, but it can be done! A vest or suspenders and tie without the jacket is a popular look, and perhaps don't wear your most expensive dress shoes.
We have more groom attire ideas for you to explore.
Have a Beach Wedding Planner
Yes, we are Hawaii wedding planners recommending you get a wedding planner. Honestly, it's possible to plan your wedding on your own. Before you decide to have a DIY wedding, here are a few things you may want to consider first:
Are you very familiar with the beach location, or is this a destination wedding? If it's a destination wedding, we highly recommend hiring a local wedding planner. They know all the ins and outs of weddings, let you know if you need a beach permit, and can give you information on how to get your marriage license. Their job is all things weddings, and a good planner will be several steps ahead of you the entire way.
A resort or wedding hall has a planner or point of contact that you work with to make all the arrangements when you book the space. Even if they're not a wedding planner, this person can give you details about the regulations of the space, amenities, etc. A beach does not come with that. Having a planner who is familiar with doing beach weddings will have so many details already taken care of for you.
Do you already have all of your vendors? A planner can often refer you to reputable officiants, photographers, videographers, caterers, florists, hair and makeup artists, etc. A referral increases the odds your vendors have experience at your beach location, even better! This saves you a lot of time from having to hunt down your own vendors.
Having a planner is worth the investment. You two don't need to stress over details, or the details you don't even know about.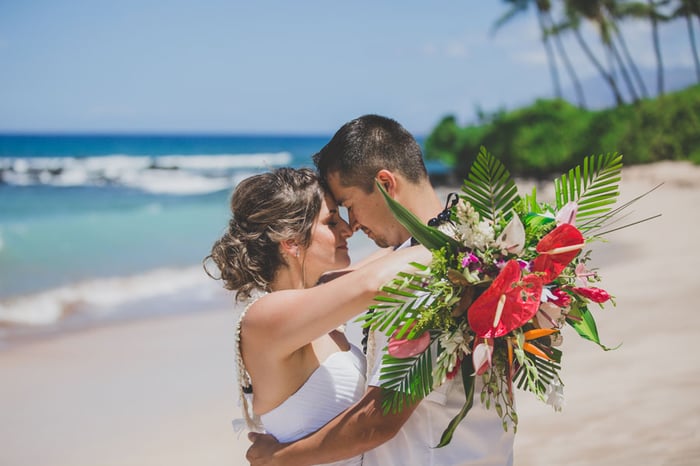 An amazing Maui wedding...what more do you need?
Beach Weddings Can Save You Money
With most traditional weddings totaling $20,000-$30,000, beach weddings are a great alternative as they can be an affordable destination wedding option.
It's hard to say what a "standard" beach wedding costs. If it helps, our Oahu wedding packages range from $275-$8,450 (2020 pricing - see our Oahu wedding packages page for current prices). With that in mind, we estimate the total Hawaii destination wedding cost for our couples, including flight, hotel, and the wedding package ranges between $4,500-$7,000.
Many of the areas we've touched on can also help you save on cost!
Beach Weddings Are Small Weddings
With fewer guests, it decreases the number of chairs you need, the headcount for a reception meal, and transportation needed. Small weddings also help you save as you don't need things like centerpieces, favors, and a DJ.
Beach Permits are Cheaper than Venue Fees
A resort ballroom, lush garden, or winery are all likely at least a few thousand dollars for the use of the space. If you need a beach permit, it's likely very nominal in cost, saving you a ton.
The Beach is the Wedding Decor
Although there are gorgeous beach wedding setups available, if you pick the right beach, you really don't need to spend on decor. It's important to some couples, but many go for a minimalist approach, just the two of them with the sea and the sand.
Beach Wedding Weather Gives You More Options
Especially with destination weddings, flight and hotel costs fluctuate throughout the year. With the best weather during different times of the year, depending on the beach, you have more options! And more options almost always means lower cost.
Beach Wedding Attire Is Usually Cheaper
With a more relaxed vibe, attire at beach weddings is usually less formal. Since you don't need to stick to just formal attire, this opens up more (and usually cheaper) options for what to wear.
Possible Savings on the Wedding Planner
Most couples plan on hiring a wedding planner. If you've started looking into it, you know that some planners charge a percentage of the total wedding cost. If you're spending less in total, you'll save on the planner too. We don't charge that way for our services, but we know many in the industry do.
Summary
And that is everything you need to know about beach weddings. Of course, you can never actually know everything, but now you're pretty close!
Just to recap:
Choosing the right beach for your ceremony is key.
Keep the guest list small.
Get a beach permit if you need one and follow any regulations, or work with a reputable company that'll take care of this for you.
Decor is beautiful but not a must-have.
Weather is an important factor to prepare for.
There is a huge variety of attire for beach weddings, so it's all up to you.
A wedding planner is very likely worth the money.
We wish you the best in your beach wedding plans, and if you're thinking about Hawaii, please contact us as we'd love to assist you!