Almost all of our couples book a package with photography. Every couple wants photos with the fantastic Hawaii scenery, like ocean backdrops, the beach, mountains, and palm trees. That's a given, and it's what makes Hawaii weddings so special.
Highlight video of a happy couple.
But what about videography? While photos are often non-negotiable, video is more of an option. We often hear, "That's ok; I'll have the pictures, and we'll probably never watch the video anyway." Completely valid, but we have a few thoughts for your consideration.
Reasons to Have Wedding Video
Videography includes a highlight video and ceremony video. The highlight video is great for sharing with friends and family and watching on your anniversary. The ceremony video is a great way to relive the day. Think about how fun it'll be to watch those in 25 years!
There are a few top wedding-day regrets we often hear, and not having video is one of them. It's one of those things that did not seem too important while planning, but sometimes months or years after the fact, it can be something you wish you had. The day goes by so quickly and couples say they wished they had it all on video.
Photos capture a moment, while video catches every move. Imagine watching your fiance's expression change when they see you at the first look. Or hearing your voice saying "I do" and sharing your first kiss. The day goes by in the blink of an eye, but you'll want to remember the details of your special day forever.
Even with beautiful photos, pictures can't capture the sound of someone's voice, their laugh, iconic mannerisms, or their personality. With video, you can share these with your children, grandchildren, and those close to you. Your wedding day is filled with so much love, likely to bring out the best in both of you. Wouldn't it be nice to share that piece of yourselves with the next generation?
Reasons Not to Have Wedding Video
We understand everyone has a wedding budget they'd like to stick to. A lot of the times, we hear couples go back and forth on what to add. One reason we write these blog posts is to help make decisions a little easier.
As mentioned, photography ranks up there as a "must-have." In addition to photography, flowers and transportation are important considerations, as is hair and makeup service. And there's weddings setups. And a live Hawaiian musician. And while none of these options are overly expensive, you have to decide what you really want and what you want your budget to be.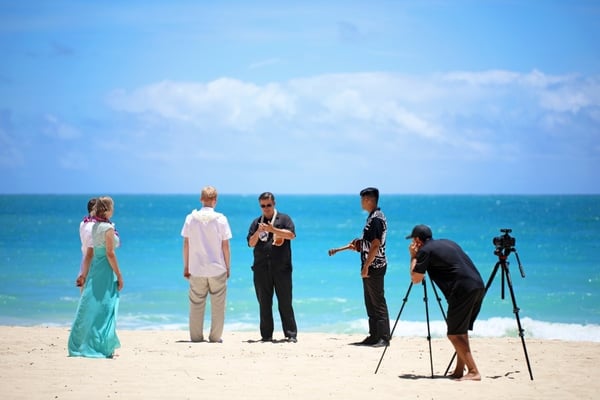 Shooting a beach ceremony.
So, Should You Go with Video?
That's up to you, of course, but we think you should consider it. It's one of the most memorable days of your life and capturing it on video is a great way to always have those memories.
Having both a videographer and a photographer will ensure the best coverage of your special day. If you don't already have videography in your package, let us know if you'd like to add it on!