If you read our blog post on weather in Hawaii, you know that we have great weather, which allows us to have beach weddings any time of year! However, it does occasionally rain in paradise.
Fortunately, our wedding locations rarely get more than a brief shower, usually lasting only a few minutes. In fact, you may want a little rain as that's what brings rainbows. :) Here are more details about what happens if it does rain on your wedding day.
Arriving to rain, but...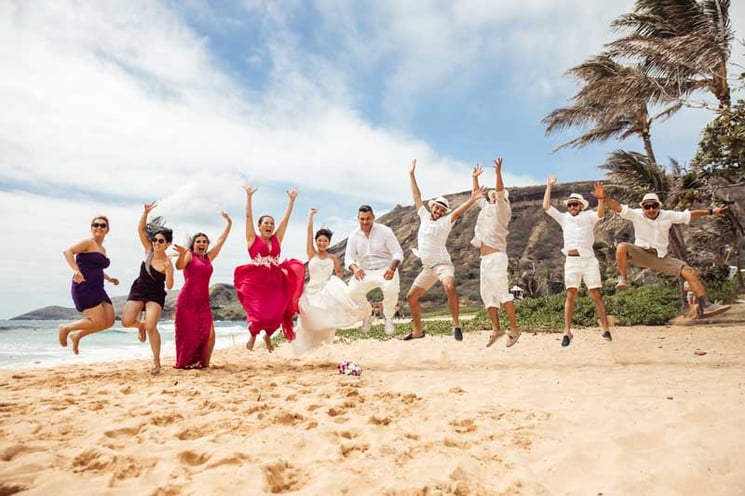 Blue skies only a short time later!
Singing in the Rain
Our ceremonies are rain-or-shine events. Our team will conduct the ceremony as planned, regardless of the weather. However, if we see rain in the forecast, we will email you an update and recommend you and your guests bring umbrellas. Hawaii rain is not as cold as other states, and can actually be refreshing in our tropical weather! Not to mention, we've captured some beautiful rainy day wedding photos.
Please keep in mind, it is possible for "pop-up showers" to occur. This is rain that typically lasts for a few minutes, but is not projected in the forecast. We are not always able to reach out if we do not see anything in the forecast, but our vendors will troubleshoot with you and provide the best service possible while working within the limits of what mother nature provides.
Moving THE CEREMONY IN HOPES OF BETTER WEATHER

While we would love to offer alternative locations for rainy days, we do not have a covered "backup" venue that is readily available to secure within a short timeframe.
It can be tricky to change your ceremony date as Hawaii's forecast can change overnight. We may see rain forecasted for the next day when we leave the office and the next morning mother nature provides a bright sunny day instead.
Hawaii does have amazing weather year-round and it is very rare that conditions are so extreme we cannot provide our services as planned. If that is the case for your day, we will do everything we can to offer an alternative plan. This may mean a change of location on the day of or moving things to a different date, all based on availability and the forecast.
Looking for the Silver Lining in the Clouds
As with everything in life, attitude and mindset is everything. It's valid to feel upset at Mother Nature for not cooperating on your special day. Give yourself a few minutes to process your emotions, but do your best to release the negative feelings and make the best of the weather.
The rain isn't going to wash away your love so don't let it wash away your joy. Be each other's ray of sun through the clouds. Let it serve as a reminder that rain or shine, you'll be there for each other to make the best of whatever comes your way.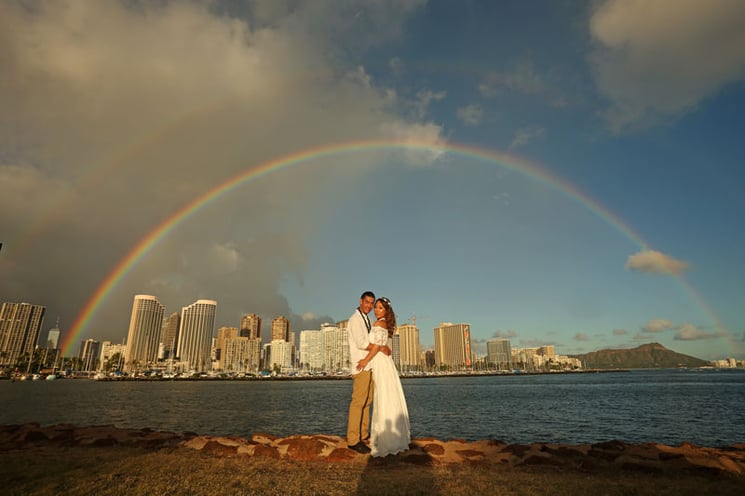 Can you see the double rainbow?
Rain is a Blessing
In Hawaii, rain is considered a blessing and a good omen. This isn't just a saying to make you feel better. The Hawaiian word for water is wai and the Hawaiian word for wealth is waiwai. The idea that one who was blessed with lots of water was wealthy is rooted in Hawaiian language and culture.
Even though rain may not have been in your plans for a Hawaii wedding, remember that without rain there'd be no rainbows. 🌈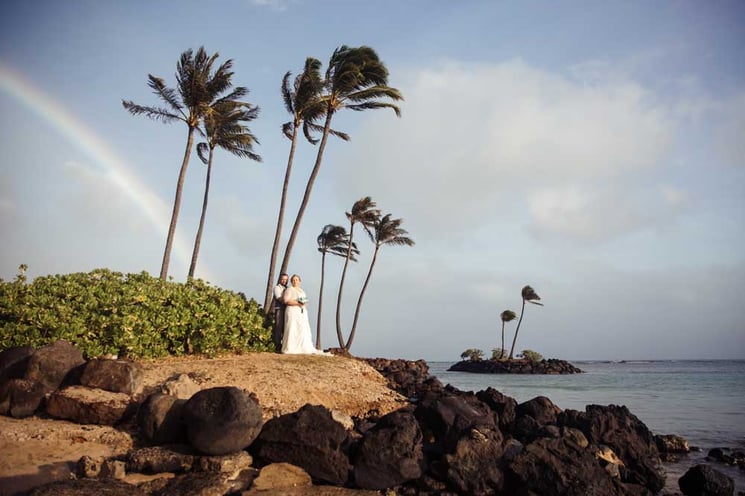 Just another rainbow sneaking into the shot!
Key Takeaways
As wedding planners, we understand your concern regarding the weather and are happy to help as best as we can. However, at the end of the day, we are all subject to whatever Mother Nature does.
Our events are typically "rain or shine." As Hawaii typically has great weather year-round, it is very rare for our team to be unable to provide our services as planned. If this occurs, we will do our best to offer any available alternatives. Blue sunny skies are pretty common here in paradise, so the odds are definitely in your favor. :)