Beach wedding dresses aren't really different from other types of wedding dresses. Anything goes for a destination wedding, so what you wear is entirely up to you!
There are, however, certain dress styles and materials that work better for a beach wedding.
After planning Hawaii beach weddings for more than 40 years, we have seen what works and what doesn't. We've put together all the information you need to pick out the beach wedding dress that's right for you!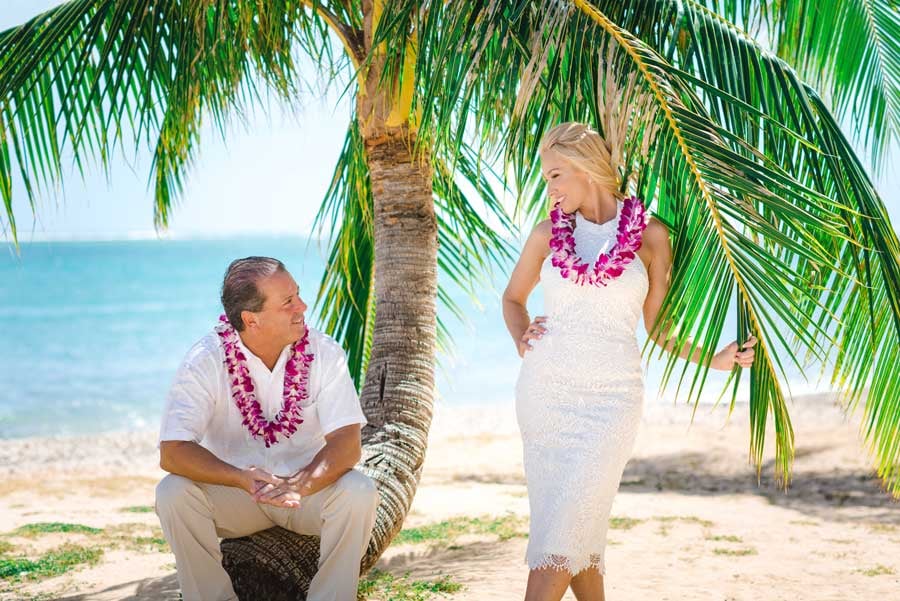 A beautiful example of a great beach wedding dress!
What Brides Wear for Their Beach Wedding
Lightweight materials are the most comfortable and work better for a beach wedding. Any silhouette, except ball gown, will work! Empire, sheath, and a-line wedding dresses allow the most flexibility for movement, but even trumpet and mermaid shapes are functional if made of the right material. One of the best things about a beach wedding is that can be casual, formal, or anything in between!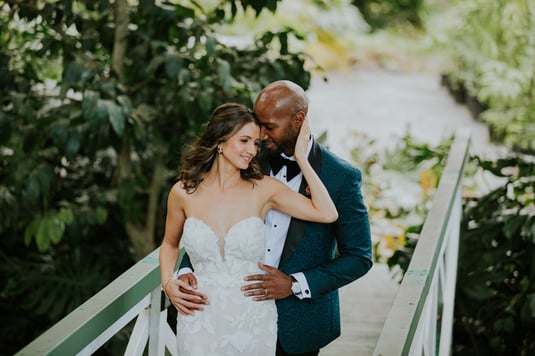 Strapless beach wedding dress can look amazing, but you'll want to make sure the fit is right.
Strapless gowns are debatably the most popular style for brides. However, you might want to consider straps for a beach wedding dress. Halter, illusion, and spaghetti straps are popular options to consider. Unless you have a short dress, if the hemline picks up sand or gets wet, it will weigh everything down, increasing the chance that you'll be pulling up a strapless dress every few minutes on your wedding day.
Avoid long trains, long sleeves, and long veils. Less tends to be more when it comes to the amount of material. You'll probably want to stay away from lots of layers, heavy beading, or extremely delicate materials that can easily catch and snag.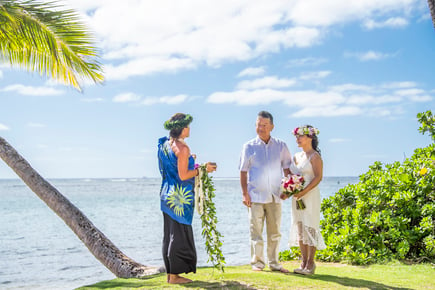 Here's a great look if you'd prefer your dress not to drag on the beach.
The Best Materials for a Beach Wedding Dress
Chiffon, satin or charmeuse, tulle, lace, and taffeta are the top materials for beach wedding dresses. Lightweight materials are the way to go, but almost no dress is made solely of one type of material. With that said, here are some other beach wedding factors when considering the material of your dress.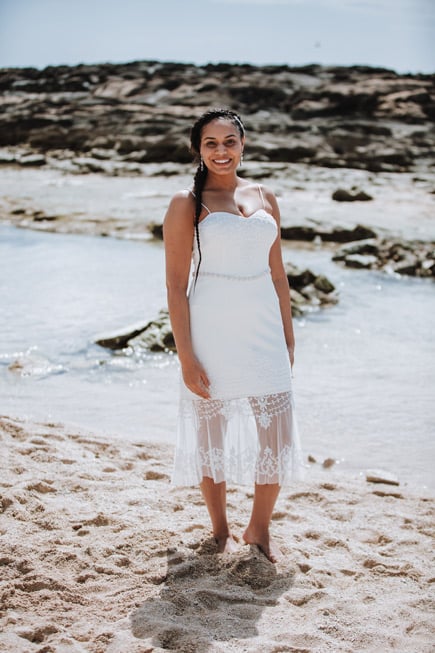 Beach friendly but the beautiful lace-overlay elevates this wedding look!
The length of your dress, in combination with the material, is also something to consider. If you're thinking about floor length with a small train, sand shakes out of satin or charmeuse much easier than lace.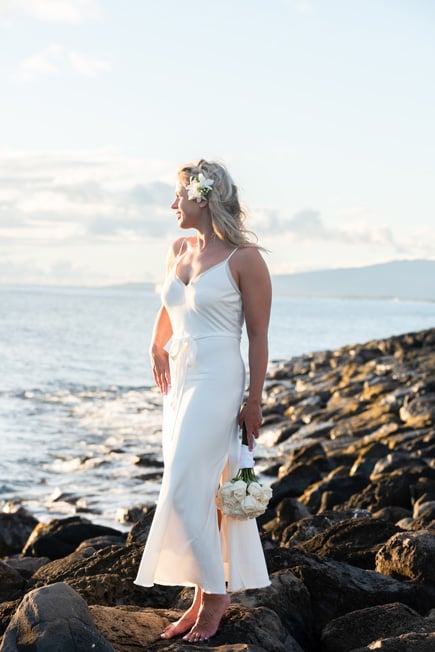 Some beach locations have stunning photo opportunities beyond the sand.
Knee-length and longer usually weighs itself down enough regardless of the type of material. There's always a chance for a sea breeze to pass through, and you don't want a Marilyn Monroe moment in your white dress. With a shorter dress, make sure the material has enough weight to it so it won't flow around too much in the wind.
Where to Buy a Beach Wedding Dress
There are countless options out there. Although many brides want to have their "say yes to the dress" moment, we noticed more and more brides are buying online. Buying online and getting it altered locally can be a more cost-effective route, but shop around a bit to see what works well for you and your budget.
More importantly, make sure the alterations are done well and have that planned in advance. Don't expect to find a reputable seamstress available on short notice that can turn your dress around in two days.
Here are our top three recommendations for a place to get a beach wedding dress. If it makes a difference to you, these are not affiliate links, and we do not earn any commission.
David's Bridal - An established company for the past 60 years, they have many brick-and-mortar locations as well as online options. Offering 00 through plus size, in a variety of styles, at a range of price points, this is a great place to start browsing your options!
Lulu's - Their beach wedding options are more limited, but we think many of their regular wedding dresses would work just as well! Very affordable, yet lovely options. Great for guests and bridesmaids too!
BHLDN - Anthropologie's bridal line has some amazing looks for boho brides and those looking for unique options.
How to Transport Your Beach Wedding Dress
Most beach brides are having a destination wedding. Bring your dress with you on the plane; do not check it into luggage. Ask the airlines if there may be any storage options available to you during the flight.
When shopping, you may want to consider the size and weight of the dress for travel. This is another reason ball gowns generally don't work well. Even vacuum-packed, they are still very bulky and can be challenging to transport.
Depending on your dress, you may want to steam it once you've reached your destination. Ask the hotel for any in-house options or ask for reputable recommendations. Make arrangements in advance and find out how the dress will get to the steamer, turn around time, and how it will be getting back to you. This seems obvious, but it can be a small detail that can become a huge problem if not planned in advance.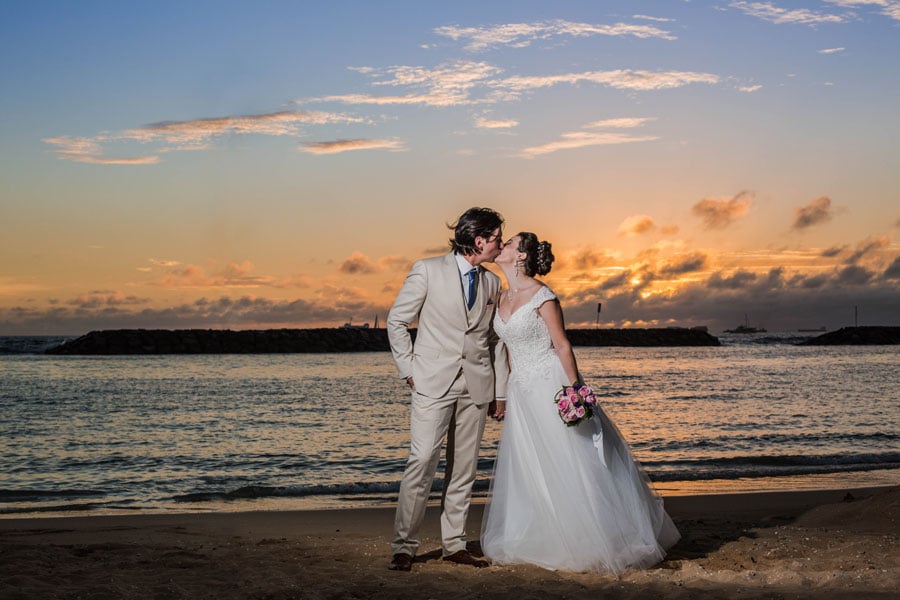 Classic wedding gowns are always lovely.
Our Favorite Beach Wedding Dresses
We've helped plan thousands of beach weddings and have seen so many lovely dresses. Although we don't know what brand or designer each dress is, we hope this gives you a great starting point for finding the look that fits you best!
Conclusion
Even the most beautiful wedding gown won't make you feel very pretty if you're worried about it every step you take down the aisle. Finding a dress that balances fashion and function will make your beach wedding much more enjoyable.
If your groom is looking for attire ideas, check out our blog on that too!
We hope this was helpful or at least got you excited about finding the beach wedding dress of your dreams!