Adding live stream to your Hawaii wedding is one way to include everyone in your special day. :) If you'll be eloping in Hawaii, this is a great way to allow family and friends from all over the world be there with you.
How Does Live Stream Work?
Our live stream process is always evolving. Our team is constantly looking for better solutions, so we expect the exact details to slightly change over time, but here is the basic information.
First, you can add the live stream to your wedding by calling or emailing us or by checking it on your information sheet.
Once you have this added to your package, we'll set up a page for you on our website.
You'll receive an email with the link to your page and some information about the live stream. You can forward the link on to family and friends.
Currently, there are two things our video team wants you to consider:
One: Is the groom comfortable wearing the mic (this is a wireless mic that feeds into the video, not a mic and speaker)? We prefer to mic the groom so those back home can hear the entire ceremony. If you are uncomfortable with that, we can also put the mic on the officiant. Those watching would hear most of the ceremony, but the mic probably won't pick up all of your words.
Two: Would you like to say something to the camera after the ceremony? If so, you can take a moment after the ceremony. If not, we can cut the feed after the ceremony.
Please let your live stream technician know your preferences when you arrive for the ceremony.
Examples: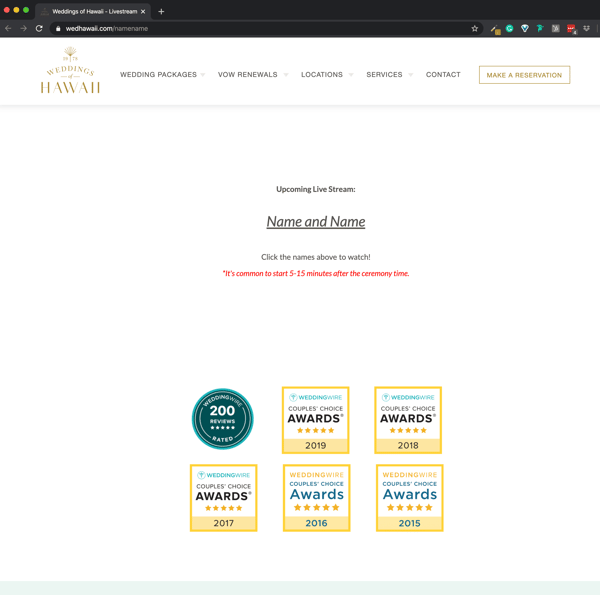 We'll create a webpage with your names on it for you to send to your family and friends. We'll add the link to your names shortly before the ceremony date.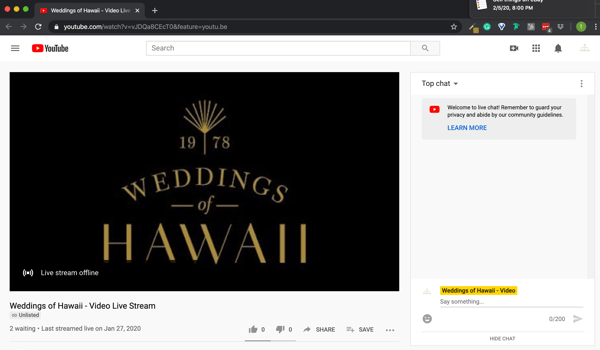 Your family and friends can watch live, chat, and even watch the replay.
FAQs
When will I receive the link to the webpage?
It varies a bit, but we like to get the page built soon after you add the live stream. Our team likes to get the page to you at least a month before your ceremony date, and we'll send you a reminder email seven days before your ceremony. Please do not unsubscribe from our emails.
When will the link to the live stream be set on our page?
Usually your link is set within 48 hours, but sometimes we set it shortly before your ceremony, even up to 15 minutes before the ceremony time.
Can I watch the replay?
Yes, the ceremony will be saved, and you can access it from the same link. Although it's unavailable to download and save, you can see the replay and send the link to anyone who couldn't watch the live feed.
What do you broadcast on?
We're currently using YouTube, which seems to provide the best quality to all viewers, regardless of the strength of their internet. However, our team is always testing different providers, so it's possible we change in the future.
Can my guests chat?
Yes, they can chat, and you're able to see the chat later while watching the replay.
Can the stream be viewed on desktop and mobile devices?
Yes!
What if something goes wrong with the stream?
It's happened before. Many beaches in Hawaii have weak connections. We've done our best to make it work, and we're constantly trying to improve. If there is an issue, we'll upload the ceremony video as soon as possible and share it with you.
Conclusion
Adding live stream is a great way to share your special day. We want your day to be as special and stress free as possible, so we'll get everything set up for you :)
If you have any questions, please reach out to us!