Will reality meet your expectations?
When dreaming about your Hawaiian beach wedding, you probably imagine beautiful blue skies with a handful of white, puffy clouds. The trade winds are blowing. Your photographer's snapping away, framing the moment around an amazing backdrop of ocean and mountains. The temperature's a comfortable 83 degrees, which is around 27 degrees Celsius for our international couples. ;-)
You're probably picturing something like this: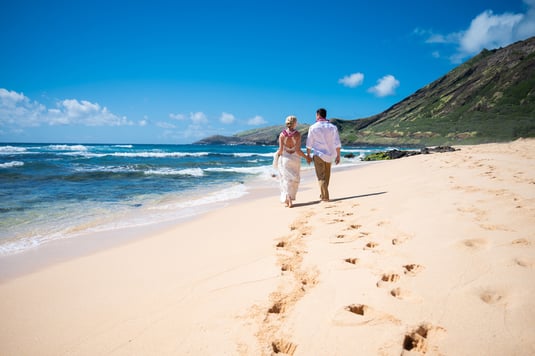 It's a postcard moment! A dream wedding. Perfect weather + beautiful Hawaiian scenery = one amazing wedding, right?
Well, if that's what you've imagined, we've got good news for you: You're right most of the time.
I know what you're thinking: "Great. Done. Sold. Hawaii has great weather. Tell me something I didn't already know."
Wait! Here comes something you didn't already know. :-)
We get a lot of calls about from nervous couples about the weather.
Although the weather in Hawaii is some of the best in the world, the weather forecast is often misleading.
For example, the forecast for almost any week calls for partly cloudy weather and possible showers for a couple days. For many places in the world, this would mean gray, slow-moving clouds and not a day for the beach. For Hawaii, it's something quite different.
There are two reasons why "partly cloudy" isn't reason for concern in Hawaii:
The clouds are almost always those previously mentioned white, puffy clouds, and they sail right on by.
Clouds rarely accumulate anywhere except the mountain and valley regions. It's very rare for clouds to hover over the beaches in Hawaii.
Although the forecast often calls for partly cloudy weather, we usually see nothing but sunshine at all of our wedding venues!
How about rain, you ask?
Ditto to the above. Steady rain is rare at the beaches. We can go months without rain affecting one of our weddings. Months!
When it does rain, it's usually a quick passing shower, lasting only a minute or two.
Just because you see rain and clouds in the forecast, that doesn't mean you'll actually experience any unless you plan on hiking in the mountains.
Does the time of year make a difference?
A little. It does rain a bit more in the winter months than in the summer. But again, the rain mostly stays inland near the mountains.
Check out the averages for Honolulu: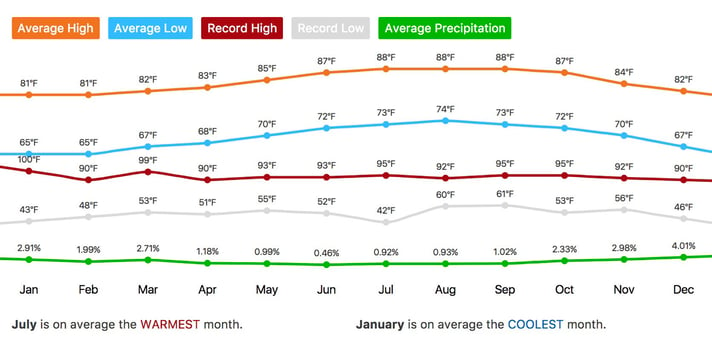 (Image from The Weather Channel)
When we get asked when the best time of year to get married is, we usually answer, "anytime." The summer is drier yet warmer. The winter gets a bit more rain but has slightly cooler temperatures. It's kind of like asking if you want to enjoy paradise at 80 or 85 degrees; it's beautiful either way.
***Our main recommendation is to get married on a weekday. Weekends and holidays see much larger crowds at the beaches, so you'll have a more secluded experience during the week.
Here are some weather tips:
Most locals do not check the weather forecast. Ever. (Born and raised here, I never checked the the weather until this job!)

Most locals do not take an umbrella when they leave the house. We just find cover and wait a minute or two for the rain to stop.

Trade winds average 12 mph and help keep the islands cool. (We love the trade winds!)

Hurricanes in Hawaii are extremely rare.
What happens if rain affects your wedding location?
On rare occasions, we do need to reschedule a wedding due to rain. In those situations, our wedding team will work to find an alternative location or time.
Our goal is to provide you with your perfect day, and we work hard to plan your Hawaii wedding. Fortunately for all of us, rain's rarely a problem. :-)
Have questions or want to chat? Call, email, or schedule a time below for us to call you. We love to answer your questions.