Not sure what to wear for the big day? Wear whatever you want!
Here are some pointers from our experience that may help you figure out what to wear for your Hawaii wedding.
Gowns and Tux/Suits
Many of our couples have worn formal attire for their beach wedding. Gentlemen have rocked three-piece suits or tuxedos and ladies have donned elaborate ballgowns. For service members, dress uniforms always look sharp and classy.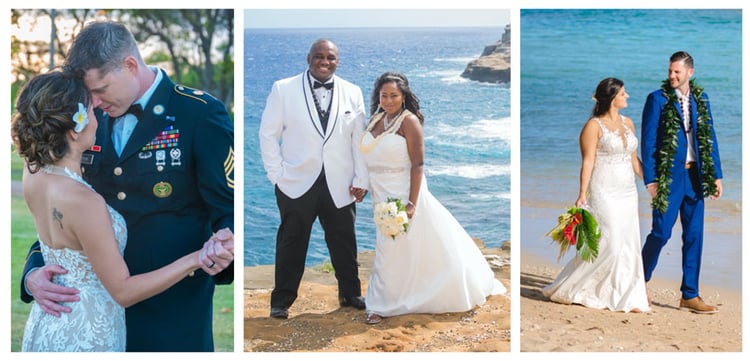 These couples chose more formal attire for their Hawaii weddings.
Keep in mind, Hawaii has warm weather year-round, so it isn't always comfortable as formal attire is often made of thicker materials and fabrics. Even though a beach wedding tends to be a more casual venue, formal attire always looks great.
Our post on beach wedding dresses is a great place to browse through different types of dresses!
Semi-Formal Dresses and Collared Button Downs
This can be a good option for couples who want to dress up but aren't quite comfortable in formal wear. Brides usually go for more casual wedding gowns or just pretty white/off-white dresses. For the groom, slacks and a collared button-down works well. Even adding a bow tie, vest, or suspenders for a bit more formality without a jacket.
Check out our post on groom attire for a Hawaii wedding.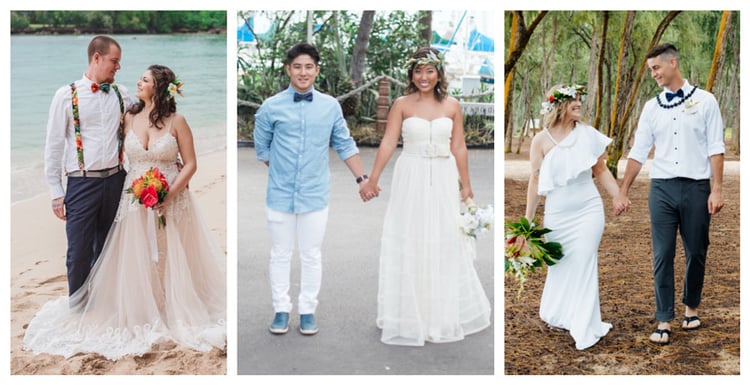 Not quite formal attire, but still all dressed up for the big day!
Sundresses and Khakis
For our grooms, a short sleeve button downs and khakis are a comfortable option. A Tommy Bahama-style shirt or aloha print can be a nice way to stand apart from any guests.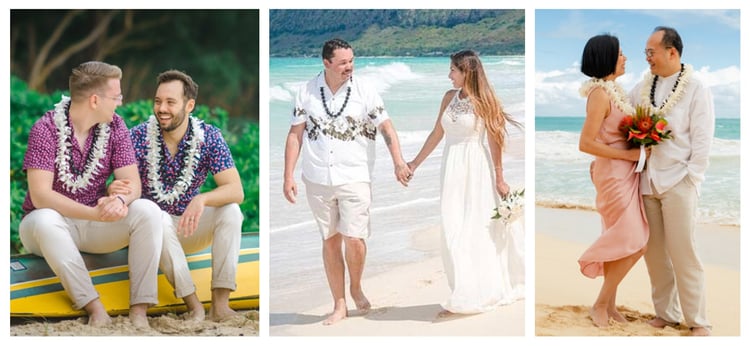 Casual attire looks awesome too! Happy couples always look great, regardless of what they're wearing! ;)
As for the brides, sundresses come in all types of varieties so find one that fits your personality. Casual attire is often the most comfortable as it's typically made of cooler materials. This is a popular choice for renewal and commitment ceremonies. Sometimes, physically being comfortable helps the couple relax a bit more, which is always a good thing.
Footwear
Regardless of what kind of outfit you have, for footwear, you'll want to plan on flats. Ladies, most formal dresses are floor-length anyway, so a cute pair of rhinestone sandals or flip flops will work well. Heels, even wedges, can be very difficult and dangerous to navigate in the sand. To avoid taking a spill as you walk down the aisle, plan on practical rather than pretty. If you already have a pair of heels you have to have photos of, bring them with you and plan to change for a few shots.
Gentleman, if you are considering shoes, keep in mind you will likely be walking in sand which will get into your shoes. A pair that has the look you want, but isn't too costly is what we recommend. Leather sandals are a very common option with a more casual look.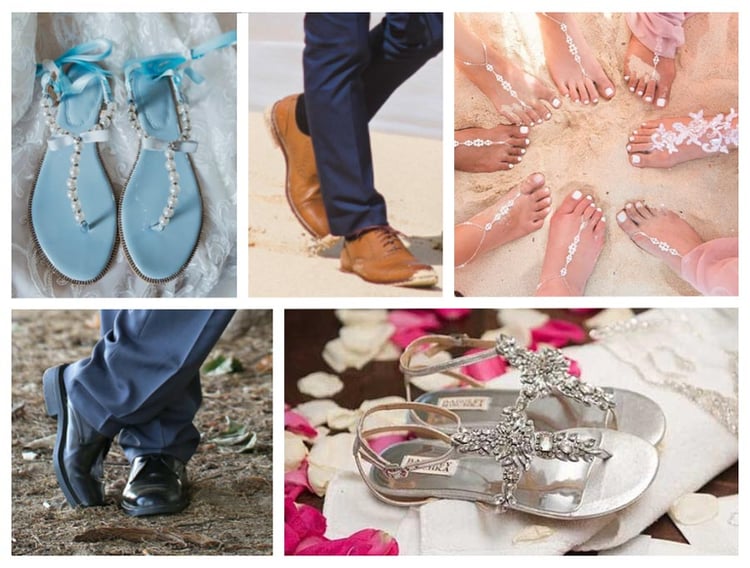 Flats are the way to go in Hawaii! Easier to walk on sand and rocks, and they're much safer!
Barefoot ceremonies are also popular choices. Walking through the sand is often easier without footwear so you can always plan on flip flops and remove your footwear at most of our recommended Hawaii beach ceremony locations. You may want to consider "barefoot sandals" as a fun alternative to flip flops or being completely barefoot as it can add a little flair to your look.
Hawaii Wedding Guest Attire
For invitations, most couples list "dressy casual" or simply highlight it will be an "outdoor beach wedding so please dress accordingly". If you are planning on a more formal look, you can also list "dressy beach wedding attire". You may want to consider adding a note about footwear as that is often overlooked by guests.
Some couples encourage guests to wear Hawaiian print or colorful clothing.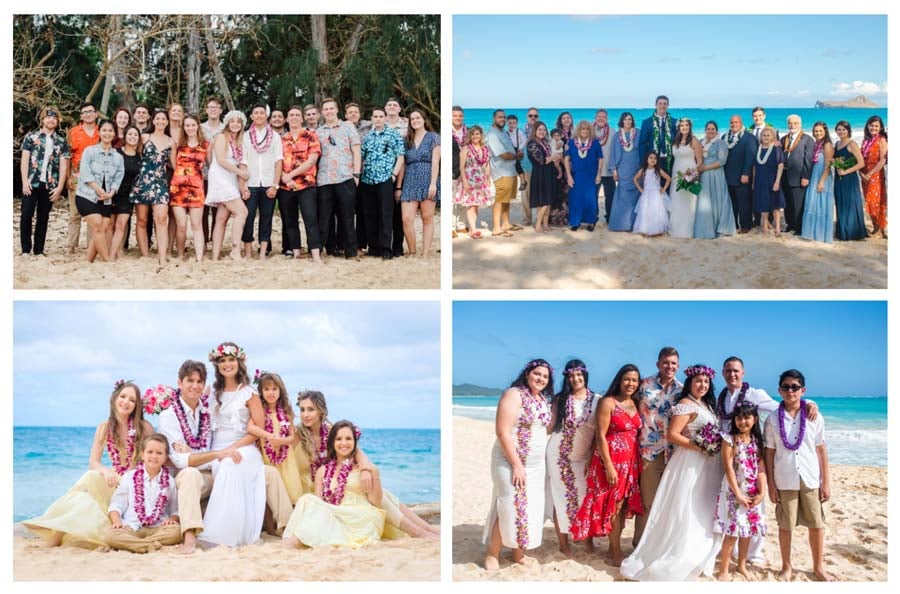 Families often dress in more coordinating prints and colors, but other guests often come in all types of attire.
General Tips
One of the best things about a Hawaii wedding is there are no rules, no dress code, just your vision for your day.
Not always, but we notice that brides generally tend to have a bit more of an idea of what they want to wear, but grooms can be a bit more uncertain. So, gentlemen, we have a blog post just for you to help you sort through your options for groom attire for a Hawaii wedding.
Find clothing that makes you feel good because it's one of those things that can make a big difference. As long as you like what you're wearing, you can't go wrong!
For more great Hawaii wedding attire ideas, follow us on Instagram and Facebook!