Once you decide to have your wedding or vow renewal in the beautiful state of Hawaii, what steps are involved in ensuring you and your partner have an amazing, stress-free experience?
1. Apply for Your Marriage License (not required for vow renewals)
It's super easy to get a marriage license in Hawaii. Although it can be done last minute, it is required, so plan in advance.
To apply for a Hawaii marriage license, complete the online application on the State of Hawaii website.
Once you arrive in Hawaii, you'll both need to meet with a licensing agent to pick up your license. The process takes around 15 minutes.
For details on requirements, processes, and more, visit our marriage license page.
FAQs:
There are no state residence or U.S. citizenship requirements.
Blood tests are not required.
The legal age to marry is 18 years for both applicants.
A valid I.D. (passport) or driver's license may be presented for anyone 19 or older.
If previously married, proof of original divorce decree or death certificate needs to be presented to the marriage agent by the applicant if the divorce or death was final within 30 days of applying for a marriage license.
Hawaii makes it super easy to get a marriage license!
2. Plan Your Travel to Hawaii
We recommend booking your flight and hotel around three months in advance, give or take. Booking too early or too late will often lead to higher prices, so it's a good idea to narrow down your hotel choices and monitor the rates.
Our favorite hotels:
Read more about planning your travel to Hawaii.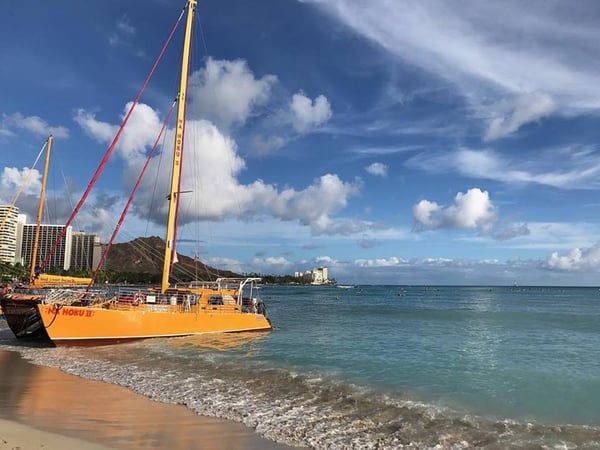 Beautiful Waikiki Beach with Diamond Head in the background.
3. Plan Your Ceremony Selections
After booking, you'll receive emails with important information. It may feel like a lot of reading, but we want to keep it as stress-free as possible.
One of the most essential pieces to a successful wedding day is the information you provide on your "Information Sheet," which is the form that tells us your ceremony selections and customizations.
A little planning in advance goes a long way, so it's recommended to take a little time and look over everything carefully.
You'll be directed to your "Information Sheet" in your confirmation email.
Note: The amount of planning you do is entirely based on the type of ceremony you'd like to have. Some couples spend a few minutes and fill out the information sheet with basics, such as your arrival/departure dates, hotel name, etc., while other couples add many customizations. Either way, we're here to make sure your day is exactly what you want.
Some of the customizations possible include: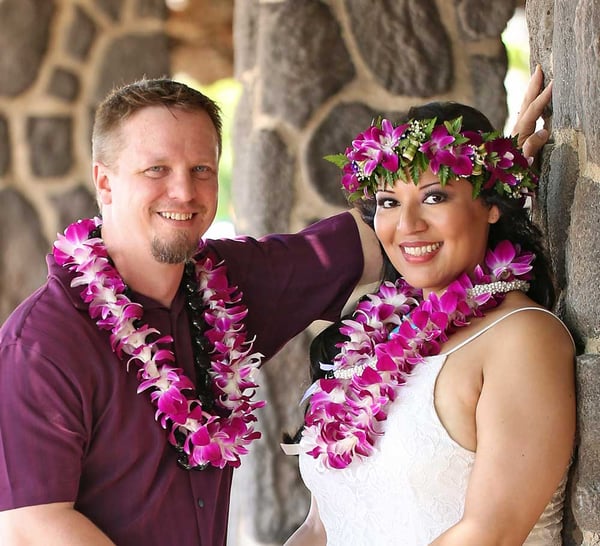 Leis and hakus are two of the many flower options to choose from.
4. Submit Your "Information Sheet"
After planning, it's time to submit your information via our online form. You can find the link in your confirmation email.
Please only submit the form once. Further changes may be possible by directly emailing or calling us, but changes become difficult to make the closer it is to your ceremony date.
Important notes about your information sheet:
We need your information at least six weeks before your ceremony.
Plan well before submitting your form.
Please submit your form only once and email or call us if changes are necessary.
Note: The more changes made, the higher the chance of errors. It's rare, and we do our best, but please check your invoice carefully and make sure we confirm any changes you make for your special day. Planning well before submitting your information makes for a much smoother and stress-free experience.
5. Schedule a Check-in with Us
We'll send you an email to schedule a call 10-14 days before your ceremony to review your day's timeline and discuss details.
We can answer any last-minute questions you have, and we like to make sure you're all ready!
For questions along the way, you can contact us anytime. We're always happy to help. The check-in call is that final touch that assures we've got everything set for your special day, but we're always here for you!
If you'd prefer to have us come to you, we can come to your hotel and go over the details of the day. See more information in the next step.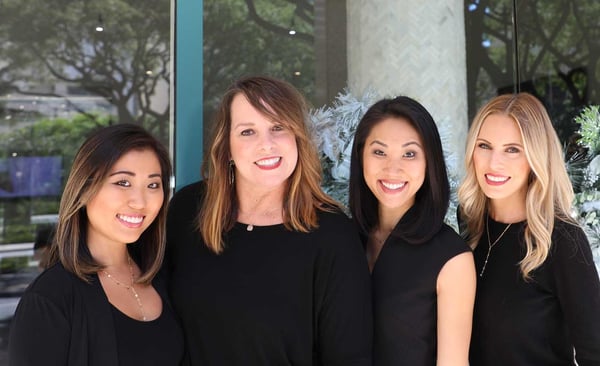 We're always here to help :)
6. Pick up Your Marriage License (not needed for vow renewals)
As mentioned in #1, after you arrive in Hawaii, you'll need to meet with a licensing agent and pick up your marriage license. The process usually takes around 15 minutes and requires both of you to be present. Take your driver's license or passport.
You'll see the In-Person Consult service on your Information sheet. If you choose this service, it is possible to have your marriage license issued at that time, saving you a trip to the Hawaii State Department of Health.
7. Be Early for a Stress-Free Experience!
We don't want you to feel rushed, so plan on being early to make your day relaxing and stress-free. It's important to follow the timeline. Don't stress about being a few minutes late, but lateness does cut into your time.
If you're taking a limousine, all will be great as long as you meet your driver on time. If driving yourself, arrive early to enjoy every minute of your day!
Also, if you have guests attending and getting the ceremony on their own, please educate them in advance. Share the information we provide and read through our article about guests attending your Hawaii wedding or vow renewal.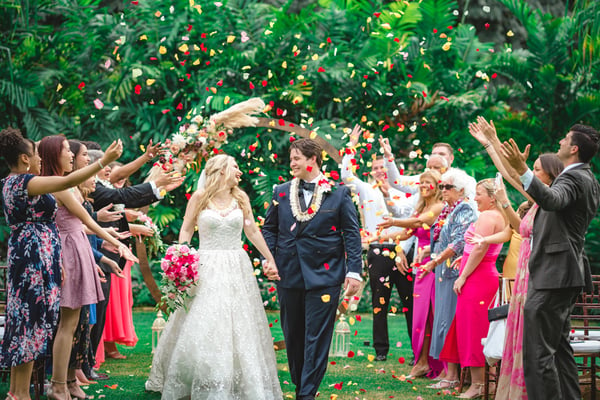 If you and your guests are on time, the day will be smooth and stress-free!
8. Contact Us Along the Way
We'll do our best to provide you with information and tools to help you plan your day.
Our motto is "Don't stress. Just get dressed... and we'll do the rest." And we even have tips on the getting dressed part!
You can always send any questions to us at coordinator@wedhawaii.com or call 808-923-4876!