When planning a destination wedding or vow renewal, it may seem stressful at first. Not only do you have to plan travel, you also have to plan the details of your day. Fortunately, we're here to help as much as we can. We want to make the whole process as easy and stress free as possible, which is why we're always happy to chat and answer all your questions.
To help even more, we're always trying to improve the information we provide on our website, and we thought this week's blog post would be a good chance to write out some of our most frequently asked questions.
For this article, we tried to think of the average flow of questions from the first time we speak to a couple up until their big day. While it's impossible to cover all your questions, these are ones we think will be most useful to you.
1. Hawaii Wedding Packages
Can the wedding packages be customized?
Yes! We're happy to customize your wedding package for you.
Is a reception included in the package?
No, but we can assist you making your post-ceremony plans. We have a number of wedding reception recommendations, and we're happy to chat with you and help you find what you're looking for. Most couples plan an intimate dinner, and some hotels offer space for larger group receptions.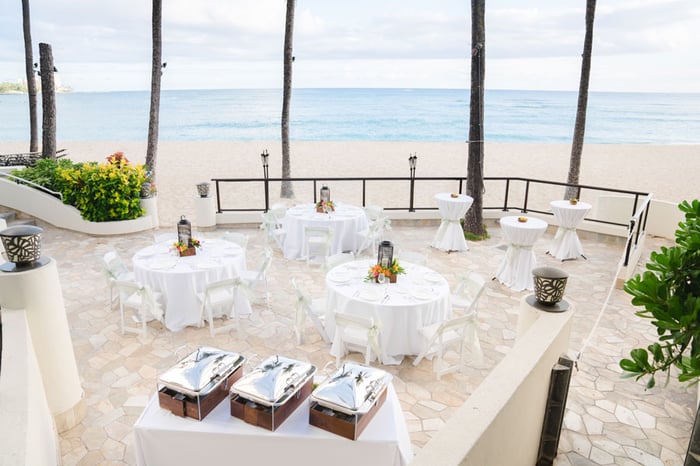 Does the package price include everything or are there other fees?
There's a Hawaii permit fee of $50 for any beach wedding and taxes are added to the package cost. Depending on your guest count and package, groups over 30-40 are required to have an on-site wedding coordinator ($249). If you choose a private location, the respective venue fee applies. Other than that, the only additional fees are what you choose to customize. Please note: we do require a non-refundable deposit to secure your reservation. The non-refundable deposit is applied to your invoice.
Are there all-inclusive packages for meals, flights, hotel, etc.?
Hawaii hotels do not offer all-inclusive packages that include food and drink. However, there's no shortage of restaurants, cafes, and bars. With so many options, we doubt many people would want to have all their meals at the same hotel. Check out our blog on travel tips to help plan for your trip.
2. Hawaii Wedding Locations
What's the "best" Hawaii wedding location?
While all of our wedding locations are beautiful, it all depends on what location resonates best with you. Logistics, guest count, and the date can also be factors, so scheduling a phone appointment is the best way for us to assist you.
Blog Post: Our Best Hawaii Wedding Locations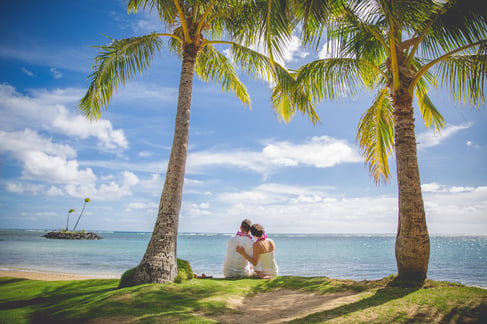 Waialae Beach, Oahu.
Is my wedding going to be in the sand at the beach?
While many of our locations allow for the ceremony in the sand, some are on a lawn. If one or the other is important to you, please make sure to ask us about the location. We can tell you exactly what to expect. Sherwood Forest Beach and Sandy Beach are two locations where the ceremony is always in the sand, and Waialae Beach has both sand and lawn ceremony spots.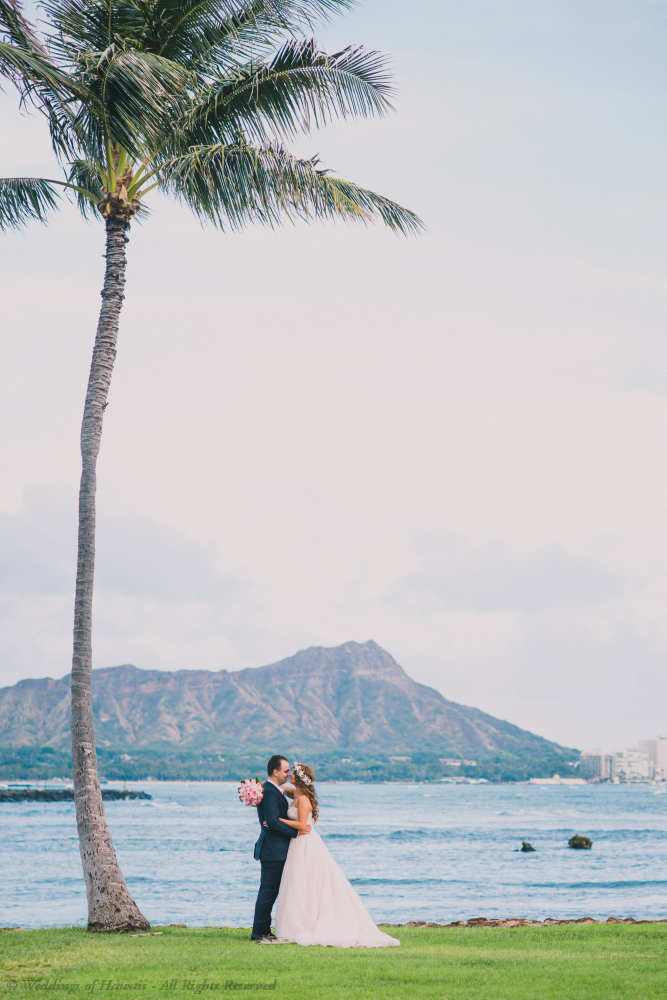 Magic Island has a nice lawn area for the ceremony with Diamond Head in the background.
3. Making a Reservation
How do I confirm my desired ceremony date is available?
Just call 808-923-4876 or email us at coordinator@wedhawaii.com and we can check your desired date and time. While we do our best to schedule short-notice weddings, it's best to reserve in advance to ensure you get your desired date.
What's the best day of the week to plan my wedding?
We highly recommend having the service on a weekday if seclusion is important. Public beaches are heavily utilized by the local community on weekends and holidays. So as long as it's a non-holiday weekday, you're fine. You can have your ceremony on weekends and holidays, but it is much busier and certain restrictions may apply.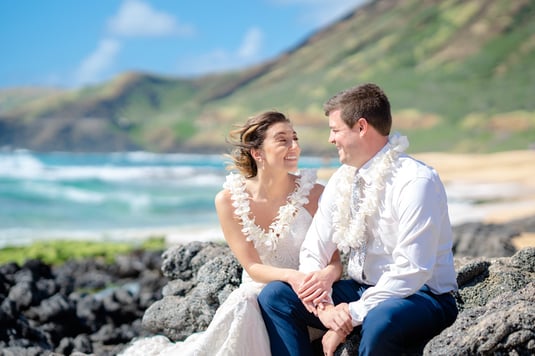 Weekdays offer more seclusion than weekends and holidays.
What time is best for my wedding?
Some of our locations are nice from sunrise to sunset. Other locations we only recommend at certain times of the day, which is noted in the descriptions on our wedding location page. If you're not sure, let us know and we'll help you choose the best time based on your needs. For sunrise ceremonies, we recommend Sandy Beach, and for sunsets, we recommend Magic Island.
How do I book my wedding or vow renewal?
Fill out a reservation form and make a small non-refundable deposit. We'll make sure everything is in place and help you prepare as the big day approaches.
What happens after we reserve our date?
We put all the pieces in place. We'll schedule your team and confirm all the details. You'll fill out an information sheet at least 30 days before your ceremony date with any additions or customizations, and you'll need to apply for your marriage license (not needed for a vow renewal).
4. Marriage License Questions
What are the requirements to legally marry in Hawaii?
You both need to be 18 years or older. Hawaii is unique in that it does not have any state residential or U.S. citizenship requirements. Contact us or visit the state's website for a full list of eligibility criteria.
Blog Post: Getting Married in Hawaii? What's the Legal Process?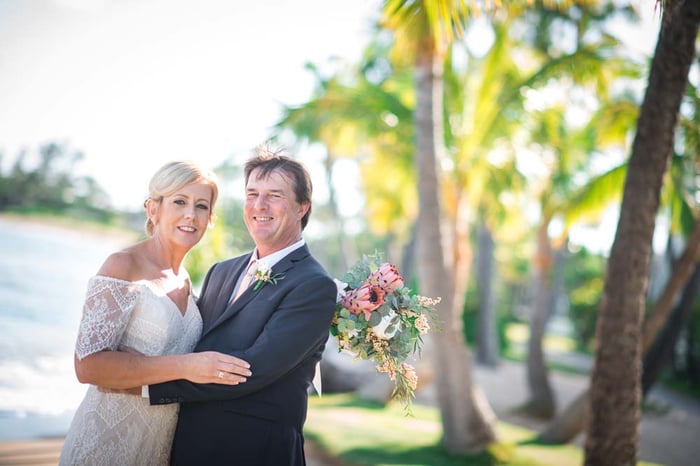 For vow renewals, marriage licenses are not required.
What documents do we need to bring?
Generally, you both need to be present when obtaining your marriage license and bring your driver's license or passport.
A birth certificate is needed if you are 19 years of age or younger. A divorce decree or death certificate is only needed if the divorce or death was finalized within 30 days of applying for the license.
How long does it take to get a marriage license?
It usually takes around 15 minutes.
When will I receive my marriage certificate?
Typically, the official marriage certificate document will be mailed to you. Depending on the postal service, it should reach you 4-6 weeks from your wedding date.
5. Travel to Hawaii
When is the best time to come to Hawaii?
We think anytime is a good time to visit Hawaii as we have amazing weather year-round. However, there are a few times of the year that are busier than usual, like the Christmas holidays and spring break.
Blog Post: How to Book Your Travel to Hawaii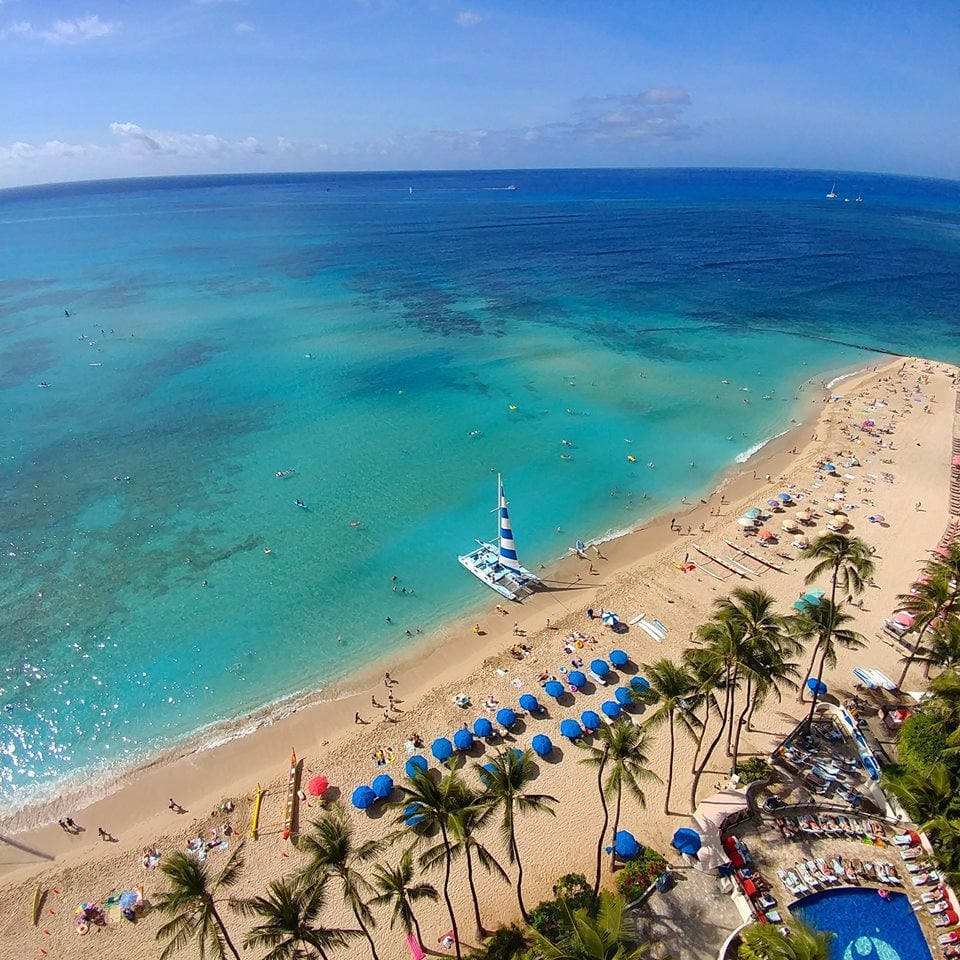 Winter, spring, summer, and fall view :)
How many days before our wedding do you recommend we arrive in Hawaii?
We recommend arriving a couple of days before your wedding. You'll want some time to pick up your marriage license and make sure you're well rested.
Where should we stay?
Most visitors to Hawaii stay in Waikiki (Honolulu) on the island of Oahu, which is also where our two offices are located. If you're having a hard time deciding where to stay, we're happy to chat with you.
Blog Post: Wondering Where to Stay on Oahu? Start Here
Do you have hotels you can recommend?
Yes, we have a few hotels we like to recommend based on what you're looking for. We also offer a promotion code for the Outrigger Waikiki Beach Resort and Outrigger Reef Resort, two of our long-time favorites. We're happy to go over what options we think might be best for you.
Should we rent a car?
While it's not necessary to rent a car if you're staying in the Waikiki area, it is nice to have. You'll be able to see a lot more of Hawaii. If you're staying outside of Waikiki, it would be difficult to get around without a rental car.
Blog Post: Getting Around Oahu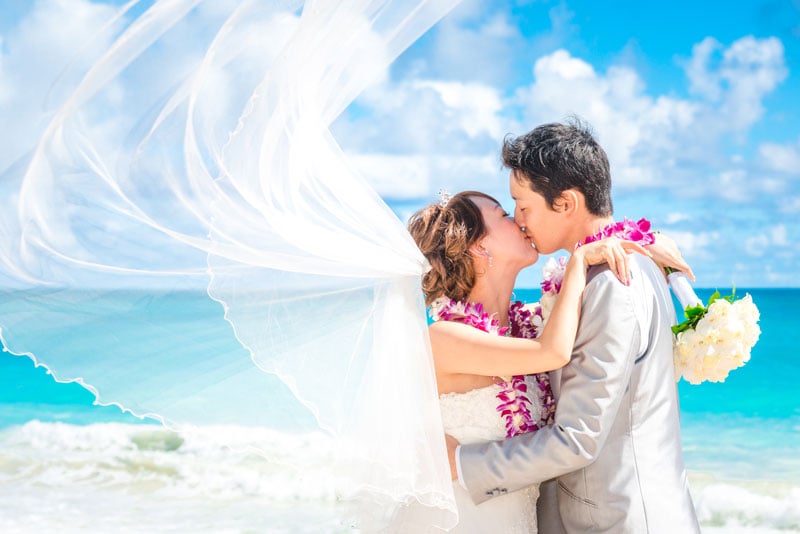 Another beautiful shot from a beach wedding in paradise.
5. Pre-ceremony
Do we need to meet before our ceremony?
We do need to go over the details of your big day. Most couples choose to do that over the phone, while others like to sit down and go over everything in person. It's up to you! Either way, we'll make sure everything is all set.
6. Ceremony Day Questions
How long is the ceremony?
The wedding ceremony is about 15-20 minutes. Depending on the package you book, there may be another 1-2 hours of photography to follow.
What if it rains?
While it is rare that rain affects one of our ceremonies, we are prepared when it does.
Blog Post: What if It Rains on Your Hawaii Wedding Day?
Is there a limit to the number of guests we can have?
If you're planning over 50 guests or choosing a private venue, please discuss your options with us. Our package prices do not change with your guest count, but there may be additional charges for private venues or if you're including a wedding setup with seating.
What should we wear to the ceremony?
You can wear anything you want! We've seen everything from swimwear to tuxedos. This is your day, so do it how you like. Our only recommendation is to think carefully about your shoes. Heels don't work well on the sand and rocks, so flats are usually the better choice.
Blog Post: What to Wear on Your Hawaii Wedding Day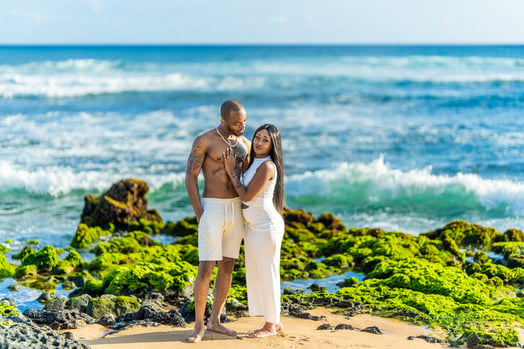 It's your day. Whatever you want to wear is okay! Note: the groom did wear a shirt for the ceremony. :)
7. After Your Ceremony
How long will it take to get my photos and video?
If your wedding package includes photos and video, you can expect to receive these about two weeks after your ceremony.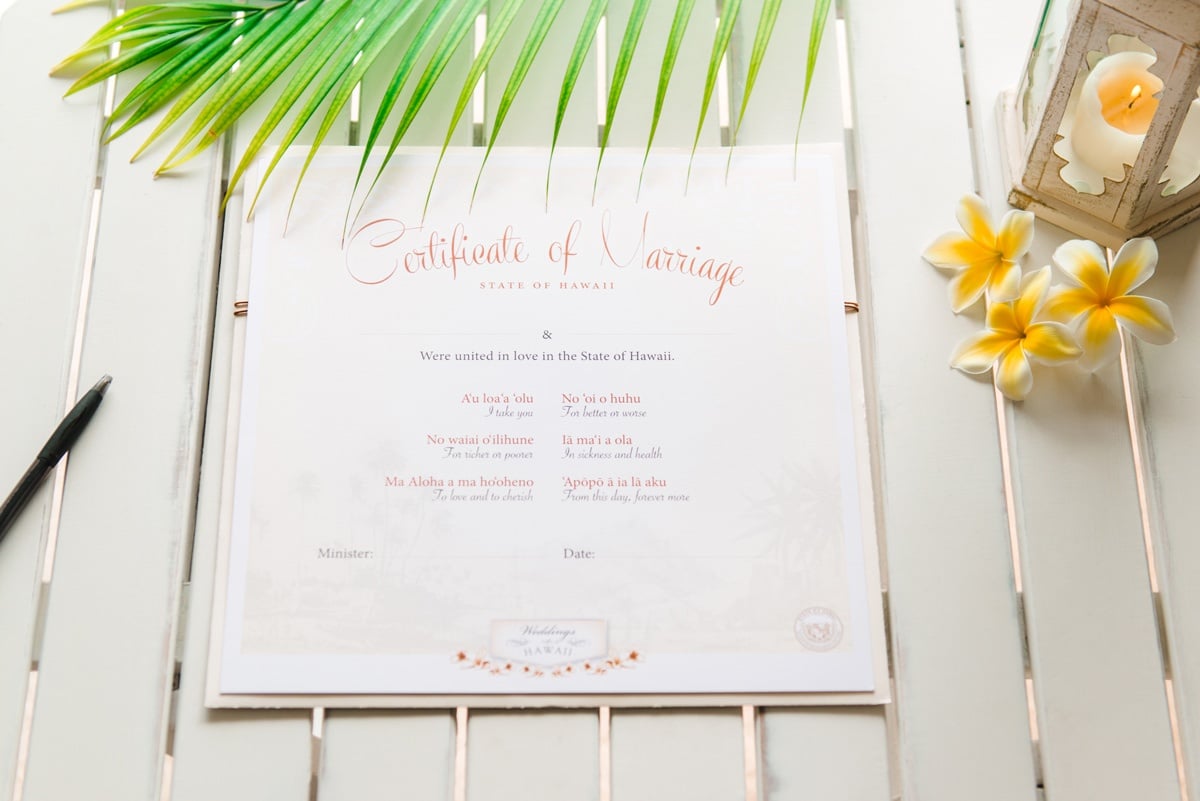 Your keepsake certificate.
Conclusion
Even though we aim to answer many of your questions on our website (see our full FAQs page), we love chatting with our couples. We know it's nice to hear answers from a real person, and we can also go over those other questions you have that we didn't include here.
Please reach out anytime. We're always happy to help.