After answering our couple's questions about getting married in Hawaii, one of the most common questions we get is about how to book travel.
When's a good time to visit? Where should we stay? Do we need a rental car?
Great questions!
Whether you're planning an elopement, small wedding, renewal, or Hawaii commitment ceremony, we wanted to provide some information to help get you started.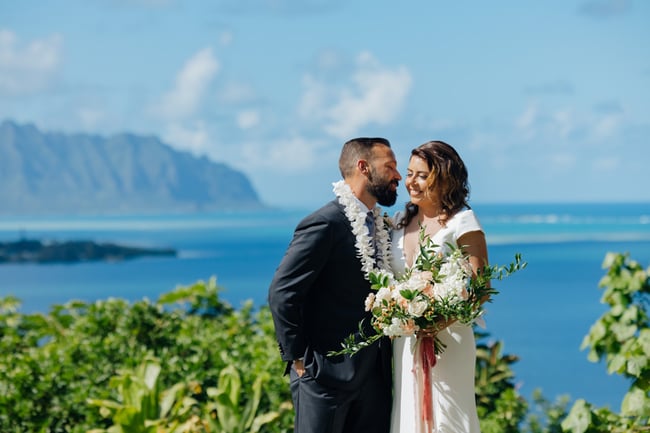 Newlyweds at Noelani Gardens, Oahu.
Quick Notes:
Peak season is over the Christmas/New Year's holidays, spring break, Japanese Golden Week, and to a lesser extent, summer vacation, but there are always rooms and flights available in Hawaii.
Low season is roughly from early spring through June and from September to the middle of December.
Check flights and hotels on travel sites, such as expedia.com, and then compare directly on the airline and hotel websites.
For Honolulu, you'll fly into Daniel K. Inouye International Airport (HNL) on the island of Oahu.
Ask us about our promotion code for great rates at the Outrigger Waikiki Beach Resort.
Consider whether you should book a rental car or not.
Ask us! If you have any questions or need some recommendations, we're happy to help.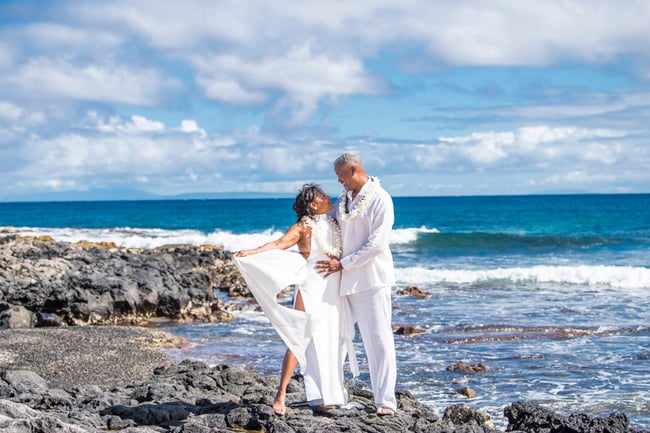 A Sandy Beach wedding on the island of Oahu.
Best Time to Travel to Hawaii
We believe anytime is a good time to travel to Hawaii. While it may rain a bit more during the winter months, it is a bit cooler, but the weather in Hawaii is very consistent and rain usually only lasts for seconds at a time. Hawaii's amazing weather is one of the main reasons it's so popular for weddings, so it's not something to stress about.
You can read more about the weather in another blog post: What Kind of Weather Should You Expect on Your Hawaii Wedding Day?
For most of our couples, your schedule is more important than the season you choose to come. That said, there are certain times of the year to consider.
Peak Season
The term "peak season" shouldn't scare you away. Hawaii is well prepared for tourism, and you won't have any trouble traveling during these times.
Peak season starts around mid-December with the busiest time of the year running through the holidays. Occupancy rates stay high through the winter and into spring as Hawaii receives many travelers escaping the cold weather.
There are two times to be aware of: the Christmas/New Year's holidays and Golden Week (a Japanese holiday usually between the end of April to the first week of May). If you're traveling during one of these weeks, it's a good idea to book more in advance.
Hawaii also sees a steady stream of visitors during the summer. With kids out of school, it's a popular time for families to take vacations.
Even if you're booking last-minute, you should be able to find flights and hotel rooms during peak times. Planning early is best, of course, but if your schedule only allows you to travel during these times, you'll be fine.
Low Season
The low season is typically from the second week of May through June, and then from September until the second week of December.
Again, peak season is not overly crowded in our opinion, but if you want to aim for better rates and fewer tourists, the low season might provide you with that.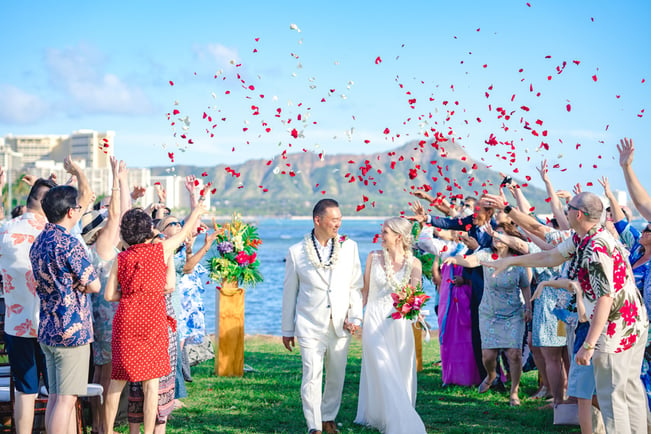 A Magic Island wedding on Oahu.
Booking Your Flights
From the U.S. mainland, we see the best flights on Hawaiian Air, Delta, and United, depending on your departure airport. Alaska Airlines often offers cheaper rates, but sometimes the flight schedules aren't as good as other airlines.
With Southwest recently offering flights to Hawaii, it's a good reminder to note that this information often changes. Searching multiple sites is always a good practice to make sure you're getting the best option for you!
Most couples find an early morning departure, which allows you to arrive in Hawaii earlier in the day, and then book a return flight in the evening to squeeze as much vacation time in as possible.
Most visitors fly into Daniel K. Inouye International Airport on the island of Oahu. The airport code is HNL.
Booking Your Hotel
There is no shortage of hotels in Hawaii. If it's your first time visiting the islands, all those options can be overwhelming. Most of our couples stay in Waikiki, and we have a few hotels we've been recommending for years.
Our top recommendation is the Outrigger Waikiki Beach Resort. Not only is it home to our second office location, but we also have a partnership with them to offer our guests a promotional code to search for the best rates on their site. While both our office and the promotional code are new for us (January 2018), the Outrigger Waikiki Beach Resort is where a majority of our guests have stayed over the years, and we recommend the resort with confidence. Our hotel code also works at other Outrigger properties on Oahu as well.
Waikiki (South Shore) Recommendations
The Honolulu area of Waikiki attracts millions of visitors each year. The abundance of accommodations, restaurants & bars, activities, shopping centers, and transportation options (Uber, Lyft, and taxis) makes it our top recommendation as it offers couples a taste of all Hawaii has to offer. There are several iconic hotels in Waikiki, and we've been working with a few that we like to recommend.
The Hilton Hawaiian Village is popular, as well as several other options in Waikiki.
West Shore Recommendations
Ideal for those wanting a more resort-style experience. Couples interested in watersports and ocean-based activities will find things to do, but the activity and nightlife options are much more limited compared to Waikiki.
North Shore Recommendations
With quieter beach towns, the North Shore has its charms. The remoteness limits accommodation options and nightlife, however, and there is only one major road that runs along the coast, primarily one lane in each direction, meaning you should plan ample drive time for any adventures. A rental car is a must in our opinion.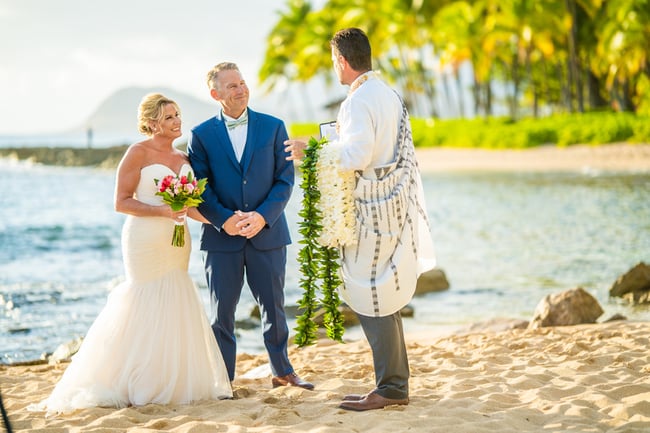 A wedding at Secret Beach on Oahu's West Side.
Do You Need a Rental Car?
If there's room in your budget for a rental car, it will improve your experience in Hawaii, but it's by no means a must. We have a blog post Getting Around Oahu that might help you decide.
For guests staying at the Outrigger Waikiki Beach Resort, your daily amenities fee includes complimentary rides on their trolley (please check for service as it was paused due to Covid-19), and you can get around Waikiki and the Honolulu area by taxi, Uber, and the bus. However, a rental car allows you more freedom to explore other parts of the island, like the North Shore, Pearl Harbor, luaus, and popular beaches.
Hotels charge parking fees, but in some ways, you will save money with a car. For example, the Arizona Memorial at Pearl Harbor is free, but without a car, you'll need to pay for transportation, which can add up. The same is true for many of the popular island tours and luaus.
Also, you can pick up your car rental at the airport, saving you transportation fees to and from your hotel. These are some of the considerations you should think about if you're on the fence, and you can always rent a car for part of your trip at car rentals in Waikiki.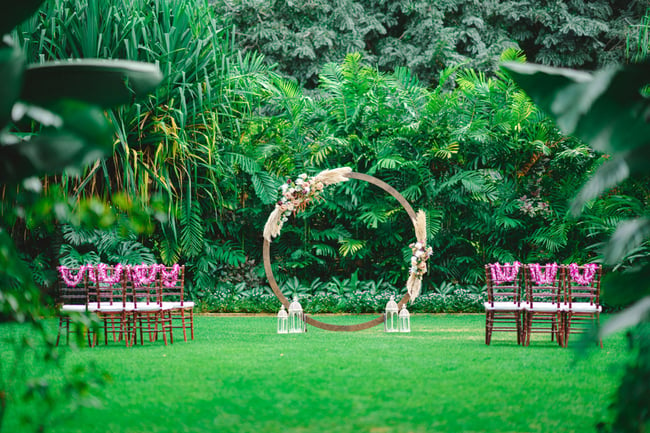 A Nalo Gardens wedding on Oahu.
Summary
Here's our quick recap:
Hawaii is beautiful year-round.
Visit Hawaii when it's best for you, but be aware Christmas/New Year's and Japanese Golden Week are busy times.
If you have your ceremony reserved, next book your flight/hotel, and then decide if you need a rental car.
Talk to us if you need help or have questions. We live here, so we're more than happy to chat with you and help you plan your amazing trip to paradise :)
Other blog posts you might like:
Need help or have questions? We're here to help, just reach out to us anytime.