9 Tips for Planning Your Destination Elopement
We've been helping couples plan their Hawaii elopement for over 40 years, and we've seen the term "elopement" change over time.
"Eloping" used to mean the couple getting married in secret, then telling family and friends they were married after the wedding took place.
Nowadays, "eloping" typically means having a destination wedding, but it's just the couple celebrating their special day together. For some, it could even be a small wedding with family and closest friends to witness your vows!
No matter what your definition is, it's good to know some dos and don'ts of eloping. Here are some eloping tips we think will help you plan your wedding.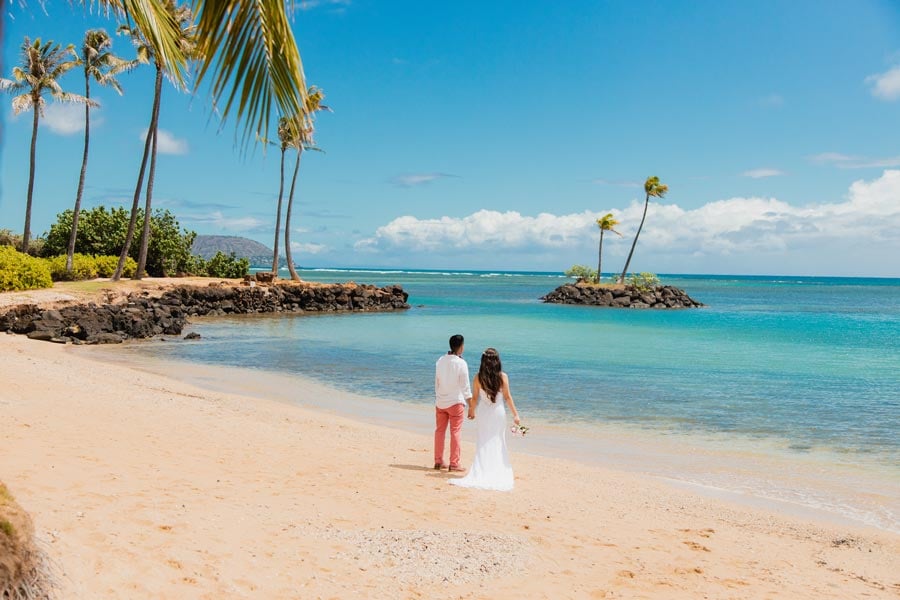 Eloping is all about being with the one you love!
Do Decide Who You Are Telling
You'll need to decide who else needs to know about your big day. For some couples, the answer is absolutely no one. It may be difficult to keep your wedding plans a total secret, but it can be done!
Most couples let all their friends and family know, but this is up to you. Make sure both of you are on the same page about when and how you'll tell everyone about the wedding.
Pro Tip: Before you break the exciting news to your nearest and dearest, decide who you will invite. The first thing loved ones will want to know is, "am I invited?" It's best to be prepared with a well-thought-out answer.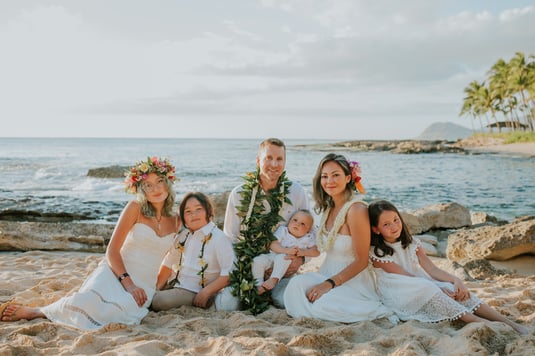 Yes, eloping with the kids can be amazing for all!
Don't Elope for the Wrong Reasons
The rising popularity of elopement weddings confirms this is an excellent option for many couples instead of an expensive traditional wedding, just make sure it's truly what both of you want.
Don't elope just because it seems easier or cheaper. While these are great benefits, and you will likely save money by eloping, you'll want to weigh all the pros and cons.
An issue for many couples is that friends and family can't come, but there are usually things to consider when dealing with the cons. For example, many couples choose to live stream their ceremony, which allows everyone to feel as if they're there.
Pro Tip: Write out a "pros and cons" list together, think about it for a while, and then revisit your list. Do this together as a couple.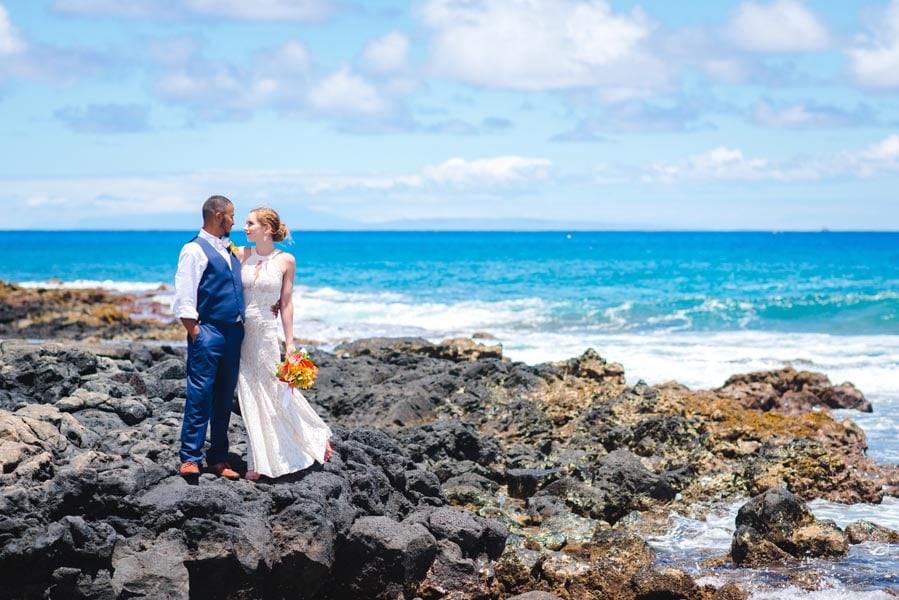 Hawaii is a popular elopement destination due to its natural beauty.
Do Your Research to Choose a Destination
You could have a Hawaii beach wedding, romantic wedding in Paris, or even the Elvis chapel in Vegas. With countless options, it can be overwhelming.
Do lots of research, especially if you've never been there before. What else would you like to do or see there? Will this also be your honeymoon? What's the weather like? How costly is the airfare and lodging? Where are the best elopement wedding packages?
Pro Tip: A good place to start is choosing to stay within the country or traveling internationally for the wedding. Then work your way from there. Think of it like planning the ultimate vacation, so you don't lose the fun along the way!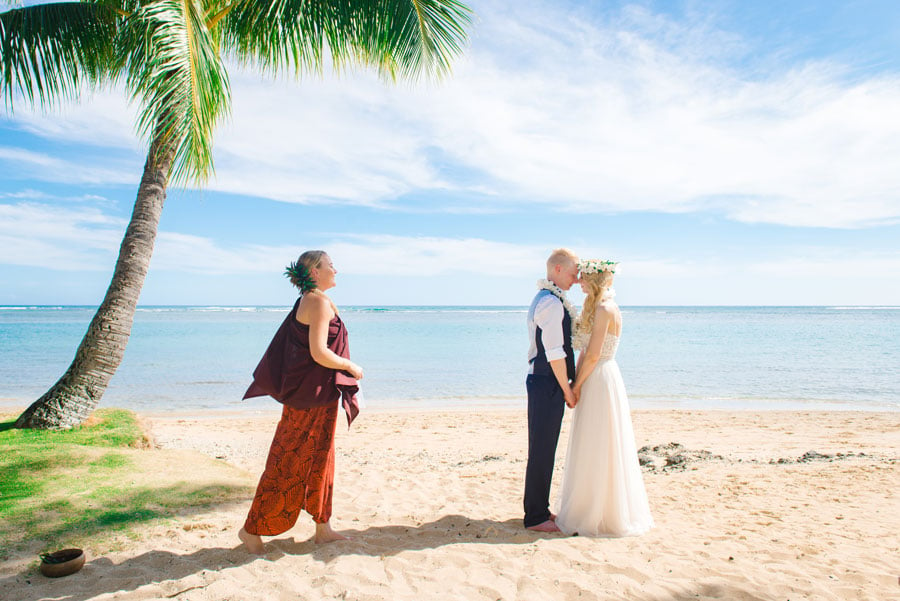 They came from Europe to elope on a beach in Hawaii.
Don't Forget to Check the Legalities
Before you get caught up in researching beautiful venues and things to do, have a full understanding of the entire legal marriage process and timeline. Also, ensure your marriage document will be recognized back home.
Pro Tip: Some places require original birth certificates, witnesses, a blood test, etc. Be prepared. Some places make it super easy. A Hawaii marriage license, for example, only requires a government-issued ID, no witnesses or blood tests required.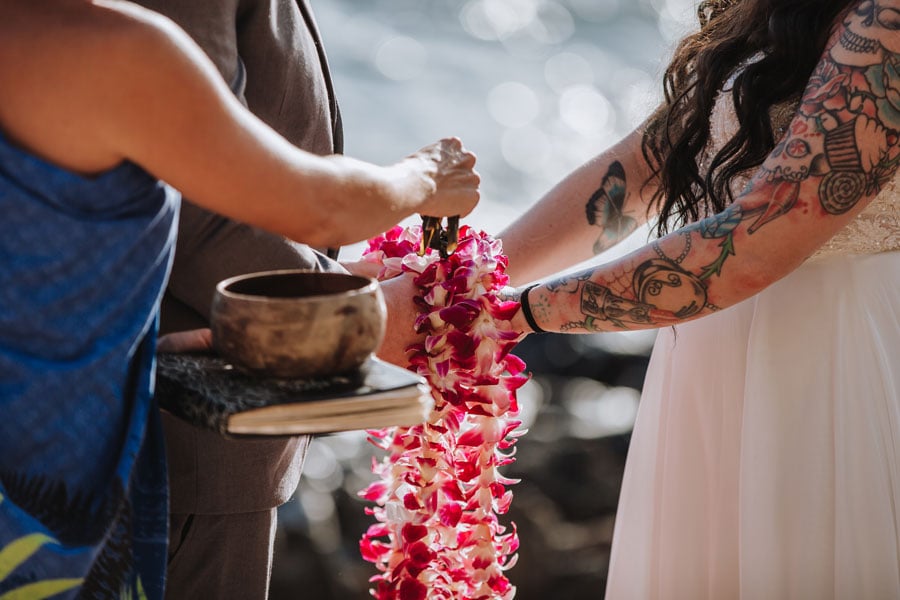 Make sure your destination makes it easy to get your marriage license.
Do Set Your Budget
While eloping can save you thousands of dollars, it can still be costly, depending on exactly what you want. If part of the decision to elope was to save on cost, decide how much of the original budget you want to save. From there, do some preliminary research on affordable destination weddings to make sure budget is realistic for what you want.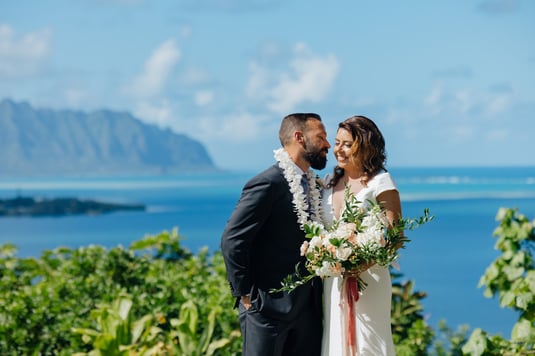 Simple is still amazing when you elope in a beautiful destination.
Pro Tip: Decide what types of items and services you need vs. want. Photography, for example, is a non-negotiable for most couples. An enormous custom bouquet, on the other hand, might fall more into the "want" category. Start with what you absolutely need and go from there.
Don't Skimp on Photography and Videography
We hope you factored photography and videography into your budget! Seeing your first kiss, hearing each other recite vows, and capturing the day is something you'll want to have. Photo and video are all you'll have from your wedding once it's done. Trust us, you don't want to have wedding-day regrets when it comes to that.
Don't Underestimate the Importance of Planning
As Hawaii wedding planners with a 40-year history, we can tell you that planning an elopement can be stressful. The one thing we hear more than any other feedback is how stress-free and easy we made it for our couples. Our elopement packages are customizable and we get everything secured so it's all ready to go once couples get to Hawaii.
You'll want to work with people who care and have extensive experience handling elopements. Your special day is too important to leave it in the hands of an inexperienced team.
Pro Tip: No matter if you book vendors directly or go through a planner, just make sure whoever you work with is legitimate, trustworthy, and responsive. Online reviews on Google, Yelp, The Knot, WeddingWire, etc. are good starting points. A few things we'd be asking (that we recommend you ask too):
Do they have reliable online reviews from multiple sources?
Are their website and social media accounts professional and informative?
How quickly and thoroughly do they reply to your emails and phone calls?
Is the price right? (Make sure you're getting both quality and value.)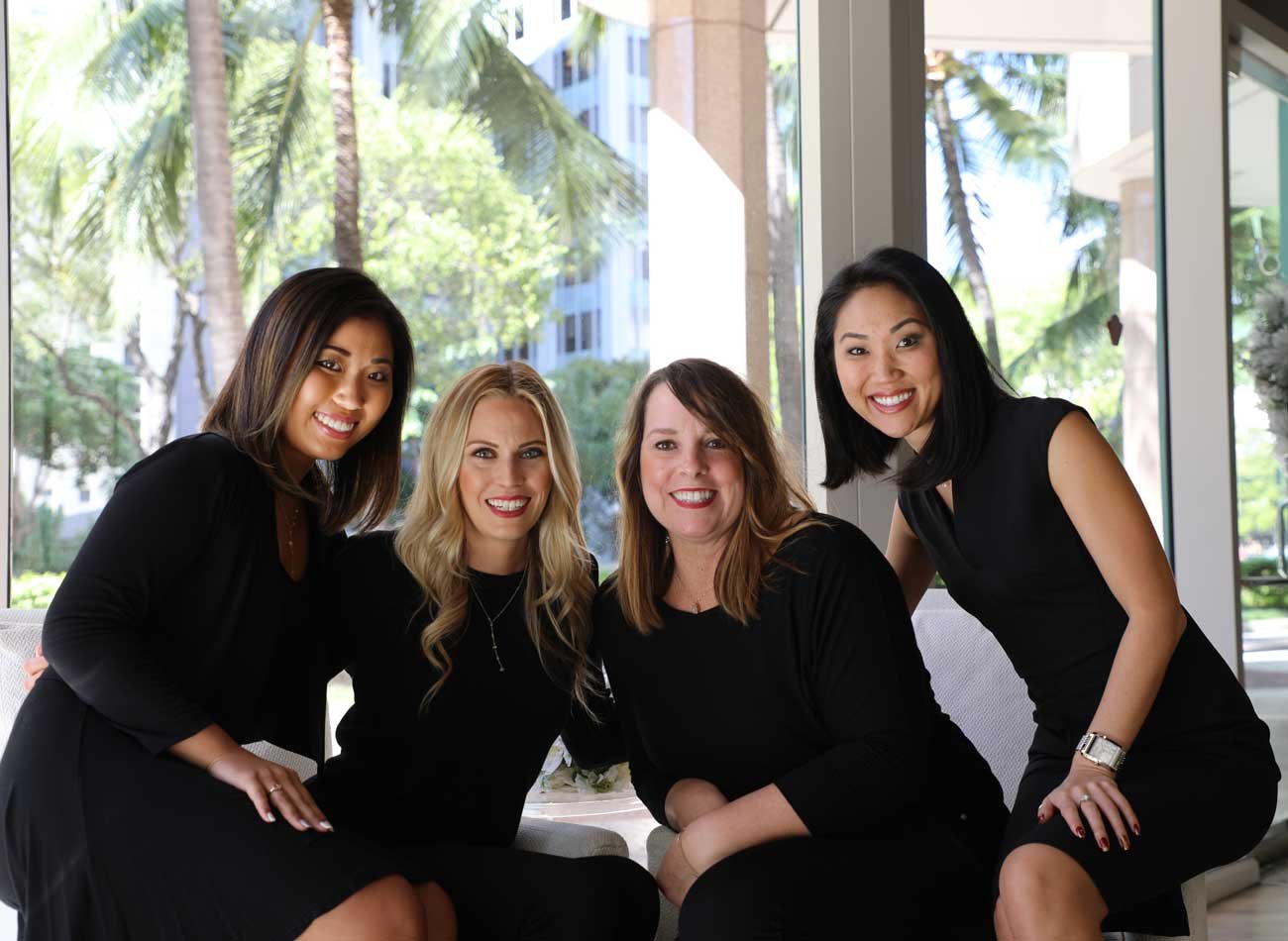 Make sure you're working with reputable planners.
Do Select Your Attire Wisely
Make sure you feel good about what you're wearing. You'll naturally be more confident, and it'll show in your photos and video. You'll want to feel your absolute best (as this is one of the best days of your life), so dress the part.
Depending on where you're eloping, you can likely find information helping you decide what to wear. For example, we have a blog on what to wear for your Hawaii wedding, choosing a beach wedding dress, and groom attire ideas for their wedding. Wedding dresses are common, but we often see brides in more casual attire, so remember that it's all up to you!
Pro Tip: Choose good footwear. You want to avoid blisters that will hurt you for the rest of your trip. Break in your shoes, make sure the soles have enough grip. Bring a change of shoes if needed, but be prepared.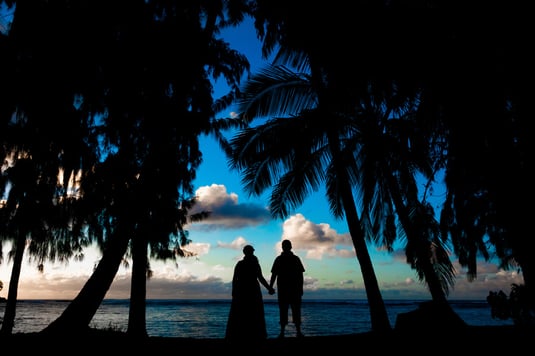 Enjoying the sunset at Kawela Bay as husband and wife.
Do Keep the Guest List Small (If You're Inviting Anyone)
It's hard to put a firm number on this, but we would recommend no more than 20. We know, that's a very small number; however, less is almost always more on this one.
Pro Tip: Cutting the guest list is often one of the hardest parts of any wedding, especially for couples who have big families and wide circles of friends. Our advice, don't cut the Guest List; build your VIP List. The list of the people that have always supported, loved, and helped you - the ones you can't do life without. Being at your wedding is going to be a milestone in their life, not just a fun event to attend.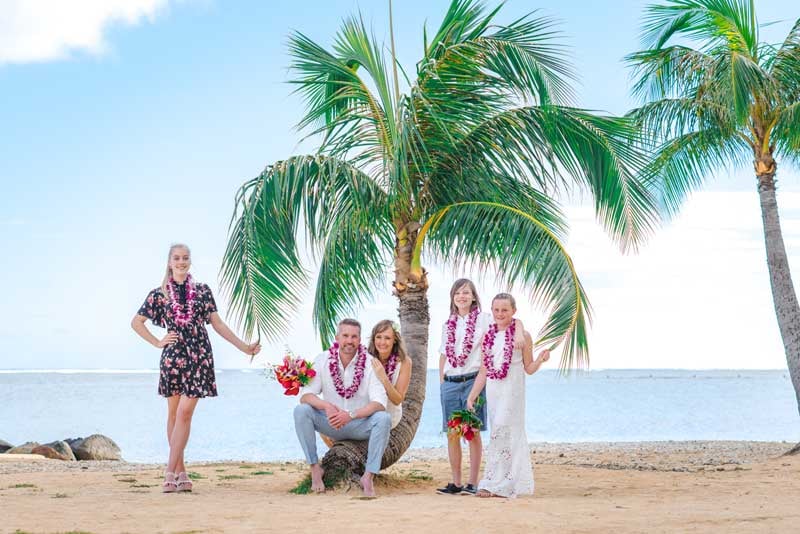 A truly memorable elopement for this family!
Conclusion
We hope this information is helpful. We wish you all the best with your wedding plans and congratulations on your engagement! We leave you with our last pro tip:
Never lose sight of the fact that you found The One; that's the only thing that really matters. At a beautiful vineyard, in a stained-glass chapel, or on a sandy beach, you are lucky enough to have found someone to promise to love for the rest of your life. Even if things don't go exactly as planned, making that promise will be perfect, the rest is just a bonus.