What to Know for a Waikiki Beach Wedding
Waikiki Beach is probably the most famous beach in Hawaii. Located on the south coast of Oahu fronting the hotels, nearly every visitor knows this stretch of sandy paradise.
It's important to note that the State of Hawaii does not issue wedding permits for most of Waikiki Beach. There is one particular part on the western end of Waikiki Beach (Kahanamoku Beach) where a permit can be obtained for beach weddings, and this is where we hold the ceremonies.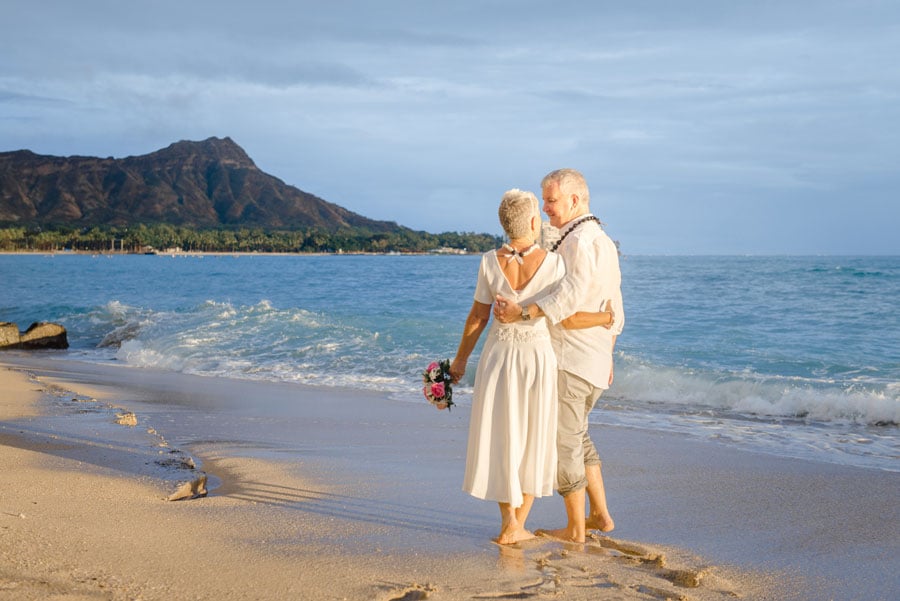 Newlyweds after their Waikiki Beach wedding ceremony.
Unlike our other Hawaii beach wedding locations, we don't yet have a dedicated photo gallery for this location. We have done several ceremonies here because couples have asked for this location. You can think of Waikiki Beach as our "secret menu" item, not on the usual menu, but if you ask for it, we can do it for you!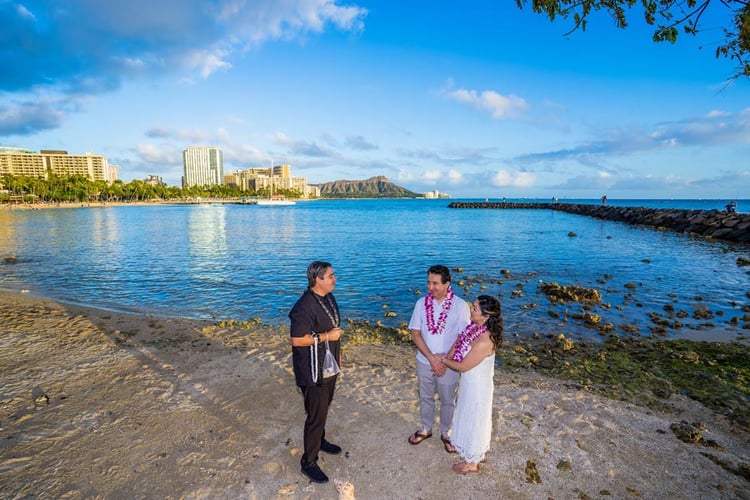 Intimate Ceremony at Waikiki Beach (Kahanamoku Beach).
Note: Waikiki Beach is not ideal for seclusion. If seclusion is important to you, we'd suggest Sherwood Forest Beach or Waialae Beach. To have the most secluded experience, please choose an early-morning ceremony.
As you might have guessed, this location is only a good fit for a select few of our couples. Here's everything you need to know to decide if it's right for you!
CEREMONY CONSIDERATIONS
The ceremony itself is held on the beach, in the sand, with the ocean and Diamond Head in the background. Early morning ceremonies offer the best chance of not having crowds of beachgoers and swimmers in the background.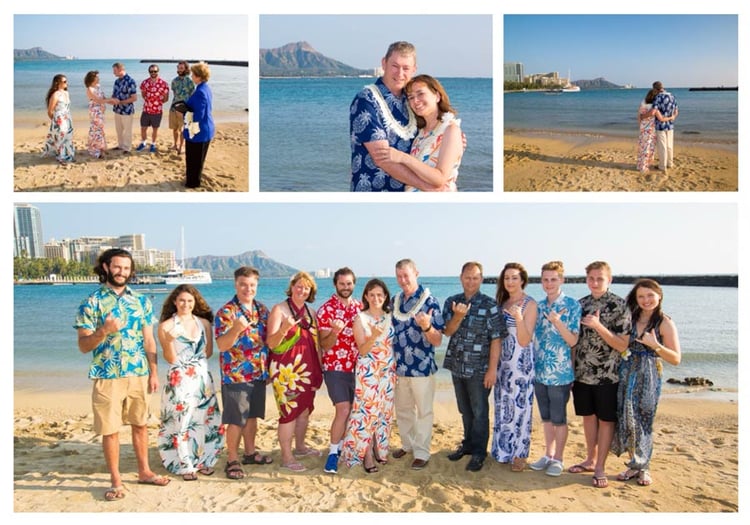 A beautiful Waikiki beach renewal ceremony during their family vacation.
Couples who choose this location for their ceremony usually want something very simple. Because the State of Hawaii does not allow our wedding design setups, we are unable to offer any setups, runways, or seating. If an arch, chairs, or other wedding decor may be important to you, we'd recommend Magic Island or Waialae Beach.
Note: As with all of our locations, we need to obtain specific permits for structural setups that make us legally liable, so you are unable to contract another vendor or bring your own setup.
PHOTO CONSIDERATIONS
While the views from Waikiki Beach are amazing, its proximity to the hotels means that you'll be sharing the beach with quite a few others. Our other locations provide more opportunities for a variety of photos in comparison.
You do have the sand, ocean, and Diamond Head at this location. We can also capture sunset here as well! For couples who just want a handful of nice pictures of the two of them and their guests and are ok having a similar backdrop for all the pictures, this location will be perfect!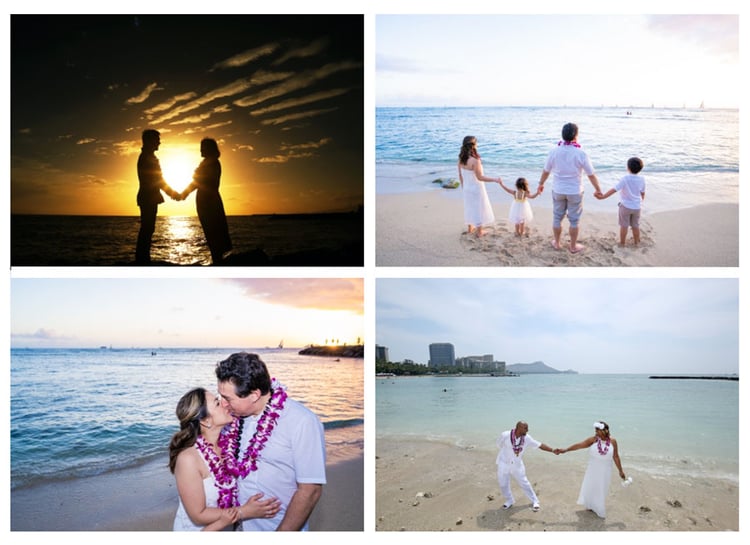 Waikiki Beach, Sunset, and Diamond Head!
If you'd like a similar location but better photo opportunities, check out Magic Island.
LOGISTIC CONSIDERATIONS
Waikiki Beach is located right outside of the Hilton Hawaiian Village Waikiki Beach Resort, making it an ideal location for couples who are staying there. On that note, although the Outrigger Waikiki Beach Resort is our top recommendation, this is another popular choice, and we would certainly recommend them too!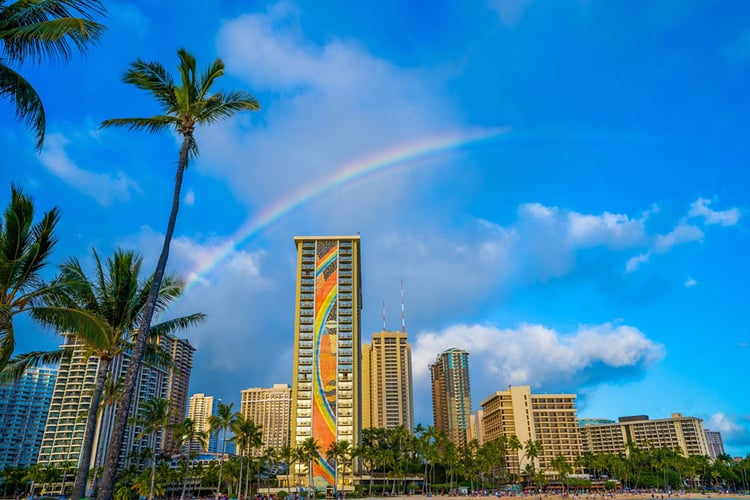 The Rainbow Tower of the Hilton Hawaiian Village Waikiki Beach Resort, with an actual rainbow!
If you're staying anywhere else in the Waikiki area and would be taking a car to get to this location, we would spend another 5-10 minutes in the car to get to Magic Island or Waialae Beach instead of Waikiki Beach.
This is a great location for couples who are walking to this location, don't want to take a car to get to the ceremony, and have a group of 10 or less. Waikiki Beach is most popular with couples who are prioritizing convenience and wanting the experience over a more picturesque setting and capturing photos.
Unlike all of our other locations, the beach population is similar on the weekends and weekdays.
You'll be walking through the sand to get to the ceremony location. It's not unusually challenging, but it might be a bit tricky for some. In which case, just planning extra time to walk out there is usually all that's needed.
We highly recommend flat footwear. If you want a barefoot beach ceremony, it's a comfortable option once you get to the soft sand, but make sure you have suitable footwear to navigate until you're at your ceremony location.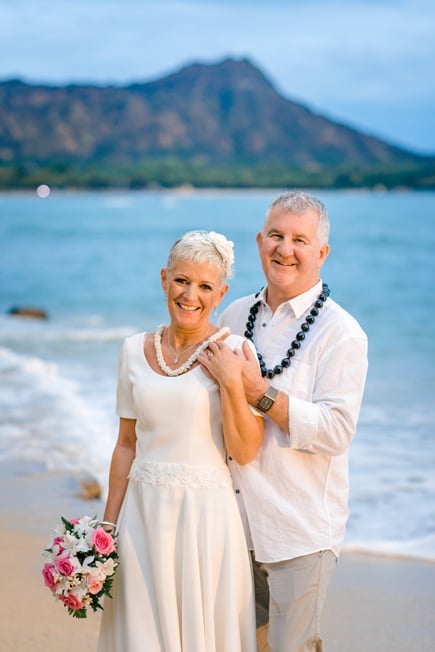 A Waikiki Beach sunset wedding couple.
SO, IS WAIKIKI BEACH THE RIGHT WEDDING LOCATION FOR YOU?
We think it's a great little spot if you want a logistically convenient option (assuming you're staying in Waikiki) and have ten or fewer people with you. Although it's not our favorite, it is the only location to have a beach ceremony in Waikiki. With the sand, sea, Diamond Head, and your true love, you'll have all the Waikiki essentials.
If you're still not sure, give us a call! We'd be happy to chat with you about more details, go over questions you may have, or help you compare the locations.