Don't let your big day become a big stress! We have put together some quick tips from our previous couples and coordinators to help make sure you are able to enjoy every part of your wedding.
Be Okay Asking for Help
Is it your first time to Hawaii and not sure which locations to choose? Which hotel to book? Where to have a dinner reception? Not sure if you should book a rental car? Let us know!
Although your wedding coordinators are not travel agents, they know their island home very well. We'd be happy to share some insight or offer our opinion. Even if you have never been to Hawaii before, you already have ohana (family) here to help. You can call or schedule a time for us to call you if you'd like to chat. Sometimes just getting in touch is enough to calm those nerves, and we always like talking to our couples :)
Make a List
After you complete your reservation form, you'll get a link to your information sheet that will provide you a list of all the options for customizations. We suggest reviewing your information sheet and put together a list of everything you want for your wedding day. A beautiful arch with white chiffon draping, a live Hawaiian musician, a rose petal aisle or flower shower, etc.
Once you have your list, look over everything and note the items on this list that are your non-negotiables. A few of the most important considerations are:
Digital image photo packages and extra photo time
Videography (ceremony and highlight video, live stream, drone coverage, etc.)
Limousine or party bus
Additional flowers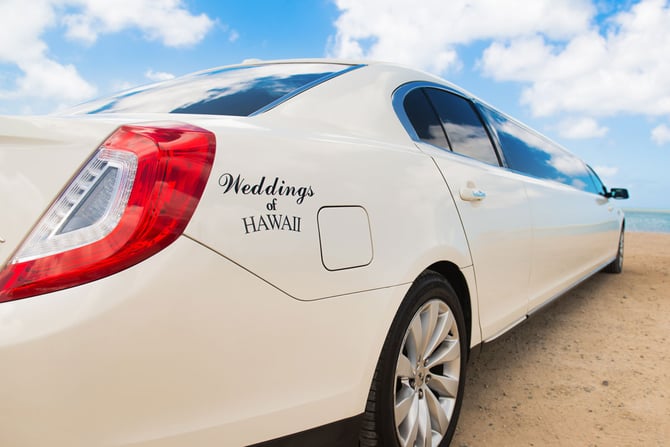 Even if you have a rental car, arriving in a limo is nice, but should it be on your "must-have" list?
Once you have this sorted, it will allow you to easily prioritize these items in your budget and decide what to add. This way you can ensure you'll have all the items you want for your perfect day without any surprises in your budget later.
After you decide on the non-negotiables, make a list of what you might add to your package. Popular considerations are:
In-room hair and makeup
Wedding setup
Guest leis
Live musician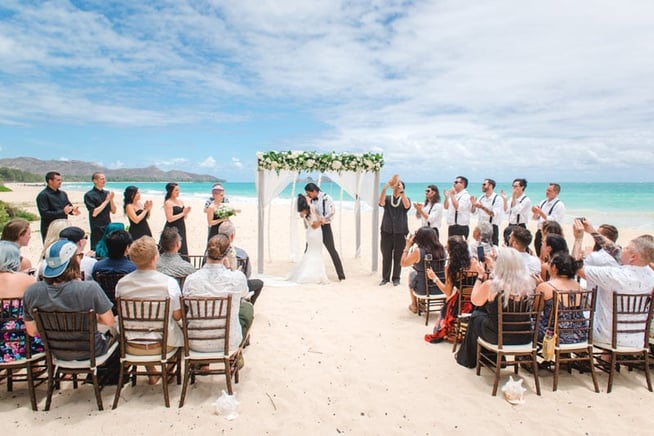 If you have a lot of guests, a wedding setup is nice to have.
Prepare Your Guests
If you have guests coming, you'l want to provide them with enough information. The most important thing is that they arrive early. You don't want to be waiting on your guests because that cuts in to your photography time.
We have a couple blog posts that could help:
Spending some time to inform your guests on the details of the day will help everything more smoothly. Here are some other considerations:
Make sure they have directions. You'll receive these in an email a couple weeks before your ceremony.
If you have a large group, inform them to be on time and be prepared for photos right after the ceremony.
If you have a large group, prepare a shot list of photos you'd like and ask a guest to help organize the groups. Your photographer will help, of course, but recruiting help to call out the list usually speeds things up, leaving more time for the two of you.
Understand Your Costs
While there are articles online that break down the cost of a destination wedding, we find many of them inaccurate. For example, here are some prices from an article on theknot.com under their "Hawaii Marriage Rates and Wedding Costs" section:
Venue: $12,346
Event Planner: $2,785
Photographer: $2,604
Flowers & Decor: $2,191
Overall Expense: $27,730
Yikes! And that's not including travel costs.
So, how does Weddings of Hawaii compare? Well, we're noooowhere near those prices.
Venue: $50 permit fee for a simple beach wedding; setups start at $525.
Event Planner: Included in your wedding package.
Photographer: Included in all but our most basic package. Your expense is mostly in deciding how many photos you want to purchase.
Flowers & Decor: All but our most basic package include leis and flower options.
Read our article about how much a Hawaii destination wedding costs.
Flower add-ons are popular, but we don't have many couples who spend what The Knot budgets.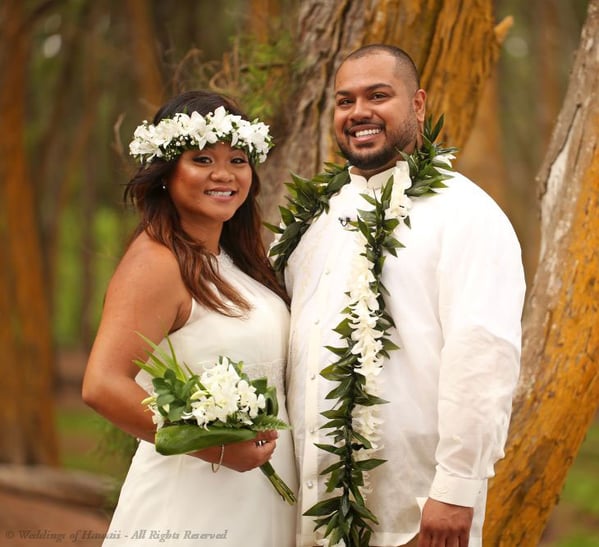 A Hawaiian haku is a popular floral add-on.
Our wedding packages are very customizable, and most couples can plan a beach ceremony with everything they want while staying within their budget. Our wedding coordinators are happy to put together a custom quote for you :)
Secure Your Customizations
Do not wait until the last minute to add florals or a makeup artist! Making sure you request your dream wedding items in advance is key to avoiding the stress of last minute bookings. We ask that you submit your information sheet one month prior to your ceremony date to secure all of your requests.
Remember: you can always contact a coordinator if you need any assistance, and if you'd like to make last minute add-ons, we'll do our best to help, but we can't guarantee it.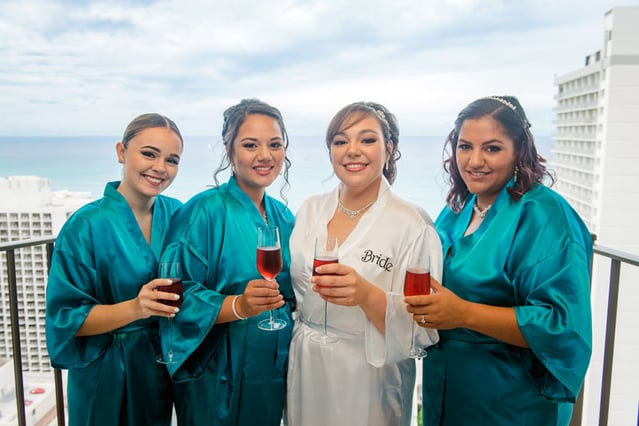 Pre-bridal photos and in-room hair and makeup...nice additions to your day.
Say Thanks
One of the fastest ways to reverse any negative feelings is to take the time to express sincere appreciation. Thanking your fiance, friends, or family can help change your focus from what causes you stress to what makes you grateful. It's a fast way to shift your mind from negative to positive thinking.
Your Weddings of Hawaii team does their best to make the planning for your special day an easy process, but nerves for such an important event are often unavoidable. Showing gratitude to others is a proven way to help.
Remember that You're Coming to Hawaii
Hawaii and stress just don't go together. Take a tip from the locals and relax. Slow down. Know that when you get off the plane, you'll be in paradise, ready to enjoy more than just your ceremony day.
By the time you land, we'll have everything in order. If you can get dressed and be on time, everything will be wonderful.
Go relax on the beach. Get a massage. Do some shopping. Eat. Enjoy yourself. Take in all Hawaii has to offer!
You'll be here soon!
Conclusion
We do everything we can to make sure your ceremony day is perfect, but we understand that stress can sneak in from time to time. I hope some of these tips help, and please know that your Weddings of Hawaii team is always here to help.
Call us, schedule a time for us to call you, or message us us if you need to talk. We're here for you :)