There are certain moments in your life that you only get once. Your wedding day is definitely one of them. All couples do their best to plan ahead and make sure their day includes everything they want. However, hindsight can truly be 20/20.
Here are the top five regrets couples have from their wedding. Hopefully this helps you plan accordingly for your big day!

5. Wearing the Wrong Shoes
Select shoes so you'll be comfortable! Gentlemen, if you are getting new shoes, make sure to break them in beforehand. Ladies, high heels may look great with your beach wedding dress, but they are dangerous in the sand! Or the lava rocks at some of our wedding locations. Not great places to wear heels.
The last thing you want to be concerned about is blisters or falling down! Do yourself a favor and go with comfort so there will be nothing to distract you from enjoying every second!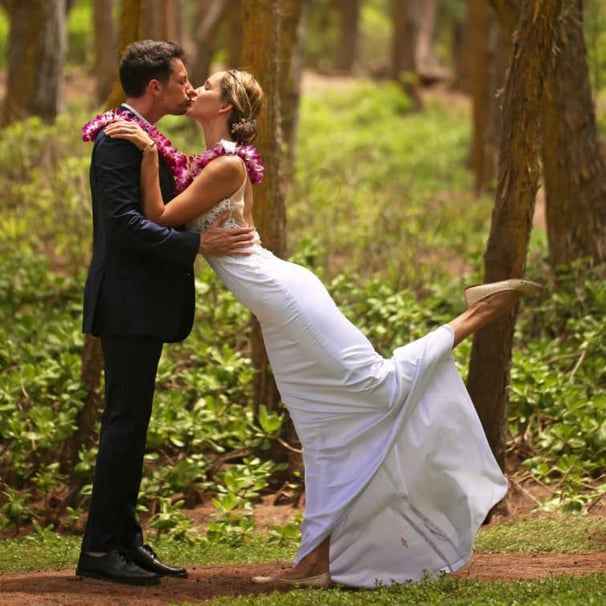 Comfortable and cute ballet flats!
4. Not Taking Family Photographs
While many of our couples choose to elope in Hawaii, some are lucky enough to have a small wedding surrounded by family and friends. Whether you are very close with your family or maybe only gather on holidays and special occasions (like your wedding), you'll want to have photos with them.
Although nearly all of our wedding packages include photography, we recommend adding additional photography time to make ensure you get pictures with your loved ones. The joining of two families is always cause for celebration and having some family photos from your wedding day is something to be treasured for years to come!
Tip: For large groups, extra photo time is highly recommended. Consider the Lehua package. Not only do you get 30 minutes of extra photography time, but it also comes with limousine transportation and a professionally edited ceremony and highlight video (spoiler: make sure to see the #1 regret below.)
3. Stressing the Small Stuff
Is it the exact same shade of blue in the bridesmaids' dresses and the groomsmen's ties? What type of leaves are in the bouquet? Should we have steak or fish for dinner? There are a million details that go into a wedding, but there are only a few that actually matter. We've been doing weddings since 1978; trust us, we'd know. ;)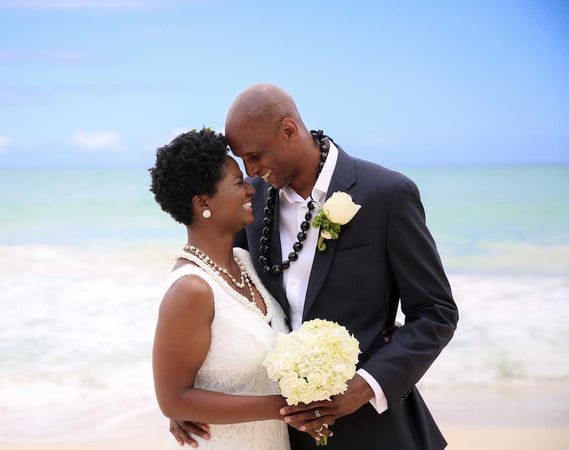 Your love for each other is the #1 priority.
The bottom line is the two of you have decided to spend the rest of your lives together. Rain or shine, chocolate or vanilla cake, your love for each other is the reason you have decided to do this. So don't waste any time stressing over tiny details that won't matter later on. It'll only be a big deal if you make it a big deal. Keep perspective on what truly matters to the both of you and try to let go of anything else.
2. Not Making Time for Each Other
This sounds silly because you're together the whole day! But this day will be happy blur over in the blink of an eye. Plan a few moments to be fully present with each other so you have first-hand memories of this amazing day.
Maybe it'll be during the limo ride from the ceremony to reception venue. Or perhaps plan some downtime after finishing the photos before going to lunch, dinner, or a luau with everyone.
You cannot get this precious time back, so even if it's just a few minutes, simply be with one another to take in the moment. Then enjoy the festivities to celebrate!
1. Forgoing a Videographer
It's one of those things you don't regret right away, but later down the line you really wish you had. Nearly all of our couples book a photographer, however, so many couples forgo videography. Sometimes the budget doesn't allow for both photo and video and a tough choice needs to be made. But if you have a bit of wiggle room, previous couple's highly recommend investing in video coverage.
Video captures everything that photos cannot; the sound of someone's voice or laugh, mannerisms, body language, personality, etc. It's hard to actually remember everything from that day. The opportunity to watch your wedding or share it with family and friends is priceless. When your kids or even grandkids ask about your wedding day, a video allows you to share part of your life in a way that lets them feel like they were there too.
Conclusion
Each couple is different and what is important to some may not be important to you. After reviewing this list, hopefully it will help the both of you consider what your top priorities are so you can plan ahead!
If you have questions or other concerns, please contact us :). We're happy to chat and make sure you're prepared for your perfect day!