Happy New Year! Congratulations to all the couples who will be starting your new chapter together in 2018!
A new year is all about new beginnings but sometimes new things can be scary, and it's hard to know where to get started. We've got you covered as your Hawaii wedding planners!
Most of our couples are excited about getting married in Hawaii but don't know where to start.
Why Get Married in Hawaii?
First and foremost, do you want to get married in Hawaii? We've helped thousands of couples tie the knot in paradise, but you'll want to make sure it's the right choice for both of you. Hawaii is not only one of the most beautiful places on Earth, it's also one of the easiest places to get married. Simply apply online, bring a photo ID to pick up the marriage license you applied for, and bring it to the wedding. Here's the full breakdown of the process, but we assure you it's easy as pie, and we're always here to help!
And if you're doing a vow renewal or commitment ceremony, all you have to do is show up!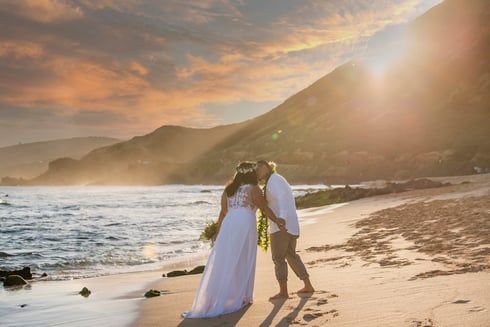 The beaches and the mountains make Hawaii such an amazing wedding destination.
Our couples come from all over the world for a destination wedding in Hawaii, so it's usually a combo wedding/honeymoon trip. It can be difficult for all your friends and family to attend a wedding in Hawaii, but that's perfect for couples looking for an intimate wedding. Having a much smaller guest count, or no guests at all, allows couples more freedom to do what they want. Then you can plan a big reception back home with all your family and friends! Here's some food for thought on an elopement in Hawaii or a small Hawaii wedding.
Have you already decided to get married in Hawaii?
Great! We really do have great weather year-round, so figure out what time of year works best for your schedule and that'll work for your Hawaii wedding. Our biggest piece of advice when it comes to a date is simply to choose a weekday (as long as it's not a holiday). The beaches are much busier on weekends and holidays, so it's best to avoid those if seclusion is important for your ceremony.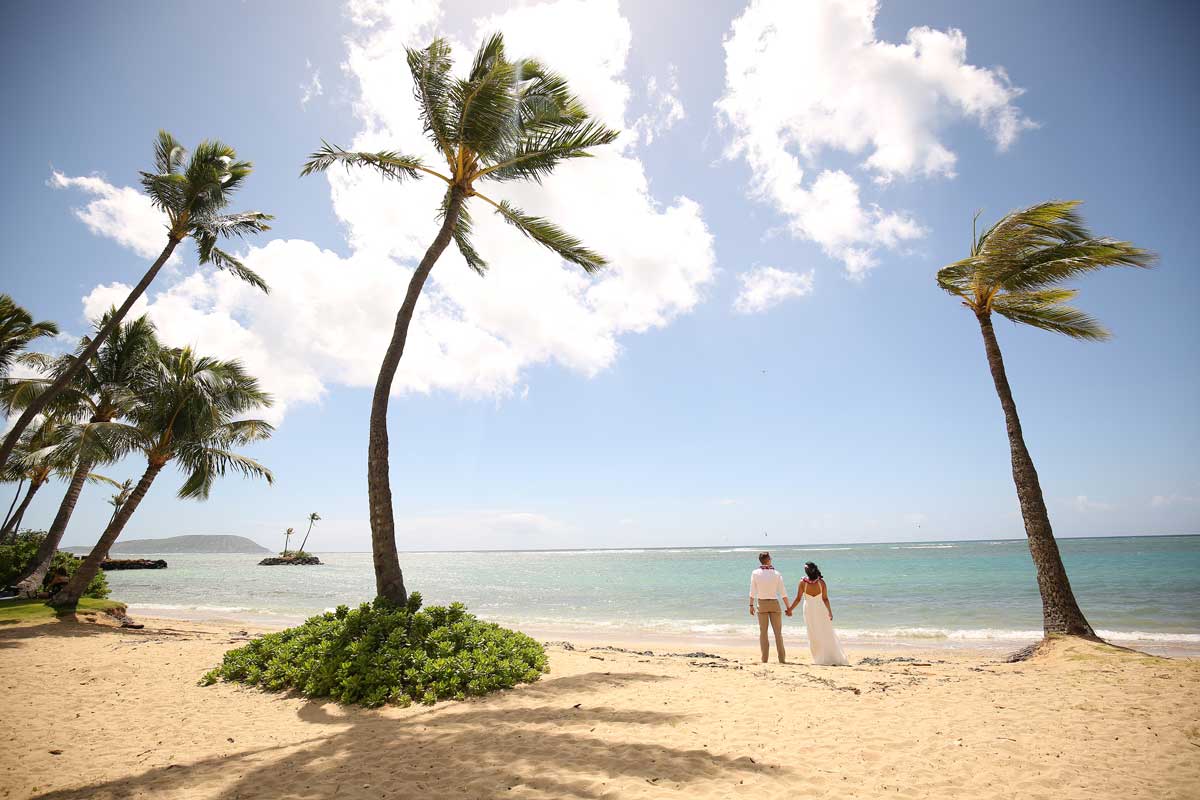 Seclusion on weekdays make public beaches almost feel private.
When deciding between the different islands in Hawaii, Oahu generally offers the most options at a lower cost by comparison. Specifically, we can offer transportation and wedding arches and chairs on Oahu but not on the other islands.
The outer islands are great, yet most visitors choose Oahu, especially for their first trip to Hawaii. If you have your heart set on getting married on another island, we can help with that too, and we're always happy to talk with you about your best options.
Those are all the big things. From here on in, the rest is all the fun stuff!
Simple Steps to Making Your Hawaii Wedding Come True:
Step 1 - SELECT LOCATION & PACKAGE
We offer a wide range of wedding locations so browse through our photos and videos to decide on which location you want for the backdrop for your ceremony. Then select a wedding, renewal or elopement package that suits your needs and remember you can customize them too.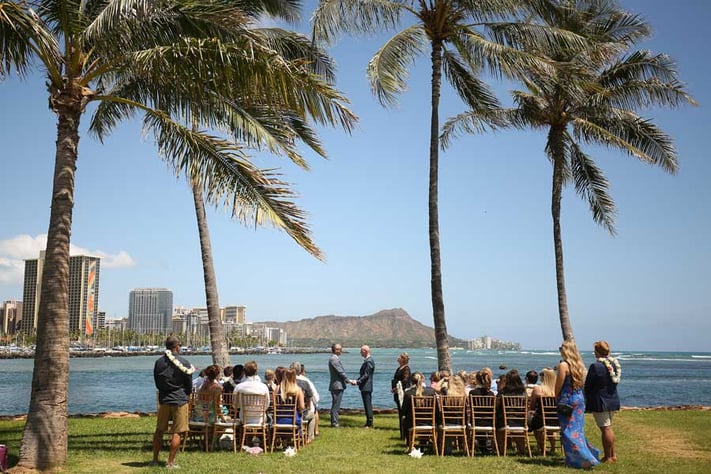 Getting married with majestic Diamond Head in the backdrop makes Magic Island a top pick for a postcard-perfect wedding.
Step 2 - SUBMIT YOUR RESERVATION
Once you've got your location and package, fill out our short reservation form, and we'll start putting everything in place. All that's required is a small deposit. We'll confirm your requested date and time, and we'll send you more details about your next steps.
Step 3 - PLAN & CUSTOMIZE
Once you have your reservation submitted, you can add any extras for your wedding day. All our packages are customizable, so you can you make sure you have everything you want! Digital downloads of photos, in-room hair and makeup, videography, and a live musician are just a few of our most popular add-ons.
Step 4 - ENJOY YOUR WEDDING
We're here to assist you throughout the planning process and make it all as easy as possible. We're only a phone call or email away so just reach out anytime questions come up. We'll walk you through the details, ensuring your big day goes as smoothly as possible.
We live by the motto: No stress...just get dressed, and we'll do the rest!
We hope this helps outline how easy it is to plan a wedding in Hawaii. If you have any questions, just schedule a phone call and one of us will be happy to chat with you! We're looking forward to hearing from you and hopefully helping you plan for the big day. Here's to new beginnings!