When we use the word "Hawaiian" to talk about a Hawaii wedding, we are referring to the Hawaiian elements that make a wedding in paradise so special. While your ceremony will have traditional elements, there are unique moments that are rooted in this wonderful culture.
If you've checked out our Hawaii wedding or vow renewal packages, you'll see they all include the following:
Officiant & Romantic Marriage Ceremony Including:
Enchanting Unity Sand Ceremony
Vows - Traditional (repeated) or Customized (written)
Children's Ceremony (For Blended Families)
Blessing Of The Wedding Rings
Traditional Hawaiian Lei Exchange With Two Keepsake Shell Leis
Many of our couples want to know more about what these items are and how the ceremony "works." If we haven't yet had the pleasure of chatting or emailing with you, here's the inside scoop.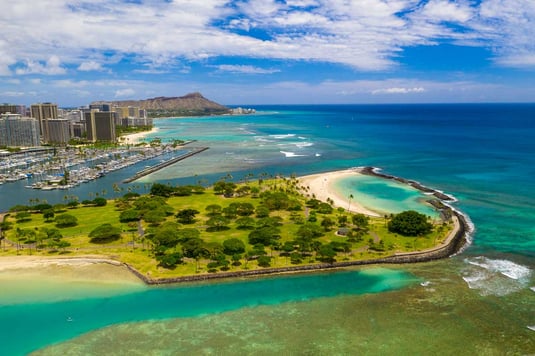 A drone shot of Magic Island with the iconic Diamond Head in the background.
Hawaiian Wedding Ceremony Overview
The wedding ceremony is about 15 minutes.
Traditional elements: wedding vows (repeated - for better or worse, in sickness and health, etc.), personal vows (optional - share your written vows), and the ring exchange.
Hawaiian elements: lei exchange and sand ceremony.
Your officiant concludes the ceremony, you're pronounced, and then there's the kiss!
We work with a small team of officiants who are seasoned professionals and will provide you with a beautiful ceremony. They love what they do, and it shows! They are all warm, caring people who believe it's an honor to be part of a couple's special day. Although they typically perform a non-denominational Christian ceremony, a completely non-religious ceremony can also be arranged.
Hawaii commitment ceremonies and renewal ceremonies have all the same meaningful elements and are nearly the same as our weddings, just without the legal aspect.
While the lei exchange and sand ceremony are included in each package, there are additional Hawaiian wedding elements you could add, such as a live Hawaiian musician or hula dancer.
Traditional Wedding Elements
The wedding vows and ring exchange are pretty straightforward. You repeat after the officiant and say vows to each other. Then the officiant speaks a bit on the symbolism of the rings and you do the ring exchange. We can also incorporate your personal vows as well if you have something you'd like to say to each other.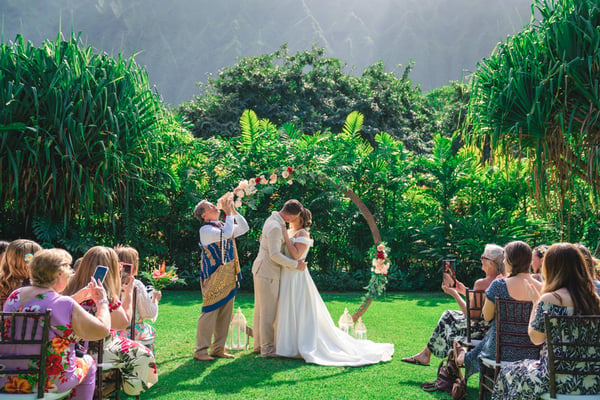 The blowing of the conch shell.
If you have children present, you can choose to add the Children's Ceremony. After you say vows to each other, both of you will make a similar pledge of love and commitment to your children. It's a great way to include the children in the celebration!
Hawaiian Wedding Elements
The lei ceremony is when each of you presents a lei to the other. In Hawaii, presenting a lei to someone is a gesture of aloha (love). It's an important element of a Hawaiian wedding, and your officiant will explain more on the meaning behind the lei exchange during the ceremony.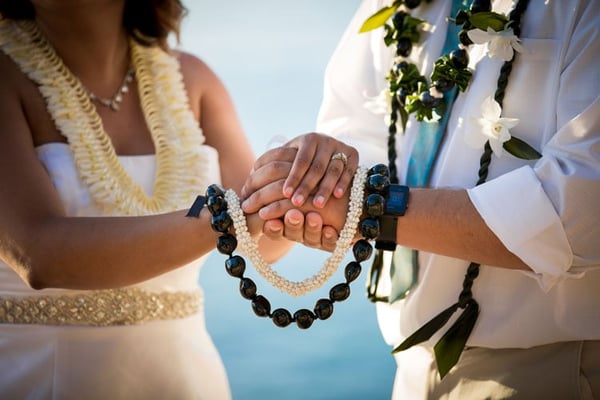 The lei exchange is a gesture of love.
The Unity Sand Ceremony is much like a unity candle lighting ceremony. You are each given a small amount of sand from the beach where you are married. You then pour your sand into a small bag to represent the two of you becoming one. Your officiant will guide you through the sand ceremony and will elaborate in greater detail of its significance.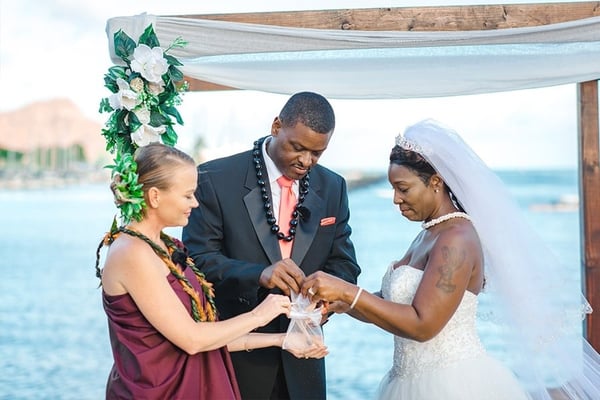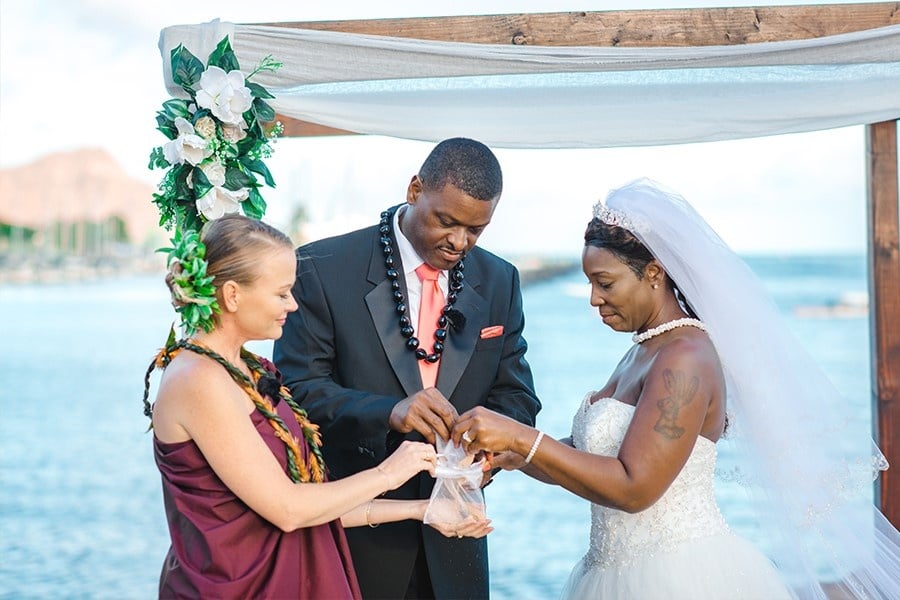 Sand Ceremony at Magic Island.
Additional Hawaiian Elements
If you have a package that includes a live musician or hula dancer, those are also incorporated into the ceremony. They will perform as a way to honor the couple and provides a bit of entertainment for your guests. These extras certainly add to our basic ceremony, making it a unique and memorable experience. If it's not included in your wedding package, they can always be added on!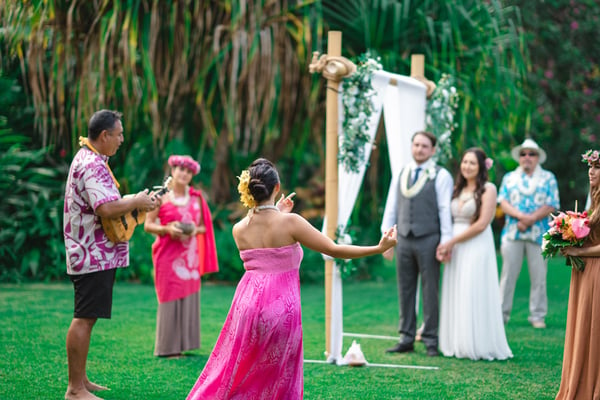 A live Hawaiian musician and hula dancer are nice touches.
Conclusion
One "Hawaiian element" we did not discuss in this article is the beautiful surroundings where your beach wedding is held. Plus, we know the best places in Hawaii to get married. Hawaii is a unique paradise, full of lush mountains, stunning beaches, and an aloha spirit that follows you wherever you go.
Hawaiian weddings are unique in that you're coming to Hawaii for more than just your ceremony; it's the opportunity to experience this amazing paradise. With countless things to do, we hope you have many fun and new experiences during your time here.
Your wedding or vow renewal will be a moment you cherish forever. We know how important the day is, and our team will make it as perfect as possible for you.
Still have questions about how the wedding ceremony works? Call, email, or schedule a phone consultation. Mahalo!