It's a question we often hear: How can I get my wedding dress to Hawaii?
While it's easier to bring the groom's wedding attire, transporting your beach wedding dress is something you need to think about. We generally have two options we recommend.
1. Carry Your Wedding Dress on the Plane
It's rare these days for the airlines to loose your luggage, but it's best to play it safe and not pack your wedding dress in your checked luggage. We ALWAYS recommend bringing your dress on the airplane as carry-on luggage. The safest place for the dress is in your possession.
By carrying it on the plane with you, you're responsible for it arriving safely and undamaged.
If you'd like to have your dress pressed and your hotel does not offer the service, you could use Marie Louise Cleaners (808-593-1110 ). They do same day pickup and drop off, so it's very convenient. Many of our brides use their services, so we feel confident recommending them.
Make sure to schedule ahead of time to ensure they can accommodate you.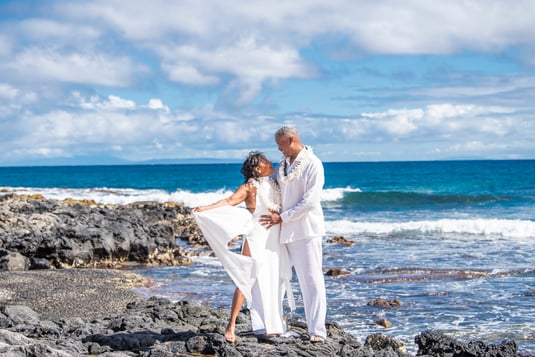 A lovely choice of attire for a Hawaii beach wedding.
2. Ship Your Wedding Dress to Hawaii
If you prefer to ship your dress to Hawaii, you do run the risk of it getting lost or damaged. It's happened. Unfortunately, we cannot accept deliveries to our office for liability reasons, but you may be able to check if your hotel will allow it.
Alternatively, there's a UPS store (808-922-0877) located across from our office in the Outrigger Waikiki Beach Resort that will hold your delivery for you.
To ship to UPS, use the following style for your shipping label:
TO: UPS - HOLD FOR PICK UP
Your Name
Your Telephone Number
2335 Kalakaua Avenue
Suite 110
Honolulu HI 96815

*The "TO: HOLD FOR PICK UP" and your information is most important for the shipping label. Please call UPS directly if you have questions.
It's our opinion that carrying your dress on the plane is the best option, but it is possible to ship it.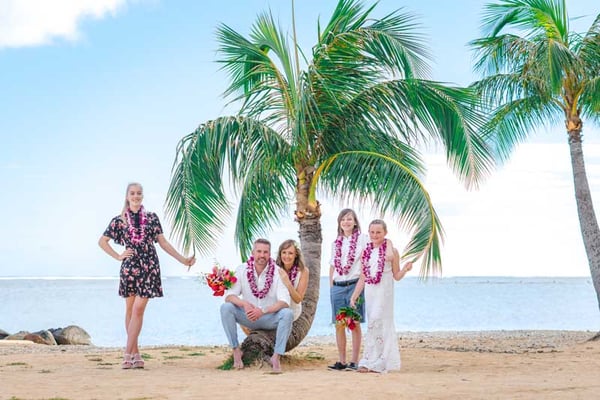 Not only is casual attire normal at Hawaii weddings, it's also easier to pack ;)
Additional Wedding Attire Tips
While we're on the subject, it's a good idea to give a few more tips to help you decide what to wear for your Hawaii beach wedding.
High heels can be dangerous at many of our locations. They're not good on sand or rocks. We recommend wearing sandals or at minimum bringing a pair of flats with you.
There's no shortage of shopping options in Hawaii, so anything forgotten can be found.
If you want those beautiful shots of you walking near the water, it's possible a wave will catch your feet. Most couples go barefoot on the sand after the ceremony.
As always contact us if you have questions or need some advice. We're always happy to help!