It's not uncommon for family and friends to reach out to us before your Hawaii wedding, and we often hear many of the same questions. We're always happy to help, but we thought it'd be nice to provide some of the information ahead of time to help you and your guests plan better.
We focus on providing a stress-free wedding or vow renewal for our couples, but we want your entire party to have a relaxing, wonderful experience.
We feel this is a great link to send your guests, and we encourage them to send us an email (coordinator@wedhawaii.com) if they have a question not answered here. That'd help us improve the list!
And one bonus tip for all guests: Don't be late! If the couple is waiting for you, that means they are losing ceremony, photography, video, and transportation time (depending on their wedding package). Be safe and arrive early!
Okay, here we go. We hope these help!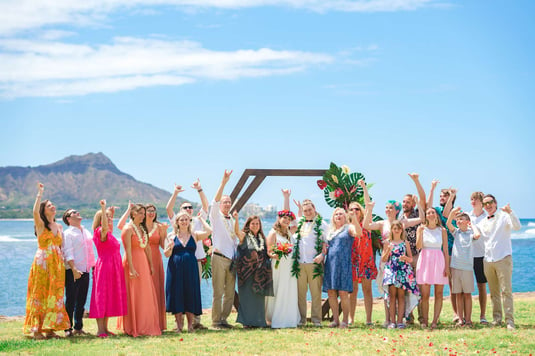 For a Hawaii wedding, this is more than the average amount of guests.
Top Questions We Hear from Your Guests about Your Hawaii Wedding
1. What should we wear?
That's totally up to you, but casual is the norm in Hawaii. This is a question that you should ask the bride and groom. We've seen couples wear everything from super casual to super formal. Depending on their style, you'll probably want to match at least a little. Keep in mind that it's usually in the 80's during the day year-round in Hawaii. Lighter, looser-fitting fabrics will be more comfortable. Just know that everything goes in Hawaii.
The one key thing for attire -- wear flat footwear. Many of our couples have their weddings on a sandy beach or grassy lawn, so high heels can be dangerous and difficult to navigate in. Flats, sandals without a heel, and even flip-flops are definitely the way to go!
2. We'd like to do something special for the couple. Any ideas?
We hear this one often, and yes! There are many things you could gift the couple or add to surprise them. Think of it as a wedding registry, but rather than gifts they'd get after the wedding, it's gifts for the wedding! Surprising the couple can be a nice idea, but if you're not sure if it's something they'd want, it may be best to ask them first.
A common gift from parents and family members is to add something special to their wedding package. Most couples add the digital download photo package, which we consider the most important addition to the day. That gives the couple a minimum of 100 photos they can download, print, and share with friends and family with full print release. If they're not planning to add that (most couples do, however), it's the best possible gift for them. After all, photos are a gift for everyone!
Other popular ceremony additions are video coverage (great for memories years down the road), live streaming for family and friends back home, floral options, or a nice bottle of champagne. For something to make it truly Hawaiian, a live Hawaiian musician or hula dancer can really add to the experience.
Feel free to let us know if you have an approximate price range for your gift, and we can present you some options.
3. Where should we stay in Hawaii?
We have an article about where to stay in Hawaii that might help, but you definitely want to know where the couple is staying. Most couples stay in Waikiki, and the great thing about Waikiki is there are hotels for all tastes and budgets. Even if the couple is staying at a hotel that is not your style, you can easily find a more suitable one only a short walk away.
4. When should we book our flights and hotel?
We recommend booking your travel around three months in advance, give or take. Booking too far in advance or too close to your travel dates is usually more expensive, but if you have time to plan, it's a good idea to watch for rates, and you'll be able to find a fare that works for you. For more information, check out our article about how to book your travel to Hawaii.
5. How do we find the ceremony location?
We'll provide directions to the couple for their ceremony location, which they can forward to you. Not all of our locations have an address, but they are on Google Maps. Our email will provide the proper information for you to find the location. Our contact number will be in the email too, so just call if you get lost en route and we can human GPS if need be.
Again, please leave early. You do not want to be late!
6. How do we get to the ceremony location?
That depends on where the ceremony is, where you are staying, and it also depends on whether or not the couple included limousine or a party bus. Some of our locations are a short Uber, Lyft, or taxi ride from most Waikiki hotels, but others are a little farther, meaning it'd be expensive. If you have a rental car, that'd be the best option. We recommend asking the couple where the location is and where they plan on staying and then you can plan accordingly. We also have an article on how to get around Oahu that might be helpful.
We've had several guests contact us about an additional limousine or minibus. With all of the other expenses, couples can't always fit transportation for all their guests into the budget. Some guests will pay for a limo or bus, and others organize everyone to chip in to cover the cost. We'll schedule it, but the work comes with collecting the money and getting other guests on board. One huge advantage of everyone traveling together is that nobody will be late, which cuts into the ceremony, photo, and video time of the wedding. We always remind couples not to be late, but making sure you're there on time is a big stress reliever for the couple.
7. How long is the ceremony?
The wedding ceremony is usually about 15-20 minutes, typically with photos to follow. Most of our weddings and photo shoots are about 1-1.5 hours in total. We usually will do a few group photos following the ceremony and then photos of the couple. Guests are welcome to stay during the couple's photo shoot to watch, or you can always take some selfies. :-)
8. Can we take photos and video?
Yes, but please be mindful of the ceremony, and if their package includes a photographer and videographer, please be careful not to get in the way. If you stand during important parts of the ceremony, there's a good chance you'll block the shots, and the last thing you want is your head popping up in the video right before, "you may now kiss the bride!"
9. What if it rains?
We have a blog about what if it rains too! Rain almost never affects our weddings, yet we never know what Mother Nature has planned. While we can literally go months without one wedding affected, we are prepared. We closely monitor the weather, and if it's a real threat, and we'll be in full communication with the couple.
If there's rain in the forecast, our team will know what to do! However, it's not something you should worry about.
10. What should we do during our stay?
Obviously, the wedding is the main event, but Hawaii has so many great things to do, see, and eat! Most guests are here for at least a few days, and they often want a local's recommendation. We put together some of our top recommendations for things to do on Oahu.
Conclusion
There are surely more questions guests have, so please get in touch with us if you have any. We're happy to help, and we want this to be an amazing experience for everyone involved.
We want everything to be perfect, and we want both our couples and their guests to be prepared. Feel free to contact us anytime.