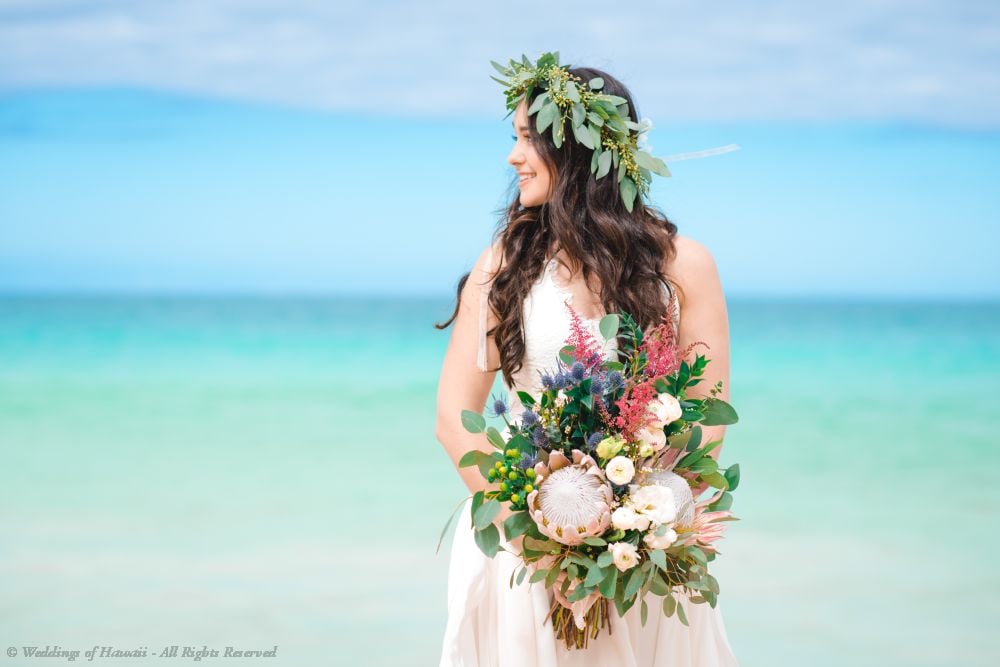 Flower Options for Your Special Day
While we do have galleries of our Hawaiian floral arrangements, we wanted to make a quick guide to help our couples understand and visualize some of your flower choices.
Bridal Bouquets
The bridal bouquet is generally regarded as the most important floral arrangement for the ceremony, and we have many options for you. You can choose from our Classic, Premium, Elite, or Custom bouquets.
Depending on your dress and your color preferences, we can help you choose the correct flowers for the perfect bouquet.
Classic Bouquets - beautiful bouquets specially designed by our amazing in-house florist.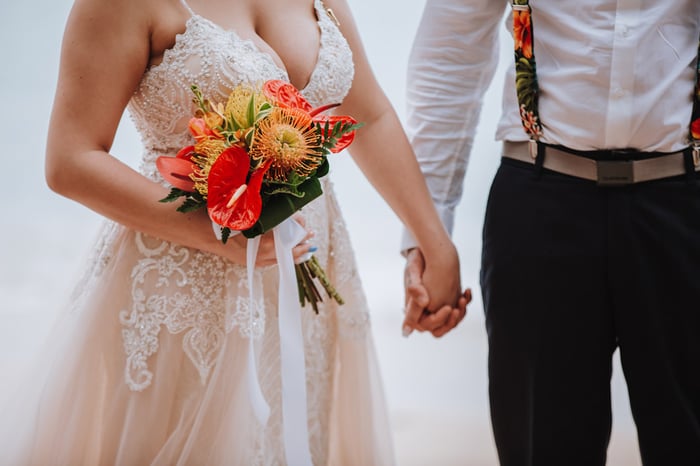 A classic Hawaiian bouquet
.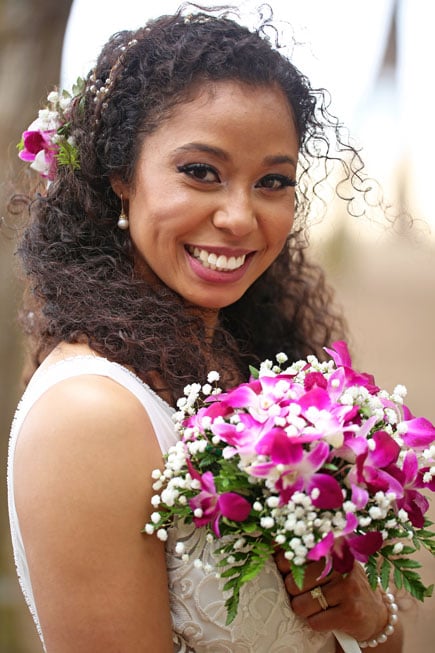 Purple and white ... two of the most popular colors.
Premium Bouquets -
larger in size and can include specialty flowers or colors.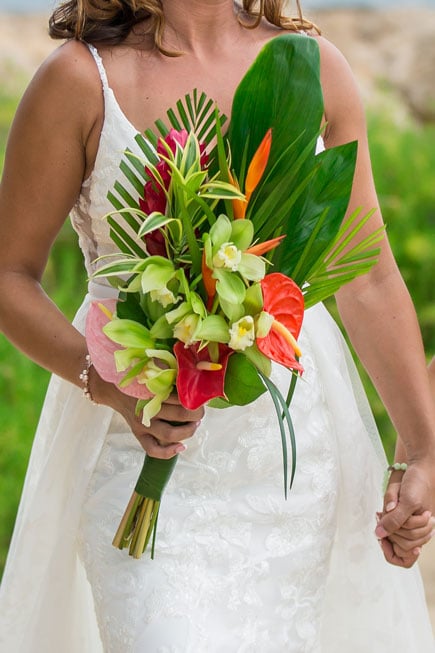 Our in-house florist adds an extra touch to Premium bouquets.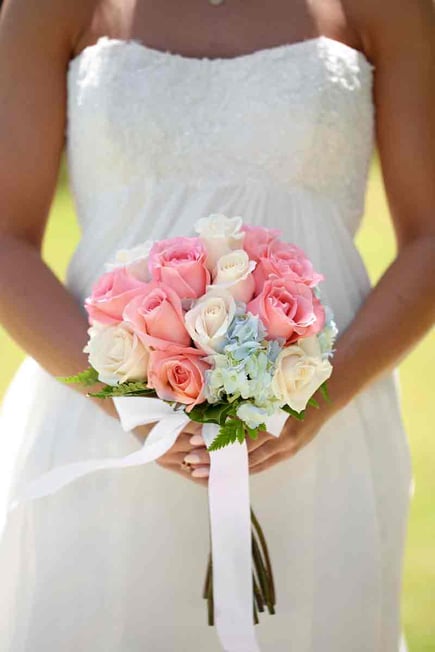 We offer several rose bouquet options.
Elite Bouquets -
these special bouquets include even more colors and specialty flowers.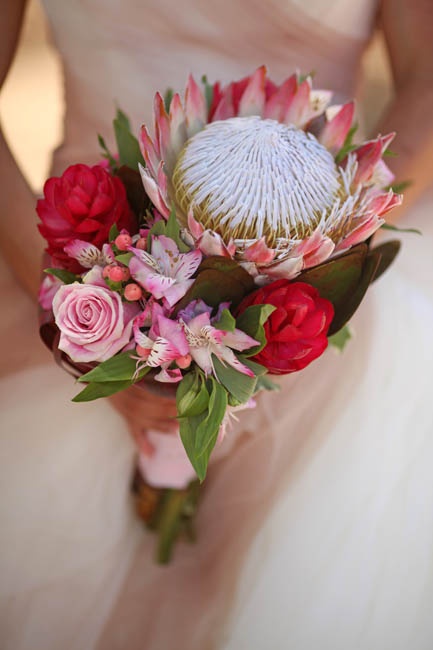 Specialty flowers and detailed design go into Elite bouquets.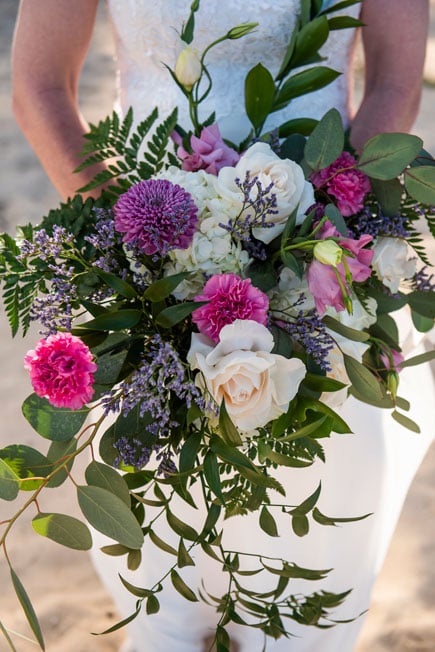 CUSTOM BOUQUETS
If you have your heart set on something special other than what we offer in our galleries, please let us know. We are happy to provide you with a custom bouquet quote.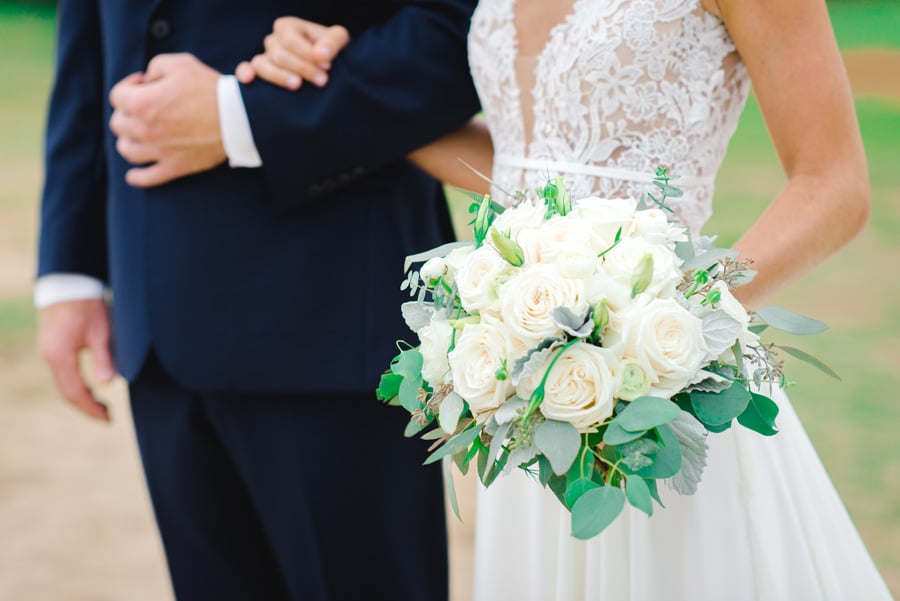 If you have a style you like, we can provide a custom quote for your bouquet.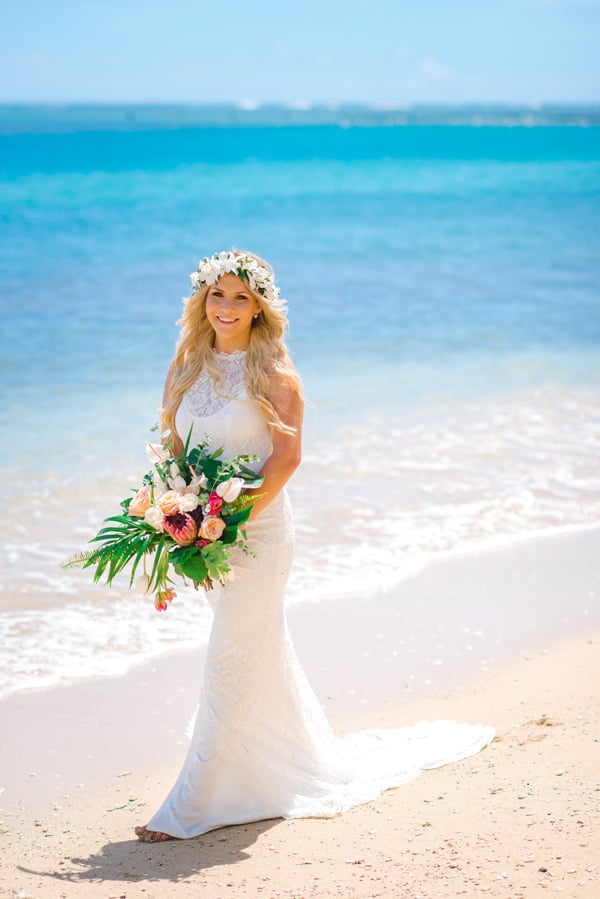 We love how the size and colors of her custom bouquet pop!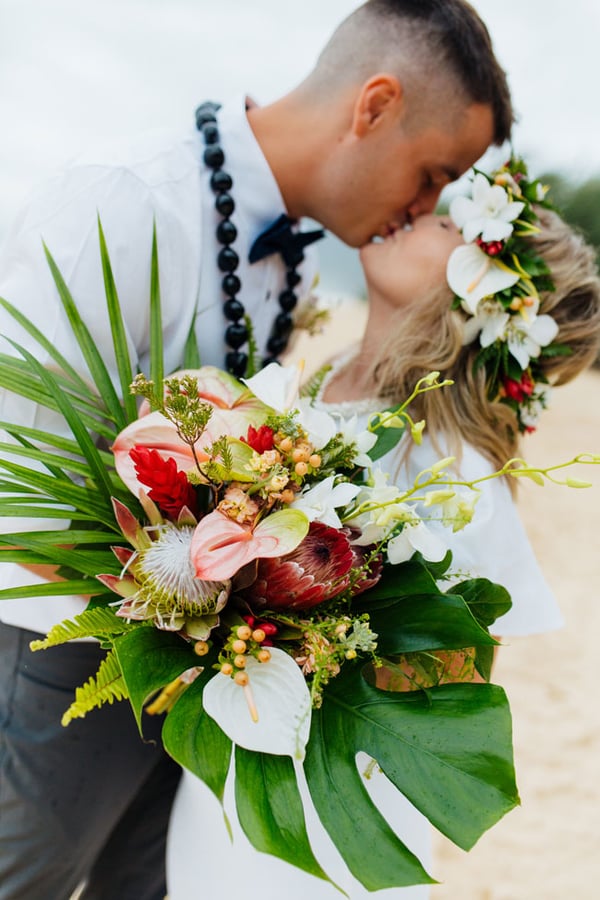 Her custom bouquet and haku lei were perfect for their wedding style.
Bridesmaid's Bouquets
Bridesmaid's bouquets are usually smaller in size and complementary to the bridal bouquet.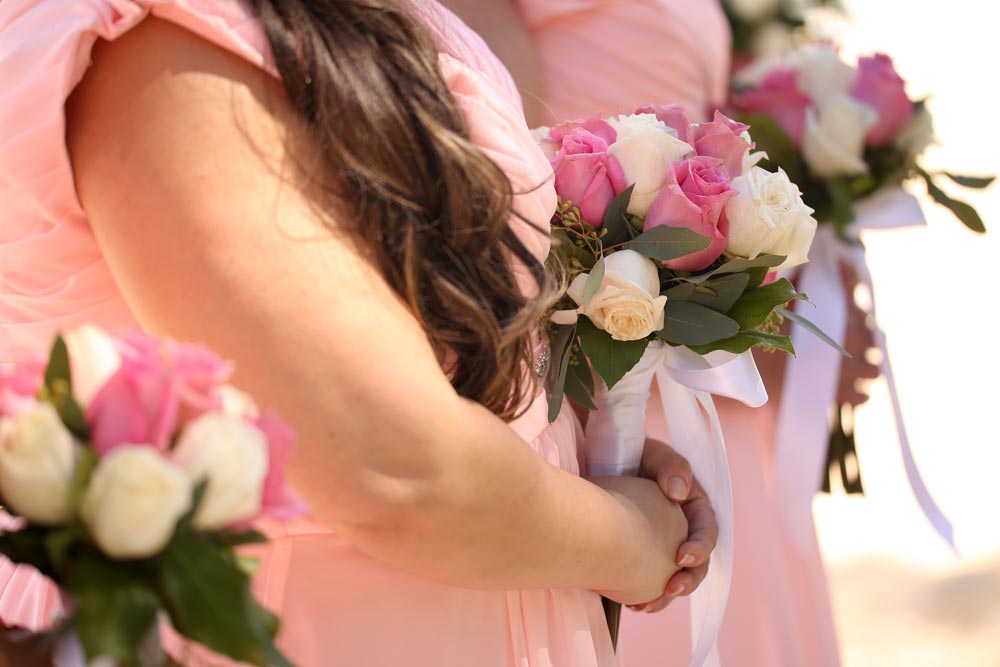 Beautiful bridesmaids' bouquets.
Haku Leis
A Hawaiian Haku lei is customarily worn by the bride and is a nice addition to a bouquet. Hakus are also popular with bridesmaids and flower girls. Worn on the head, the haku further accentuates the tropical look and makes every lady feel like a queen.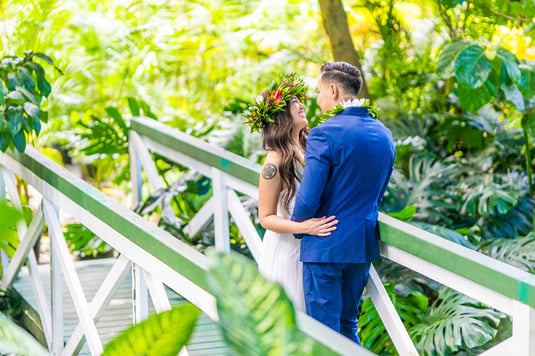 Precious!
View All Hawaiian Hakus and Hair Florals
Floral Hair Clips
While hakus are beautiful, they don't always go with the look that brides are looking for. Sometimes a floral hair clip can add that tropical look while maintaining the hairstyle you want. Custom floral clips are also available.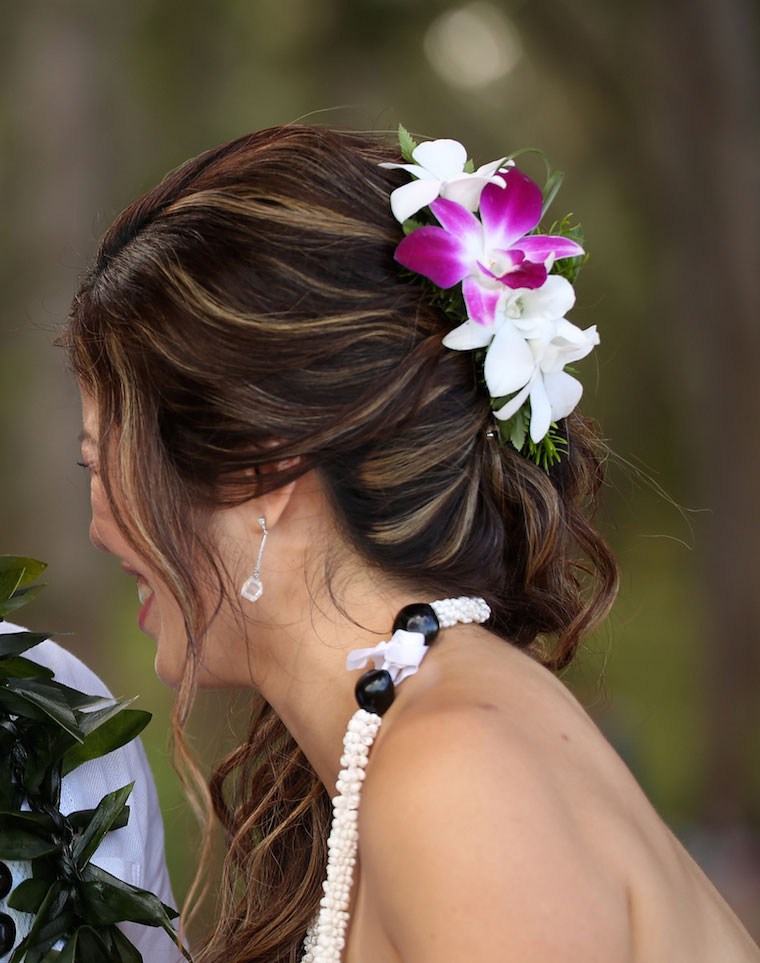 White and purple work so well together.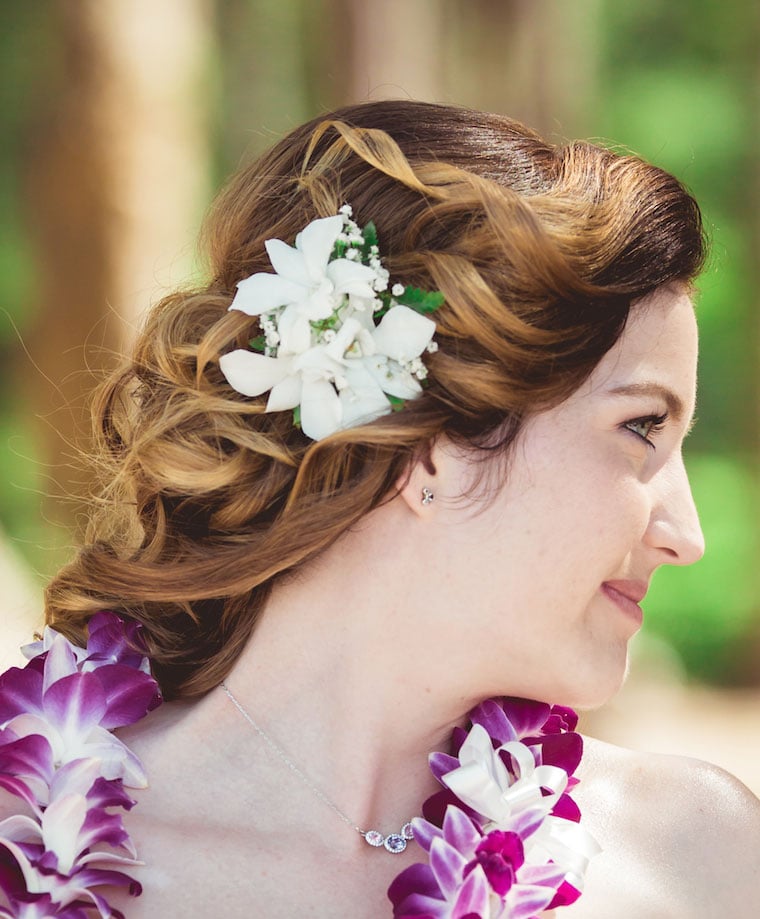 Beautiful!
View All Hawaiian Hakus and Hair Florals
Leis
Fresh Flower Leis - part of Hawaiian tradition, fresh flower leis are a customary part of all weddings in Hawaii.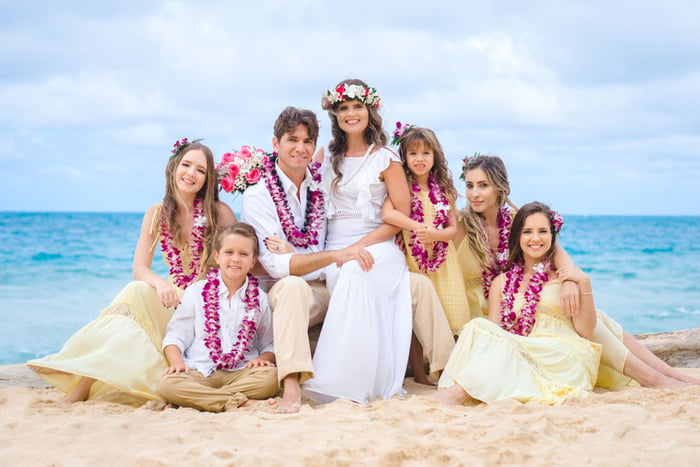 Beautiful purple leis, a bridal bouquet, and a matching hair floral.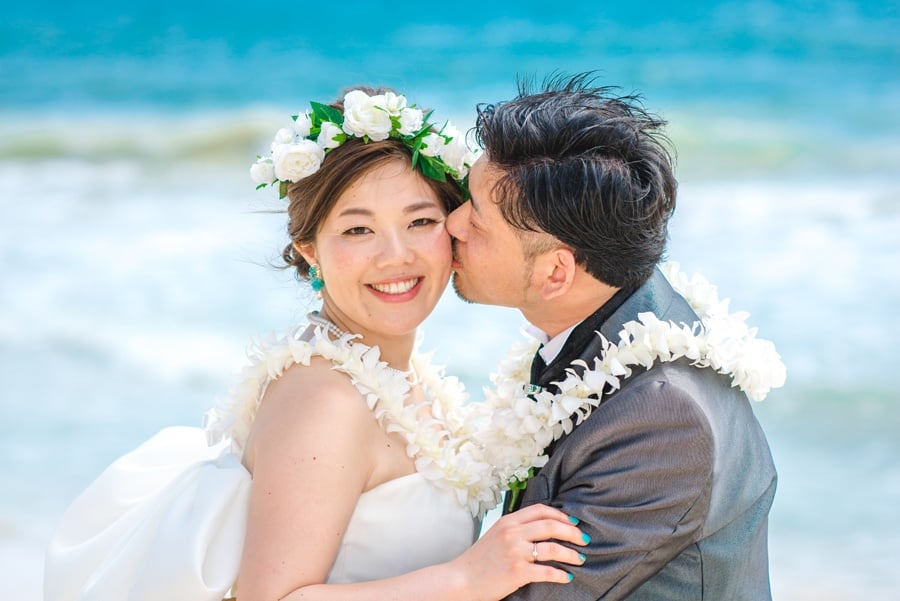 Their white leis match their wedding style.
Groom's Ti Leaf "Maile Style" Lei - maile leis are a staple for local weddings and the perfect way to add a touch of Hawaiian style.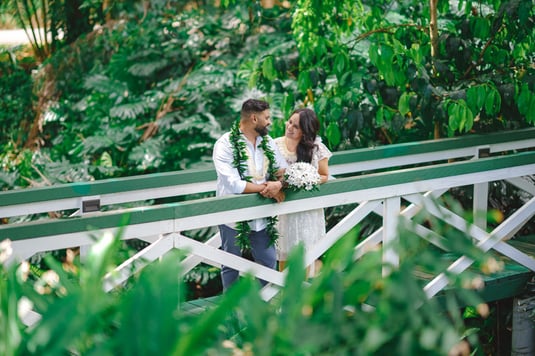 The groom's maile lei adds extra color and just looks cool.
Boutonnieres
While many grooms choose the Ti leaf "Maile Style" lei, others choose the classic look of a boutonniere. A boutonniere can attach to suspenders or a groom's jacket and adds an elegant look.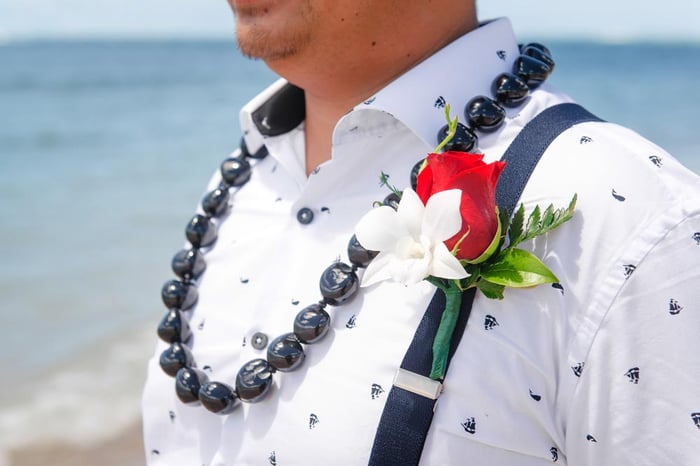 This rose boutonniere goes great with his suspenders and kukui nut lei.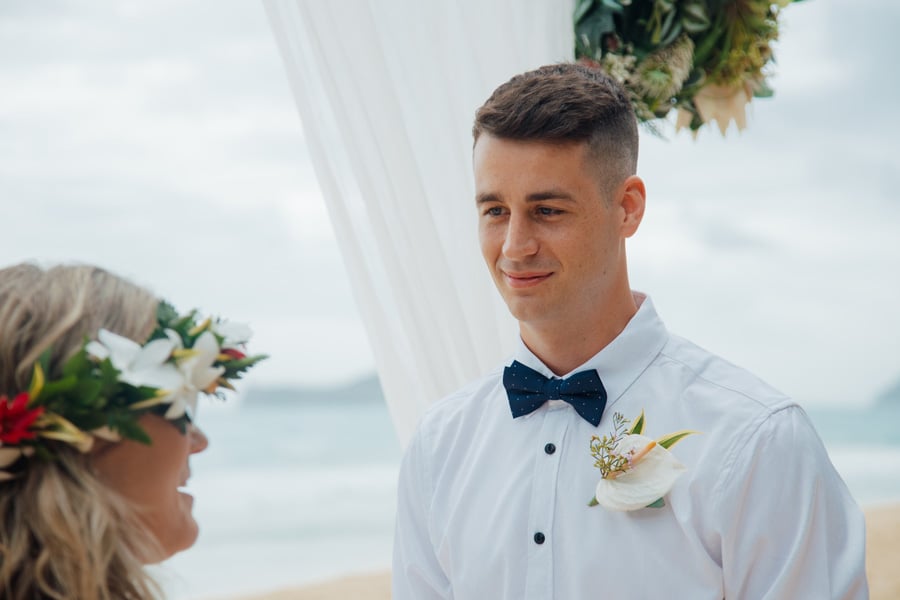 A custom-made boutonniere to match her custom haku and bouquet.
Wrist Corsages
With all the other options available to you, it's easy to overlook the classic wrist corsage. While an amazing bouquet and haku provide plenty of floral beauty, a wrist corsage (or wristlet) is a subtle way to enhance that extra touch.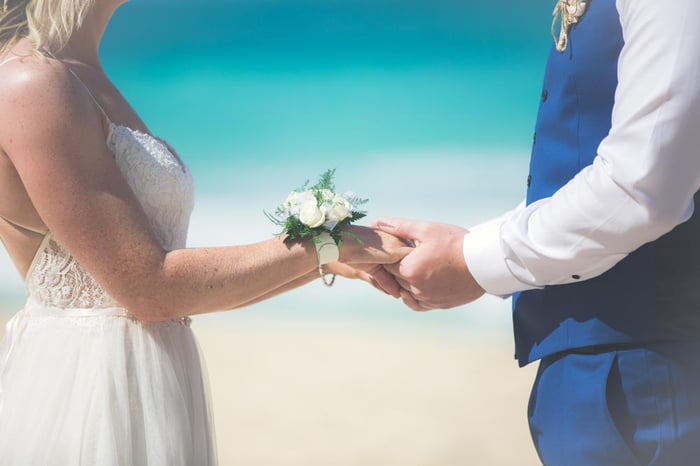 A wrist corsage is perfect for a beach wedding.
Conclusion
Some flowers are seasonal even here in Hawaii. For example, King Protea is typically available during the cooler months of October-May while plumerias are more plentiful in the warmest summer months.
When selecting your wedding day flowers, it's always nice to have contrast between your bouquet and wedding attire. While white florals can add a touch of elegance, an all-white bouquet can get lost against a white gown. Don't be afraid to add some color. Whether it's purple dendrobium orchids, pink roses, or mixed tropicals, a pop of color makes a statement and is great for photos!
Another thing to consider is the longevity of your florals. Tropicals typically hold up the best in heat for obvious reasons. On the other hand, some orchids, especially phalaenopsis don't like the heat at all. They are absolutely stunning but wilt very quickly. They prefer much cooler temperatures and are better suited as a plant in your home or office.
Flowers are a part of every ceremony, and if you have questions or need help deciding, please let us know. We're happy to discuss options with you, and we definitely want to make sure you have exactly what you want for your day.