If you're eloping in Hawaii all you have to worry about is the two of you. You can relax and enjoy yourselves knowing our team will have everything in place for your special day.
If you have guests, on the other hand, you'll need to share with them information to help your day go as smoothly as possible.
Here are some of our most important tips to share with your guests.
1. Be on Time!
We can't stress the importance of this enough. Your ceremony team is scheduled for a set time, and the last thing we want is for you to feel rushed!
Your ceremony team will arrive early and be ready to meet you and your guests at the meeting point. If your ceremony time is 12:00pm, for example, ideally you'd be set up and ready to go at that time. It's a good idea to tell your guests they should arrive by 11:45am.
Why?
The most important reason is for your photography time. If you or your guests are late, what ends up getting cut short is the time your photographer spends with you. Being one of the most important days of your lives, we want to make sure to capture the moment.
We don't want you to feel rushed, and we don't want your photographer to have to rush.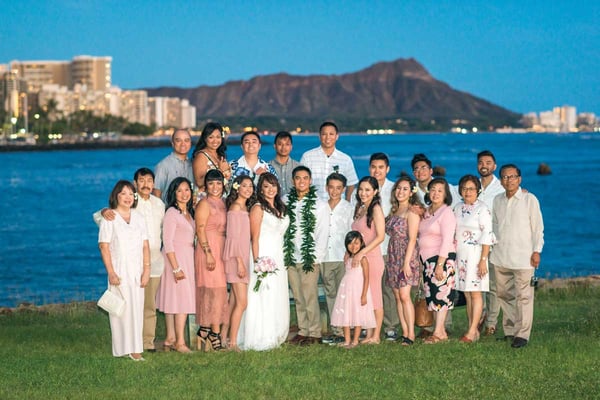 Hawaii is very laid back, but your special day is too important for you to be late. Stress the importance of being on time to your guests. They can put their watches away and go back to island time after the ceremony ;)
2. Add Extra Photo Time
One thing couples often underestimate is the amount of time it takes for group photos. To line everyone up for one group shot isn't too challenging, but think about the other photos you'll want: parents, the bride's parents, the groom's parents, children, grandparents, aunts and uncles, cousins, bridesmaids, groomsmen, friends, etc.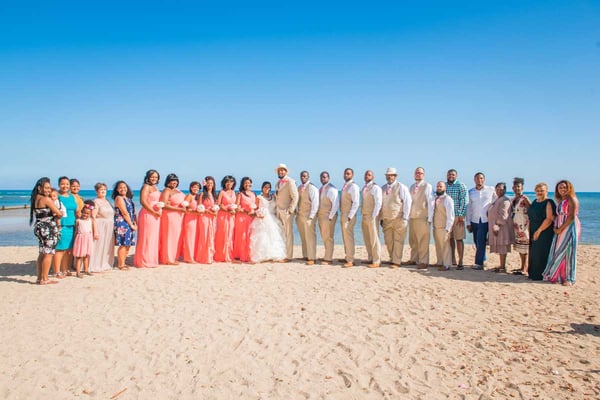 Even with the most attentive guests, it takes a good amount of time to swap them in and out. When you browse the photos in our galleries, you probably notice most are of the couples. Those are the ones you probably have in mind when you decided to add the High-Resolution Digital Images to your package, so you want to make sure you have plenty of time with your photographer.
You don't want to skip on the photos with your family and friends, yet you want to make sure you have enough time to capture some amazing shots of the two of you.
3. Let Them Know Their Transportation Options
Depending on your ceremony location, you'll have different options for transportation. You can take a limousine, mini bus, car, taxi, or Uber/Lyft. For some locations, however, a taxi, Uber, or Lyft would be too expensive.
It's a good idea to know in advance the transportation options for your location and share the information with your guests to help them plan.
Here are a few tips to share:
Carpooling is a great idea. Designate drivers and put them in charge of being on the road at a specific time.
Leave early to arrive on time. It always takes longer than expected. Guests often underestimate how long it takes to get from their hotel room to the road, and traffic can be heavy at certain times.
Make sure you have Google Maps download on your phone and use the directions we provide. Rental car GPS is often outdated.
Share our office number (808-923-4876) and have guests call us for directions. We know the way and are happy to help!
Check out and share our article on Getting Around Oahu.
4. Please Let Us Know Your Guest Count
We do not need to know the exact number, but a good estimate is helpful. Knowing the guest count helps our team better prepare.
For guest counts over 40, we do require an on-site team assistant. Large groups are more difficult to manage, and although your ceremony team will be there to assist you, more than 40 guests requires additional help.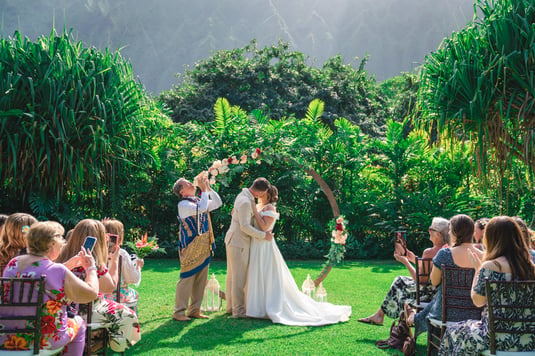 Some of our wedding locations have limits on how many guests can attend. If you know you'll have more than 30 guests, please speak with us about your options. We're always here to help with all the details.
5. Additional Tips
Start a group text to share information and remind everyone to be early.
Email your guests shortly before the ceremony day with directions and reminders (we'll send you directions).
Ask them to search the ceremony location on Google Maps ahead of time and to save the location.
Feel free to send them our tips on what to wear for a Hawaii Beach wedding.
Share our office number: 808-923-4876 and tell them you're getting married with Weddings of Hawaii.
Check out our tips on how to have an affordable destination wedding.
Contact us if you have questions or need assistance! We're always here to help.