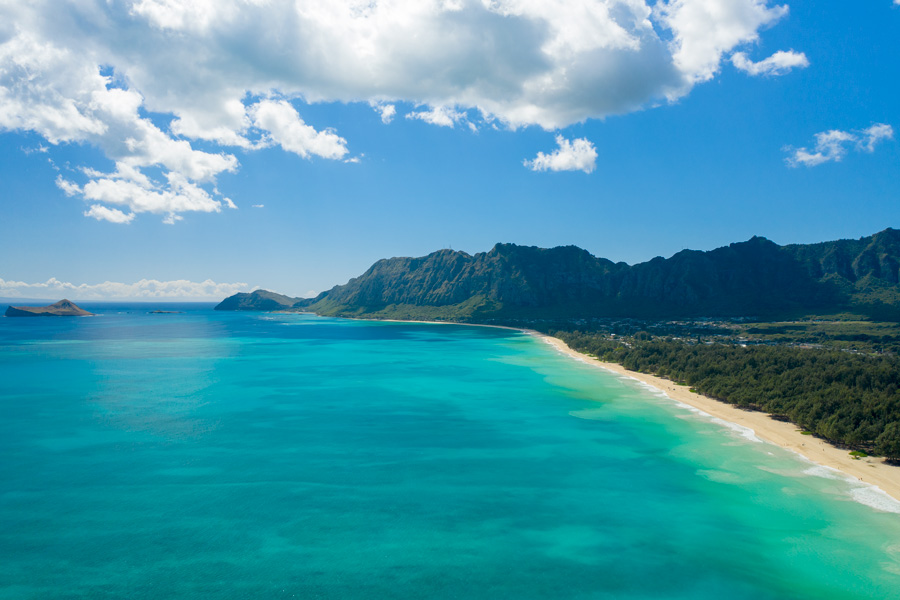 AS OF MARCH 2022, THIS LOCATION IS NO LONGER AVAILABLE DUE TO BILL 38, WHICH BANS COMMERCIAL ACTIVITY IN WAIMANALO.
Waimanalo Beach weddings are by far some of the most beautiful ceremonies you'll see on Oahu! With around three miles of pristine beach to choose from, a turquoise blue ocean, three islands off in the distance, and nestled by beautiful mountains on all sides, it's no wonder that so many couples choose to say "I do" on this stunning beach!
From the moment you drive past the Makapu'u Lookout, you'll understand why Waimanalo Beach was named one of the best in the world. While the drive around the coast is breathtaking, once you reach that lookout point and see the sweeping views, glistening white sand, and turquoise water, you'll know you made the right choice for your wedding day.
Views past Makapu'u Beach with Waimanalo Beach in the distance.
As you pass Makapu'u Beach and head into Waimanalo, you'll notice a calmer pace and several areas that make you want to stop and get your toes in the sand, but we recommend continuing past Waimanalo Beach Park and instead head to our favorite beach ...