AS OF MARCH 2022, THIS LOCATION IS NO LONGER AVAILABLE DUE TO BILL 38, WHICH BANS COMMERCIAL ACTIVITY IN WAIMANALO.
Waimanalo Beach weddings are by far some of the most beautiful ceremonies you'll see on Oahu! With around three miles of pristine beach to choose from, a turquoise blue ocean, three islands off in the distance, and nestled by beautiful mountains on all sides, it's no wonder that so many couples choose to say "I do" on this stunning beach!
From the moment you drive past the Makapu'u Lookout, you'll understand why Waimanalo Beach was named one of the best in the world. While the drive around the coast is breathtaking, once you reach that lookout point and see the sweeping views, glistening white sand, and turquoise water, you'll know you made the right choice for your wedding day.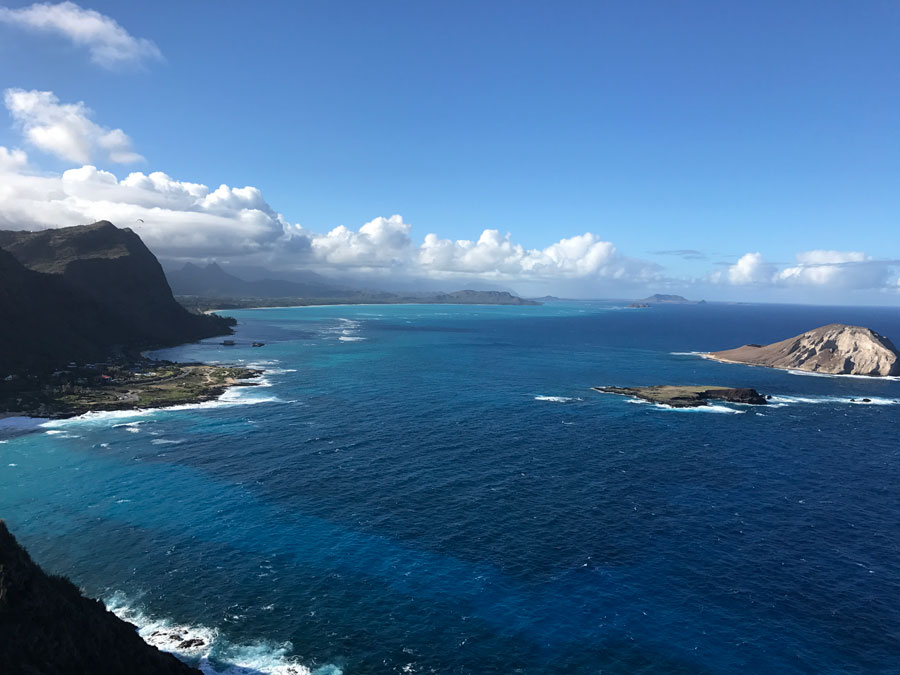 Views past Makapu'u Beach with Waimanalo Beach in the distance.
As you pass Makapu'u Beach and head into Waimanalo, you'll notice a calmer pace and several areas that make you want to stop and get your toes in the sand, but we recommend continuing past Waimanalo Beach Park and instead head to our favorite beach ...
Our Preferred Waimanalo Beach Wedding Location
Sherwood Forest Beach is our Waimanalo wedding venue of choice, as it offers several qualities we love. Nestled in the heart of the long stretch of beach, Sherwood Forest Beach has a large parking lot, public restrooms, and most importantly, a long, wide beach where it's not too hard to find a secluded spot for your romantic beach ceremony.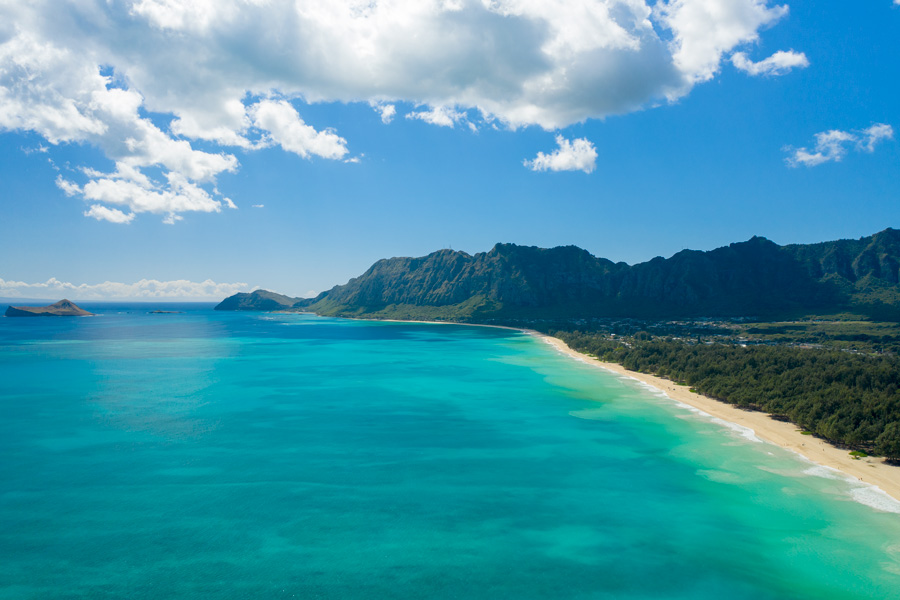 Sherwood Forest Beach, Waimanalo -- Our favorite ceremony location!
Another advantage of a Waimanalo beach wedding is that it's one of the few beaches in Hawaii where setups are allowed (weekdays only), so you can include a beautiful arch and runway, and you can add chairs for your guests.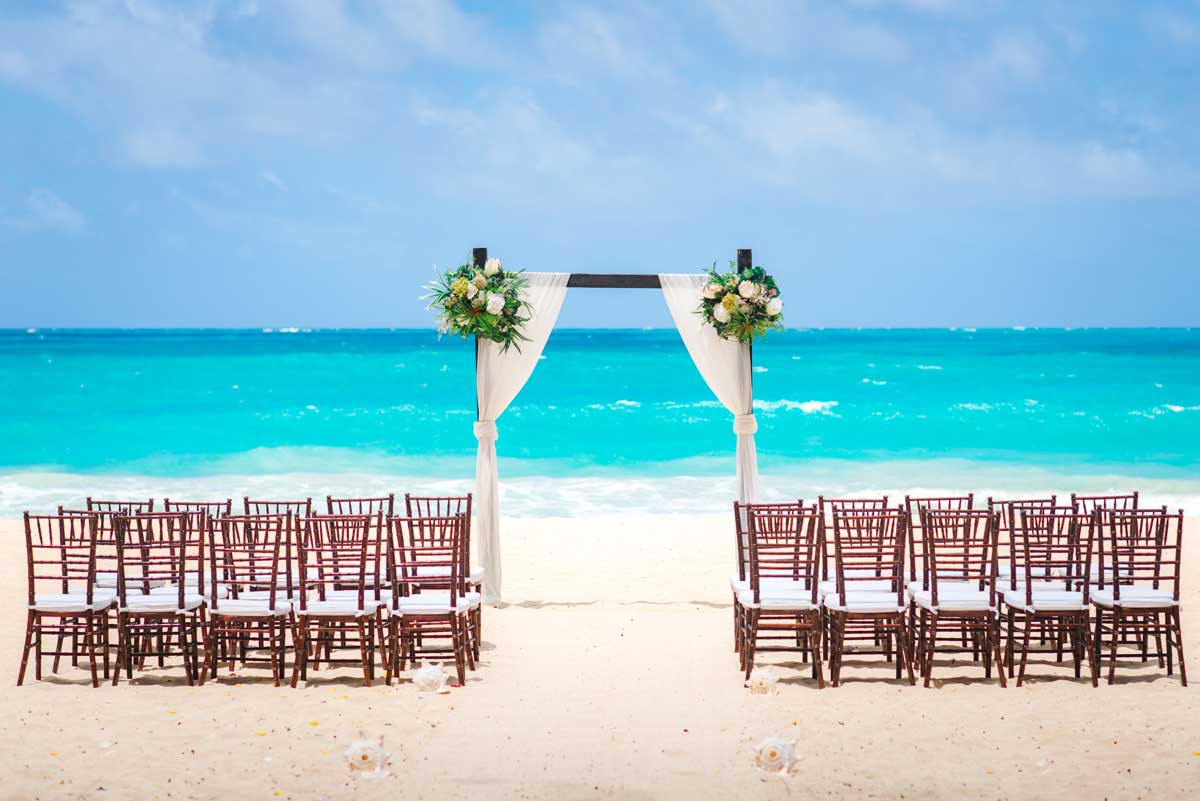 A Waimanalo Beach wedding setup at Sherwood Forest Beach.
Permits are required by the State of Hawaii for $50 for all locations, which we obtain on your behalf and add to your invoice.
Sherwood Forest Beach is also a two-location photo opportunity wrapped into one, as the ironwood trees lining the beach offer a unique setting perfect for those intimate forest shots.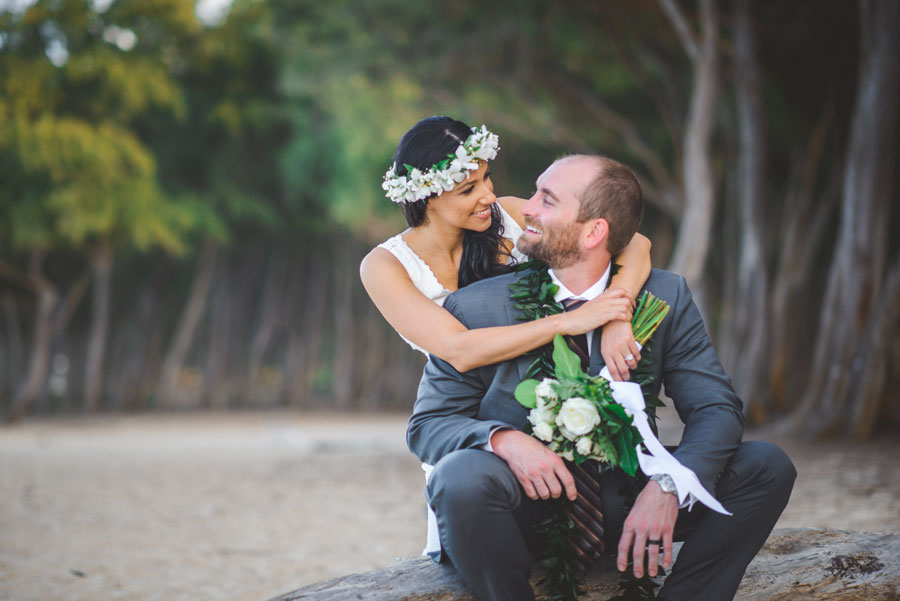 Waimanalo Beach Wedding Packages
All of our Hawaii wedding packages can include Sherwood Forest Beach for your ceremony location, but please note this location does require extra limo time as it's around 45 minutes from Waikiki. For couples driving themselves, we recommend enjoying the beautiful drive and always leave a little earlier than you think. You won't want to rush.
The best wedding package for Waimanalo Beach is the one that fits you best. Most couples start by considering the Lehua Package, which includes limousine transportation for up to eight (extra time is needed), extra photography time, a ceremony and highlight video, and other inclusions.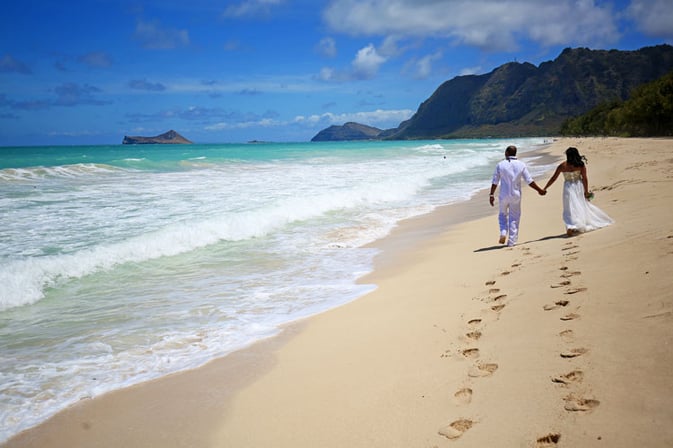 A walk on the beach after your ceremony is a must :)
After starting with the Lehua Package, it's easy to consider whether you need more or less for your special day and adjust your package from there.
All our packages are customizable, so you can always add options. For example, if you plan on driving yourselves, you might want to consider the Gardenia Package and add a videographer and florals. For couples with a guest count of over 15, you should also consider adding extra photo time for group pictures.
Our advice is to choose the package you think is best for you, and we can help make sure you have the options to make your day just right.
Is a Waimanalo Beach Ceremony Right for You?
Whether you're getting married, expressing your love all over again with a vow renewal, or promising yourselves to each other with a commitment ceremony, Waimanalo Beach offers the perfect setting to help you create a special memory that will last forever!
Make sure to look at all our Hawaii wedding locations to find the perfect spot for you!