After many years of recommending the Outrigger Waikiki Beach Resort to our guests, we're taking another big step and opening an office right in their lobby.
We're so excited to be working with the wonderful people there, and we know this will improve the service we can offer to our guests.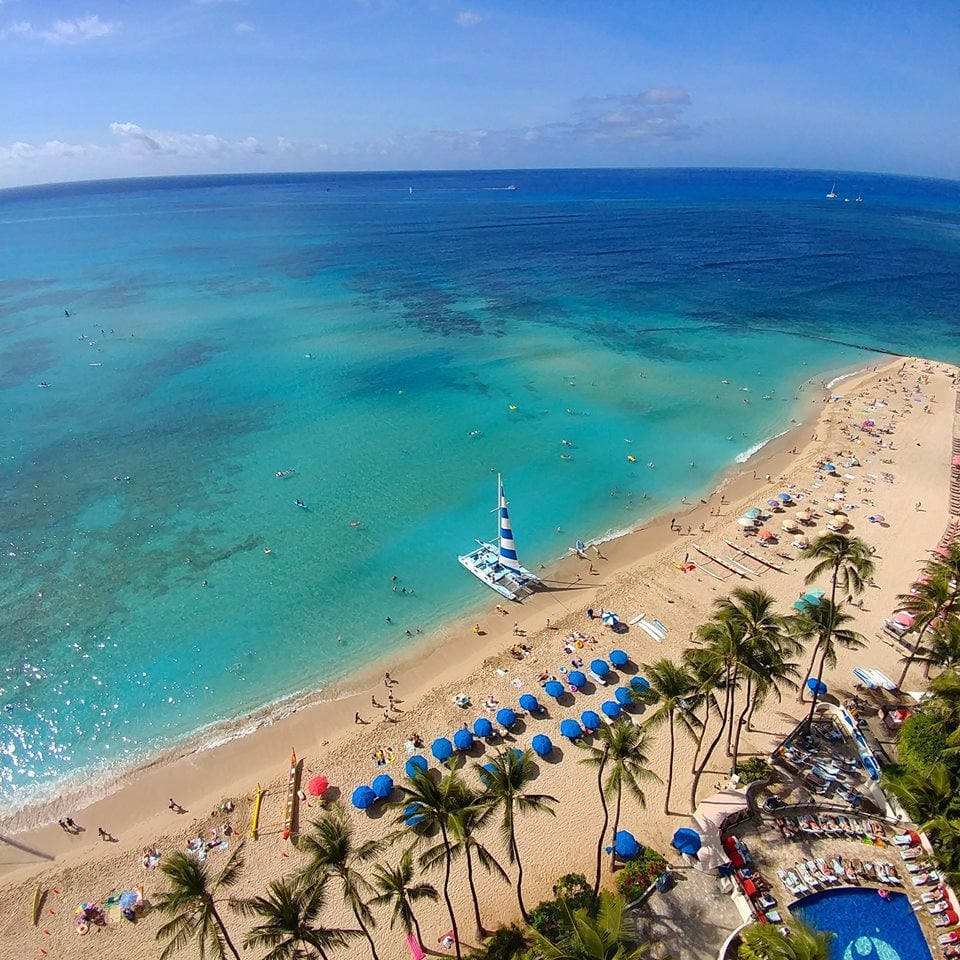 World-famous Waikiki Beach in front of the Outrigger Waikiki Beach Resort.
Convenience for Our Guests
The Outrigger Waikiki Beach Resort is directly on the beach at the Diamond Head end of Kalakaua Avenue. It's a short walk to the Honolulu Zoo, Kapiolani Park, the Waikiki Aquarium, and tons of restaurants, shopping, bars, and cafes.
It's also close to several other popular hotels, meaning that even if you don't take advantage of our promotional code for a discounted room rate, there's a good chance you'll be staying nearby.
Why is this better for you? Once you arrive in Hawaii, we always go over the details of your big day. Some couples choose to do this over the phone to save valuable vacation time, but many of our couples come into the office for an in-person meeting. Our other office is at the other end of Waikiki, so now we're in a convenient location regardless of where you stay.
It'll be easy for you to stop by and ask any questions. Our goal is to provide you a stress-free experience and make it all as easy as possible, so we're excited to add even more convenience for you!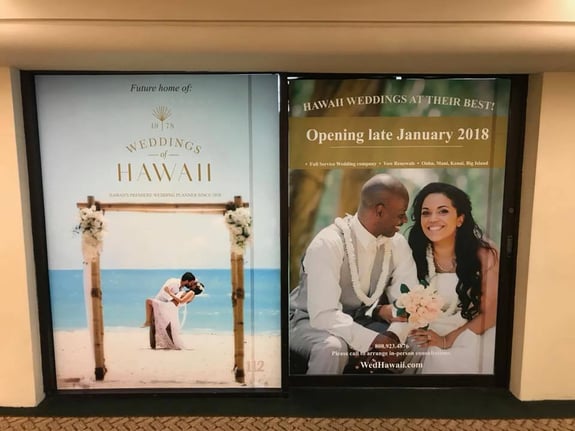 Our office will be open in a couple of weeks!
Discounted Room Rates
We're also super excited to offer a promotional code to our guests for discounted room rates. We consider the Outrigger Waikiki Beach Resort a great value, and with our promotional code, you can search their website and find the best rates available. We've compared our promotional rates to travel sites such as Expedia.com, and there's been no contest.
If you'd like more information or need some help with your hotel, please contact us. We're always happy to help!
Outrigger Waikiki Beach Resort Highlights
One reason the Outrigger Waikiki Beach Resort is so popular is the great value for what's offered. I've already mentioned the prime location, but there's so much more we like.
Their promo video captures how beautiful Waikiki is.
The Beach - The beach is great fun in front of the Outrigger. Surfboard rentals are nearby, and the waves are some of the best in Waikiki. There's plenty of room for relaxing on the beach. Catamarans pull up on the sand offering cruises for a reasonable price, and there are several beachfront restaurants and bars a short stroll away.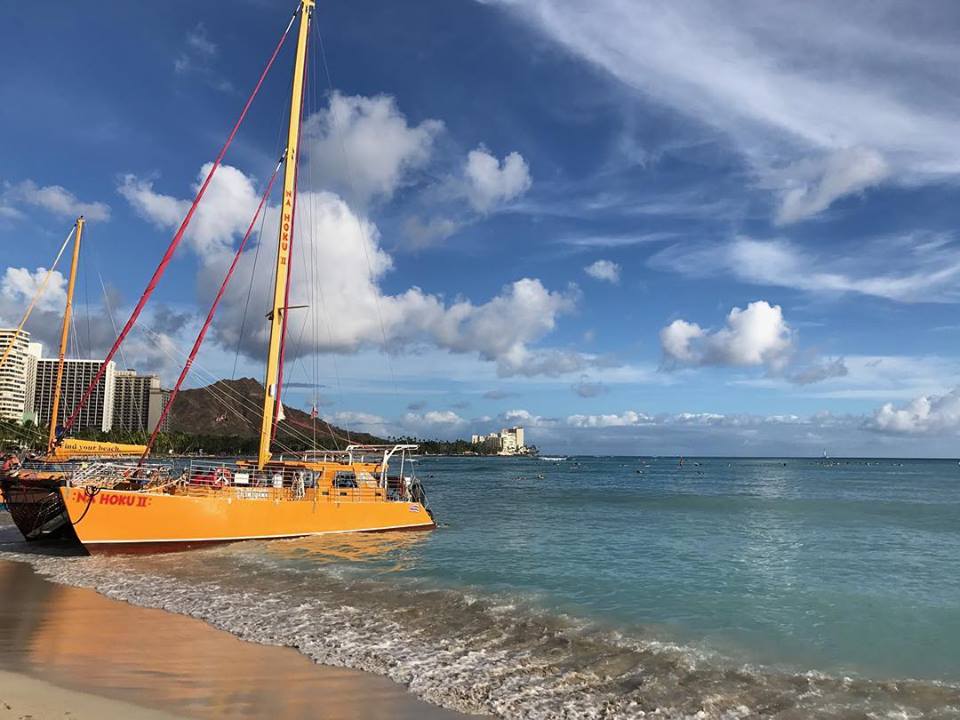 A sunset catamaran cruise is a great activity and so easy to do.
Duke's Waikiki - Celebrating Duke Kahanamoku, one of Hawaii's most well-known sportsman, Duke's Waikiki is a beachfront restaurant and full bar. Duke's is fun! Casual attire is fine, and we love it for its laid-back atmosphere.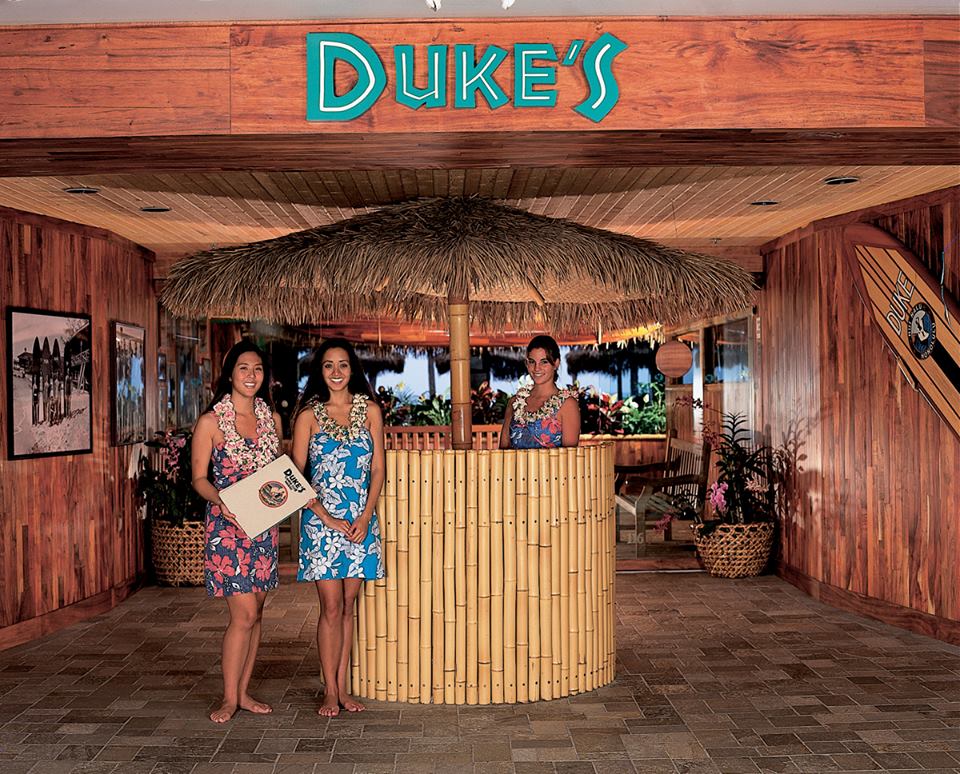 Duke's celebrates that traditional Hawaiian charm.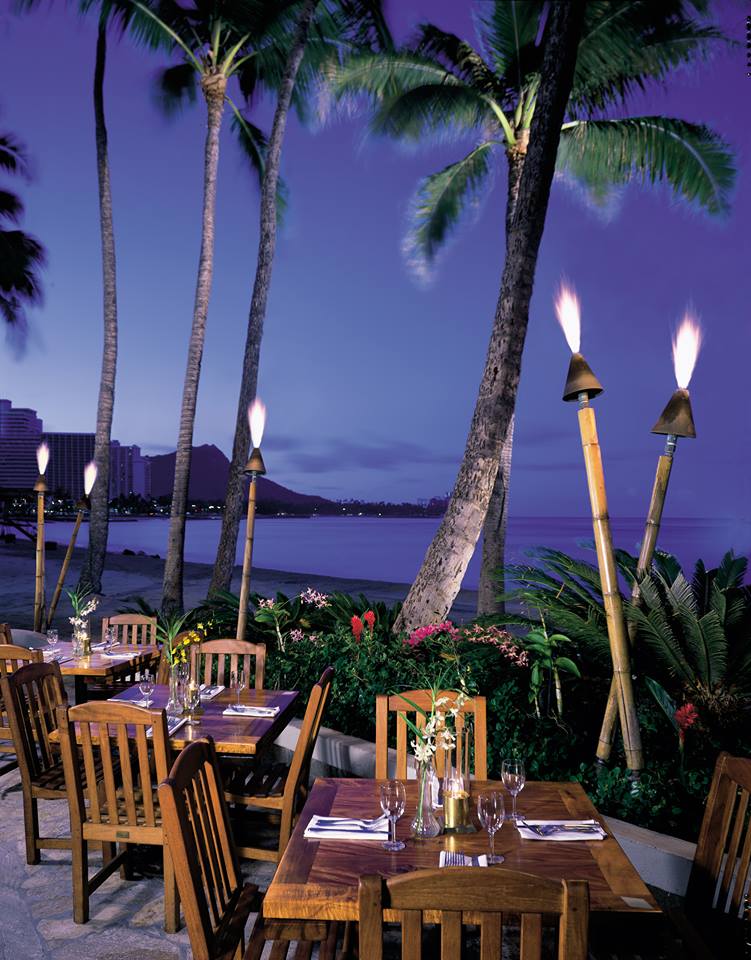 Casual dining with the sound of the waves in the background.
We all love their fish entrees, and if you have room, we'd highly recommend Kimo's Original Hula Pie. Chocolate cookie crust, macadamia nut ice cream, hot fudge, toasted mac nuts, and whipped cream … heaven! And you are on vacation, after all ;)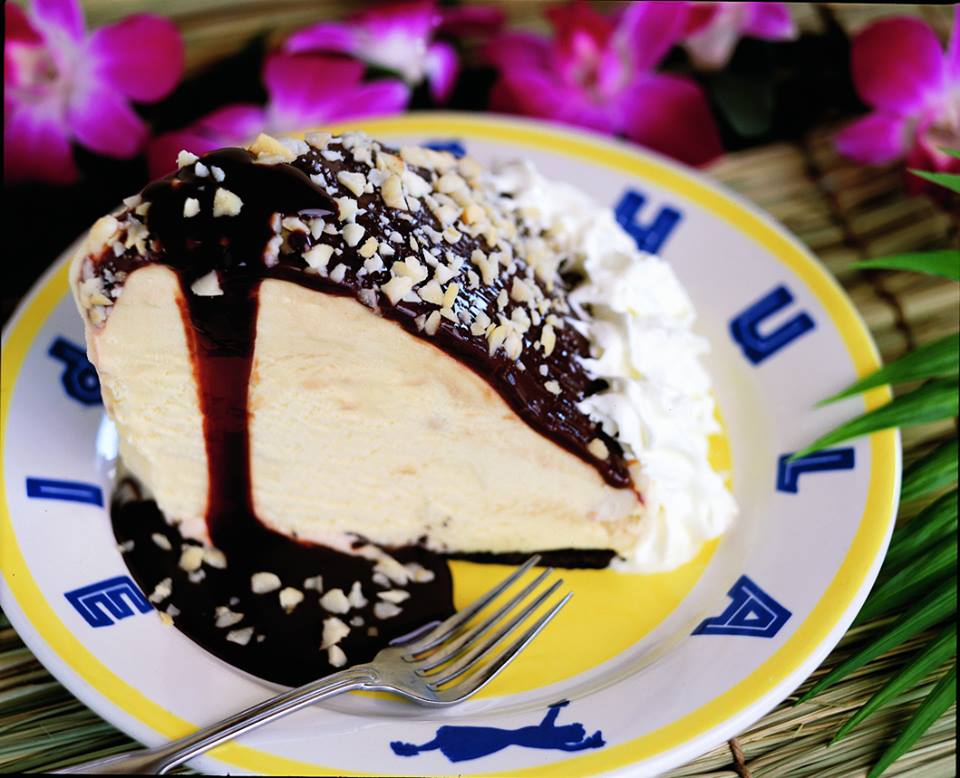 So big you might want to split a piece.
Hula Grill - Located on the second floor above Duke's, Hula Grill is another popular restaurant in Waikiki. While Duke's has a little more excitement going on, Hula Grill is perfect for a more intimate dining experience. Enjoy fine dining with views of Diamond Head and Waikiki Beach.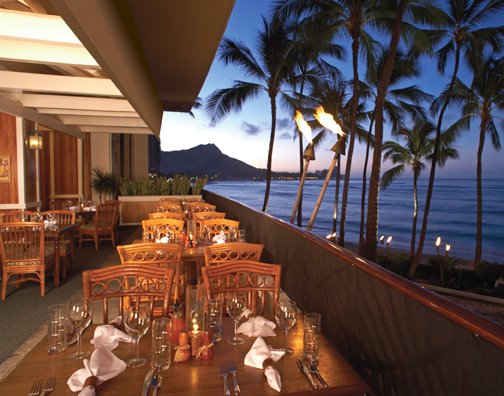 Hula Grill has great views and is more intimate than Duke's.
Blue Note Hawaii - The New York-based Blue Note jazz club came to Hawaii and decided on the Outrigger Waikiki Beach Resort as the place to call home. They offer a variety of renowned Hawaiian, jazz, and blues artists for two shows every day of the year.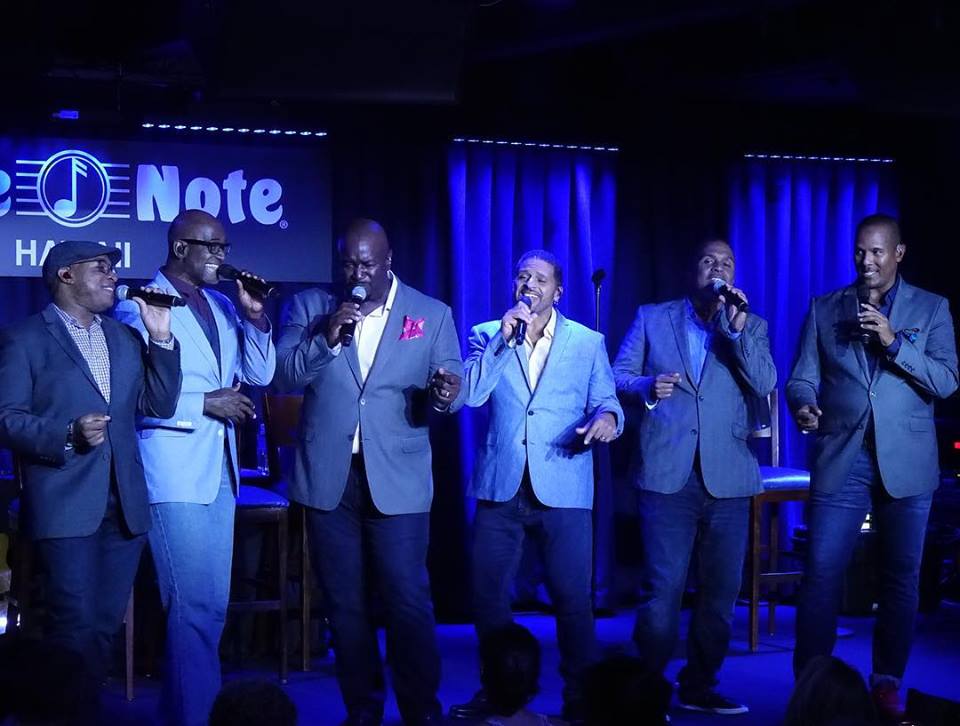 Take 6 playing at Blue Note Hawaii.
And More - Seattle's Best Coffee. Pai's Deli. Room service. Shopping. Trolley service. Cultural experiences. And … Weddings of Hawaii! :)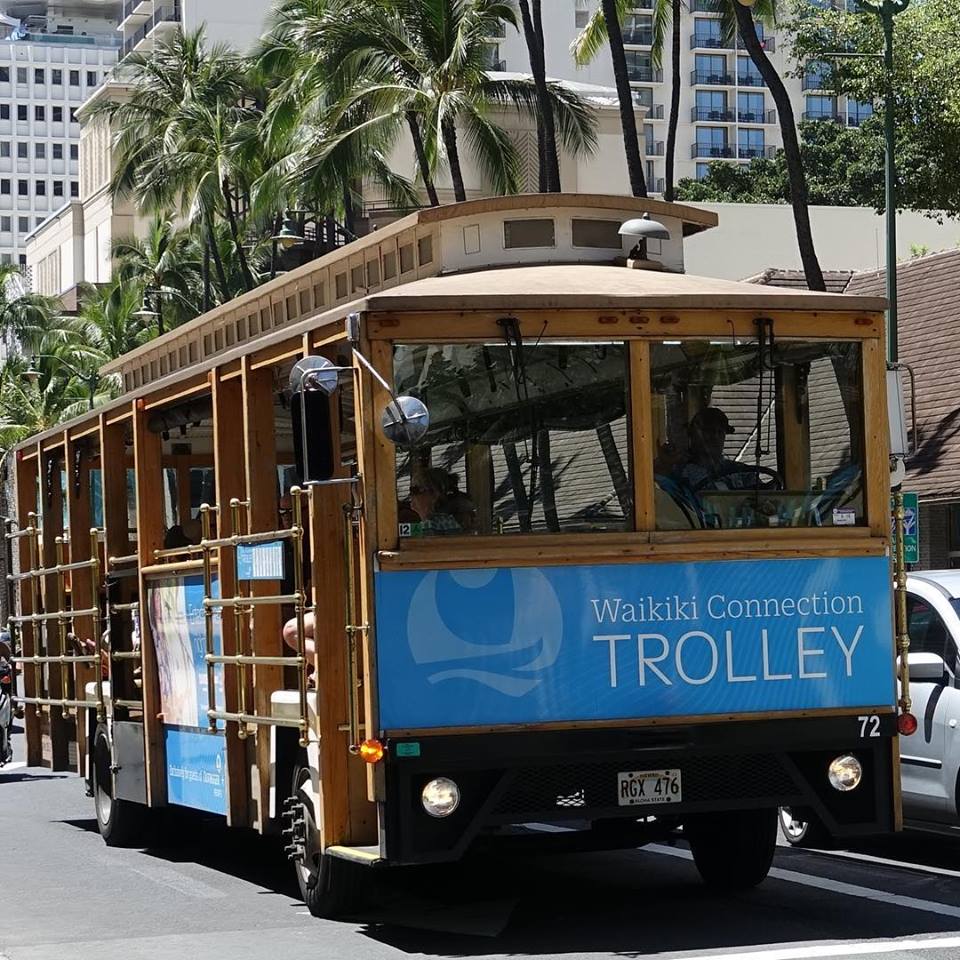 Hop on and off their trolley to see many of Honolulu's attractions.
Got Questions? We're always happy to help. Just give us a call, send us a message, or schedule a time for us to call you below. Mahalo!