We're always excited to share all the Hawaii wedding traditions that help make your day so special.
We like to break it down into two sections:
Hawaii Ceremony Traditions (What happens during your ceremony.)
Traditional Hawaiian Elements (Flowers, attire, music, & dance)
Although there are many possible Hawaii traditions, here are the most common for weddings, renewals, and Hawaii commitment ceremonies.
Hawaii Wedding Ceremony Traditions
Blowing of the Conch Shell - Although not performed by all officiants in Hawaii, many start the ceremony with the blowing of the conch shell, a signal to all around that a very special moment is about to begin.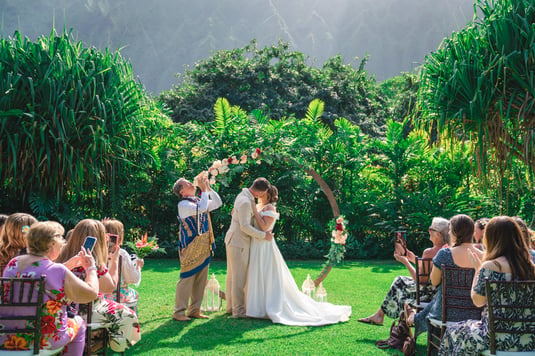 Blowing the conch shell often starts a Hawaii wedding ceremony.
Lei Exchange - In old Hawaii, leis were exchanged instead of the rings. Like the ring, the lei is a circle with no beginning or end, representing the eternal nature of love found in marriage. By placing the lei over the head and shoulders of the one you love, you're saying to that person that you're surrounding them with your love, now and forever.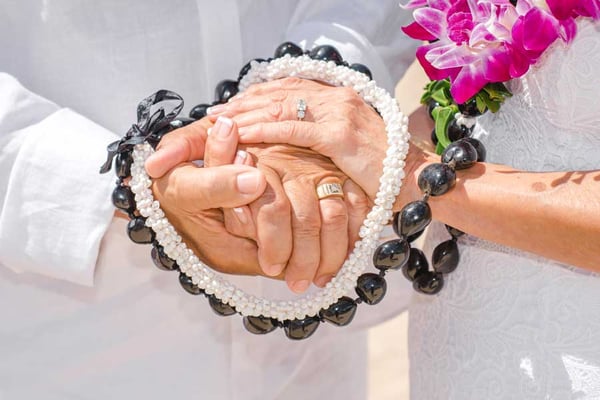 Keepsake leis are often used in a Hawaii wedding for the lei exchange.
Sand Ceremony - By blending your sand with the one you love, you're saying to that person that your lives are forever entwined. You are making a commitment to another, never to have your sand or lives separated again.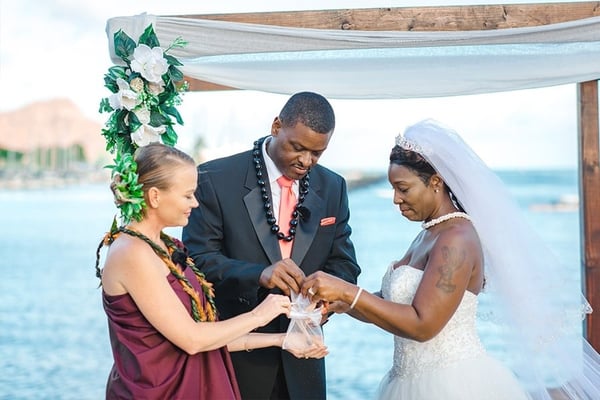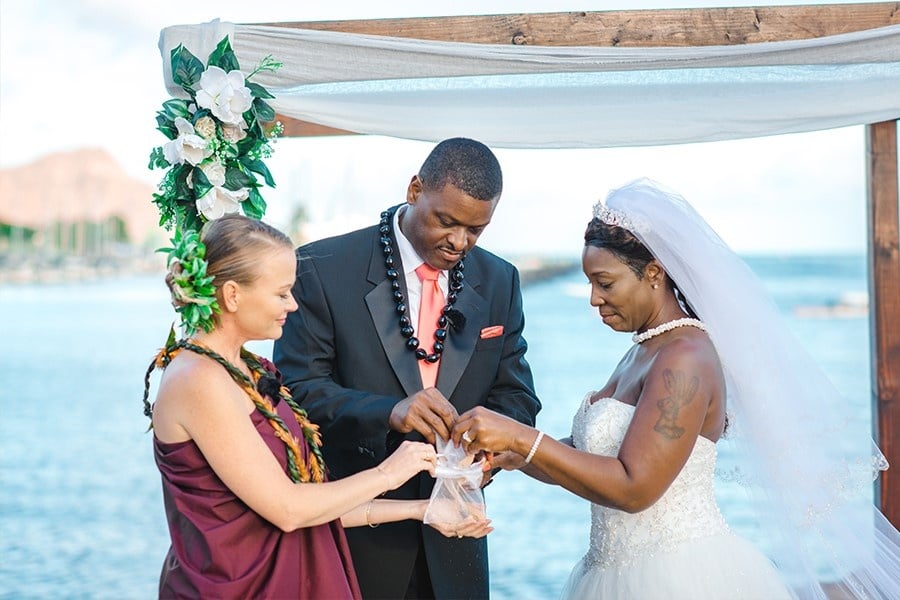 Blending your sand into one.
Traditional Hawaiian Elements
Leis, Hakus, and Other Florals - Flower options for your Hawaii wedding seem limitless. Leis, bouquets, and haku leis are popular for the bride and groom, and guest leis are always a nice gesture.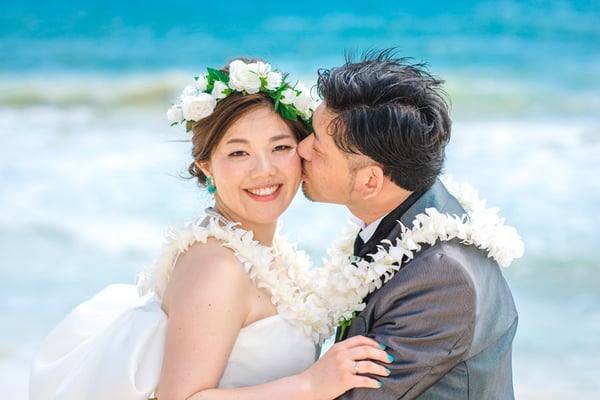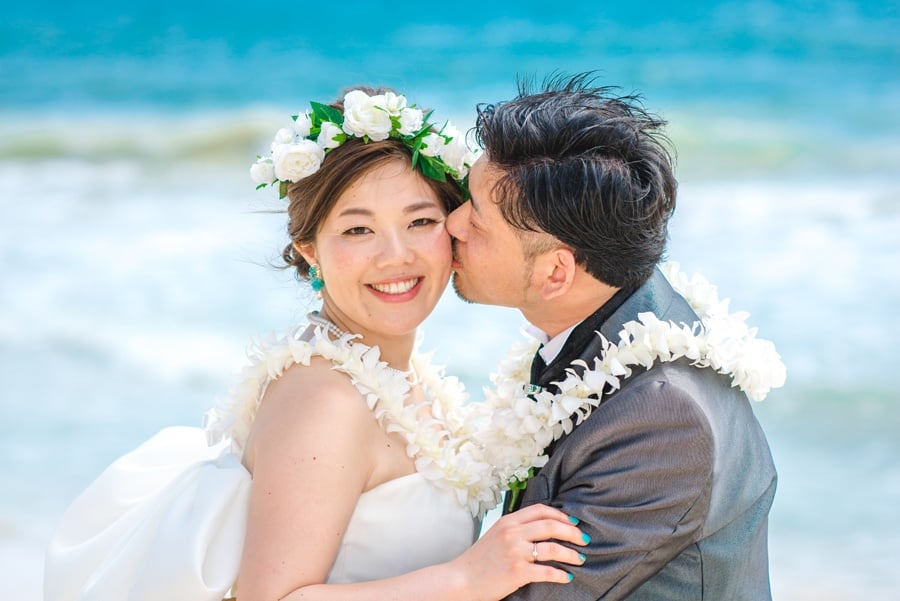 Leis and haku leis are part of a traditional Hawaii wedding ceremony.
Hawaii Wedding Attire - We've written before on what to wear to your Hawaii wedding ceremony, but what's important to know is anything goes. You could go super casual and feel like you're "island style," or you could go all out and get dressed to the nines. It's your day; wear what makes you feel the best!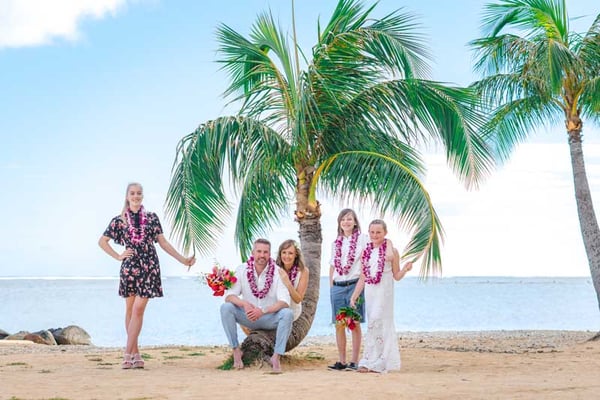 Casual to formal works for your Hawaii wedding attire.
Hawaiian Singers and Hula Dancers - What better way to feel the spirit of Aloha than having a ukulele player singing while you walk down the island and strumming away during your ceremony? And for that extra special touch, have a professional hula dancer perform as well.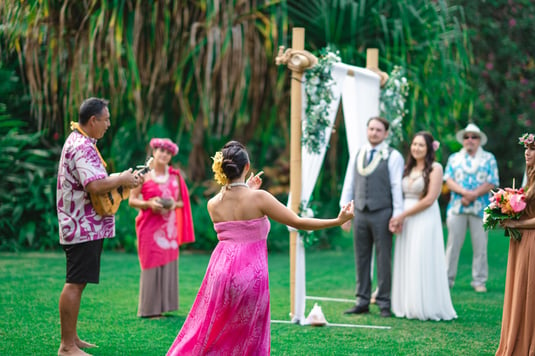 A live Hawaii musician brings the sounds of the islands to you on your wedding day.
Conclusion
These are some of the most common Hawaii wedding traditions available for your ceremony.
Although all that's needed is an officiant and marriage license, adding special touches to your day can make it even more special.
If you need any help planning your Hawaii destination wedding, we're all here to help. Get in touch any time, and we'll help you make your dream wedding come true!