One of the most common questions we get from couples when making their travel plans is whether they should get a rental car or not. It's an added expense, after all, and it's good to know what other options are out there, especially if you're trying to have an affordable destination wedding.
Everyone is different. Some people like to hang out at the hotel, while others like to get out and explore. While there's never a one-size-fits-all answer, we like to provide as much information as possible to our couples and their guests.
In this article, I'll try to cover all the transportation options available to get around Oahu.
Walking
If you don't mind walking, you can get to a lot of places in Waikiki. From end to end, it's about a 30-minute walk down Kalakaua Avenue, the main street loaded with shopping, restaurants, and hotels.
One of the great advantages of staying in Waikiki is the many options you have just a short walk away. Some of our couples are disappointed when they hear Hawaii doesn't offer all-inclusive hotels with food and drink, like those that are so popular in Mexico. But once they're here, they quickly realize the numerous food and drink options just outside their door! Much better, in my opinion ;-)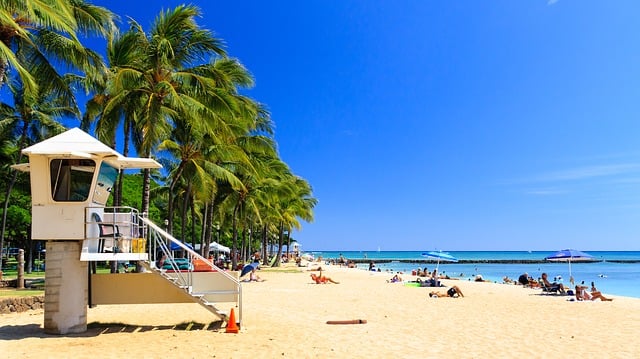 You don't have to walk too far in Waikiki to find something like this!
There are beaches nearby, of course! That's usually the first place visitors go after checking into their rooms. Even if you're staying a few blocks from the beach, it's never more than a 5-10 minute walk away in Waikiki.
If you're staying outside of Waikiki, you'll have fewer places within walking distance. For example, North Shore accommodations are often isolated, and many of the Airbnb rentals outside of Waikiki are in residential areas. For these, you'd probably need a rental car.
Biki Bike Share System
Honolulu has a city bike-share system called Biki. There are currently Biki Bike Stops all over Waikiki, Ala Moana, and Downtown Honolulu.
You can pay at the kiosk with your credit card, take a bike, and then return it to any other Bike Stop. You can also download the app (iPhone) (Android) and unlock the bike from your phone. It's like magic. :)
Tip: Download the app! You can check their map for bike stops and how many bikes are at each stop. It's good to know there'll be a place for you to return your bike.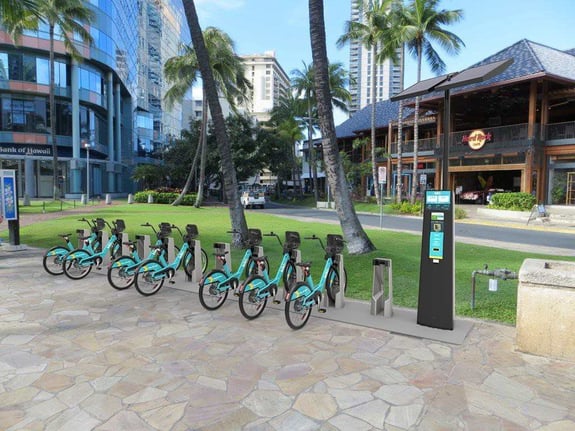 You'll see these bike stands all over Honolulu!
We think they're a lot of fun. Parking is tough in Waikiki, so our team will take these when we have meetings in Waikiki or when we go out for a group dinner. You might even see us cruising in the bike lane down Kalakaua Avenue some evening when you're here! Haha!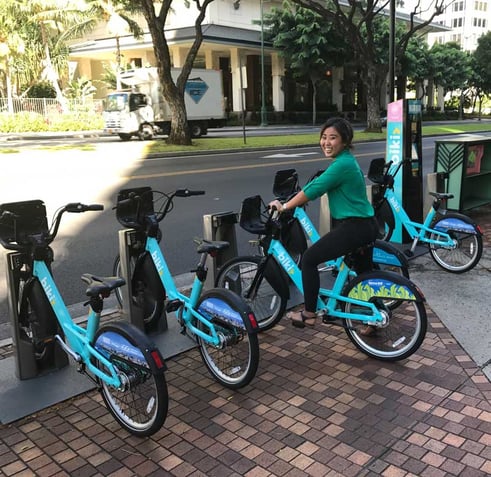 This was my first time on a Biki!
The Bus
Honolulu has a reliable bus system simply called "The Bus." Buses come through Waikiki regularly. For $2.50, you can get just about anywhere on the island. However, plan accordingly for travel time. For those brave enough to take the bus all the way to the North Shore, be prepared for a four-hour trip! (I do not advise this.)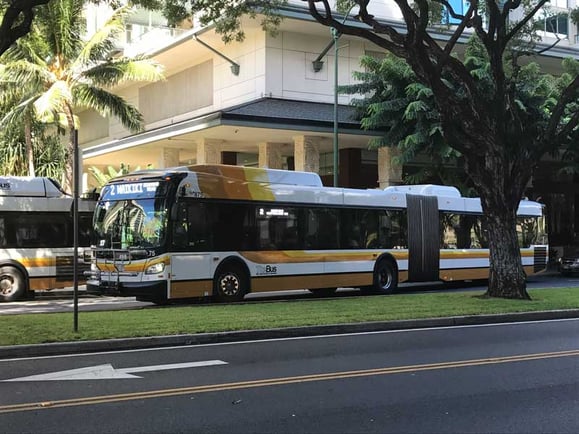 We've got some long buses here in Hawaii :)
For rides to Ala Moana Shopping Center, Diamond Head, Chinatown, and other nearby locations, it's a cheap option. However, it's not the most comfortable or convenient.
There's a good article at here for popular bus routes.
Trolleys
Trolleys are also a fun way to take a ride around Honolulu. They're comfortable and a good way to get to popular attractions such as the zoo, Diamond Head, shopping centers, and downtown attractions.
The Waikiki Trolley has over 40 stops, and you have unlimited rides for as long as your pass is valid. They offer one-day passes for $45, and you can get a discount for three and seven-day passes. They even have tours going as far as Pearl Harbor.
I think Weddings of Hawaii needs a theme song! :)
If you're staying at one of Outrigger properties, they offer a free trolley service that explores many of the popular locations around Honolulu. It's an easy hop-on hop-off trolley that'd be a fun way to explore.
Uber/Lyft and Taxis
Both Uber and Lyft operate on Oahu and are popular options. Although taxis are easy to catch in front of hotels and at popular attractions, they are usually higher in cost.
Another benefit of Uber and Lyft is that they'll find you by your phone's GPS. You just enter your destination on their app. A driver will come to you and take you where you're going.
For short trips around Honolulu, this is a great option. From Waikiki to Diamond Head or Ala Moana Shopping Center, it's usually around a $10 fare, give or take.
We often have couples take an Uber if their wedding venue is near Waikiki. For this, we recommend taking an UberXL or Uber Select for a little more comfort.
For locations farther out, it can be expensive. For example, Pearl Harbor is probably a $25-35 Uber trip from Waikiki one-way! The same goes for Hanauma Bay.
Uber has a nice fare estimator on their website if you're interested in checking some rates.
Renting a Car
If you want to make sure you see most of what Oahu has to offer, renting a car is your best bet. There's simply no better way to explore.
You can rent from all major car rental agencies at the airport, and it's also possible to rent in Waikiki. To avoid higher prices, we recommend booking a car at least two weeks in advance.
Car rentals are not too expensive, but you have to add in daily parking fees. Nearly all hotels in Waikiki charge for parking, which is usually around $30 a day. Although that may sound high, trust me, you don't want to try street parking in Waikiki. It's incredibly difficult to find a spot, especially later in the day and on weekends.
That said, if you don't rent a car, you'll miss out on the things outside of Honolulu. For example, the North Shore is too far without a car. You could do a "round the island" tour, but it's not the same as hopping in a car and exploring on your own.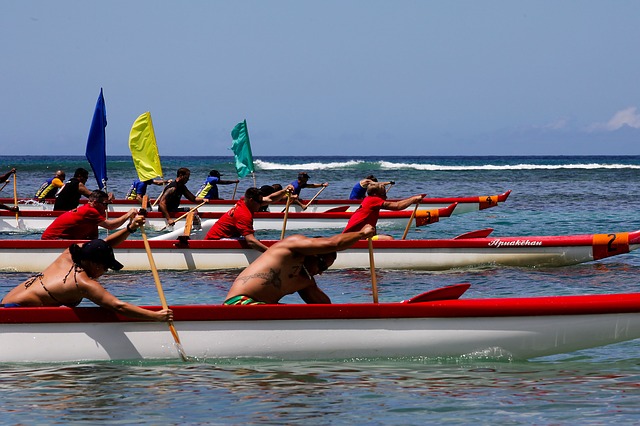 Rental car photos are boring, so here's an exciting outrigger canoe race :)
You could always rent a car for a few days. If you first use other means of transportation to see nearby attractions and then rent a car to explore outer areas for a couple of days, it's a nice compromise.
I should point out that traffic can be quite heavy on Oahu. Morning and evening rush hour in Honolulu is no joke, and much of the roads around the island are two lanes, so it's not uncommon to find yourself creeping along at the North Shore or in Waimanalo. Weekdays are usually less crowded than the weekends.
Also, don't be surprised to see much slower speed limits than on the mainland. Even on the highway, traffic often stays under 60mph. It's Hawaii, after all; we do things on "Hawaiian time" around here ;-)
Conclusion
Yes, having a rental car is a nice way to see all that Oahu has to offer. But if you're staying in Waikiki, you do have other options. Although catching a trolley or Uber might not be something you're used to, it's worth it as it's a great way to get around Honolulu.
And if you're on the fence about heading out to the North Shore or other parts of the island, we'd recommend trying to spend at least a day exploring. Oahu is such a beautiful island. At least one day exploring is totally worth it!