AS OF MARCH 2022, THIS LOCATION IS NO LONGER AVAILABLE
Everything You Need to Know About Sherwood Forest Beach
Sherwood Forest Beach (aka Waimanalo Bay) is a popular Hawaii beach wedding location. Not only is it a great beach for a wedding, but it's also a personal favorite of many of us here at Weddings of Hawaii. Although we have descriptions and photos of all our wedding locations, we wanted to share more details that may help you in choosing the perfect beach for the big day!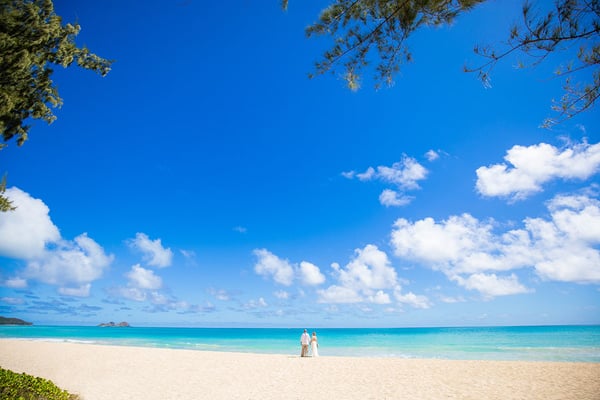 Sherwood Forest Beach is our favorite part of beautiful Waimanalo Bay.
Details:
Location: East shore, 40 minutes from Waikiki.

Available: Monday - Friday (excluding state and federal holidays), 8:00am to 4:00pm.

Group Size: 30 people maximum (including couple and vendors).

Decor Add-ons: No Arches and Chairs. Runways 7 days a week.

Limousine: Requires one additional hour ($110). Not permitted on weekends and major holidays.

Recommendation: Lighting is best from 10:00am-4:00pm. Early and mid-day offer more vibrant colors but also more sun, while later in the afternoon offers softer, less vibrant colors.




As you probably have seen in the pictures, this location features soft white sand, clear turquoise blue water, and the striking ironwood tree forest. We often get requests for a Waimanalo beach wedding, likely because it's attention as one of the most beautiful beaches in the world, and Sherwood Forest Beach is the best Waimanalo has to offer.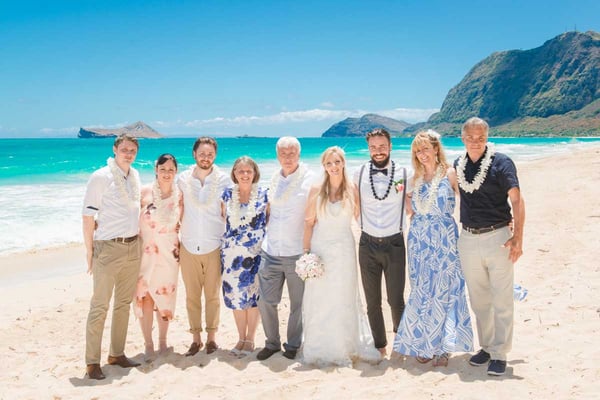 Sherwood's offers amazing views in all directions.
The stark contrast between the beach and forest gives couples a "two-in-one-location" photo opportunity. Because of its logistics, it is also our most secluded beach location.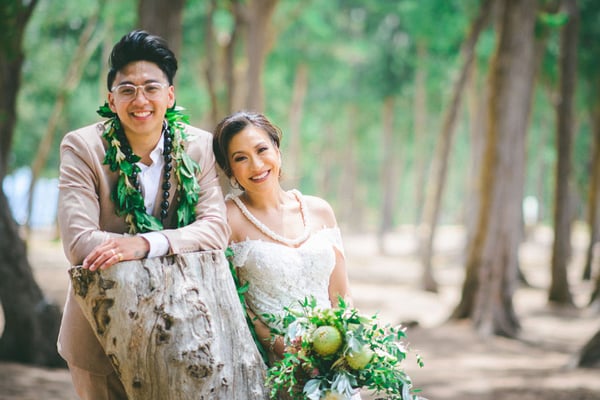 The beautiful forest is a great compliment to the beach.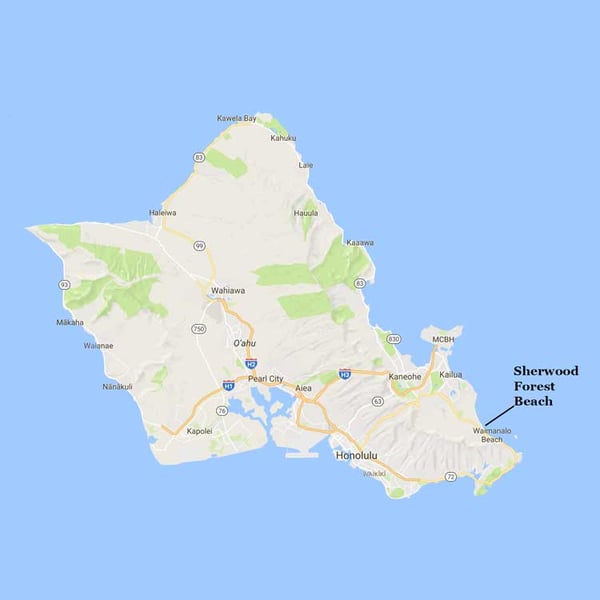 You can take the coastal road from Waikiki to Sherwood Forest Beach, one of the nicest drives on the island.
We truly believe there aren't "pros" or "cons" to any location as it all depends on what you are looking for. What some couples think is a huge selling point may be a deal-breaker for others. With that in mind, here are all the ins and outs of Sherwood Forest Beach.
Even cloudy days are absolutely beautiful!
Ceremony Considerations
The ceremony itself is held on the beach, in the sand, unless requested otherwise. We then take the couple around the beach and into the forest for photos.
Note: As with all of our locations, we need to obtain specific permits for structural setups that make us legally liable, so you are unable to contract another vendor or bring your own setup.
Runways are permitted seven days a week. Arches and chairs are not allowed at all beaches in Waimanalo, including Sherwood Beach.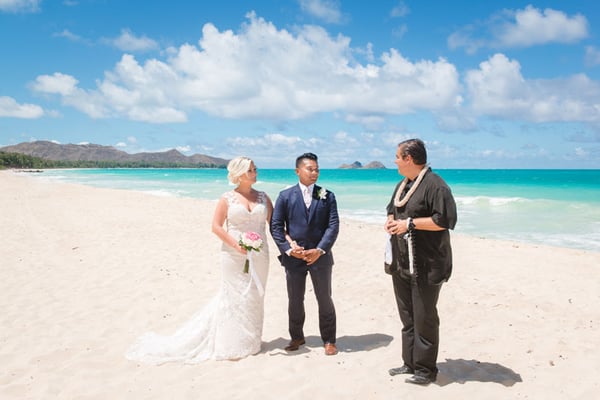 Photo Considerations
Sherwood Forest is located on the eastern shore of the island and has plenty of light from 8am-4pm year-round. The photos you see in the gallery are from this time of day. There is no sunset here as the sun crosses over the island and it just gets darker as it gets later. After about 4pm (depending on the time of year), there is less or no direct sunlight, and this "softer" lighting can make for lovely photos. It also allows for cooler temperatures for the ceremony and photo shoot.
Some of our couples are looking for the iconic "Hawaii" elements, like Diamond Head or palm trees. However, you won't find them at Sherwood Forest Beach. You may want to check out Magic Island and Waialae Beach to see if those locations offer more of the look you want.
Sherwood Forest does have its share of iconic features. For any island local, seeing the Mokulua Islands (the Moks) or Manana (Rabbit Island) in pictures are clear indicators of an East Side beach, and these islands add a special touch to the wedding photos.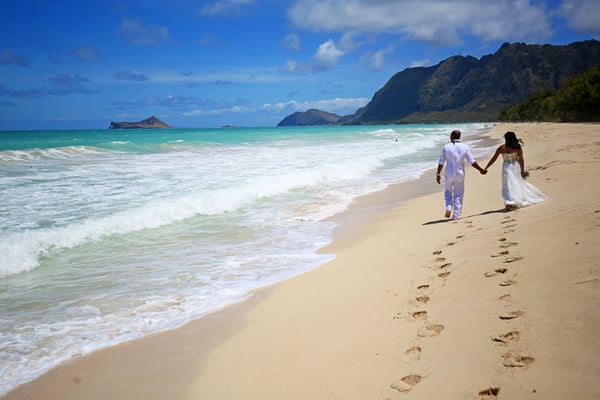 A beautiful shot with Rabbit Island in the background.
Logistic Considerations
Given that most of our couples stay in the Waikiki area, logistics is something to consider. It's about 45 minutes by car from Waikiki to Sherwood Forest Beach. If you're considering a package with a limo, you'll need to add an hour of limo time ($110). Please note: limos are not allowed at Sherwood beach on holidays and weekends.
Alternatively, if you have less than 10 of you and it's a priority to stay as close to your Waikiki hotel as possible, take a look at a Waikiki Beach Wedding.
If you're driving yourselves to Sherwood, it's a very easy and scenic route from Waikiki. You get on the freeway (which is the first 5-10 minutes of your drive), drive around the East Side of the island, and make a right into Sherwood Forest.
Alternatively, you could cut across the Pali Highway, but the route east is more scenic, easier to navigate, and has fewer traffic issues.
As the largest of the beaches we recommend, this location accommodates guests of 20 or more. While getting everyone out there may require some planning, this location is something you and your guests won't want to miss.
Also, there's a large, free parking lot that generally has ample parking on the weekdays, which is always something to consider when in Hawaii. ;)
There are two main parking lots at this location. We take you to the "left" or "first" parking lot as this area of the beach is less populated. From the parking lot, there is a paved walkway that slopes a bit downward to get to the beach level.
It's about a 2-3 minute walk to get from the parking lot to the actual ceremony site on the beach. If you have any guests that have trouble walking for several minutes or navigating uneven terrain (grass, fallen branches, and sand), this may not be ideal for them.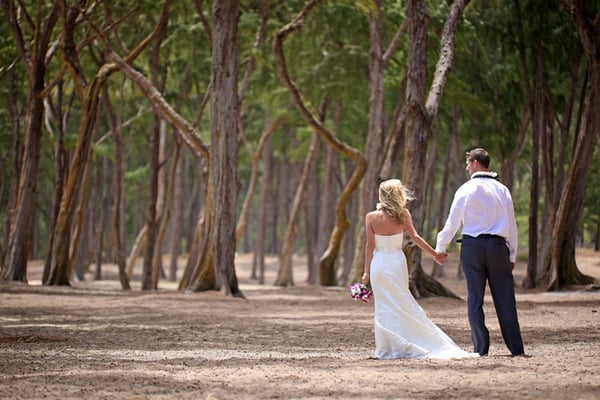 Sherwood Forest - notice the small pine cones on the ground; you'll want at least a pair of sandals.
We highly recommend flat footwear. If you want a barefoot beach ceremony, it's a comfortable option once you get to the soft sand, but make sure you have suitable footwear to navigate the forest and its tiny pine cones that do hurt to walk on barefoot.
There are campsites near the parking lot, and the beach is more crowded on the weekends and holidays. The weekdays, however, are quiet in comparison, and while it might appear busy at first, we walk you out a short distance to a more secluded spot.
Once you get out onto the beach, it looks just like the photos!
Here's an example video of Sherwood Forest Beach as the first location and Heaven's Point for sunset.
So, is Sherwood Forest the right wedding location for you?
We love it! We think it's a great wedding spot, and it's one of our favorite beaches in Hawaii to spend time. Even if you choose another location for your wedding day, Sherwood's is a great place to check out :)
Now that you have the insider scoop, hopefully you can decide a little easier if it's the right beach for you.
If you're still not sure, give us a call! We'd be happy to chat with you about more details, go over questions you may have, or help you compare the locations.