We often get asked, "what's the best time for my beach wedding?" As with many other things for your special day, the answer is "it depends."
What you think will be "best" all depends on your preferences and priorities. To help you decide, we have some tips for your consideration.
Before we get into details of the time of day, here are three things we'd like to mention:
The most important recommendation we have is to choose a weekday as opposed to a weekend or holiday.

The beaches are significantly less populated at any time of day during the week, allowing more seclusion for your ceremony.

If you're wondering about the best time of year for a beach wedding, here in Hawaii it's literally any time! Florida beach weddings are recommended in March, April, May, November, or December, but all twelve months in Hawaii are lovely. We have amazing Hawaii wedding-day weather year-round so whenever you're available, you can do a Hawaii destination wedding.
The information below is based on typical lighting conditions for that time of day, but the weather matters. Mother nature can make a mid-day ceremony look like dusk, but our photographers and videographers know how to get the best shots in any weather conditions.
Morning Ceremonies - 8am-10:30am
Although it's a non-traditional time to have a wedding, this is a great time for a wedding for many of our couples.
Generally, the morning will be the least busy time of day in terms of beach population. It can also be a few degrees cooler in temperature so can be more comfortable.
The timing works well to head straight to a brunch or lunch reception afterward, which is a nice option for our couples with guests. Lunch with everyone to celebrate and just a romantic dinner for the two of you. There are lots of options!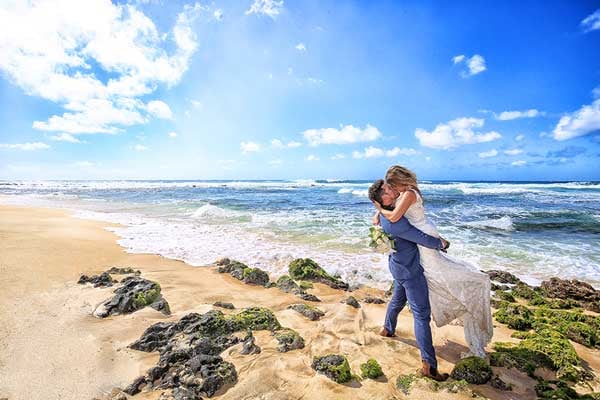 Around 9:30 am at Sandy Beach.
Mid-Day Ceremonies - 11am-3:00pm
Mid-day ceremonies provide more getting ready time in the morning, which works well if there are lots of ladies getting hair and makeup done or little ones that might need extra time to get ready for the big day, or if you just don't want to wake up early.
There's lots of light to bring out the color of the ocean, trees, flowers, and natural beauty. It's also a good time if you want to plan some time to head back to your room to change and freshen up before heading off to a dinner reception.
Temperatures can be much hotter in the summer months for many destination wedding locations. In Hawaii, we are blessed with comfortable weather year-round. Although the middle of the day can get hot, it's much more uncomfortable in Florida, the Caribbean, and Mexico. If you're choosing a tropical location that is not Hawaii, be sure to take the temperatures into consideration.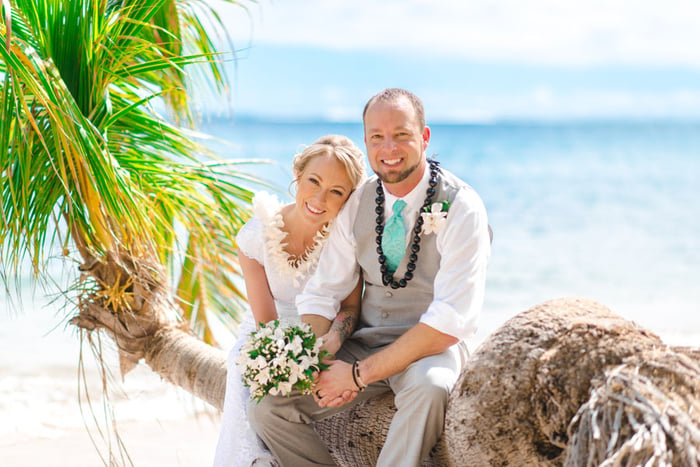 A 1:00 pm wedding at Waialae Beach.
Late Afternoon Ceremonies - 3:30pm-5:00pm
Late afternoon is a traditional time for ceremonies and would line you up nicely to head straight to a dinner reception.
The lighting during this time of day is often softer yet at times more direct, helping ease the natural shadows that can occur on the face when the sun is more overhead. On certain days and certain times of the year, it can be a bit cooler than mid-day hours.
Golden hour or magic hour falls during this time range, with the specific time varying depending on the time of the year.
Magic Island is our top recommendation for sunset, but works during this time of day too! Waialae Beach and Waikiki Beach is a great late-day location as the light is soft and the sun falls across the beach nicely.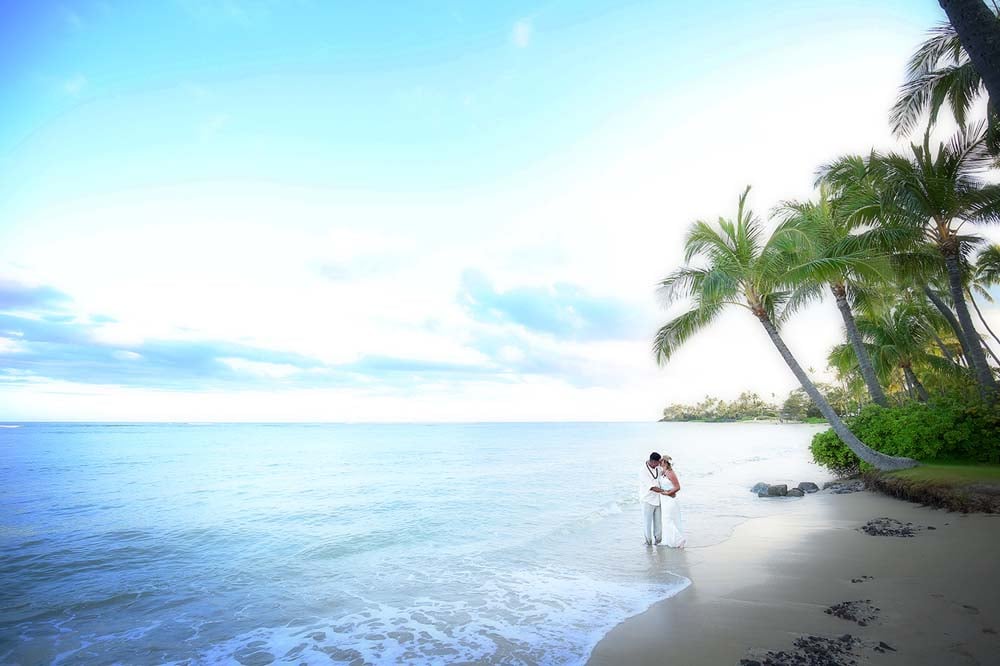 Waialae Beach gets softer light later in the day, which may be more comfortable for some couples.
Sunset Ceremonies - 5:00pm-6:15pm
Let us know you want to plan for sunset, and we can assist with checking the sunset time. It changes a bit throughout the year, and we usually start your ceremony about an hour before the actual sunset time to ensure enough light for your photos.
The lighting during this time of day is softer and not as bright. It creates a romantic look for photos that lots of couples love. Keep in mind that sunset colors will all depend on mother nature that day, but the golden tones against the ocean are iconic for a beach wedding in Hawaii.
There are usually cooler temperatures during this time of day and can be more comfortable for some. You can easily head to a later dinner with a sunset wedding, much like late afternoon weddings.
Magic Island is our recommendation for a sunset wedding or second-location photo shoot.
Magic Island for a sunset Hawaii wedding highlight video.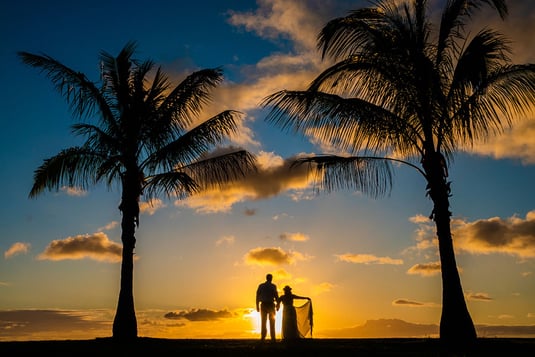 Sunset wedding at Magic Island.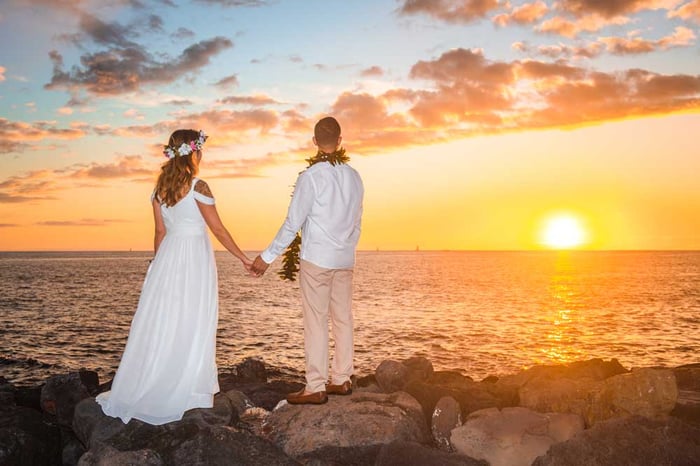 We don't always get an amazing sunset, but it's beautiful every time regardless.
What time will you have your Hawaii ceremony?
There is no best time as it all depends on what is important to the two of you. Let us know if you have questions as we'd be happy to offer our advice if you're having trouble deciding.