If you're coming to Hawaii for a wedding, honeymoon, or renewal ceremony, where you choose to stay can make all the difference. Whether you're looking for the beauty of the Hawaiian mountains and beaches or the energy of the Honolulu nightlife and shopping scene, the island of Oahu has plenty to offer.
We get asked all the time where we recommend staying. We usually say Waikiki, which is next to Honolulu on the island of Oahu, as that's often the best fit for what our couples are looking for. However, the whole island is beautiful, as are the other islands of Hawaii.
Here are our thoughts on some areas you may want to consider. :-)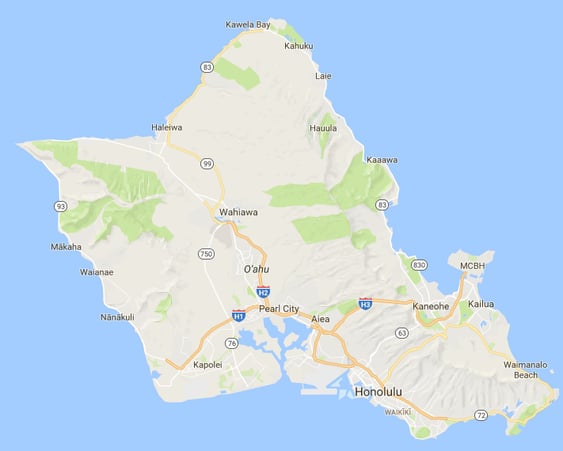 Click to open in Google Maps
Waikiki - A Little of Everything
When it comes to tourism, the Honolulu neighborhood of Waikiki is king, attracting millions of visitors each year. The abundance of accommodation and travel options in Waikiki makes it ideal for newlyweds looking for a taste of all Hawaii has to offer.
With a wide range of hotels, staying in Waikiki makes it possible for couples to experience the captivating diversity of Hawaii with a selection of affordable options.
We love the hotels that are popular with our couples, such as the Hyatt Centric (use our discount code wedohi), Outrigger Waikiki Beach (where our most convenient office to meet us is located), and the family-friendly Hilton Hawaiian Village.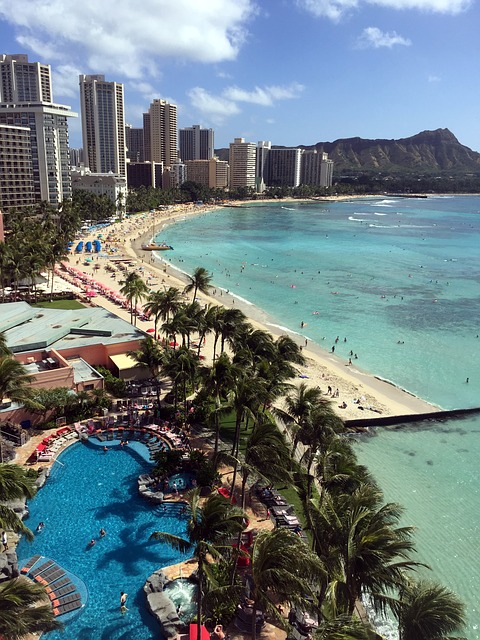 Waikiki Beach...from the Hilton Hawaiian Village all the way to Diamond Head
For couples looking to splurge, Waikiki also offers a wide selection of luxury hotels, which can lend just the right amount of elegance to a romantic first trip together.
The iconic Royal Hawaiian is our top recommendation, and other luxury hotels in Waikiki are also some of the world's best. And the Kahala Resort is that perfect place for couples wanting to be outside of Waikiki, yet only ten minutes from all it has to offer.
For couples who want to spice things up with a taste of the nightlife, Waikiki is teeming with bars, restaurants, entertainment venues, and world-class shopping centers.
The greater Honolulu area boasts some world-famous tourist destinations, including Waikiki Beach, King Kamehameha Statue, Iolani Palace, Chinatown, and Diamond Head Crater.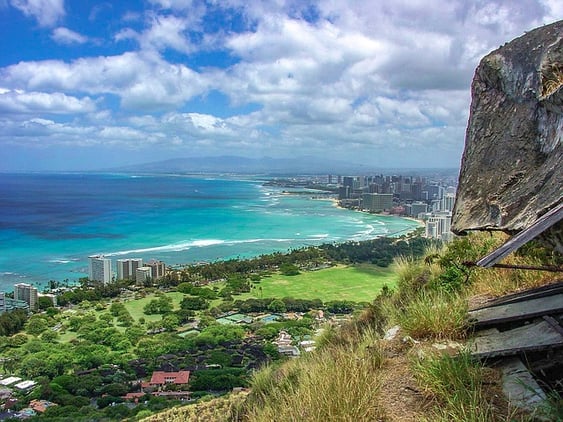 Looking down at Waikiki from Diamond Head
Honolulu's location makes it especially ideal as a central hub for day trips and expeditions into the heart of the island.
While it's great to have a rental car for at least a couple days of your trip (there's so much to see on Oahu!), plenty of our couples manage without one when staying in Waikiki. Taxis, Ubers, and buses are plentiful, and there's always something to do in walking distance.
Where to Stay Outside of Waikiki
The West Side - The Leeward Coast
Moving clockwise from Honolulu and Waikiki, the West Side of the island, which is often known by tourists as the Ko Olina area, is ideal for those wanting a more resort-style experience. Fans of watersports and ocean-based activities will find things to do, but the activity options aren't as good as in Waikiki.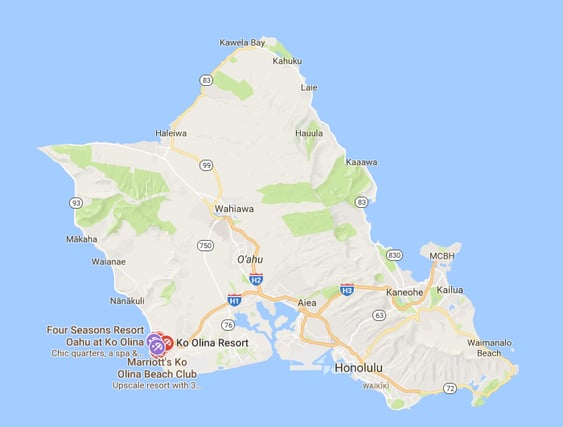 Easy to see where the resorts are. Click map to open in Google.
While there are benefits to escaping the city, the Ko Olina area does not offer as diverse an array of lodging options and boasts considerably less in the way of nightlife and tourist attractions.
Visitors can still come into Honolulu and Waikiki for activities, yet they can experience a more remote and quiet vacation.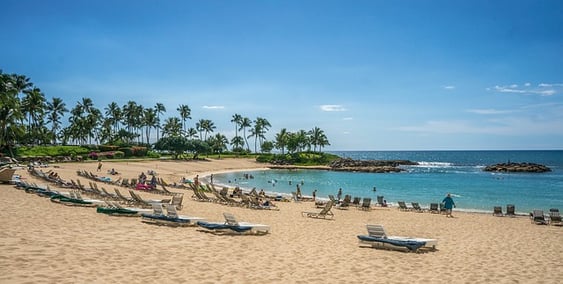 Lagoon pools at Ko Olina
Unless you plan on spending most of your time at a resort, a rental car is a must. Koolina is 30 minutes away from Pearl Harbor. And its proximity to Waikiki can vary from 45 minutes to an hour and a half by car, depending on traffic.
While nationally ranked for its beauty, Hawaii is also nationally ranked for bad traffic. We highly recommend planning your days to avoid peak traffic times, especially if you're staying on the West Side.
The North Shore
The North Shore, which includes the popular town of Haleiwa and world-class beaches and surfing, is a more remote destination that nevertheless has its charms. Its breezy, calm climate lends itself to world-class surfing and water sports.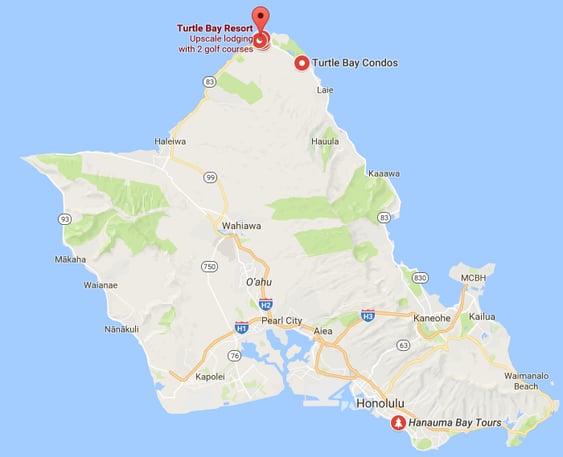 Click map to open in Google
During the winter, don't plan on getting in the water at certain beaches as the surf can be dangerous for swimming but definitely something to see! Sunset Beach and the Banzai Pipeline are locations of stunning natural beauty.
The Polynesian Cultural Center is host to a wealth of historical and cultural background for curious visitors. And Liliuokalani Church and Waimea Valley are nearby for those looking to take in some lesser-known cultural sites.
In the end, however, the site's remoteness means that its accommodation options are limited, and its nightlife and entertainment options are lacking. Although you won't have to worry about freeway traffic, there is only one major highway that runs along the north coast. It's primarily one lane in each direction, meaning traffic can get even more congested than it does in the city.
Don't get us wrong; Turtle Bay is a fantastic place to stay, and the North Shore is a "must-see" for most visitors to Oahu, but if you're thinking about staying there, please be aware of its remote location. A rental car is highly recommended, or you'll be spending an easy $100 on a taxi ride.
The East Side - Windward Oahu
East Oahu, including the towns of Kailua and Kaneohe, provides plenty of sites for more rugged explorers, stretching from Makapu'u Point, to the Lanikai Pillbox hike, and up to Chinaman's Hat. Kailua is also home to two of Oahu's best beaches: Kailua Beach and Lanikai.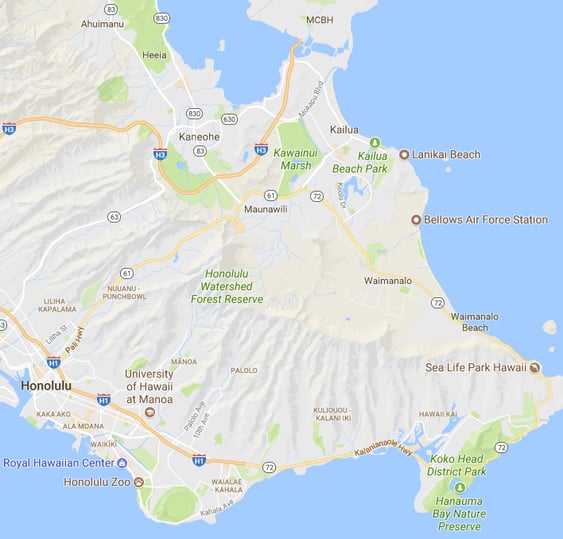 The drive around the East Side is amazing! Click map to open in Google
Just up from Makapu'u and below Kailua, we have the Waimanalo area, home to our favorite wedding location: Sherwood Forest Beach.
Except for a few private rentals, there aren't a lot of accommodation options in this area. The beaches, however, are absolutely stunning, even being voted best beach by Dr. Beach in 2015. If you're a beach lover, this is a great area to visit, and it makes for a wonderful wedding spot!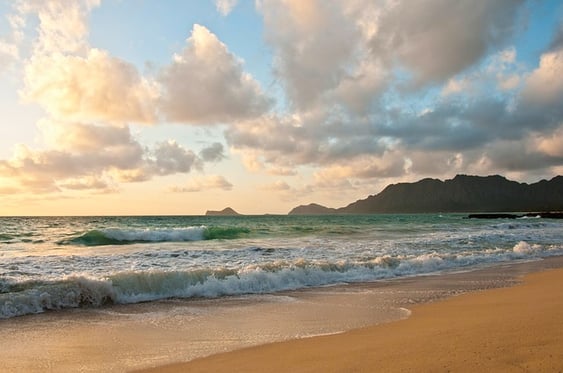 Beautiful Sherwood Beach in Waimanalo, Oahu
Conclusion
On the whole, visitors to Oahu -- especially those seeking a straightforward romantic escape from their hectic lives on the mainland -- choose Waikiki and Honolulu for good reasons. The city and its neighboring resort towns allow for plenty of peace and tranquility amid a lively cosmopolitan setting.
The more remote locations on the island are wonderful for day trips, but they're not always the best places to look for accommodations. But of course, it all depends on the type of vacation you have in mind.
We don't think you'll be upset with anywhere on the island; Oahu is a beautiful, and with so much to offer, it's easy to find exactly what you're looking for.
While we take great pride in being the best Hawaii wedding planners, we're not too shabby at providing advice on how to book your travel to Hawaii. Whenever you need help, please get in touch!