Although most couples would rather not wake up early for a sunrise wedding in Hawaii, it is an option to consider. The thought of getting ready early, driving to the location, and arriving while it's still dark is not for most, but there are some advantages and reasons why sunrise is a good time to have a Hawaii wedding.
Pros of a Hawaii Sunrise Wedding
More Seclusion
It's quiet in the morning. While there might be some people out walking the beach for exercise, beachgoers aren't out yet. You'll feel more like you have the beach to yourself, and there's something really nice about the early morning in Hawaii.
Cooler Temperatures
Temperatures are quite cool in the morning. Without the warmth of the sun and with the trade winds blowing, you definitely won't be hot. While this could be perfect based on the groom's wedding attire, it could be a little chilly for the bride.
Beautiful Colors in the Sky
Although not guaranteed, the hope is that you'll get a magnificent sunrise for your Hawaii wedding. Similar to sunset weddings, we never know what Mother Nature will bring us, but with such natural beauty all around us in Hawaii, you're sure to have breathtaking scenery.
Works with Your Jetlag
Many of our couples who choose a sunrise wedding do so the day after arriving in Hawaii. Their logic is that they will be both excited and jet-lagged, so it won't be hard for them to wake up. This has worked very well, but it can add to the overall stress of traveling, so we don't recommend it. Like we said, however, it has worked very well for couples in the past, so maybe it's right for you.
Can Enjoy Your Honeymoon if You Have the Ceremony Your First Morning in Hawaii
We've seen it work. We've had couples do a sunrise wedding ceremony after flying in the previous evening. They could then enjoy the rest of the trip as husband and wife. Although this might sound stressful to some, certain couples see this as a way to make the most of their trip to Hawaii.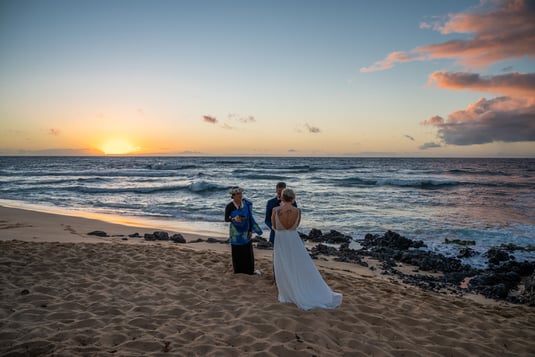 A Hawaii sunrise wedding at Sandy Beach, Oahu.
Cons of a Hawaii Sunrise Wedding
Must Wake Up Early
Obviously, the main deterrent is the early start time. For many brides, hair and makeup are a must, and it takes time. Even if you plan to keep the morning routine simple, you have to take into account the time it's going to take to get on the road and arrive at the ceremony location.
The Water's Color Is not as Vibrant
The best time for vibrant color is in the middle of the day. While that often means warmer temperatures under the sun, that's what many couples want. Sunrise weddings hopefully offer beautiful skies, but if you want that postcard Hawaii look, you might want to consider a ceremony time later in the day.
Not Ideal For Guests
Almost all of our sunrise weddings are couples eloping in Hawaii. Trying to get your guests awake and on time for sunrise could be quite the challenge.
Best Hawaii Wedding Package for a Sunrise Wedding
Most sunrise weddings are elopements or small groups.
Gardenia Wedding Package: Perfect if you have a rental car and want to customize your selections, such as adding the digital images, videography, and flowers.
Maile Wedding Package: Our first package to include limousine transportation. If you know you want transportation, the Maile is a good starting point.
Lehua Wedding Package: A popular selection as it includes an officiant, photographer, videographer, limo service, and a wedding floral selection.
Royal Ilima Wedding Package: A great choice if you'd like everything in the Lehua and a second-location photoshoot following the ceremony location.
Remember, all our packages can be customized. Please contact us for a quote on everything you need to make your Hawaii wedding absolutely perfect!
Best Location for a Hawaii Sunrise Wedding
Sandy Beach
Sandy Beach is our top choice for a sunrise wedding on Oahu. It's the point on the island that has year-round exposure to the sunrise, giving you consistent odds of a nice sunrise. View Sandy Beach Wedding Gallery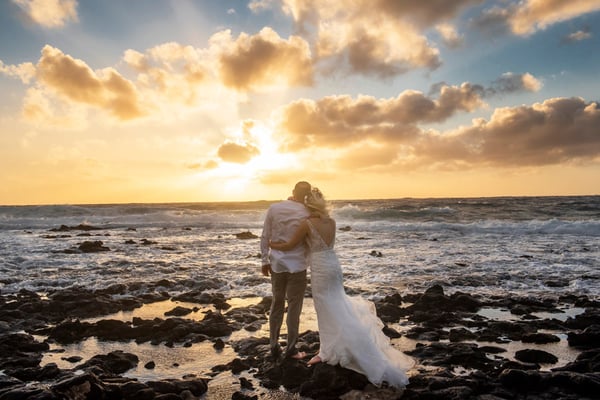 Enjoying their sunrise Hawaii wedding day.
Other Beaches
Not all beaches are exposed to the rising sun, but that doesn't mean they're not beautiful. Waialae Beach can get amazing red sunrises (we see a ton of sunrise photos on Instagram at Waialae), Paradise Cove Beach is calm and quiet for couples staying on the West Side, and even Magic Island is a good choice for convenience's sake.
Conclusion
Sunrise weddings are for all couples coming to Hawaii to get married, but if you're considering it, feel free to contact us for more information. We can help provide the details you need to plan your perfect wedding in paradise!