There are a lot of luaus to choose from on Oahu, and while a lot of the popular ones are at least a 30-minute drive from Waikiki, there are a few to choose from a little closer to where most our couples stay.
We did enjoy the luau at the Royal Hawaiian, but most of us agreed we preferred our experience at Diamond Head Luau a little more.
No matter which luau you choose, you can't really go wrong. (Ka Moana is still our favorite though.) They're all a great cultural experience, and if you're having a small Hawaii wedding, this is a great reception option!
Here are a few reasons we love Diamond Head Luau:
We loved the show, the environment, and the buffet!
We love the location. Located at the Waikiki Aquarium, it's not too far from most Waikiki hotels, and it's right next to the beach.
We love the "farm to table" concept.
They have a great mix of cultural activities before the show and dinner begins, such as hula lessons, lei making, headband weaving, and more.
You can check out the aquarium from 5:20 to 6:00pm. Price included in your ticket.
They have shows on Sunday, Monday, Thursday, and Friday! You can easily make reservations from their website, or you can let us know your dates and seating choices, and we can secure a reservation for you.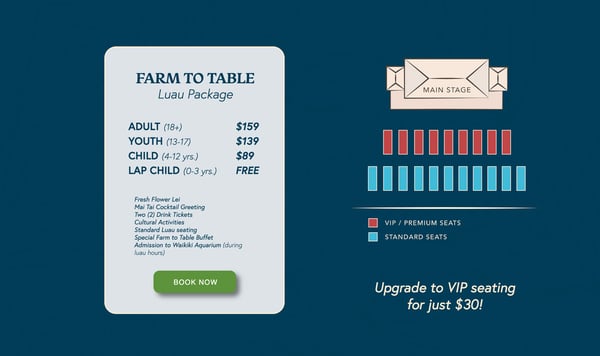 January 2020 pricing
Hawaii is full of amazing things to do, and luaus are something that you probably want to experience at least once :)